Data Science Courses: People who are interested in pursuing the Data Science course can check for course-related information here. Here, you can get information on what Data Science is, its duration, fee details, eligibility criteria, admission procedure, name of the institutions offering this course, job opportunities after completing this course, and salary structure. Have you ever wondered how Facebook automatically shows your friend's suggestion to tag when you upload their photo? Did you want to know how Google shows you content suggestions based on your choice among billion content? If you wish to know it all, Data Science is the course that you should go for.
About Data Science Courses
Data Science uses mathematics, statistics, machine learning, algorithms, and other tools to delve deeper into the raw data and makes predictions depending on the past data. It helps businesses to plan well and ensure success. The prediction from the past theory used to exist in ancient times as well. The Egyptians accurately predicted the flooding of the Nile River every year. The word' Data Science ' has become so popular in technology and business that we try to find data even in our daily conversation. But that will be considered data when it is digital. So, the handwritten note or printed book is not the data that will help us to get the predictions.
Everyone is now saving their data digitally so that they can use it when required. The revolution of storing data digitally is evolving fast, and we are nowhere near the end of it. However, only a trained Data Scientist can easily pick up the crucial data ( Big Data ) from numerous information. Here's the categorization to help you better understand the usefulness of data.
Data Analysis
Suppose you have a lot of data. And it is not possible for you to analyze it and get a conclusion. Here comes the technology to help you out. Three tools can help you out to sort out the issue.
The first one is SQL, which is a standard language for accessing and manipulating the database. The second one is Python, which is a general-purpose language that emphasizes code readability. The third one is R, which is a language and atmosphere for statistical computing and graphics. Furthermore, you need to know why the data is there and what you want from it or how you can use it. An expert is required to use those tools and experience to get the exact result in a shorter time.
Experimentation
We all are experimenting with different things in our life. Similarly, businesses also experiment a lot before finding the best result. You also become part of some other company's experiment to make their service better. But improper experiments can create a nuisance and provide improper results. Data Science is required to run the experiment correctly, keep the data clean, and use it when required.
Machine Learning
You've probably heard this word a lot. Machine Learning is the learning of the computer to use it in different ways to get the result. You can give specific algorithms (a group of instructions given to a computer to get specific results) to the computer to get the required result. There are different kinds of machine learning, but Supervised Learning is the most common among them. It helps you to predict results depending on past happenings. This is how predication is made on what type of people can become potential buyers depending on their previous activity related to shopping.
Another one is Unsupervised Learning. This is less concerned about getting the result and more concerned about finding the connection between the data. Most of the time, these two work side by side to provide a better outcome. Suppose you're getting a suggestion for a particular movie to watch. Here, supervised learning would say that you're getting this suggestion. Many people have liked this movie, and unsupervised learning would say that you're getting the suggestion because you've previously liked this kind of movie. The third one is Reinforcement Learning. Here, the machine learns and changes and does not provide static data as a result.
Overview of Data Science Course Details
Course Type
Bachelor
Master
PG Diploma
Certification
Duration
Three years
Two years
One year
3 to 6 months
Eligibility
10 + 2 ( Science Background )
Bachelor degree in relevant field
Working Professional in the same field ( PG Diploma and Certification Course )
Admission
Entrance exam or based on the previous result
Course Fee
20000 to 20 lacs rupees
Starting salary
4 to 6 lacs
Job Profiles
Analytics Manager
Business Analyst
Business Intelligence Analyst
Data Analyst
Data Scientist
Director of Analytics
Research Analyst
Research Scientist
Senior Data Analyst
Statistician etc.
Recruiting Areas
MNC, Government Organization, Research Laboratories, Academic Sector, etc.
Subjects, Concepts in Data Science Courses
The details of the subjects in this particular course are discussed here. It will give you a better idea about the course before you enroll in this course.
Introduction and Importance of Data Science
Statistics
Working on Data Mining, Data Structures, and Data Manipulation
Algorithms used in Machine Learning
Data Scientist Roles and Responsibilities
Data Acquisition and Data Science Life Cycle
Deploying Recommender Systems on Real-World Data Sets
Experimentation, Evaluation and Project Deployment Tools
Predictive Analytics and Segmentation using Clustering
Applied Mathematics and Informatics
Working on Data Mining, Data Structures, and Data Manipulation
Big Data Fundamentals and Hadoop Integration with R
Here, you will be taught how to use unstructured data in a structured way and go through business data statistics. You will also learn how to get data from external and internal sources and which data is required to answer the queries of a particular business. You will learn about the algorithms used in machine learning, data mining, data structuring, and data manipulation.
List of Colleges Offering Data Science Course Details
Symbiosis Skills and Open University in Pune offer both a 3 years B.Sc degree in Data Science and a one-year PG Diploma in Data Science. For a year course, weekdays batch is available for working professionals. Colleges that offer BSc degree are listed below :
Navrachana University
Sri Ramchandra Institute of Higher Education and Research
NIMAS
KR Mangalam University
Manav Rachna International Institute of Research and Studies
Jain University
Sri Sri University
Ganpat University
Apart from this, many institutions offer both offline and online courses on Data Science. Some of them are listed below :
Great Lakes Institute of Management, Tamil Nadu
Indian Institute of Management (IIM), Bangalore
IIM Calcutta, ISI Kolkata, IIT Kharagpur (Tri-institute program)
Aegis School of Business, Data Science & Telecommunication
Narsee Monjee Institute of Management Studies (NMIMS), Bangalore
IIIT Bangalore & UpGrad
BRIDGE School of Management Certificate
MISB Bocconi and Jigsaw Academy
Praxis Business School
If you're interested in doing a full-time Master's degree in Data Science, you can opt for any of the below-listed universities :
Indian Institute of Technology (IIT)
Indian Institute of Science (IISC)
IIM Calcutta
BITS Pilani
Indian School of Business
Symbiosis Centre for International Education
Indian School of Commerce
Chennai Mathematical Institute
IIT Delhi
Jawaharlal Nehru University
Data Science Course Eligibility Criteria
This course is designed for anyone who wants to learn it, either a fresher or a professional. After class 12, one can go for a bachelor's degree in Data Science. They should have a science background, and having computer applications in high school can be an added advantage. However, the percentage required to take admission depends on the college. A fresh graduate in relevant discipline from a recognized university can also opt for either a master's degree in Data Science. Working professionals from a similar background can do a PG diploma in Data Science. There are many online certification programs on Data Science as well.
Data Science Course Fee Structure
The fee structure for the BSc degree in Data Science varies from 3 lacs to 6 lacs depending on the college's location and reputation. The average fee structure for Masters in Data Science is 20000 to 4 lacs. However, the course fee can go up to 20 lacs, depending on the institution.
Data Science Admission Procedure
To get admission to Bachelor's degree in Data Science, one must have studied physics, chemistry, and mathematics in high school. If anyone had a computer application as well, it could be an added advantage. To get admission to Masters of Data Science, one must complete a Bachelor's degree in a relevant field from a recognized university. Online courses are open to everyone. Some colleges have their admission test, while others give admission based on their performance in high school/college. You should fill up the application forms appropriately online or offline and submit them within time. To avoid further problems, you must keep all your documents ready with yourself.
Data Science Course Duration
The course duration for Bachelor's of Data Science is three years, while a master degree course is for two years. However, the PG Diploma course for professionals is of 1 year. Online certification courses are within three to six months.
Data Science Course Syllabus
Data Science is a vast field. It has a lot of topics to discuss. Every institution has its curriculum, but the basic subjects are more or less the same.
Probability and Statistics
Programming – Python, R, Saas
Database Knowledge – MySQL, NoSQL
Machine Learning and Deep Learning – Big Data, Data Ingestion, and Data Munging, Visualization, Problem-solving
Also, Check:
Job Profiles of Data Science Courses
Data Scientist is indeed an exciting profession in the field of Information Technology. They are the ones who are continuously discovering new ways to get the perfect data among billions of data available online. The world of big data has a lot yet to discover, and we are nowhere to the end of it. So, startups and big companies will continue hiring Data Science professionals to solve their business-related problems. Many types of research say that there will be a massive demand for Data Science professionals in the near future as the industry still lacks enough workforce. Some of the job openings after completing the Data Science course are listed below :
Analytics Manager
Business Intelligence Analyst
Data Analyst
Director of Analytics
Research Analyst
Research Scientist
Senior Data Analyst
Statistician
There is equal demand for the candidates who have completed their Data Science Diploma Course or Data Scientist Course.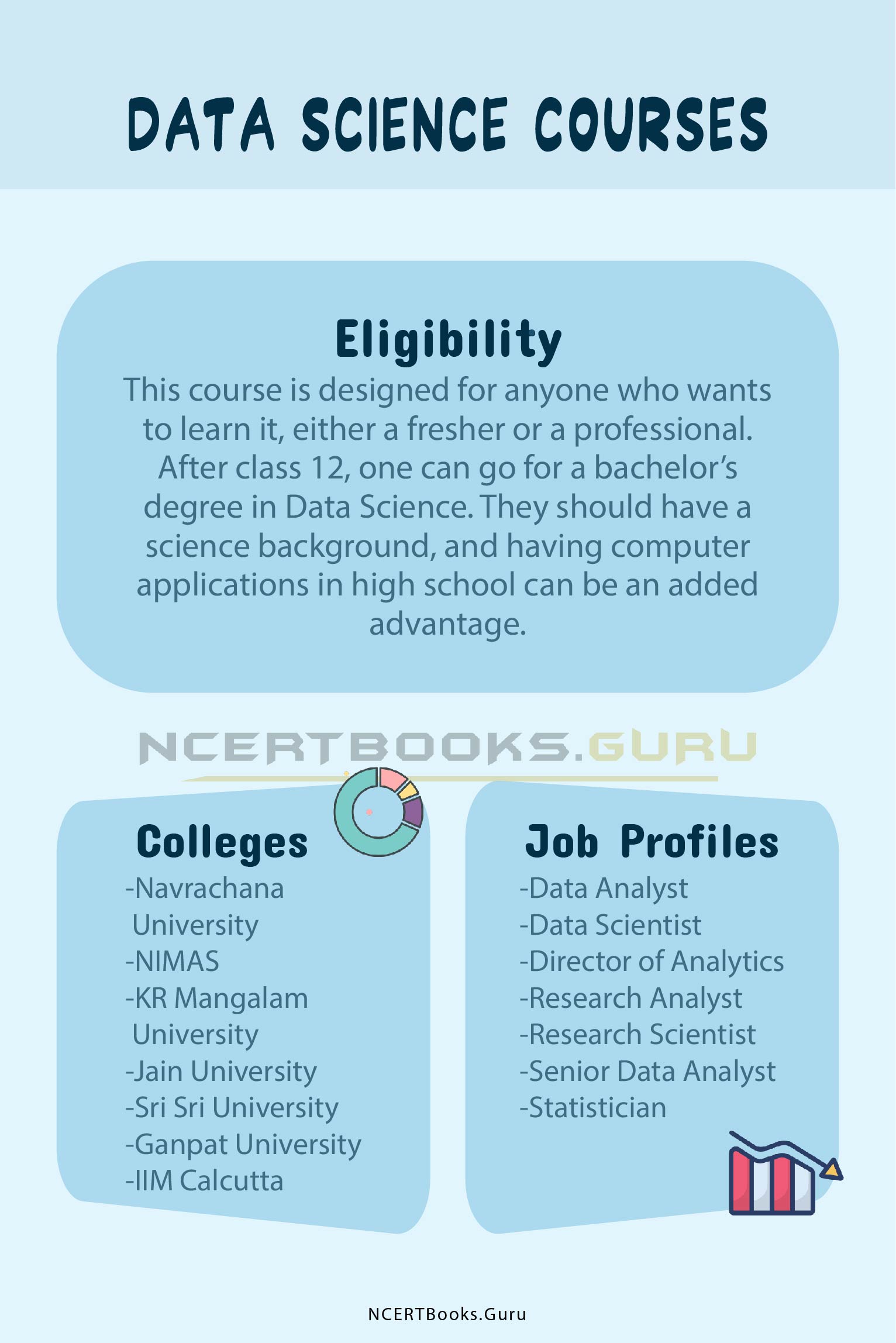 Salary Offered to Data Science Professionals
India is second in the number regarding recruiting Data Science professionals after the United States of America. The salary of a fresher in this field is around five lacs per annum. It increases as per company norms. Mid-level professionals with 5 to 9 years experience earn 8 to 12 lacs per annum. Senior-level professionals with more than ten years of experience earn up to 20 lacs per annum.
FAQ's on Data Science Courses
Question 1.
What does the Data Science course include?
Answer:
Data Science course includes mathematics, statistics, machine learning, business intelligence, etc. to analyze the data and get the perfect result for a particular requirement.
Question 2.
Is Data Science difficult?
Answer:
Yes, it is as if you have to learn hard skills like Python, SQL, and statistics. You also need to acquire soft skills like communication skills, business skills, etc.
Question 3.
Is Data Science the right career choice?
Answer:
Undoubtedly it is because Data Science professionals are among the most highly paid professionals in the world.
Question 4.
Is it too late to become a Data Scientist?
Answer:
No, it is not. Many types of research say that there will be a massive demand for Data Science professionals in the near future as the industry still lacks enough human resources. It is not yet dead.