Airport Management Courses after 12th: The Aviation Industry is growing these days due to increased tourism and other benefits that it provides to the customers. There are many unknown pages of this industry that still require unfolding like how the overall management of an airport is done?
If you are also someone who is curious about how airports are managed and want to be a part of all behind the scene operations of airport management, then this article on Airport Management Courses after 12this for you.
In this article, we have covered all the information of various courses available to you under airline and airport management, eligibility criteria for admissions, top institutes to pursue it from, top recruiters, and salary. So let's start now.
What is Airport Management?
Airport management is all about managing the overall operations of an airport. This sector has gained popularity in the recent decade due to increased tourism and an increase in the number of airlines in the past years. Gone are the days of graduation and Post-graduation in conventional subjects, youth now is focussing more on the courses that can help them get a job quickly.
Being in the aviation industry not only assures you a good job but also the job comes with a lot of adventure and new learning each day. The airport management courses not only help you in developing your skills as an airport staff but also provide you with information on how the aviation sector works on the whole.
There are a number of airport management courses. In this article, we have picked out some of the popular airport management courses that you can pursue to have a bright career ahead.
Bachelor's Degree Course in Airport Management after 12th
The bachelor's degree courses in Airport management after 12th are offered in various fields. Some of them are listed below:
Aeronautical Engineering
B.Sc in Airline and Airport Management
B.Sc Aviation
BBA in Airport Management
Aircraft Maintenance Engineering(AME)
Airport Management Bachelor Courses after 12th Qualification
For BBA in Aviation and airport management, the candidate must have passed 10+2 from a recognized board with a minimum of 50% marks.
No particular stream is required to get enrolled in BBA.
For Engineering and B.Sc in aviation and airport management, the candidate must have passed 10+2 from a recognized board with Science Stream, PMC in particular.
However, the institutes can give relaxation the minimum marks as per their guideline.
Airport Management after 12th Course Duration 
For BBA and B.Sc, the duration of the course is 3 years divided into 6 semesters.
For Aeronautical Engineering and AME, the duration is 4 years divided into 8 semesters.
Airport Management Courses after 12th Fees
The average fee for an Airport management course lies between 30k to 5 lacs. However, this fee may differ from course to course. For example, for BBA in Aviation, the course fee can be between INR 20k-1 lac however the average fee for Aeronautical Engineering ranges between INR 90k to 3.5 lacs.
Diploma in Airport Management After 12th Course Duration, Qualification & Fees
The Diploma in Airport Management is a short-term course that is offered in various subjects like ground staffing, travel management, etc. The course list for Diploma in Airport management is:
Diploma in Airport Ground Handling Training
Diploma in Airport Management
Diploma in Aviation Hospitality, Travel Management
Diploma in Ground Staff & Cabin Crew Training
Diploma in Airfare and Ticketing Management
Diploma in Aviation/Airport Management Qualification
The candidate must have passed 10+2 from a recognized board with a minimum of 50% marks.
No particular stream is required to pursue a diploma course in Airport Management. Students from any field can register for these courses.
The minimum qualifying marks can vary from institute to institute depending upon their eligibility criteria.
Airport Management Diploma Course Duration 
The duration of a diploma course in Airport Management generally lies between 6 months to one year.
Diploma in Airport Management Course Fees
The average fee for a diploma course in Airport management ranges between INR 50k to 1,00,000 depending upon the course you're pursuing.
Also Refer:
Airport Management Colleges in India After 12th
Here is the list of top Airport Management colleges in India:
DY Patil University, School of Management, Mumbai
HITS, Chennai
SJES College of Management Studies, Bangalore
School of Business, University of Petroleum & Energy Studies, Dehradun
Indian Institute of Knowledge Management, Chennai
Nehru College of Aeronautics and Applied Science, Coimbatore
Hindustan Business School
Jettwings Business School, Guwahati
YBN University, Ranchi
Hyderabad Aviation Academy and Hospitality Management, Hyderabad
Career Options for Courses After 12th in Airport Management
Here's the list of various career options available to you after completing the Airport Management Course:
Trainer.
Territory Manager – Corporate Sales.
Senior Staff Analyst for airlines.
Purchasing Manager for airlines.
Operations Analyst for airlines.
Financial Analyst for airlines.
Customer Relationship Manager Airlines.
Aviation Planner
Air traffic controller
Airport Security Manager.
Airport Operations Manager.
Air Cargo Manager.
Air hostess and cabin crew
Airline manager
Do Check: Aviation Courses
Top Recruiters for Airport Management After 12th in India
The list of Recruiters for the Airport Management course in India is given below:
ANI
GMR
ATT
Indian Spinal injuries center
JCB
Thomas Cook
The Oberoi
Air India
Air Canada
Indigo Airlines
GoAir
Air Costa
Jetlite
Also See: Aviation & Navy Courses
Salary after completing Airport Management Courses
The average salary after pursuing an Airport Management course after 12th can lie between INR 2,00,000 pa to INR 5,00,000 pa. However, the average salary is subject to differ according to the role and experience. For example, for a cabin crew, the average salary is ₹5,00,000 pa and that of an airline pilot is ₹40,00,000 pa.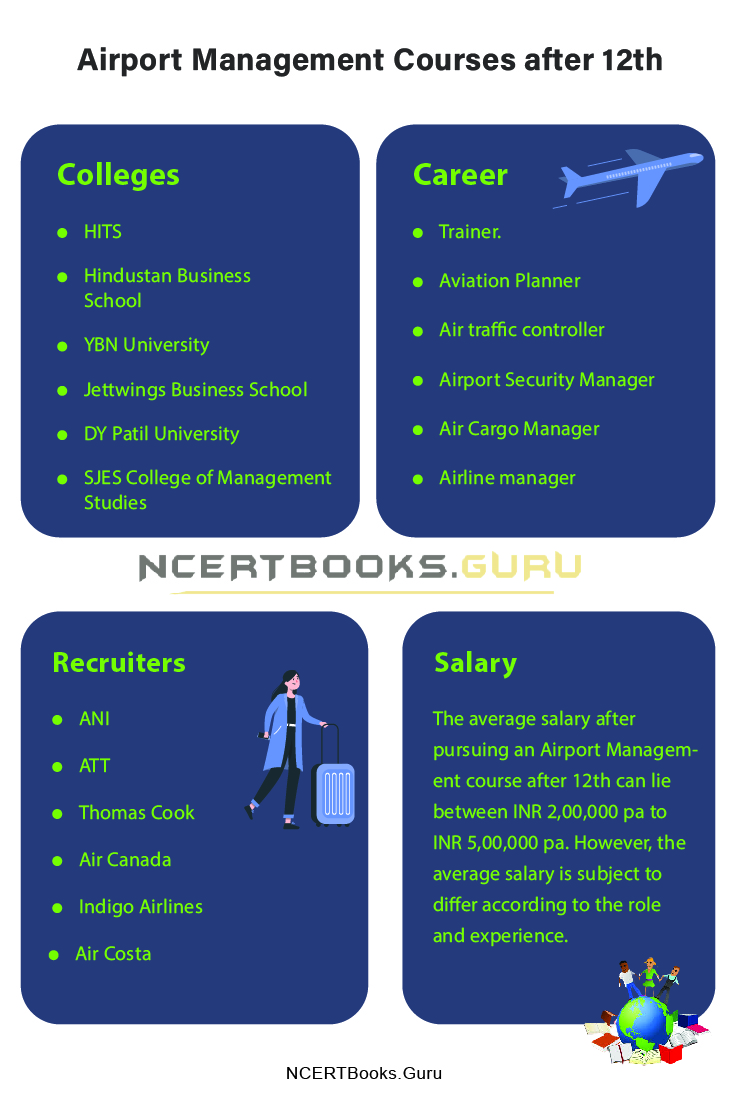 More Articles:
FAQs on Courses of Airport Management After 12th in India
1. Is the Aviation industry a good career option?
With the increase in the airline service and accessibility of airplanes, the aviation industry is certainly a good career option. The wide spectrum of adventures and glamour this industry provides you is unmatched considering the various professional courses available today.
2. What course is to be pursued to become an Airline Pilot?
To become an Airline Pilot, you should undergo a 'Commercial Pilot Training' which is a 4 to 5 years course including 6 months of training.
3. List some institutes for diploma courses in Airport management.
The top 6 institutes for Diploma Courses in Airport Management are:
Vainavi Educational Institution, Hyderabad
All India Institute of Management Studies, Chennai
Aptech Aviation and Hospitality Academy, Bengaluru
The Global Trade Academy, Pune
Aimfill International, Bengaluru
Flywings International College of Aviation and Management, Kochi
4. Which airport jobs have the highest salary?
The top 5 highest paid Airport Jobs in the world are:
Air Traffic Controllers
Airline and Commercial Pilots
Aerospace engineers
Aerospace engineering and operations technicians
Final Words
In this article on Airport Management courses, we have covered all the information to the best of our knowledge. The article covers the key points of Airport management courses after 12th like UG level courses and diploma courses with qualifications, fees, career options, salary, and more. If you have any doubts or queries regarding the article or other course details do comment below. For more such informative articles stay tuned to our website Ncertbooks.guru.