Air Hostess Courses After 12th: It is true that you need wings to fly. But what if you get to travel the globe on a real giant metal bird? It would feel like a dream come true, isn't it? Yes, you guessed it right, we're talking about the aviation industry. The aviation industry provides candidates with umpteen options to choose from and work in a healthy environment. Jobs of air hostesses are quite eminent in the aviation sector.
An air hostess takes care of passengers' needs on the flight, greets people, serves diverse passengers and communicates with them fluently. The aviation industry opens up many opportunities for women interested in this job. Training institutes offering aviation and hospitality management courses provide students with both practical training that groom up their skills and classroom learning.
Get to Know More about other types of Course Details in Stream wise, and Category wise.
Air Hostess Course Overview
The prime aim of the air hostess course is to groom their communication skills and develop their personality so that they deal with diverse passengers without any hassles.
The following are the types of air hostess courses offered by various institutes:
Certificate Courses
PG Diploma Courses
Undergraduate Degree
Postgraduate degree
The course structure is designed in a way that students get a thorough knowledge of different workings of the aviation industry. It also touches upon diverse aspects such as management skills, navigation skills, catering, greeting people, basic knowledge of aircraft, etc.
Air Hostess Course Eligibility Criteria
Candidates willing to pursue the course must clear class 12 exams with an aggregate score of 45-50%. They must at least be 5 feet 2 inches tall with normal eyesight of 6/6. Married students are not taken into consideration.
Air Hostess Course Benefits
Improves communication skills
Develops personality
Let's one learn about various aspects of the aviation industry
Boosts confidence
Flexibility in working at odd hours
Team working skills
List of Air Hostess Courses
Below are the detailed lists of air hostess courses:
Post Graduate Air Hostess Degree Courses
MBA in Aviation Management
Undergraduate course Air Hostess Courses
BBA in Aviation
B. Sc. in Aviation
BBA in Travel Management
B. Sc. in Airlines, Tourism and Hospitality
Post Graduate Diploma Programme
PG Diploma in Aviation and Hospitality Services
PG Diploma in Aviation, Hospitality, Travel & Customer Service
PG Diploma in Airport Ground Services
Diploma Programme
Air Hostess Diploma
Air Cargo Practices & Documentation
Ground Staff and Cabin Crew training
Hospitality, Travel and Customer Service
Hospitality and Travel Management
Aviation Customer Care
Cabin Crew/Flight Attendant Training
Certificate Courses
Air Hostess Training
Flight Purser Certificate Course
Air Ticketing and Tourism
Aviation Security and Safety
International Airlines and Travel Management
Aviation Hospitality and Travel Management
Airport Ground Management
Air Hostess Course Admission Process
As discussed above, to get admitted to the course, candidates must be 5 feet 2 inches tall and unmarried, besides being physically fit.
To apply for air hostess diploma and certificate courses or training, aspirants can directly go to training institutes or airlines and pass the general screening test wherein they check the height and the weight of the candidate. This is proceeded by personal interviews wherein their body language, speaking skills, fluency and language as well as personality are put to test. The shortlisted candidates then are offered air hostess training programs.
The admission process for degree programs such as BBA and MBA is a little different. Students who have passed class 12th exams must clear entrance exams and personal interviews as well as group discussions.
Top Air Hostess Colleges
Top 10 Air Hostess Course colleges and fees details are along the lines:
| | | |
| --- | --- | --- |
| Name of the College | Location | Air Hostess Course Fees |
| Frankfinn Institute of Air Hostess Training | Delhi, Mumbai | INR 1,50,000 |
| Avalon Academy | Dehradun | INR 1,22,000 |
| Centre for Civil Aviation Training | Delhi | INR 60,000 |
| Jet Airways Training Academy | Mumbai | INR 1,45,000 |
| Wings Air Hostess and Hospitality Training | Gujarat | INR 1,35,000 |
| The Bombay Flying Club's College of Aviation | Mumbai | INR 1,50,000 |
| Indigo Training Centre (on-the-job training) | Gurgaon | – |
| Indira Gandhi Institute of Aeronautics | Chandigarh | INR 1,28,000 |
| Universal Airhostess Academy | Chennai | INR 1,18,000 |
| Air Hostess Academy | Bangalore | – |
Also, Refer
Air Hostess Course Jobs, Career Opportunities and Salary
Air Hostess jobs acquire eminent positions in the aviation industry today. Besides, with an increase in the number of airline companies and air crafts, the jobs of air hostesses are to rise in the coming years. Flight attendants are placed at various job positions at handsome packages in the aviation industry:
Senior flight attendant- Rs 4.5 lakh to 8 lakh per annum
Flight Attendant- 4 lakh to 6.5 lakh per annum
Cabin Crew- 5 lakh to 7 lakh per annum
Customer Service Agenda 3.5 lakh to 4.5 lakh per annum
Ground Attendant- 5 lakh to 7 lakh per annum
Not just this, they also enjoy several other benefits such as life insurance, get financial support in traveling, health insurance, kit allowance and much more.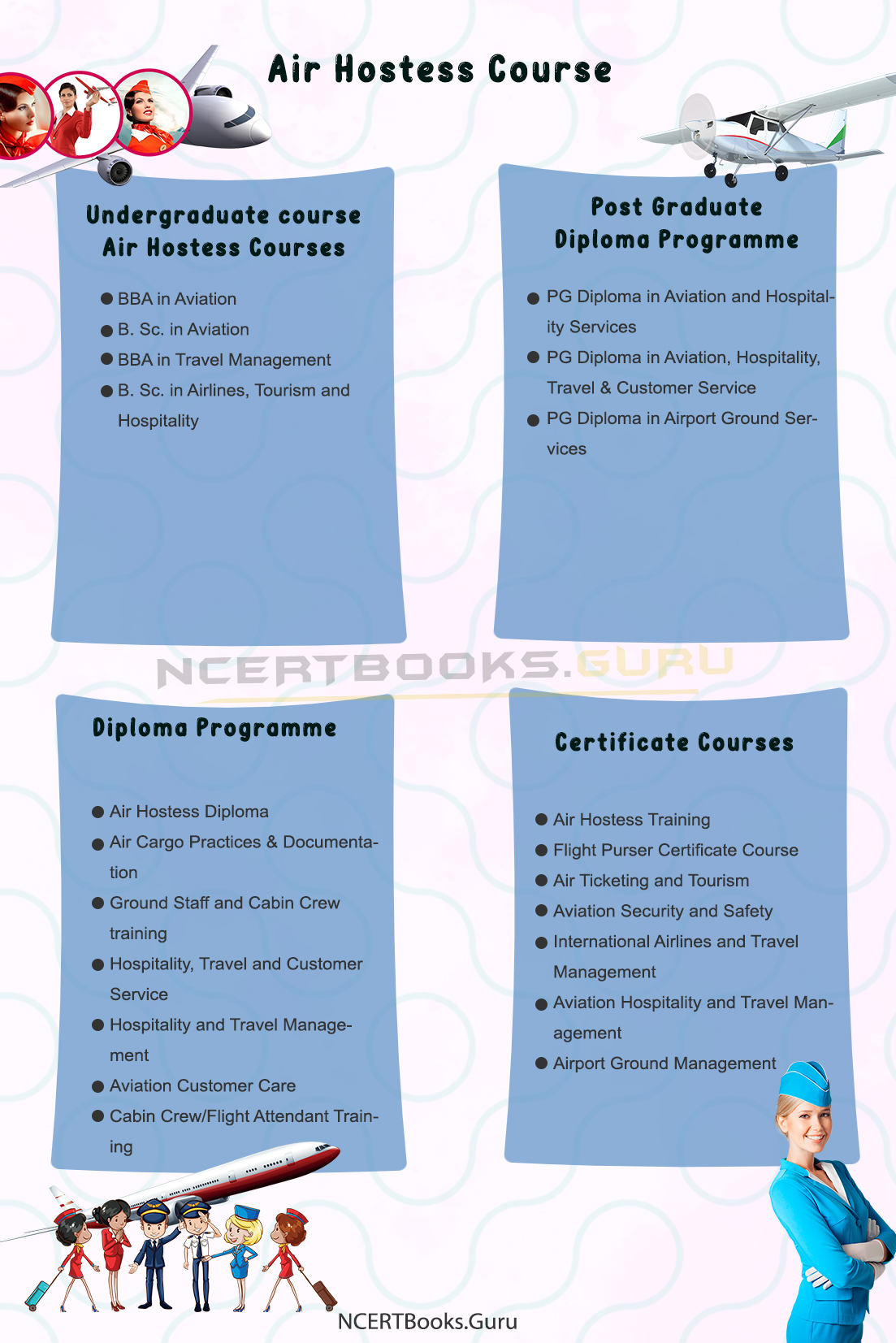 FAQ's on Air Hostess Course Details
Question 1.
What is the air hostess course salary per month in India?
Answer:
An air hostess earns around INR 25,000-30,000 per month.
Question 2.
What are the perks and benefits provided to an air hostess?
Answer:
Air hostesses get nearly 15 days off per month, are provided with health insurance, life insurance coverage, kit allowance, retirement benefits, get financial support in traveling and added benefits of being a part of prestigious parties.
Question 3.
Can air hostesses marry during the course of their job?
Answer:
Air hostesses can marry only if they render four years of their services in the aviation industry.
Question 4.
What should be the minimum height of a candidate to get selected?
Answer:
The candidates need to be at least 5 feet  2 inches tall for the job profile.
Question 5.
What is the Air Hostess Course fees?
Answer:
Air Hostess Course fess in India ranges from 1,20,000 to 1,60,000.