Diploma in Travel and Tourism: There are endless opportunities for the students who just graduated from school, and for them, we have plenty of courses on the market. If you are one of those students, and if you love traveling and meeting people then the travel and tourism course is the best choice for you after the 12th.
This Diploma Course in travel and tourism is an entry-level course that involves the study and analysis of the tourism industry. Travel and tourism course offers many exciting job opportunities these days. This travel and tourism is the fastest growing industry.
If you are interested in travel and tourism courses then look into this blog that gives you complete information about these courses like eligibility, fees, salary, colleges, and many others. And we have many other courses and Course Details. Look into them.
Highlights of Diploma in Travel and Tourism
We will see the overview of the travel and tourism diploma course. By looking into these highlights you will know the total course details easily.
| | |
| --- | --- |
| Course  | Diploma |
| Duration | 1 Year |
| Examination type | Semester Exam |
| Eligibility | class -12 |
| Admission Process | Merit-based |
| Course Fee | INR 40,000 to INR 1,70,000 |
| The average salary for freshers | INR 25,000 |
| Job Positions | Travel Analyst, Management Trainee, Travel Consultant, Travel Agent, Tour Operator, Travel Sales Consultant, etc. |
| Top Recruiting Companies | Concentrix, Robert Bosch, South Indian Bank, TATA ELXSI, Verizon, Wipro, Tech Mahindra, Delta Tech, Hitachi, etc. |
Eligibility Criteria of Travel and Tourism Diploma Course
Here eligibility for travel and tourism diploma courses will differ from university to university.
To pursue travel and tourism you need to complete 10 + 2  in a recognized board of education with a minimum of 50%.
In some colleges, we can join this diploma course after the 10th too.
And you will get admission in the colleges based on the merit that you have got in the 12th standard.
In some universities, you also get admissions by the entrance exams.
Entrance Exam for the Travel and Tourism Course
For some colleges or universities, there will be their own selection criteria for selecting students for this diploma course. They will keep the common entrance test for the students and every student must qualify for that exam if they want to study in that particular university.
DET (Diploma Entrance Test)  is the test conducted by the universities and you need to get the cut-off marks after that you need to attend the personal interview.
After completing the entrance test results will be given on a particular date and those who are eligible will be invited for the admission process.
Admission Process for Travel and Tourism Course after 12th
After qualifying for the 12th examination with the recognized board of education we need to get admission to some top colleges. Here we will look into the steps that are given below for the admission process. Candidates will be selected based on merit or qualified in the entrance exam that was held by the particular university. After that, we will be asked to fill out the admission form.
Any university will release an online form for a particular time period. In that time period, we need to fill out the form from the website of that particular college.
We need to upload all the documents according to the requisites of the application form.
And you need to pay the admission fee that was given by the particular university by paying some online payment options from the online site.
After allowing seats to the candidate then they will ask us to register and pay the course fees.
Diploma in Travel and Tourism Course Fees
Course fees will vary from college to college. And for government colleges fee is less compared to private colleges.  If we can see the average fee for the course will be INR 2,000 to INR 1,00000. And also this diploma course will be completed in one year.
Syllabus for Diploma in Travel and Tourism Management
This travel and tourism syllabus pattern was prepared according to the demands and the problems that are facing in the industry of travel and tourism. The syllabus for this diploma course is varied from institute to institute.  And in colleges along with the syllabus, there will be other activities too like presentations, discussions, field visits, and demonstrations. Based on some institutions, this syllabus was given.
| Semester I | Semester II |
| --- | --- |
| Travel and Tourism Fundamentals | Resort & Transportation Management |
| Communicative English | Foreign language |
| Geography & Tourism And Destinations in India | Basics of Book Keeping |
| Communicative Regional Language | Entrepreneurship |
| Economics | Principles of Management |
| Documentation | – |
Skills Required for the Travel and Tourism Course
To get successful in these travel and tourism jobs and if you want to grow your career in this particular field you should have some variety of skills. Some of those skills are given below.
Communication Skills
Management Skills
Customer Service
Problem Solving Skills
Research Oriented
Time Management Skills
Adventurous
Patience
Teamwork
Organization Skills
Distance Education for Travel and Tourism Course of Diploma
Some of the colleges are also giving an opportunity to study this travel and tourism course at distance. People no need to attend college in this distance learning. Some people who are working and passionate about these travel jobs can study without leaving their present job. You can complete this course in 3 years. we will look into some universities that provide distance learning.
Madras University
Indira Gandhi National Open University
Vardhaman Mahaveer Open University
Top Colleges to Study Diploma Course in Travel and Tourism
There are many colleges that are providing the education for this diploma course in the travel and tourism industry. In that, we have given some of the top best colleges in the public and private sector.
Baba Ghulam Shah Badshah University, Jammu
Maharaja Agrasen University, Solan
Singhania University, Jhunjhunu
Madras University – University of Madras
PNG Government PG College, Ramnagar
Royal Global University, Guwahati
Jagran Lakecity University, Bhopal
Imperial Institute of Management and Technology, Haldwani
MM Institute of Computer Technology and Business Management, Mullana
Sister Nivedita University, Kolkata
Hotel Management Institute, Lucknow
Recommended Books for Course of Travel and Tourism Diploma
There are some books that are recommended for the people who are studying this travel and tourism course that will help to understand this course well. some of them are seen below.
5th Edition of Tourism Management, Stephen J Page.
International Tourism, Bhatia, A.K.
Tourism: Past, Present and Future, Heineman, ELBS, Burkart & Medlik.
Travel and Tourism Management, V.V. Vara Prasad, V.B.T. Sundari.
Travel Agency Management: Communication India, Aggrawal, Surinder.
Career Options For Diploma in Travel and Tourism Course
After completion of the diploma course, you will have very good opportunities in this industry. Let us look into career options that were offered in the market.
Tour Manager
Travel Agent
Tourist Guide
Travel Expense Analyst
Tour Operator
Travel Writer
Customer Service Manager
Travel Planner
Transport Officer
Travel and Tourism Consultant
Airlines Staff
Tourism Promoter
Top Recruiters offer Travel and Tourism Jobs in 2022
To build your career in travel and tourism here we have given some list of recruiters that provides job in the travel and tourism industry.
Flying Fox
TravelGuru
India Healthcare Tourism (IHCT)
Expedia
SOTC India
MakeMyTrip
Club Mahindra Holidays
Goibibo
Kesai Tours
Yatra Online Pvt Ltd
American Express Global Business Travels
SOTC Travel Limited
Air Asia
ClearTrip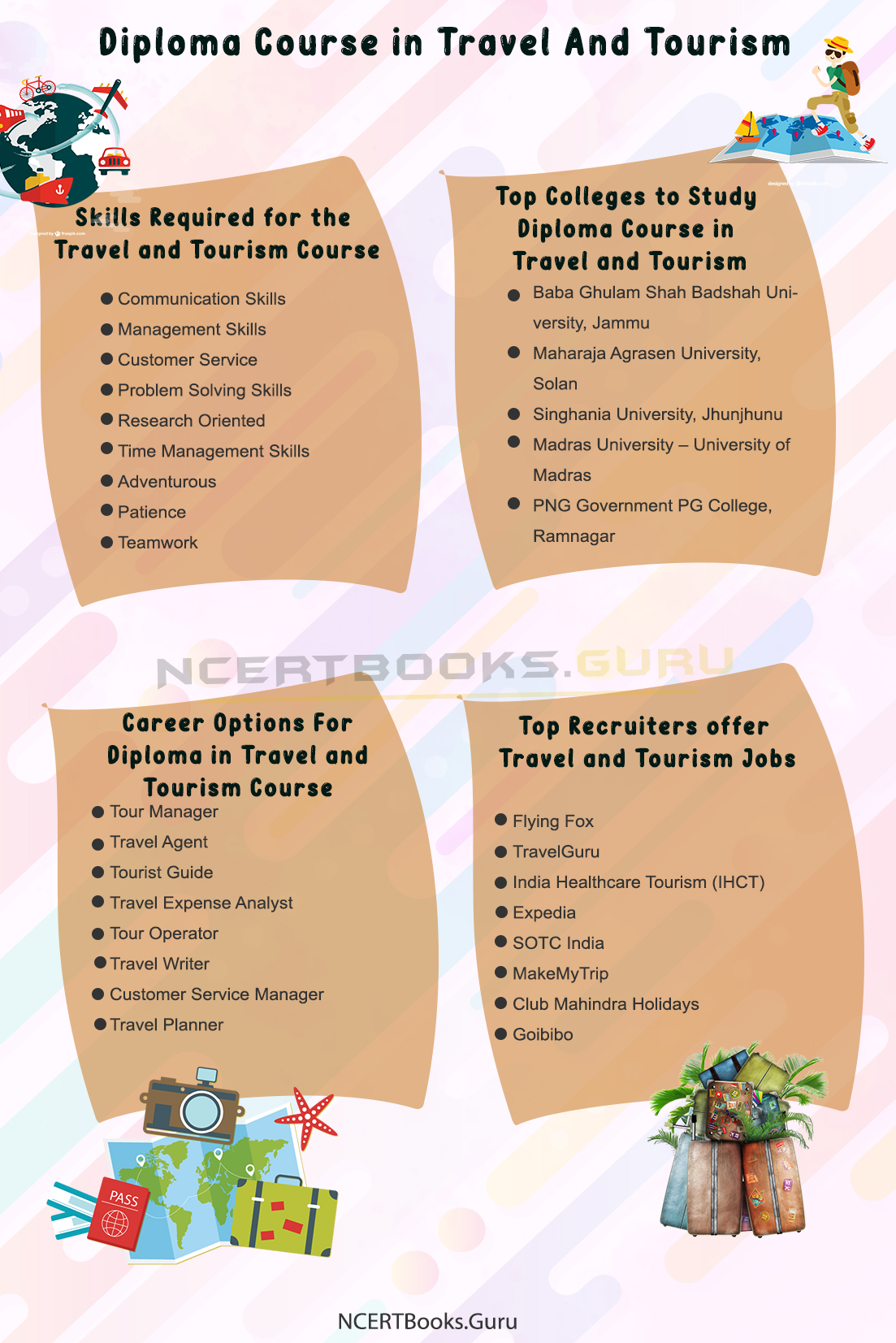 Job Sectors for Diploma in Travel and Tourism in India
Here is a list of job sectors that are hiring travel and tourism graduates in the following departments.
Food Crafting Institutions
Hotels
Airlines
Ships and cruise
Hospitality
Entrepreneurship
Logistics
Spas
Travel Agencies
Here are some other diploma courses in travel and tourism are listed below.
Diploma in Airline and Tourism Management
Tourism Management Diploma
Diploma in Aviation, Hospitality, and Tourism
Travel Management and Airport Handling Diploma course
Diploma in Airlines, Tourism, and Hospitality
Certificate in Aviation, Hospitality, and Travel & Tourism Management
Future Scope of Travel and Tourism Diploma Course
After completion of your diploma course, you can search for a job or you can study higher and grow your career. Here are some of the higher studies after diploma course.
Advanced Diploma
Bachelors Degree
PG Diploma
PHD
Also Check:
Diploma in Travel and Tourism Salary
Candidates who have completed this diploma course have different jobs with different salaries based on different parameters. These salaries which are given below are mainly based on passion, personal ability, and expertise.
| | |
| --- | --- |
| Level of Experience | Average Salary (per annum) |
| 0 – 1 year | Rs. 4,00,000 |
| 1 – 3 years | Rs. 9,00,000 |
| Above 5 years | Rs. 12,00,000 |
FAQs on Diploma Course of Travel and Tourism
1.  Is the travel and tourism course simple?
This course in travel and tourism is one of the most simple courses. These courses will develop your personality and skills.
2. What is the duration of the travel and tourism diploma course?
The duration of the travel and tourism diploma course is 1 year.
3. Can the travel and tourism diploma course is pursued after the 12th?
Yes, this diploma course is pursued after the 12th grade.
4. Is this diploma course is the best career option?
If you are choosing this diploma course as your career option we have plenty of opportunities in travel agencies, hospitality, and many others.
Final Words
Hope the complete information that has been given about the diploma in travel and tourism course. and if you have taken the top revenue-generating sectors, this travel and tourism are one of them. you will have the best future if you are studying this course. And as we have both public and private sector jobs you can have a better future. Stay tuned to this NCERTBooks.guru for more courses and if you have any doubts about this course you can sign up and comment in the comment section.