Top Management Courses after 12th: In this fast-moving world, every opportunity is short-lived, so either you grab it or it's gone. Managers are required by the companies to get hold of these opportunities and harvest them for the larger benefits of the organization. With the growing demand for managers across the corporate as well as the public sector, careers in management are in fashion. Organisations today are highly dependent on managers for the efficient acquisition and utilisation of their resources, be it physical, financial or human.
If you're also planning to make your career in Management then this article on Management Courses after 12th is for you. In this article, we have covered a list of management courses after class 12th, eligibility criteria, fee range, best colleges to get admission in, and career prospects. So let's get started.
What is Management?
Management is the process of planning, organising, coordinating and controlling the activities of the organization. It focuses on the execution, implementation and completion of the activities of the business effectively and efficiently. It builds the foundation of knowledge about how various activity centres of the company hold together as one whole.
Management as a subject discipline provides you an in-depth knowledge of various aspects of business viz. Finance, marketing, economics, HR etc. It covers a variety of topics and the key skills required to perform your role as a manager. It familiars you with the key areas necessary for the hassle-free functioning of the business.
How many types of Management Courses are there?
The management courses after 12th are generally undergraduate, postgraduate as well as diploma courses. Here is the details of various management courses being offered to students after class 12th:
Diploma Courses
Bachelor Courses
Master Courses
Bachelor Courses in Management after 12th
Bachelor of Business Administration- (BBA)
Bachelor of Business Management (BBM)
Bachelor of Management Studies- (BMS)
Bachelor of Commerce (Management)- B.Com (Management)
Bachelor of Computer-Aided Management- (B.CAM)
Bachelor of Foreign trade (BFT)
Bachelors in Business Economics- (BBE)
Bachelor of Hospital Management- (BHA)
Bachelor in Sports Management- (BSM)
Bachelor of Hospitality Management (BHM)
Eligibility Criteria for Bachelor Courses in Management
Must have completed 10th and 12th from a recognized board.
Passed 10+2 with a minimum of 55% marks. However, some relaxation in marks is given by the colleges as per their guidelines.
Where the admission is through CAT or entrance exams, must have qualified.
Course Duration of Bachelor's Degree in Management
The bachelor's courses in management are generally of 3 years. It is usually divided into 6 semesters.
Bachelor's Management Course Fee
The course fee ranges from ₹30,000- ₹ 6 lacs. However, the range differs from college to college depending upon the course you choose to pursue. For example, the course fees of BMS range from 50k- 5lacs, that of BBA ranges from 60k to 1.5lacs, etc.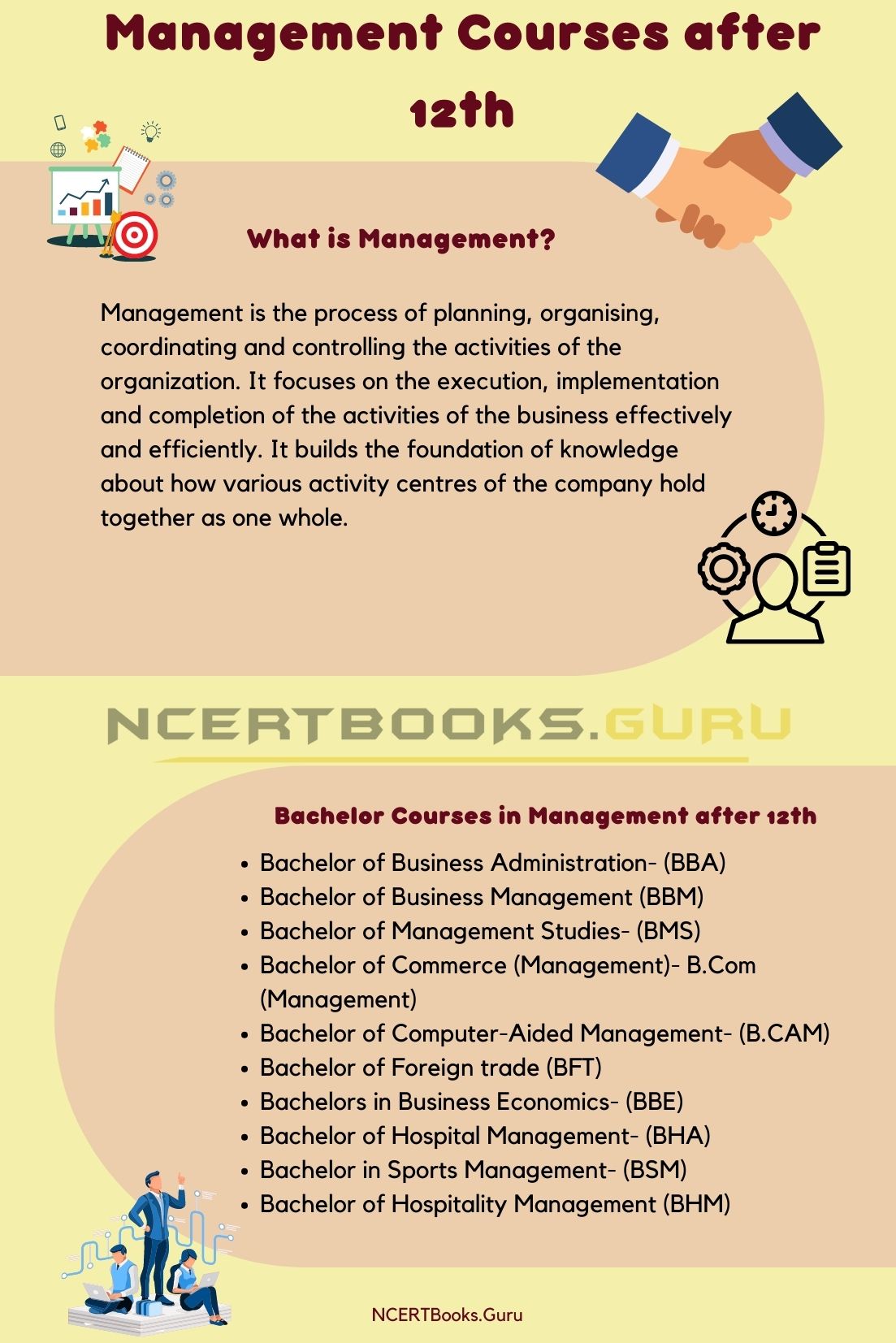 Masters Courses in Management after 12th
Masters of Business Administration- MBA
Masters in Foreign trade
Post Graduate Program in Management- PGP (Management)
Master of Commerce – M.com
Master in Computer Management- MCM
Master of Financial Management – MFM
Master in Hospital Management- MHM
Master of Philosophy in Management- M.Phil (Management)
Executive Post Graduate Program– EPGP
Master of Management Studies- MMS
Master of Event Management- EVM
Master of Business Studies- MBS
Eligibility Criteria for Masters Courses in Management
Must have passed 10+2 from a recognised board with a minimum of 55%marks.
Must have completed a bachelor's degree in any discipline from a recognized university.
Must have qualified for the entrance exam/CAT/GMAT etc where it is required
Masters Degree Management Courses Duration 
The Master's course of management is generally of 2 years divided into 4 semesters. However, various executive management programmes are also available for the working professionals, which are preferable of One year.
Masters Degree Management Courses After 12th Fees
The Master's course fee for management ranges somewhere between 20k- 40 lacs. But the range differs from college to college. For instance, to pursue MBA from an IIM will cost you somewhere between 12 lacs to 25 lacs, and that from the top B-schools may cost you 15 lacs to 25 lacs.
Diploma Management Courses after 12th
Post Graduate Diploma in Management- PGDM
Post Graduate Diploma in Business Analytics – PGDBA
Post Graduate Program in Management- PGP (Management)
PGDBM – Post Graduate Diploma in Business Management
Graduate Diploma in Business Management
Diploma in Financial Management
Eligibility Criteria for Management Diploma Courses
Candidate must have passed 12th from a recognised board with a minimum of 55% marks
Candidate must possess a bachelor's degree in any discipline with a minimum of 50% marks
Working professionals with work experience of 3+ years are generally given preference
Diploma in Management Course Duration 
The diploma course is covered in 4 semesters and varies from 1- 2 years as per the colleges
Diploma in Management Course Fees
The average fee for diploma courses ranges from 7 k to 40k.
Also, Check
Essential Skill Set Required for Management Courses after 12th
Management has become a profession. Therefore, a professional degree is a must for taking the first step in this arena. However, apart from this the personality, attitude and interest of the person is also required for successfully achieving the goal.
In the interview, the panel closely looks for the correct attitude and perception of the candidate so as to decide whether they suit the role. Along with this knowledge of some technical tools like MS Office, MS OUTLOOK etc is also looked after. Overall, the management students must have the following set of skills:
Creative thinking
Team player
Problem-solving attitude
Patience
Critical analysis skills
Good communication skills
Positive personality.
Top Management Colleges in India
Indian Institute Of Management, Ahmedabad
Indian Institute Of Management, Bengaluru
Faculty Of Management Studies, University Of Delhi
Indian School Of Business, Hyderabad
Indian Institute Of Foreign Trade (IIFT), New Delhi
Xavier Labour Relations Institute (XLRI), Jamshedpur
Management Development Institute (MDI), Gurgaon
S P Jain Institute Of Management And Research (SPJIMR), Mumbai
Jamnalal Bajaj Institute Of Management Studies, Mumbai
Shailesh J Mehta School Of Management, (IIT Mumbai), Mumbai
Department of Management Studies, (IIT Delhi), New Delhi
Indian Institute Of Technology, (IIT) Kharagpur
Symbiosis Centre For Human Resource Development (SCMHRD), Pune
Mudra Institute Of Communications (MICA), Ahmedabad
Symbiosis Institute Of Business Management, Pune
NMIMS School Of Business Management, Mumbai
University Business School (UBS), Punjab University, Chandigarh
Department Of Business Economics, University of Delhi, Delhi
Management Courses after 12th Admission Process
Here we are giving the detailed admission process for various management courses after twelfth. Follow this simple process to get admission in the best college.
Go to the official website of the college/university.
Select the course you want to pursue.
Check whether you meet the eligibility conditions or not.
If eligible, then fill the application form with personal, educational details.
Pay the application fee, if any.
Scan and upload the required documents.
Submit the application form before the last date.
Career after Pursuing Management Courses after 12th
Finance manager
Sales manager
HR manager
Marketing manager
Management consultant
Accounting manager
General manager
PR manager
Business manager
1. What is a management course all about?
Management course is about making you acquainted with the specialized areas of a business so that you have in-depth knowledge of how various things work behind the scenes of the various activities.
2. What is the future of Management studies?
Management Studies is still an emerging discipline and therefore will go a long way before it reaches its saturation.. Therefore, in the years to come, investment in a Management course will yield benefits multiple times whether it comes to the salary or growth of the industry.
3. Top companies hiring management professionals
Top global recruiters include:
Amazon
Deloitte
Apple
BCG
JP Morgan
Microsoft
TCS
Reliance Industries Limited etc.
4. What is the average salary of a management professional?
The average salary of management fresher in India ranges from 2 lacs to 5 lacs. However, a management professional with 3+ years of experience can draw a salary up to 15 lacs.
Final Words
We hope the information shared in this article has been insightful for you in knowing the various options of management courses available to you after 12th along with the career prospects and the top colleges to pursue your chosen course in management. If you have any queries or doubts related to management course details, feel free to comment down. We will try to clear your doubts to the best of our knowledge. Stay in touch with our website NCERTBooks.guru for more such articles.