Types of Management Course: Management courses are the key to a bright future. If you are interested in studying the management courses but have not compiled the information, this is the right place for you. Here, you can get a detailed description of the undergraduate, postgraduate, Ph.D., and other types of management courses with fees, career scope, job profile, and a lot more.
About Types of Management Courses in India
The management courses will provide you with a piece of detailed information on topics relating to business, finance, economics, and marketing. These courses have a very practical focus, with opportunities to complete work placements and professional projects included as part of the program.
You can go for various UG, PG, and Ph.D. courses in the management field with many specializations. However, the competition in management is quite high but the career scope is amazing. After the completion of courses, you will be able to make better decisions in a variety of scenarios.
Do Refer:
Top Management Courses in India: Overview
BBA and MBA are the top management course offered in India. You can find the overview of these courses here in the below-provided table.
Degree Offered

Bachelors
Masters
Certification
Diploma
Ph.D.

Admission Process
Merit or Entrance Based
Average Fees (MBA)
Rs 20,000 to Rs 40 lakh
Salary Offered
Rs 4,00,000 to Rs 32,00,000 per annum
Job Profile

HR Manager
Business Advisor
Computer and Information Systems Manager
Sales executive
The management courses after 12th come under the category of undergraduate courses, To be eligible for these programs you need to score a minimum grade of 50% in class 12th. Students can also g for the integrated management programs in their bachelors. You can complete the bachelor's degree within 3 years, and the integrated master's courses in 5 years.
Generally, the admission is based on merit basis but some colleges may also conduct their entrance exams which students need to clear for UG courses in management. You can find the list of top Undergraduate Management Courses here.
Bachelor in Sports Management- BSM
Business Management – (BBM)
Bachelor of Hospital Management- BHA
Bachelor of Hospitality Management- BHM
Business Administration plus Graduate Diploma in Business Management
Commerce (Management)- B.Com (Management)
Bachelor of Computer Application and Executive Master of Business Administration Integrated program
Bachelors in Business Economics- (BBE)
Bachelor of Business Administration- (BBA)
Management Studies- (BMS)
Specialization in Business Administration + Diploma in Business Administration ( BBA+DBA)
Bachelor of Computer-Aided Management (B.CAM)
For the PG management courses, you need to complete a graduation degree with a minimum of 50% marks from a recognized university. The PG courses are for 2 years. However, some of the courses which you can pursue in PG domains are.
Master of Event Management- EVM
Masters of Business Administration- MBA
Master in Hospital Management- MHM
Post Graduate Diploma in Business Management
Master of Management Studies- MMS
Master of Business Studies- MBS
Post Graduate Diploma in Business Analytics– PGDBA
Master in Computer Management- MCM
Master of Philosophy in Management- Phil (Management)
Executive Post Graduate Program– EPGP
Master of Financial Management – MFM
Post Graduate Diploma in Management- PGDM
Master of Commerce – M.com
Post Graduate Program in Management- PGP (Management)
Ph.D. Management Courses
Various courses are available in the Ph.D. domains too. However, these course stakes up around 3 years to get the degree. If you are interested in the research work related to the management courses then you can surely go for the doctoral courses.
But to be eligible for this program you must hold a master's degree from a UGC-recognized university. You can look for the best Ph.D. program available in the management domain.
Ph.D. in Management
Ph.D. in Management Studies
Ph.D. in Business Management
Also Know:
Types of Management Courses for Arts Students
It has been said that MBA is for commerce students. But now with the growth of the education system, the students are free to choose their career path despite being any stream. Even art students are now eligible to pursue MBA from the top colleges.
To be eligible for this program students need to have complete graduation with a minimum of 50% marks. After clearing the entrance exams such as CAT, MAT, XAT, and more art students can opt for management programs. Few of these domains are available here.
MBA in logistics
MBA in human resources
MBA in retail management
MBA in entrepreneurship, etc.
MBA in marketing and sales
MBA in banking
MBA in Finance
MBA in communications
MBA in e-commerce
MBA in e-business
MBA in operations
MBA in economics
Also Check:
Top Entrance Exams for Management Courses
There are various entrance exams conducted at the national, state, and university levels. To get admission into the top B schools and universities students need to have a good score in class 13th along with a top score in these entrance exams.
The top entrance exams conducted for management courses in India are.
SNAP
MAT
GMAT
CMAT
XAT
NMAT
CAT
ATMA
Types of Management Courses After Graduation – Fees
The average fees charged for MBA courses are quite high. It also varies according to the services offered by the institutes. You can find the list of top colleges fees for BBA and MBA courses.
Institute Name
Fees

BBA Fees 

IIM Rohtak
Rs 4,00,000
NMIMS Mumbai
Rs 5,00,000
ICFAI Foundation for Higher Education, Hyderabad
Rs 28,000
Alliance University, Bangalore
Rs 2,00,000
Amity University, Noida
Rs 2,00,000

MBA Fees

IIM MBA Fees
8,00,000 – 23,00,000
IIT MBA Fees
2,00,000 – 5,00,000
IGNOU MBA Fees
37,800
NIT Warangal
Rs. 2.1 lakh
IBS Hyderabad
Rs 2.50 lakh
Jagan Institute of Management Studies (JIMS), Rohini
Rs. 6.10 lakh – PGDM & PGDM-IB; Rs. 5.10 lakh – Retail & Marketing
Top Management Colleges in India
There are more than 100 colleges available from where students can pursue management courses. But to get admission into the best ones is not an easy task. You can find MBA colleges all over India. Some of the top colleges offering management degrees are
Delhi University: The Faculty Of Management Studies
Indian Institute Of Management, Kolkata
Indian Institute Of Foreign Trade (IIFT), and New Delhi
Dept. Of Management Studies, (IIT Delhi), New Delhi
Narsee Monjee Institute of Management Studies, Mumbai
Indian Institute Of Management, Ahmedabad
Symbiosis Centre For Human Resource Development, Pune
Indian Institute Of Management, Bengaluru
IIT Delhi – Department of Management Studies Indian Institute of Technology
IIM, Kozhikode
Delhi University: Department Of Business Economics
Jobs and Career Options in Management Courses
The management degree prepares you for the business, finance, economics, marketing, and other domains related tot he business management. You have also developed the related knowledge and skills which are essential for the managers to perform the smooth functioning of a business.
Management is the most demanded career these days. Whether the company is big or small managers are required everywhere. Hence, in the same manner, the companies are offering sound salary structures to the employees. You can choose management as the best career option for you. You can find the jobs related to the below-mentioned profiles.
Human Resource Manager
Marketing Manager
Business Development Manager
Brand Manager
Finance Manager
Business Analyst
Computer and Information Systems Manager
Sales executive
Public Relations Manager
Business adviser
General Manager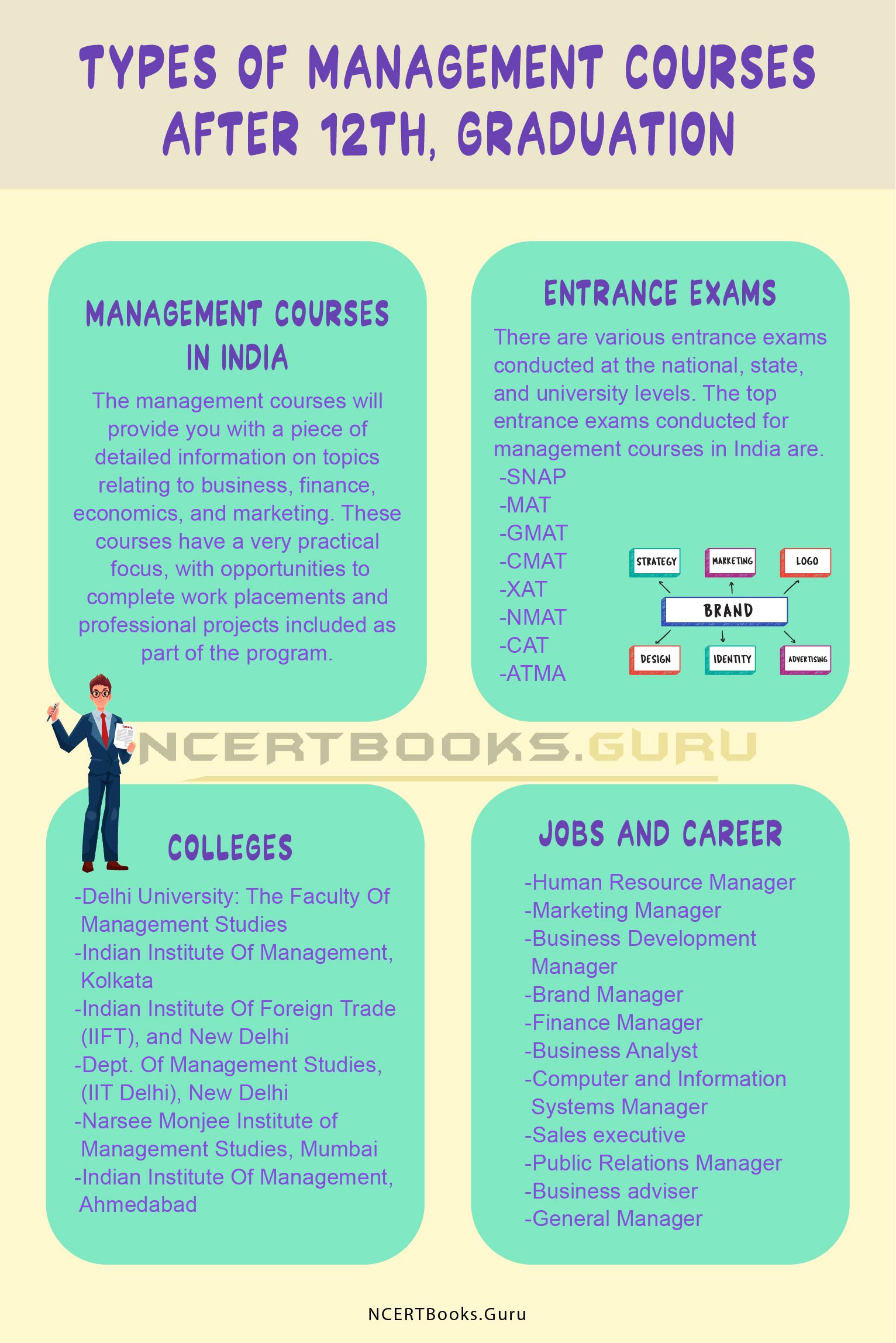 Must See:
Salary Structure After Types of Event, Project, Business Management Courses
The management courses offer quite a high salary structure to the employees. Even the freshers can easily earn Rs 30,000 to 50,000 per month after the completion of different types of specialization in management domains. You can find the job profile-wise salary provided to the MBA-related management employees in India.
| | |
| --- | --- |
| MBA Specialization | Average MBA Salary |
| MBA Finance | Rs 2,00,000 to Rs 14,70,000 |
| MBA Human Resource Management | Rs 4,50,000 to Rs 15,50,000 |
| MBA Information Technology | Rs 10,000 to Rs 6,00,000 |
| MBA Logistics Management | Rs 6,25,000 to Rs 8,50,000 |
| MBA Marketing Management | Rs 14,25,000 to Rs 20,43,000 |
FAQs on Different Types of Management Courses in Canada
1. Who are the top recruiters for the management courses? 
The companies such as Amazon, BCG, Deloitte, Apple, JP Morgan, Microsoft, Morgan Stanley, etc. offer unique salary packages to the management students. Even in India top recruiting firms are Tata Consultancy Services, Reliance, Cognizant, Wipro, ICICI Bank, and more.
2. Can I pursue various management courses online? 
Yes, there are various diploma and OG diploma courses available in the management field. The top institutes like Udemy, Coursera, edX, and more offer free management courses too. You can go for finance, business management, Financial Accounting, Innovation Management, and other such types of courses in the management domains online.
3. What are the skills required for a management degree? 
Before getting into any field the company requires students to have some required skills. Skills related to numerical ability, Accounting, Finance Management, marketing, finance, business knowledge, team spirit, and more should be
4. Is it worth pursuing management programs in India? 
There are various MNCs and the top recruiting firms in India and Abroad who are waiting for the students who have completed degrees in management. Even the scope in the government sector is also quite high for the management students.
Conclusion
I hope that the above-provided article has provided you with a clear understanding of the types of management courses available in India. Now, you can choose the best for your future career goals and preferences. Ncertbooks.Guru is providing you with the best advice on management courses and other course details.
So, look at the complete guide and proceed on the right career path. For any suggestions or queries, do leave comments in the below comment section.