Retail Management Courses: Retail management is a special branch of management studies that teaches students how retail outlets work. It is concerned with the total functioning of retail stores and outlets. The major function of any business unit, whether retail or wholesale generally include financial, inventory control, marketing, personnel and operative activities. Retail Management is all about managing all these functions of a retail outlet in an efficient manner so that the wastage can be minimised and the store functions properly.
If you are someone who wants to build a career in management but want to pursue some unique, in-demand course then this article on Retail Management Courses is for you. In this article, we have covered various details of retail management courses after 12th viz, course list, admission process, eligibility criteria, top colleges, career options and average salary. Let's get started.
Get to Know More about other types of Course Details Streamwise, and Category wise.
What is Retail Management?
Retail management is a discipline of study that imparts knowledge and skills for operating a retail store. It includes the maintenance of a retail store and ensuring that products reach customers on time.
It includes various activities like attracting the customer to visit the store and offering them commodities according to their need and desire. The overall goal of retail management is to ensure the effective functioning of the retail stores so that customer satisfaction can be maximised. In a nutshell, retail management is all about building a strong brand image for the store and an impactful relationship with the customers so that they choose the store for repetitive purchases.
Retail Management Courses Free
Retail management courses can be categorised into bachelor's degree courses, PG courses and diploma courses.
Here is the list of various retail management courses online available to you:
Bachelor's Degree Courses in Retail Management
Here we are giving the list of Retail Management Bachelor's Degree Courses along with their eligibility criteria, fees, and course duration.
B.Sc in Retail Management
B.Sc in fashion merchandising and retail management
BBA in retail management
Eligibility criteria for bachelor's degree in retail management
Must have completed class 10th and 12th from a recognized board.
Passed 10+2 with a minimum of 55% marks.
The admission is taken through CAT or entrance exams, must have qualified.
Some universities take admission directly on merit based on class 12th marks.
Bachelor's degree retail management course duration
The full-time bachelor's course in retail management is a 3-year programme divided into 6 semesters.
Bachelor's Degree Retail Management Course Fees
The average fee for a bachelor's course in retail management lies somewhere between 15 k to ₹2 lacks.
Master's Degree Course in Retail Management
Candidates who have completed a bachelor's degree can apply for any one of the below given Retail Management Master's courses. Here you can get the duration, eligibility criteria, and fees structure for a master's degree in retail management course.
MBA in retail management
Executive programme in retail management
MBA in sales and retail marketing
M.Sc in retail management
Master's degree in retail management course duration
The full-time master's course in retail management is a 2-year programme divided into 4 semesters.
Eligibility criteria for master's degree course in retail management
Must have finished a graduation degree from a recognized university
Must have scored a minimum of 50% marks in graduation.
The candidate must have qualified for the entrance test of the institute or CAT as may be required
Fee for a master's degree course in retail management
The average fee for a PG course in retail management lies somewhere between 35k to ₹3 lacs. However, the fee differs from college to college.
Diploma Course in Retail Management
The following list includes Retail Management Diploma Courses in different specialisations. Students who are interested to pursue these courses can know eligibility conditions, fee structure, and course duration details from the below-mentioned sections.
PG Diploma in Retail Management
Diploma in Retail Management
Diploma in Retail Marketing
Diploma in Merchandising
Diploma in Retail Operations
Diploma in Business Mathematics
Diploma in Competitive Analysis and Planning
Diploma in Retail Accounting
Diploma in Retail Pricing
PG Diploma in Fashion Designing and Retail Management
Certificate in Retail Management
Certificate in Retail and Sales Management
Certificate in Food and Safety Supervisor
Certificate in Retail Pricing and Research
Certificate Course in Mall Operations and Management
Certificate in Retail Operations
Certificate in Retail Services
Postgraduate Certificate in Retail Management
Duration of Diploma Course in Retail Management
The duration of diploma courses in retail management can vary from 3 months to 2 years depending upon the course you want to pursue.
Eligibility Criteria for Diploma Course in Retail Management
For diploma courses, the minimum qualification required is 10+2 from a recognised board
However, for a PG diploma, the minimum qualification is graduation from a recognized university.
Diploma in Retail Management Course Fees
The average fee for a diploma course is generally between ₹5,000 to ₹50k. However, it differs from course to course. For example, the fee for a certificate course in retail management is ₹12,000 and PG diploma in retail management is ₹ 20,000.
Also, Refer
Retail Management Courses Admission Procedure
The detailed step by step admission process for Retail Management Courses in India is provided here. Interested and eligible students can follow these steps to finish the admission steps easily.
The institutes generally take admission through their entrance examination followed by a personal interview round
Some institutes also require that candidates have qualified for a national examination like CAT or XAT with some minimum percentile.
There are some institutes that provide direct admission to candidates based on merit.
Top Retail Management Colleges in India
The list of top and best retail management colleges are along the lines.
Amity Business School
Birla Institute of Management Technology
Jaipuria Institute of management
Sardar Vallabhbhai Patel international institute
Noida International University
Vivekananda global university
Jankidevi Bajaj Institute of Management
ISBR Business School
IMS Unison University
Retail Management Course Subjects
Get the Retail Management Course Syllabus and subject names. These subjects are covered from all the semesters of bachelor's degree, master's degree, diploma, and certificate courses.
Retail Marketing
Principles of Marketing Economics
Buying Merchandising
Overview of Retailing
Customer Value Management
Customer Service Management
Sales Management
Store Operations
Retail Management Perspective
IT Application in Retail
Business Communication
Human Resources
Visual Merchandising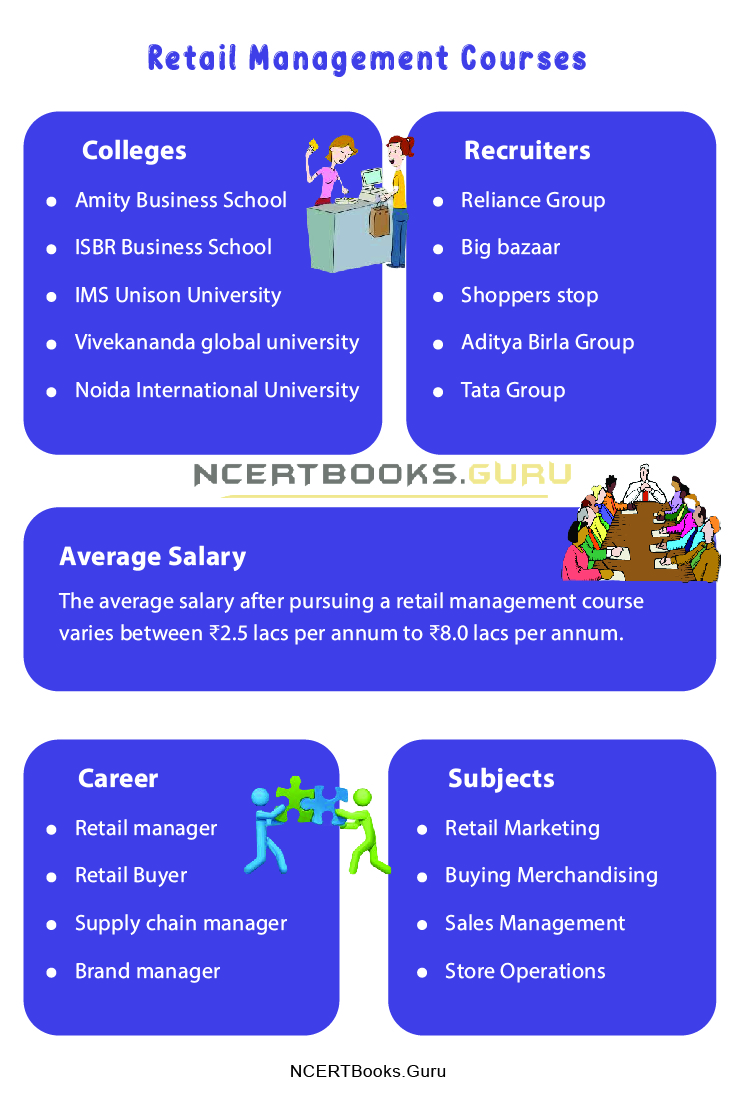 Top Recruiters for Retail Management
These are the top recruiting companies for the retail management course completed candidates. You can apply for any of these companies to get a job easily.
ITC
Reliance Group
Big bazaar
Shoppers stop
Aditya Birla Group
Tata Group
Tesco
Lifestyle
Titan Group
Career Options after Retail Management
Candidates can choose to study higher education or do a job after completion of the course retail management. Below mentioned are the Retail Management Job Profiles.
Retail manager
Store manager
Merchandiser
Retail Buyer
Analyst
Supply chain manager
Marketing Executive
Warehouse Manager
Department manager
Brand manager
Customer relationship manager
Average Salary after Retail Management Course
The average salary after pursuing a retail management course varies between ₹2.5 lacs per annum to ₹8.0 lacs per annum. However, the average salary tends to differ depending upon the role you're looking after. For example, the average salary of a Marketing Executive is ₹2.9 lacs and that of a brand manager is ₹9 lacs.
FAQ's on Retail Management Courses
1. What is a retail store?
A retail store is an outlet that sells goods and services directly to the customer in the quantity required by the customers. In contrast to wholesaling, retail stores deal directly with the customers to satisfy their needs.
2. What are the subjects of specialization available in retail management?
The various subjects of specialization available in retail marketing are:
Merchandising
Customer relation
Operations
Accounting
Pricing
Marketing
Mail management
Marketing strategies
3. Do retail management courses have demand in India?
If we look at the present scenario, we can tell that retail management courses free are surely in demand these days. With malls and branded outlets at every corner, the demand for retail managers is increasing to manage these stores and as a result demand for retail management is increasing as well.
4. Can retail management courses be pursued online? 
Yes. Diploma and certificate courses in retail management can be pursued online as well as offline. There are various platforms like Coursera, use my etc where you can find a number of certificate courses in retail management.
Final Words
In this article on Retail Management Courses, we have tried to cover every detail related to the course under various heads. This article provides you with information on various retail management courses, their eligibility criteria, admission process, fees, top colleges and career prospects. If you have any doubt regarding the article or any of its heads, please comment below your queries. We will try to resolve your doubts to the best of our knowledge. For more such articles, stay tuned on our website.