Online Management Courses: With the introduction of online education management courses are not lagging behind the race. If you are also one of those who want to pursue without being relocated then Online Management Free Courses are the best choice for you. Thus, this article will provide you detailed structure related to short-term, long-term, project management, and business management courses online in detail.
About Best Online Management Courses in India
Management Courses offer permission career opportunities for the students. They can build up their career in management while studying the course curriculum at the online level. The courses offer high salaried packages, lucrative career choices, reputed certificates, skill-building, and a lot more. You can pursue online courses from abroad as well as from Indian top institutions.
These courses are beneficial for students as if you are working you are not required to leave your job, they are cost-efficient, and learning can be done at your own pace. The courses will train you to run a business including activities such as business administration, financial management, business management, and business strategy and leadership, among other things.
Online Management Courses Overview
Online Management programs are in great demand these days. Thus, you can get an overview in this below-tabulated form.
Degree
Certificate
Platforms

edX
Coursera
NPTEL
Udemy
Skillshare
LinkedIn Learning, and more

Specializations

Project Management
Business Management
Supply Chain Management
Construction Management
Property Management
Risk Management
Leadership and Management

Fees
Rs 1,000 to Rs 60,000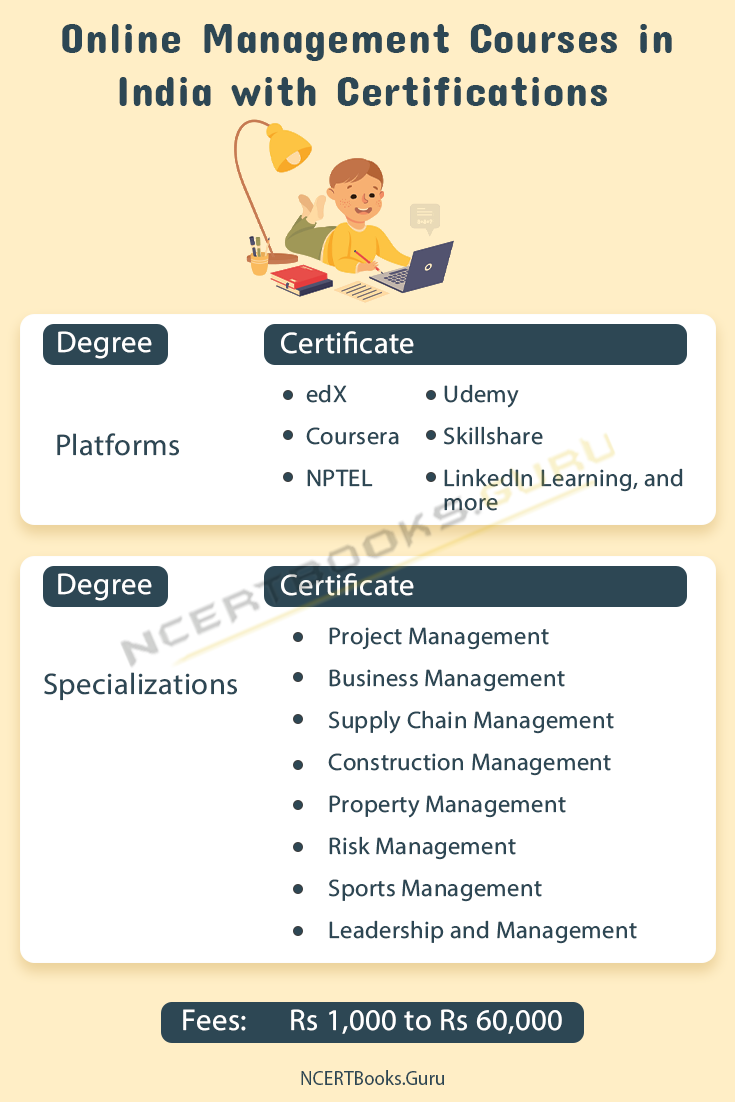 Eligibility For Online Management Courses
The eligibility varies according to the various institutions. However, the basic eligibility is that candidate must have completed class X or XII with a minimum score of 50% from a recognized institution or an equivalent degree to this.
Duration of online management courses free with certificate
The Online management courses can be completed in around a few weeks or take around 2 years at maximum. You can complete these courses at your own time and availability. If you are working and you need specialization in the management field then choosing online courses is the best option.
Also Check: Management Courses After 12th
Free Online Management Courses with Certificates in India
There are numerous online platforms that are offering free courses in management for free. Perform such as edX, Coursera, NPTEL, Udemy, Skillshare, LinkedIn learning, and more are the best choice. Thus, the top 10 free online courses are
The Management foundation course on LinkedIn Learning
The Executive Certificate Program In General Management
Harvard Business School Online
Conflict Management Specialization on Coursera
The Art & Science of Product Management
Conflict Resolution Skills on Coursera
IIM Online Courses | Best Online management courses from iim
It sounds crazy but yes, IIM does offer online courses in management. And to pursue these courses you are no longer to attempt the CAT exam. The IIM Bangalore, Calcutta, Rohtak, and various others are the participants in this new era of online management courses. You can have a detailed list of the courses offered by IIMs in India for the management level.
Global business management- IIM Calcutta
Strategic Management and Entrepreneurship- IIM Rohtak
Micro Masters in Business- IIM Bangalore
Senior Management Programme, Applied Financial Risk Management, General Management, Strategic Management- IIM Kozhikode
Do Refer: Part-Time Courses at IIMs for Working Professionals
Short Online Management Courses Free
The short online courses in management can be completed in 6 to 12 months. The courses are offered by top institutions and you can easily complete these courses at minimal charges. The top short-term online management courses are.
Product Management Certification Program
PGPM certification from IMT Ghaziabad
Executive Program in Blockchain Technology Management
Specializations in Online Management Courses
Students have ample opportunities if they want to build their careers in Online Management Courses. There are various courses in which you can pursue a specialization in the management field. Thus, here we are providing you with a detailed description of Specializations in Online Management.
Also See: 
Online Project Management Courses
You will learn about Project planning, Risk analysis, Project quality control, and performance management, Project procurement management, Project costing, Project integration management, and Project Lifecycle Management throughout the course. The top courses which you can pursue are
PMI – Project Management Professional by PMI
Project Initiation on FutureLearn
Initiating and Planning Projects by Coursera
Procurement Management in Project Environments on Pluralsight
Cognixia PMP Training Course
Project Management Certificate by Harvard University
Online Supply Chain Management Courses
The Supply Chain Management courses will help you to learn skills like Production plan and analyzing sales forecasting, Production activity control, Product life cycle, Manufacturing process, Rough cut capacity planning, and more. Some of the famous courses are
Reverse Logistics Management and Sustainability on Udemy
Supply Chain Analytics – Inventory Optimization on Udemy
Operations and Supply Chain Management on Udemy
Supply Chain for Manufacturing I on edX
Supply Chain Management Strategy on Coursera
Basics of Supply Chain Management on Udemy
Free Online Risk Management Courses
Risk management is the key skill that students need to learn. However, the companies want people who can predict their unforeseen risks to prevent losses. Thus, the few courses in risk management are.
Cybersecurity Risk Management Frameworks
Financial Engineering and Risk Management
Enterprise Risk Management (ERM)
Investment Risk Management
Financial Risk Manager (FRM)
Financial Management
Risk Measurement
Online Leadership and Management Courses
The leadership courses will help the students to understand the concepts of Strategic thinking skills, Planning and delivery skills, Risk management, Delegation skills, Change management skills, Influencing skills, and more. The few topmost courses are.
Leadership Excellence: An Alternate Approach by IIM Calcutta
Leadership and Change Management by IIM Ahmedabad
Inspiring and Motivating Individuals by Coursera
Inspiring Leadership through Emotional Intelligence by Coursera
Career Options After Online Management Courses in India
Some students think that if they are pursuing an online course in MBA or PGDM then the scope is quite less. But the career opportunities are quite high. Even if you have completed the online courses you can go for further education at a regular or distance level.
The companies are offering a sound salary to their employees even if they had an online certificate. But it has been observed that specializations in finance, marketing management, operations management, and accounting management are in great demand. Thus you can choose the options.
Chartered Financial Analyst [CFA]
Data Science
Certification in Risk Management Assurance [CRMA]
Data Analytics
NSE's Certification in Financial Markets
Certified Information Systems Auditor (CISA)
Post Graduate Diploma in Computer Applications (PGDCA)
Ph.D. in Management
Certified in Production and Inventory Management (CPIM)
Job Profile For Online Management Courses
These days companies want employees to be more skilled with more practical knowledge. Thus, whether the management course is acquired at the online level or through the traditional method both are in good demand. Therefore, management is the key to the success of any organization so the course offers lucrative career scope. Thus, the leading career opportunities at amazing companies are.
Project Management Professional
Advertisement Manager
Finance Manager
Marketing Manager
Brand Manager
Financial advisor
Sales Manager
Strategic Advisor
Risk Management Professional
Online Management Courses Salary Structurema
A career in Online Management is equivalent to the classical method of pursuing a management degree. Thus, it shows that the salary structure is quite similar to that. The average salary package varies from Rs 2 Lakhs to Rs 7 lakhs. You can find the profile-wise salary after online management courses in the listed table.
| | |
| --- | --- |
| Online Management career Opportunities | Average Salary |
| Sales Manager | Rs. 5.00 lakhs |
| Marketing Manager | Rs. 6.50 lakhs |
| Manager | Rs. 12.00 lakhs |
| Brand Manager | Rs. 9.00 lakhs |
FAQs on Free Online Management Certification Courses
1. Who are the top recruiters for the Online Management Courses? 
There are the best companies available that are hiring students from Online Management Courses. Some of these top recruiters are
Snapdeal
Amazon
Zomato
Grofers
HCL
Puma
Flipkart
Swiggy
Raymonds
Nestle
2. What is the key skillset required for the Management Course holders? 
Without proper skills and knowledge getting a high-profile job is quite difficult due to the increased competition. Thus, for the high salaries jobs, you need to have a few skills such as.
Organization
Conflict management
Dual focuses
Negotiation
Communication
and Dealing with gray
3. What are the benefits of studying Online Management Courses? 
The online courses can be completed in a short time. Even you can pursue a degree from top colleges in the USA by just sitting at your home. You will get the best study material and the opportunity to learn at the global level. Online courses offer training and a sound salary after completion without even spending a penny on travel.
4. What are the top Universities in the US which offers Online Management Courses? 
There are plenty of universities that are offering Online courses in management. Some of them are California Institute of the Arts, UCL (University College London), École Polytechnique, Michigan State University, Harvard University, Hong Kong, University of Science and Technology, Georgia Institute of Technology, and more.
5. What is the fee charged for the Online Management Courses? 
Most of the Online Management Courses are available for free. But at the maximum stage, you can assume the fees to be around Rs 60,000. But some colleges offering MBA courses may charge you more than Rs 1,00,000.
Conclusion
We hope our research related to the Online management courses has been informative for you. Hence you will choose the best course among those mentioned above. Students can also ask their doubts in the comment section below and our expert team will help you out in the best possible way. Also, visit our official website Ncertbooks.guru for more course details related to management or others.