Risk Management Courses: In the present scenario where everything is unforeseen and uncertain, managing the risk provides a cushion against uncertainties. Business enterprises operate in a dynamic environment, where anything cannot be assumed with surety, therefore risk management helps in minimising the risk arising out of the operation of various factors of a business environment.
Risk management is a part of management studies with a special focus on managing the risk of the business entities caused by various aspects of the micro and macro environment in which they function.
If you are someone who has an interest in this very peculiar field of studies and wants to build a career in that then voilà! you've landed on the correct page. In this article on risk management courses, we have covered every titbit of various risk management courses available to you, including eligibility criteria, top colleges, fees and career options. Let's get started!
Get to Know More about other types of Course Details Streamwise, and Category wise.
What is Risk Management?
Risk management is a branch of management that covers different methods and techniques of managing the potential risk of a business enterprise so that the overall loss can be minimised. It covers a wide range of activities including identification, evaluation and minimization of risk that a business entity may face. Risk for a business entity can be of any kind viz. Financial, physical, competitive or managerial. All these risks, together and individually, present a great threat to the success of a business unit.
Risk managers identify the risk that presently or in future can hamper the profitability position of the firm and develop viable alternatives which can averse the adverse impact of such risks. This not only saves the firm from future unfortunate events but also ensures optimized use of the firm's resources for the overall growth.
Free Online Risk Management Courses List
The risk management courses can be categorized into bachelor's degree courses, master's degree courses and diploma courses.
Bachelor's Degree Course in Risk Management
BBA in Insurance and Risk Management
BBA in Risk management
Course Duration
The full time undergraduate course in risk management is a 3 year programme divided into 6 semesters.
Eligibility Criteria
 Finished 10th and 12th from a recognized board.
Passed 10+2 with a minimum of 55% marks.
Qualified the entrance exam of the institute or CAT as may be required.
Bachelor's Degree Course in Risk Management Fees
The average fee for a bachelor's course in risk management lies somewhere between 50k to ₹2 lacs.
Master's in Risk Management
MBA in Risk and Insurance management
MBA in risk management
Risk Management Masters Online Duration
The full time postgraduate course in risk management is a 2 year programme divided into 4 semesters.
Master's Degree in Risk Management Course Eligibility
Completed graduation from a recognized university.
Must have scored a minimum of 50% marks in graduation.
Score qualified marks in the entrance test of the institute or CAT as may be required
Fee For a Master's Degree Course in Risk Management
The average fee for a master's course in risk management lies somewhere between 80k to ₹5 lacs. However, the fee differs from college to college
Diploma Course in Risk Management
Here you can check the list of Risk Management Diploma Courses online along with their course duration, fees, and eligibility conditions.
Information Systems Auditing, Controls, and Assurance
Introduction to Cybersecurity & Risk Management Specialization
Risk Management Professional: Prep for the PMI-RMP
Financial Engineering and Risk Management Part II
Fundamentals of Project Planning and Management
Diploma in Taxation and Risk Management
Diploma in Risk Management
Diploma in Insurance and Risk Management
Post Graduate Diploma in risk Management
PG Diploma in Insurance and Risk Management
Post Graduate Diploma in Banking and Risk Management Self Finance
Duration of Diploma Course in Risk Management
The duration of diploma courses in risk management can vary from 3 months to 2 years depending upon the course you want to pursue.
Eligibility Criteria For Diploma Course in Risk Management
For diploma courses, the minimum qualification required is 10+2 from a recognised board
The minimum qualification for a PG diploma course is graduation.
Fee For a Diploma Course in Risk Management
The average fee for a diploma course is generally between ₹5,000 to ₹1 lac. However, it differs from course to course. For example, the fee for Fundamentals of project planning and management is ₹2,800 and the PG diploma in insurance and risk management is ₹ 20,000.
Risk Management Courses Admission Procedure
Candidates who have satisfied the risk management eligibility criteria can follow the below-mentioned steps to complete the admission process.
The institutes generally take admission through their entrance examination followed by a personal interview round
Few organisations also require that students have qualified for a national examination like CAT or XAT with some minimum percentile.
There are some institutes that provide direct admission to candidates based on merit.
Top Risk Management Colleges
Best Risk Management Courses Colleges in India are listed here:
BK School of Business Management, Gujarat
GITAM Institute of Management, Visakhapatnam
Aligarh Muslim University, Aligarh
BHU, Varanasi
International School of Business and Media, Pune
Jammu University, Jammu
CMJ University, Shillong
Global Risk Management Institute, Gurugram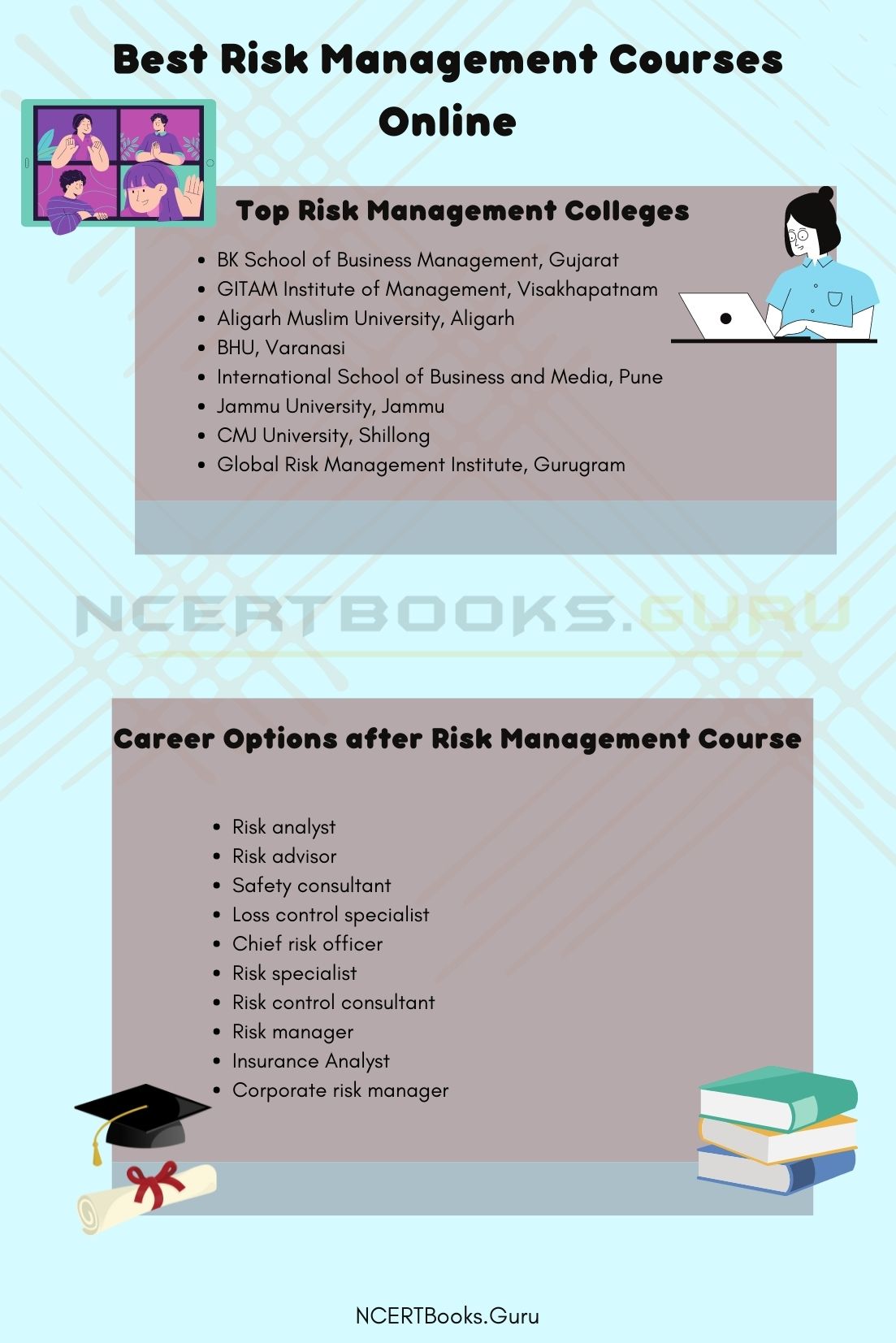 Career Options after Risk Management Course
The career opportunities after completing the Risk Management Course are along the lines:
Risk analyst
Risk advisor
Safety consultant
Loss control specialist
Chief risk officer
Risk specialist
Risk control consultant
Risk manager
Insurance Analyst
Corporate risk manager
More Related Articles
Top Companies hiring Risk Management Professionals
The list of top MNC's that offer job options for the Risk Management professionals are along the lines:
American Red Cross
Barnes & Noble
Coca-Cola
Dell
Express
Five Guys Burgers and Fries
Google
Hyatt Hotels
IBM
JPMorgan Chase
LEGO
McDonald's
Nike
Ocean Spray Cranberries
Procter and Gamble
Qualcomm
Starz Entertainment
Twitter
Uber
Volkswagen
The Walt Disney Company
Yahoo!
Risk Management Salary
The average salary after a risk management course varies between 2 lacs per annum to 10 lacs per annum depending upon the course you have pursued and your relevant work experience.
FAQ's on Best Risk Management Courses
1. Is risk management a good career?
Yes. With growing competition in the world, businesses have become more risk-prone. That's why risk management courses are quite a viable career option these days.
2. Which country is best for risk management?
The best countries to study risk management are- USA, UK, Sweden, Hungary, Canada and France.
3. Is there a good future for risk management in India?
Yes. Risk management in India has quite a bright future. With a number of leading MNCs setting up their offices here, India has become the hotspot for foreign companies. These have shot the need for many professional careers in India including risk management.
4. Can a risk management course be pursued online?
A diploma or certificate course in Risk management can be pursued both online and offline. However, you need to enrol in a full-time programme for UG and PG courses in risk management.
Final Words
In this article on Risk Management Courses, we have tried to cover every detail related to it under various heads. This article provides you with enough knowledge on various risk management courses, their eligibility criteria, admission process, fees, top colleges and career prospects. If you have any doubt regarding the article, please comment below your queries. We will try to satisfy your doubts to the best of our knowledge. For more such articles, stay tuned to our website.