Sports Management Courses: Sports are an integral part of our lives. Earlier it was not given much importance but now the criteria have been changed. People are more indulged in sports and its related courses.
If you are also one of those who want to build a career in sports management then here you will get the detailed information about the average fees, salary, top colleges, duration, career scope, syllabus, and more about Sports Management Courses in India.
Everything About Best Sports Management Courses in India
The Sports Management Courses will help students to gain an impressive understanding of the intricate value of sports in our lives. If you are a part of sports management then you are expected to perform planning, organizing, controlling, budgeting, or directing skills in an organization that deals in the sports business. Also, the jobs in the market related to the sports field are growing very fast.
You will find all sorts of degrees in Sports Management such as UG, PG, and more. Also, you can complete some of these MBA Undergraduate Sports Management Courses in India in a short period. After the completion of class 12th, you can choose a career in Sports.
Online Sports Management Courses – Overview
Read below the overview of the Sports Courses. You will get a brief idea about the online & offline Sports management Courses.
Mode of Education
Online and Offline Both
Courses Offered

Undergraduate
Postgraduate
Diploma
PG Diploma
Certificate
Ph.D.

Eligibility

Passed minimum class 12th or 10th with minimum 50% marks or more

Average Fees
Rs 10,000 to Rs 2,50,000
Salary Offered

UG: INR 4,00,000 to 6,00,000
PG: INR 7,00,000 to 8,00,000
Ph.D.: INR 9,00,000 to 12,00,000
The duration of the courses varies according to their domains. As the undergraduate courses are more oriented toward the theory and practicals both so they are a little bit longer, whereas the online certificate courses can be completed in just a few hours. You can have a detailed duration of these courses here.
Diploma & PG Diploma: 1 – 2 years
Doctorate: 3 – 6 years
UG: 3 – 4 years
PG: 2 years
Certificate: 3 Hours to 1 year (Online), 6 months to 2 years (Offline)
Sports Management Courses in India Fees
In India, Sports management is growing at a fast rate. Thus, various colleges are offering the courses in minimal amount. You can have a detailed fee description of the courses here below.
Diploma and Postgraduate Diploma: Rs 20,000 to Rs 1,50,000
Certificate: INR 455 to 8,000
UG: INR 40,000 to 2,00,000
PG: INR 25,000 to 2,50,000
Doctorate: INR 10,000 to 3,00,000
Diploma in Sports Management in India
If you are a beginner then you can go for the diploma courses. To be eligible for this program the students need to pass class 12th with a score of 50% or more. There are various courses offered in diploma through amazing colleges.
You can also pursue PG Diploma courses for which a graduation degree from a recognized university is a must. Check out the few sports management diploma courses in India from the below table with college names, duration, and fees.
Course Name 
College 
Duration 
Fees 
Diploma in Sports Management
National Academy of Sports Management
1 year
INR 99,000
PG Diploma in Sports Management
INR 1,80,000
Undergraduate Sports Management Courses in India
To pursue a bachelor's in Sports management the students need to clear class 12th from any discipline with a minimum of 50% marks. You might be asked to attempt a few entrance exams but some colleges may also admit you based on the merit list.
Bachelor of Physical Education
BA Sports Management
BBA Sports Management
BSc Sports and Recreation Management
BSc Sports Science
Bachelor of Sports Management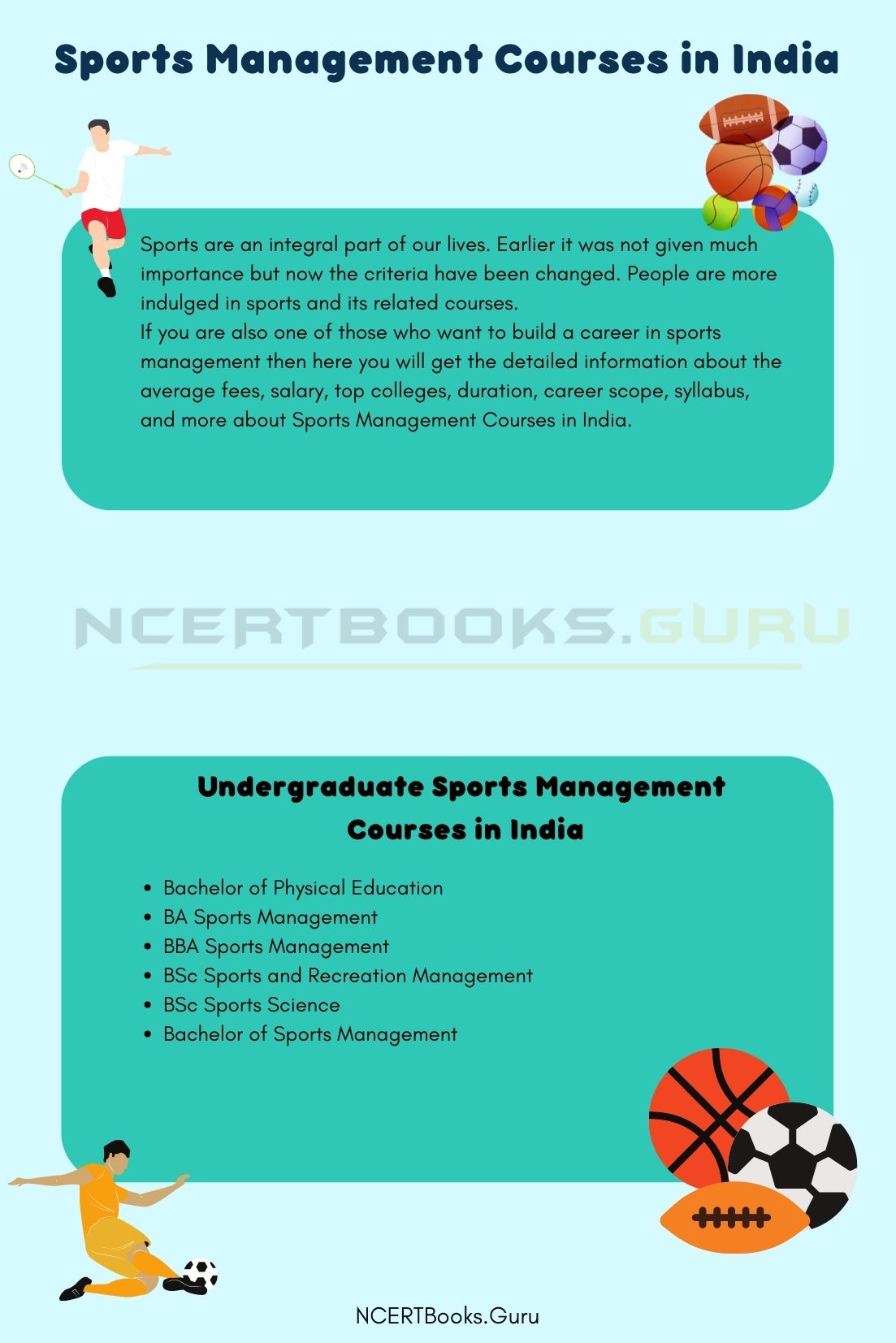 Postgraduate Sports Management Courses in India
A graduation degree is necessary to be eligible for the PG program in Sports management. Students need to score a minimum of 55% marks in graduation. Some of the top PG Courses are.
Master of Physical Education
MSc Sports Coaching
PG Diploma in Sports Medicine
Master of Sports Management
MBA in Sports Management
Online Sports Management Courses in India
Online courses are very handy and skillful. Thus choosing the best and most trustful platform is a difficult option. Here, you can find the 10+ courses which you can pursue online.
| | | | |
| --- | --- | --- | --- |
| Course Name | Platform | Fee (in Rs)  | Duration |
| Certificate Program in Sports Law | Udemy | 4800 | 4.5 hours |
| Essentials of the Professional Sports Business Management | Udemy | 3520 | 4.5 hours |
| Science of Exercise | Coursera | Free | 10 hours |
| Sports Facility Management | Udemy | 1280 | 1.5 hours |
| Sports Leadership and Management | Udemy | 1280 | 1.5 hours |
| Sports Management: The Essentials Course | Udemy | 1280 | 4.5 hours |
| Sports Marketing Courses | Coursera | Free | 14 Hours |
| The Complete Sports Facility Manager's Guide | Udemy | 3520 | 4.5 hours |
MBA in Sports Management Courses in India
The master's in business administration also provides a specialization in sports management. The MBA course can be completed in just 2 years. Thus, to be eligible for the program you need to score a minimum grade of 50% in a bachelor's degree of 3 years. Also, to get admission into some of the best colleges you need to clear a few entrance exams.
You can even pursue a few MBA programs at the online level. The MBA program's curriculum is designed in such a manner that students will develop business ethics and marketing skills in the field of sports management.
Do Check:
Entrance Exams for Sports management courses in India distance education
Few entrance exams which students need to clear to join online sports management courses in india are:
SNAP
XLRI XAT
CMAT
IIFT
MAT
CAT
IB SAT
NMAT
Top 10 Sports Management Colleges in India
You can find 100+ colleges that are offering sports management degrees right from the undergraduate domains to the doctoral degree. You can find the list of top 10 colleges here for your better choice of colleges.
Ironwood Sports Management Global Academy, Mumbai
ISBR Business School, Bangalore
GD Goenka University, Gurgaon
Symbiosis School of Sports Sciences, Pune
International Institute of Sports Management, Churchgate, Mumbai
School of Management, D.Y. Patil University, Navi Mumbai
NASM Academy of Sports Management
Centurion University of Technology and Management, Orissa
Institute of Engineering and Management, Kolkata
Indian Institute of Social Welfare and Business Management, College Square, Kolkata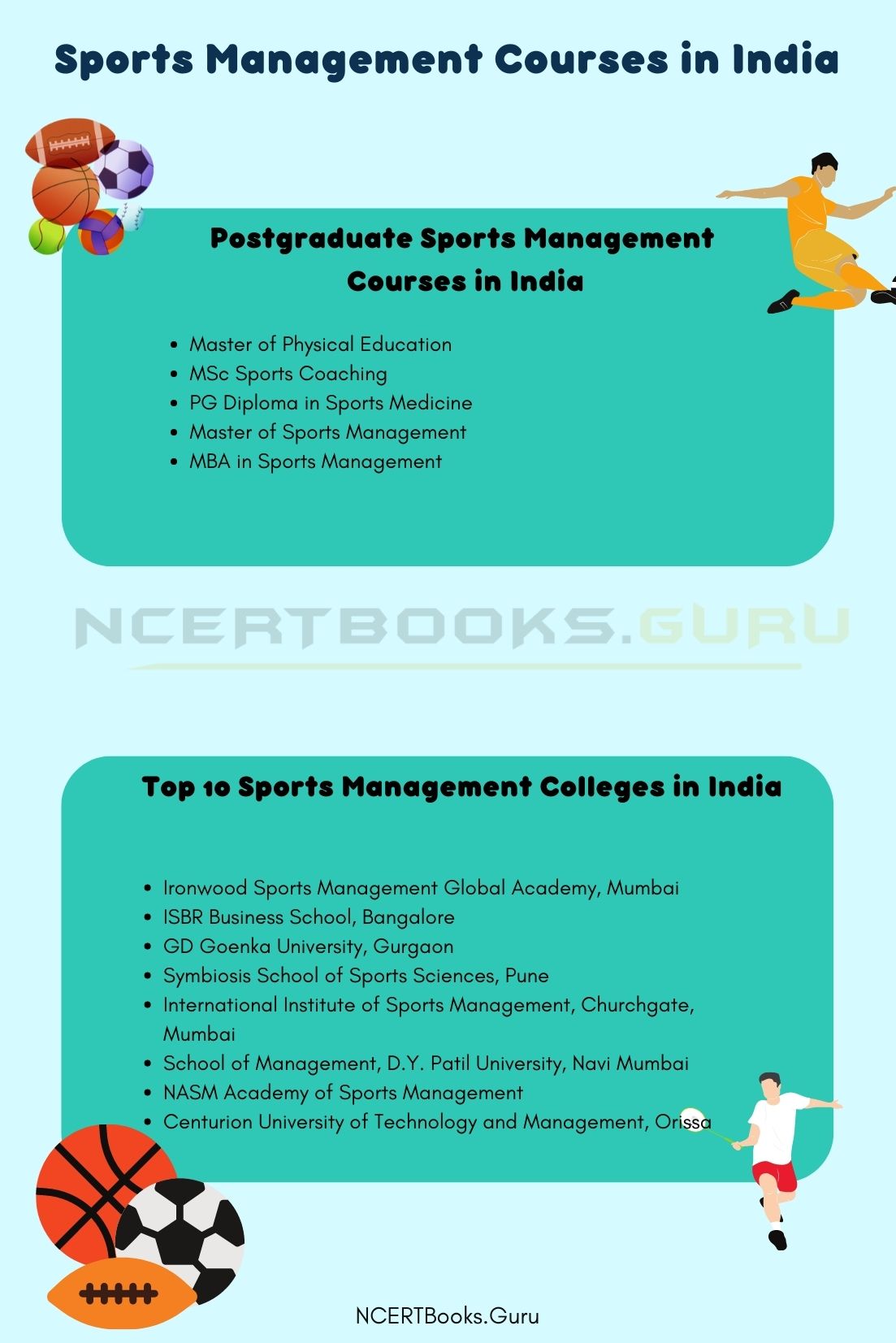 The curriculum related to Sports Management is different for UG and PG courses. There are 6 semesters in the bachelor's degree of 3 years. Thus, the essential subjects which you could find in the syllabus are described here.
UG Curriculum
Health Education
Teaching Ability (Practical)
Management in Physical Education
Motor Learning & Sports Psychology
Applied Anatomy and Physiology
Teaching Methodology in Physical Education
Educational Methodology
Sociology of Sports
Physiology of Exercise
Kinesiology and Bio-mechanics
Sports Management
Principles of Sports Training & Yoga
Educational Psychology, Guidance, and Counselling
MBA Curriculum
Business Law
Business Policy and Strategic Management
Management Control Systems
Management Information Systems
Principles of Management
Administration of Games
International Business
Managerial Economics
Psychology of Sports and Ethics in Business
Business Statistics
Marketing Management
Sports Training & Conditioning
Legal Aspects of Business
Sports Medicine and Nutrition
Sports Law & Risk Management
Career Opportunities for Aspirants of Sports Management Certificate Courses in India
The sports industry is growing rapidly in India. You can find great opportunities in both government and private sectors. Not in sports but you can also get the opportunity to work in sports finance and business, sports management policy, communication with the press and media, sponsorship and broadcasting, and more. Few job profiles are:
Athletic Director
Sports Consultants
Sports Instructor
Event Coordinator
Sports Marketing Managers
Athlete Nutritionist
Training Executive
Sports Agent
Franchise Operator
Sports Department Manager
Salary After Sports Event Management Courses in India
The average salary which a fresher can earn is around Rs 4 LPA. But with further knowledge and experience
| | |
| --- | --- |
| Job Profiles  | Salary (In Rs)  |
| Finance and Business Operations Manager | 12.67 LPA |
| Lecturers | 4.20 LPA |
| Physiotherapists | 1.80 LPA |
| Psychologists | 1.80 LPA |
| Sports Agents | 3.48 LPA |
| Sports Analyst | 3.09 LPA |
| Sports Celebrity Manager | 4.45 LPA |
| Sports Manager | 4.98 LPA |
FAQs on Distance Sports Management Courses Online Free
1. What are the required skills for the Sports Courses?
Ans. Students need to be well understood with Resilient and Optimistic, Enthusiasm, Stamina, Patience, Sporting Spirit, Determination, Physical fitness, Time Management Skills, Collaborative attitude, Observation Skills, and more.
2. Who are the top recruiters in Sports management Courses?
Ans. Some of the top recruiters are SportsWise India, Esports, Decathlon India, JSW Sports, Star Sports, ESPN, Ten Sports, CEAT, OGQ, Pitch Vision, and more.
3. Which job pays the highest salary in sports management? 
Ans. The highest paying jobs in sports management are a Statistician, Sports Medicine Doctor, Coach, Physical Therapist, Professional athletes, and more.
4. What are the top colleges for PG Courses in Sports Management? 
Ans. Some of the top colleges for PG courses are the Indian Institute of Management, NIMS University, National Academy of Sports Management, NSHM Knowledge Campus, Jamia Millia Islamia University, and more.
Wrapping Up
We hope this detailed information on Sports management Courses has been very useful to you. If you have any queries please ask them in the comment section below and our experts will provide you with the best solution.
Stay tuned to Ncertbooks.guru for more information on sports courses and other course details!