PGDM Course: PGDM course full form Post Graduation diploma in management. This was designed to add more skills that you haven't learned in the MBA yet. What distinguishes PGDM with MBA is PGDM focuses on practical business rather than the theoretical side of the business.
If you are seeking yourself as a perfect businessman shortly then developing conceptual knowledge, communication skills, and impressive behavior is really important. Therefore, the 1 year PGDM course is for you if you want to work in the corporate sector or the management field. This course has all the specific requirements that every candidate should know as a management student.
Get to Know More about other types of Course Details in Stream wise, and Category wise.
PGDM Course Overview
PGDM is the most important quote in the management that provides white job opportunities that are highly paid. This course focuses on improving teamwork and empirical application-oriented studies. It is one of the most successful business school courses in India that is maintaining the syllabus as per the latest market demand, and this is always possible to change the syllabus every year.
PGDM Course Details
The program of this course is nearly designed for the practical business-oriented scheme that drives great success for the students. The degree is equivalent to an MBA but it helps the candidates to go further than a degree. The PGDM program will provide you with great knowledge, communication skills, and add soft skills that easily work on the plan of the industries, governments, and big organizations.
The study pattern may be different from one Institute to another, however, the core essence remains the same— to produce effective managers and entrepreneurs. The ultimate goal of this course is to get the number of jobs in the leading national and international companies by the students.
PGDM Course Eligibility Criteria
For joining the postgraduate diploma in management, a candidate should graduate from a recognized university or a college and require a minimum percentage of 50 to 70%. While the eligibility criteria differentiate from different universities, to make sure you get admission to the desired college, go through the brochure or website.
PGDM Course Benefits
Become an essential success tool to get the highest paid jobs.
Get a chance to work in multinational companies.
You can open the best career opportunities
Improve your personality and you will become a better decision-maker.
Best PGDM Courses List in India
Usually, the PGDM course Online is designed as per the latest market demand which will help you to get a chance to learn the current trends. Therefore, you can find this course in multiple specializations. You should choose a specification that you have an interest in.
PGDM in marketing to learn better sales distribution and product development.
PGDM in finance to understand the dynamics of business needs and accounting.
PGDM in IT to learn consultancy and business development skills.
PGDM in HR creating job opportunities in organizations.
PGDM in hospitality and tourism for booming luxury hotels and tourism.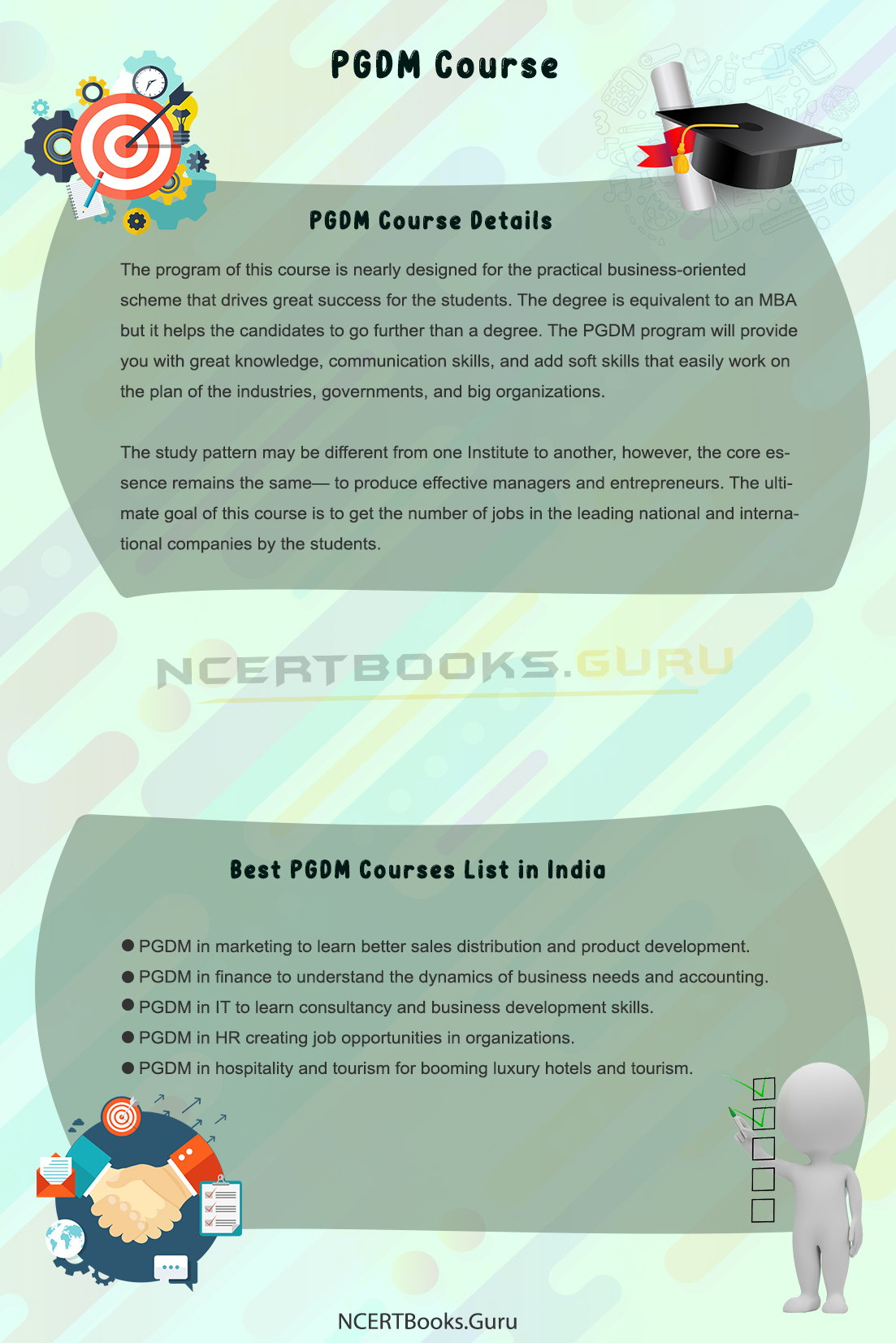 PGDM Course Admission Process
A candidate needs to qualify the entrance exams invited by the respective institutes. You have to follow up some entrance exams for the course such as:
Common admission test
Common Management Aptitude Test
Maharashtra common entrance test
Common Aptitude Test
Management Aptitude Test
Symbiosis National Aptitude Test
Indian Institute of foreign trade test
Institute of rural management Anand
MICA admission test
PGDM Course Syllabus
Semester wise PGDM Course subjects details are mentioned here:
Semester 1
Management Functions & Behaviour
Economic and Social Environment
Human Resource Management
Introduction to Information Technology
Semester 2
Operations Management
Quantitative Techniques for Managers
Strategic Management
Managerial Economics
Marketing Management
Semester 3
Marketing Management (MM)
International Business (IB)
Information Systems (IS)
Operations Management (OM)
Insurance Management (IN)
Financial Management (FM)
Human Resource Management (HR)
Semester 4
Business Law & Corporate
Management Information Systems
Governance International Business
Research Methodology
Project Work
PGDM Course Job, Scope and Career Opportunities
With the increase in marketing scope, the large number of job opportunities available for a postgraduate diploma in management students such as Bank jobs, business consultancy export companies, financial organizations, industry houses, and multinational companies. With such a great scope of jobs, the expected average PGDM salary offered is INR 7.4 lacs per annum based on your skills, course type, and the dedication plus experience you have.
More Related Articles
FAQ's on PGDM Course
Question 1.
What is the difference between MBA and PGDM?
Answer:
The major difference between professional businesses oriented courses is its design. The MBA is a professional degree course whereas PGDM is a diploma course that identical provides a practice-oriented and evidence-based study that makes the aspirants career objectives. Have a look at MBA in Computer Science and MBA in Education Management course details.
Question 2.
Why should you pursue PGDM?
Answer:
The postgraduate diploma in management course generally focuses on making the aspirants confident and practical oriented plus team leaders in their field. There are huge PGDM Course job opportunities in the top sectors such as marketing, finance, HR, IT, and tourism. After completing the course you can opt for the doctoral program too.
Question 3.
Is PGDM available at a distance?
Answer:
Yes, you can go for distance education for the PGDM. However, only a few colleges provide diplomas for the distance such as Dr. Hari Singh Gour University Sagar, Amity University, Indira Gandhi National Open University, etc.
Question 4.
How to prepare for the PGDM entrance exam?
Answer:
The few common preparation tips for the candidates make your time management perfect, enroll in the coaching institutes, practice more, and know the exam pattern.
Question 5.
What is the PGDM Course Fees?
Answer:
The average PGDM Course Fees is ranges from INR 4 to 24 lakhs.