Naval Architecture Courses: Naval Architecture course demand has increased in these past few years. The course uses science and engineering concepts for the designing and manufacturing of ships, boats, and other offshore equipment. The related aspects of marine fields are involved in the process of the naval architecture course.
The marine sector is an important part of the growth and development of the country which creates the need for naval architects. The course provides a great opportunity in India as well as abroad. If you study this course you can get the opportunity to work either on commercial or military products related to marine.
We have provided complete details on the Naval Architecture Courses Online including the eligibility, entrance exams, career scope, top colleges, and more.
Introduction to Naval Architecture Courses
The Naval Architecture Course teaches you about the planning, designing, development, construction, trial, maintenance, and launching of marine vehicles, among other offshore activities. The bachelor's degree in the course can be completed in 4 years which included semester-wise examinations.
Being a naval architect you must have a brief knowledge of the mechanical, shipbuilding, automation, and other engineering fields too. After the comp[letion of B.Tech Naval architecture you can pursue a master's in the same to get advanced knowledge about the subject.
Naval Architecture Courses Eligibility
The eligibility criteria vary from college to college. But there are some basic terms and conditions which student needs to keep in mind and focus on before applying to any college.
Thus, for an undergraduate degree, students must have studied Chemistry, Math, and Physics in their class XII and cleared it with a minimum aggregate of 50%.
For a master's degree, you must have a bachelor's degree in B.Tech Naval Engineering or some relevant domain.
Entrance Exam for Naval Architecture UG/PG Courses
Getting admission into top-ranking colleges is not an easy task. In addition to the high percentage in class 12th, you must also clear entrance exams. For the post-graduate level, you need to clear your GATE.
But for UG Naval engineering the entrance exams which you must have appeared and cleared with good marks are
IMU-CET: Indian Maritime University Common Entrance Test
JEE Main: Joint Entrance Examination
AICET: All India Combined Entrance Test
Top Naval Architecture Colleges in India 2022 | Naval Architecture Course Fees
There are top-ranking colleges available in India which offer Naval Architecture courses. These colleges are available all over India and you can get admission here based on entrance exams. Some college conducts their aptitude test in addition to the national level entrance exam. Here, you can find the list of top college/institutes with naval architecture courses fees structure.
| | |
| --- | --- |
| Naval Architecture Courses Colleges | Naval Architecture Course Fees Structure |
| Academy of Maritime Education and Training | Rs 4.75 lakh |
| Andhra University, Visakhapatnam | Rs 8 lakh |
| Delhi Maritime Academy | Rs 10.50 lakh |
| IIT Kharagpur – Indian Institute of Technology | Rs. 8.34 lakh |
| IIT Madras – Indian Institute of Technology Chennai | Rs 9.38 lakh |
| IMA – International Maritime Academy | Rs 10 lakh |
| IMU – IMU Vizag Indian Maritime University | Rs 9 lakh |
| VELS Institute of Science, Technology and Advanced Studies a School of Ocean Engineering, | Rs 7.01 lakh |
Naval Architecture Course Syllabus
The important topics of the Nvala Architecture Course are described here. Mainly it consists of marine design and engineering, marine structure design, meteorology, calculus, engineering physics, chemistry, and more.
The syllabus also included a thesis section and elective courses. However, in the elective, you might be provided a choice to choose from a few defined subjects. You can have an overview of the topics as the semester-wise syllabus offers according to each college.
Pattern Recognition and Artificial Intelligence
Vibration and Noise
Hydrostatics and Stability
Marine Power Plant
Ship Drawing and Calculations
Industrial Training
Elements of Ocean Engineering
Hydrostatics and Stability calculations
Foundation of Fluid Mechanics
Engineering Drawings and Graphics Workshop
Physics
Ship Resistance and Propulsion
Engineering Mechanics
Mathematics
English for Communication
Marine Hydrodynamics
Vibration and Noise Laboratory
Chemistry
Thermodynamics
Marine Construction and Welding
Electrical Technology
Programming and Data Structure
Introduction to Naval Architecture
Electrical Technology Laboratory
Engineering Drawings & Graphics
Business Fundamentals and Economics
Ship Hydrodynamics
Marine Instrumentation Lab
Mechanics Electrical Technology
Basic Electronics and Electronics Laboratory
Ship Design Project
Analysis of Marine Structures and Computations
Naval Architecture curse creates various job opportunities for you. You can easily get a job wither of the government and private sector. The opportunities you are still increasing day by day.
But if you are willing to study further after the completion of your bachelor's degree then the door is always open. You can choose these various options as a Naval Architect:
Lecturer
Naval Researcher
Marine Surveyor
Ship Operator
Coast Guard
Marine Engineer
Port Manager
Quality Systems Engineer
Coastal Engineer
Oceanographer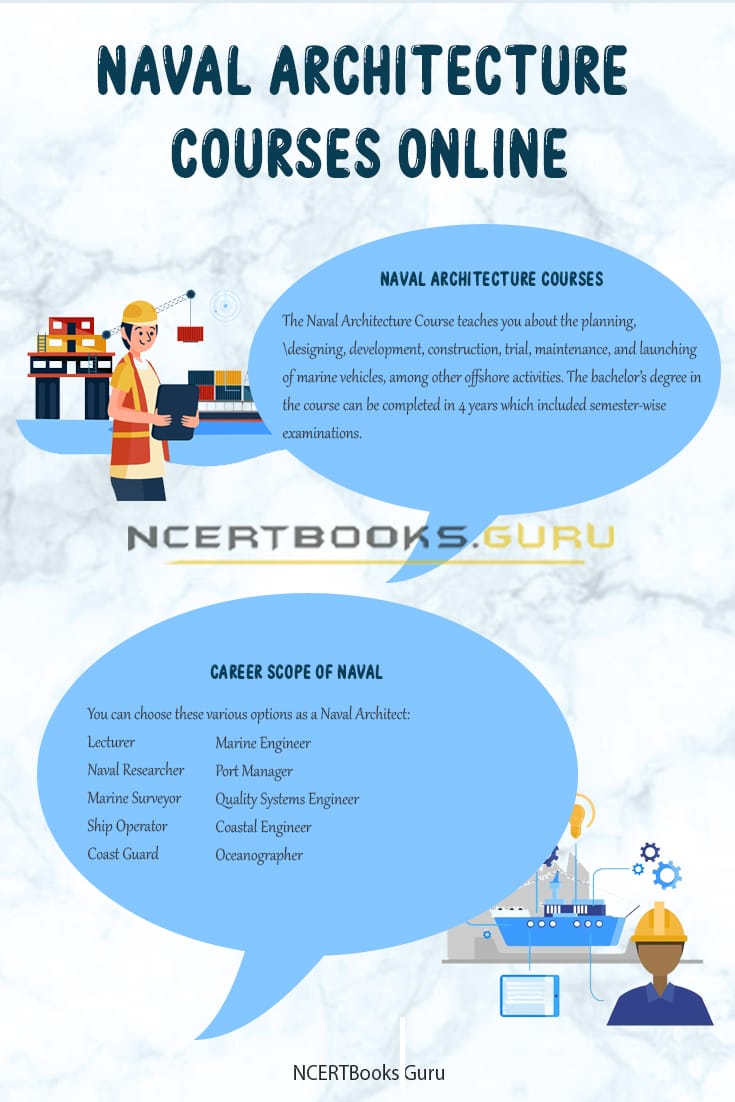 More Related Articles
Naval Architecture Course Top Recruiters
You must be worried that after the completion of the Naval Architecture course in which company you need to apply. Don't worry are proving you the list of best Naval Archjetctv recruiting firms.
Navy
Cochin Shipyard Ltd
Goa Shipyard Ltd
Larsen and Toubro Shipbuilding
Reliance Defence Industries Ltd
Aries Marine Consultant
Buoyancy Consultants
Indian Register of Shipping
Hindustan Shipyard Ltd
Skills Required by Indian Naval Architect
Skills are the key to success. Without proper skills, it is not possible to apply your knowledge in the practice. Thus, in addition to the wide knowledge, you need to pursue some skills such as
Effective technical skills
Judgement and decision making
Understanding
Evaluation of System
System analysis
Subtle attention to detail
Spatial awareness and operation analysis
Critical Thinking
IT and Mathematics skills
Leadership and interpersonal skills
Communication and Coordination
Creativity and innovative
Naval Architecture Salary In India
The average salary of ranges from between Rs 0.2 Lakhs to Rs 42.0 Lakhs. However, with the experience, knowledge, and skills you can earn a well amount. The salary range completely depends on the job profile. As with more responsibilities more salary will be offered.
1. What do Naval Architects do?
A naval architect's main job is to work in the designing, quality control, repair, and construction of Naval vessels. They work for the working and functioning of the boats, ships, and other offshore arrangements. They are considered professional engineers after the completion of degrees.
2. Is Naval Architecture a difficult course? 
Naval Architecture is a unique course that has gained demand in these few years among the youth. The course is not difficult but it is slightly different from the other concepts. It involves a good level of maths which some students find difficult. But with a proper schedule of studying you can make it easy.
3. What is the average salary provided to the Naval Architects?
Naval Architects earn a high salary. It ranges from between Rs 0.2 Lakhs to Rs 42 Lakhs. The annual salary can be Rs 5 Lakhs. With the increasing demand for naval architects, the companies are ready to pay more according to the skills and knowledge of the employee.
4. What are the few entrance exams conducted for Naval Architecture Courses?
Most of the colleges admit students on the basis of the race exams for Naval Architecture courses. You can look for these entrance exams such as AIEEE, AICTE, IMU CET, IIT JEE, etc. to get admission to top colleges.
5. Can I pursue a Naval Architecture course without science in class12th? 
The main eligibility criteria for the Naval Architects is to study Chemistry, maths, and Physics in their class XII and clear it with a minimum aggregate of 50%. So, it is not possible to become Naval Architect without PCM.
Final Words
Naval Architecture is an amazing course that is in great demand all over the world. Thus, if you planning to pursue your career in the same you can absolutely do it. While studying there course there is a lot to discover which builds up more interest of yours in the course.
In addition to the above-provided information, if you feel to ask any queries you can ping them in the comment section. Also, to know more about the naval architecture courses and other course details you may look at our official website Ncertbooks.guru