Architecture Courses after 12th Commerce: Architecture is an important field for the growth and development of society. But when it comes to applying for the courses people think that it is restricted for the students with a science background, but it is not true now. Council of architecture has now introduced that students from any stream in 10+2 with maths as an important subject are eligible for the architecture course.
Architecture teaches you about the planning, designing, and construction of buildings. The architecture courses after 12th commerce are also applicable for further government and private sector jobs. B.Arch is a 5-year course that includes 10 semsters which you can pursue after class 12.
Looking for answers to some questions like Can commerce students do architecture without maths? Can commerce students do architecture in India? If yes, this is the right guide for you. In this article, you will get the complete details on Architecture Courses after 12th Commerce eligibility criteria, entrance exams, admission career scope, and more.
For more Course Details click on the link, you will get stream-wise and category-wise courses.
List of B.Arch Specializations After 12th Commerce
The architect job requires them to hold specialization in designing, managerial ability, problem-solving ability, and more. Most of their tasks are dependent based on clients' choices.
Thus, it makes them all-rounder and called artists as well as professionals. But the few specializations for the courses after Class 12th Commerce in architecture which you can choose are listed here:
Housing
Building Information Modeling
Environment/sustainability
Community Design
Art and Design
Computer-aided Design
Graphic Design
Architectural Design
Engineering
Building Technology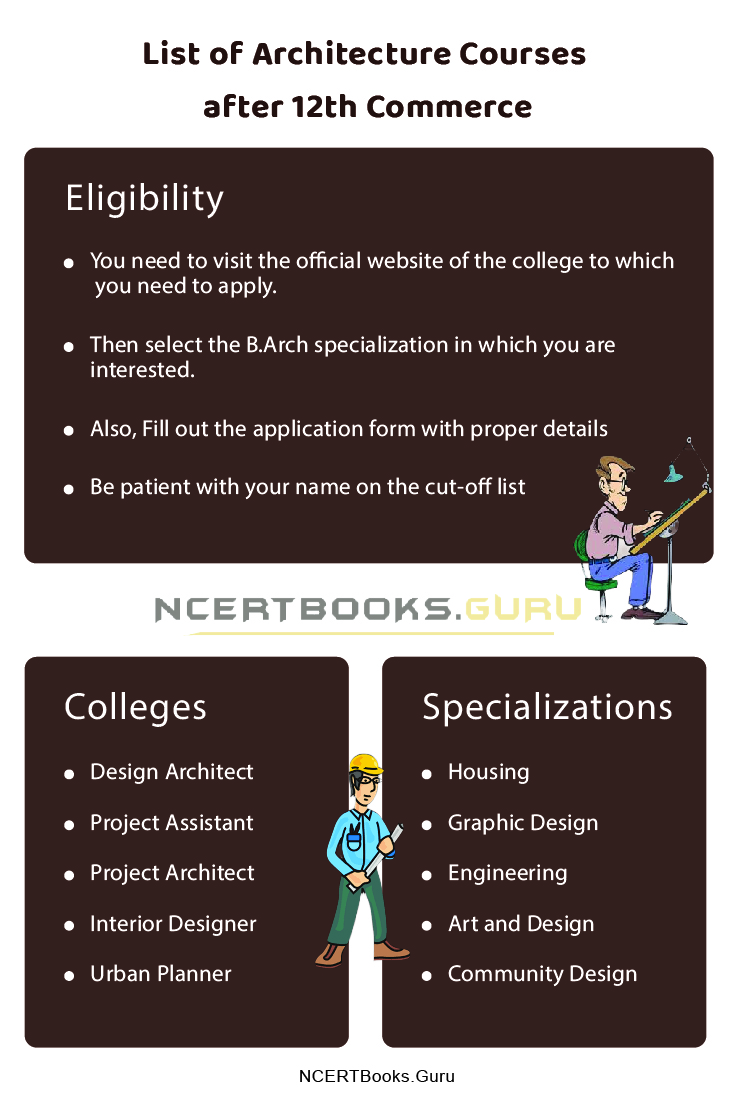 Eligibility for Architecture after 12th Commerce
The eligibility is quite different for all the colleges. Some colleges admit students based on entrance exams and some admit them based on merit-based examinations. But the basic eligibility criteria which you need to clear is you must have cleared class 12th with a minimum 50% aggregate. Also, despite a specific stream, you must have studied maths as a main subject in your Class XII.
Related Articles: How to Become An Architect in India?
Entrance Exam for Architecture after 12th Commerce
A few colleges conduct their aptitude tests. But some colleges admit students based on national level entrance exams such as the National Aptitude Test in Architecture which is commonly known as NATA.
You must secure at least 80% imprints in NATA entrance tests to get admission to the top colleges for architecture. After clearing JEE Mains also become eligible for the architecture courses. Few other entrance exams can be AAT by CoA, GAT, AMUEE, and more.
Architecture Courses after 12th Commerce Admission Process
The admission process is entirely different for every college. Some may admit students based on entrance exams and some based on merit lists. Here you can have a review of the admission process for architecture courses after class 12 commerce:
You need to visit the official website of the college to which you need to apply.
Then select the B.Arch specialization in which you are interested.
Also, Fill out the application form with proper details
Be patient with your name on the cut-off list
Then submit the fees
NOTE: Some colleges may also interview the admission process.
Top Colleges for Bachelors in Architecture Courses After 12th Commerce
Several colleges all over India offer bachelor's in architecture courses. You can also pursue the degree from distance. IGNOU is the best university that offers architectural courses in India through distance learning. Here, you can find the list of the top 10+ best colleges for B.Arch courses after completing 12th commerce.
Sir J J College of Architecture-Mumbai
School of planning and Architecture, New Delhi
School of Planning and Architecture, Bhopal
MSU, Baroda
Jamia Milia Islamia-New Delhi
IIT-Roorkee, Uttarakhand
IIT-Kharagpur, West Bengal
Chandigarh College of Architecture, Chandigarh
CEPT, Ahmedabad
Birla Institute of Technology, Pilani, Rajasthan]
Anna University, Chennai
Must Refer: B. Arch Course Details
Career Scope After 12th Commerce Architecture Courses Holders
Architecture is an interesting as well as high determination required course. After the completion of this course, the door to opportunities is open and waiting for you. You can either start working or you can look for further studies. The option for Masters of Architecture and MBA is also available for you. You can also pursue a diploma in architecture such as PG Diploma.
There are various career opportunities for 12th commerce students after the B.Arch. Some of you might also be placed with the top companies in the position of
Design Architect
Project Assistant
Project Architect
Urban Planner
Top Recruiters for Architects after Class 12th Commerce
Due to the development stage in the world, there are world companies who want perfect architects for their companies. Even in India, the infra sector is providing a lot of opportunities for the students who are studying the architecture field.
Here, is the list of a few companies which hire certified candidates in architecture courses after class 12 commerce:
Hindustan aeronautics limited
DLF
Urban development corporation
City development corporation
Department of railways
Housing boards
Arcop
Larsen & Toubro
Sahara Group
Architect Consultants
Public works department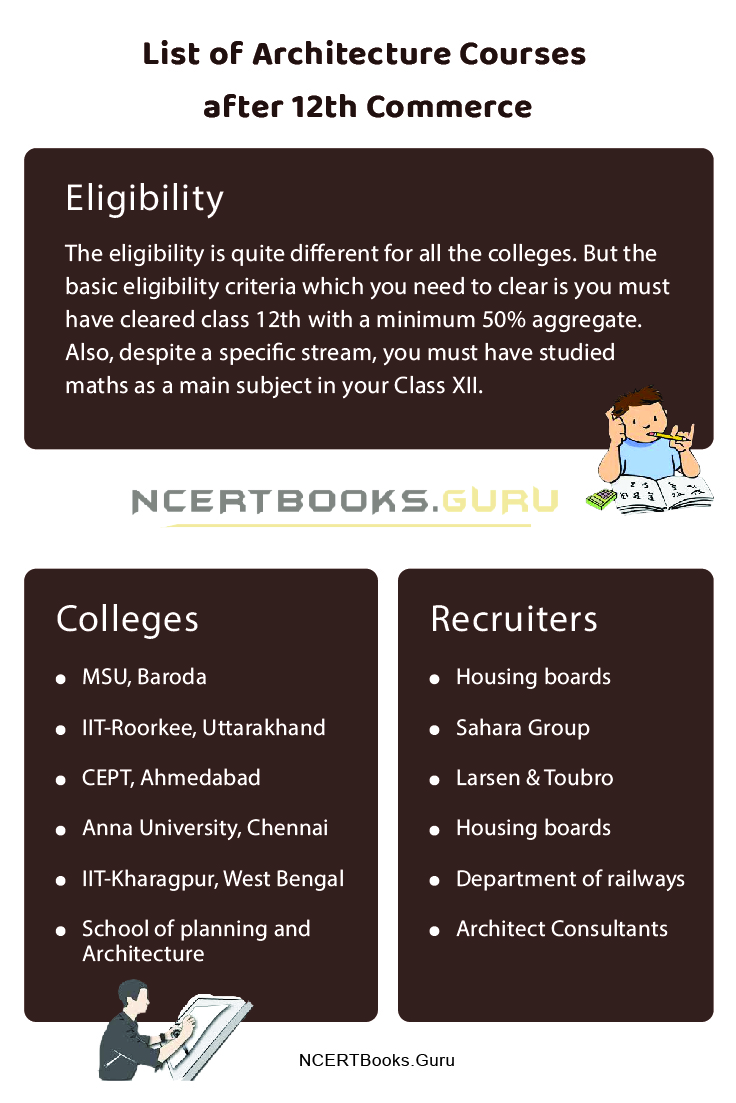 FAQs on Courses for Architecture after 12th Commerce in India
1. Are commerce students eligible for architecture courses?
Yes, the students from the commerce background are also eligible for the architecture courses in India. Earlier the course was only for the students in the science stream but now the Council of Architecture has made the course available to all.
2. What are the courses available for the students after 12th in architecture? 
After the 12th bachelor's courses are available to the students. You can plan to pursue your degree in the Bachelor of Architecture (B.Arch), Bachelor of Architecture in Building and Construction Management, Bachelor of Planning (B.Plan), Bachelor of Engineering in Construction Technology, and more.
3. Can I take architecture after 12th commerce without maths? 
For architecture courses, it is necessary to have maths as a core subject. Even if you are from a commerce background you must have maths as an important subject.
4. Being a commerce student can I apply for NATA? 
To apply for NATA you need to clear class 12 with 50% marks with maths as an important subject in any field. Also, 40% marks are required for admission to various colleges.
Conclusion
We have provided complete information on the Architecture Courses after the 12th Commerce in India. If you have any doubts related to any course feel free to ask your queries in the comment section below. Also, do visit our official website Ncertbooks.Guru to get more details on the architecture courses.