ACCA Course Details: ACCA is apt for those who wish to pursue their career in the field of Charted Accountancy. Have entire information related like Fee Structure, ACCA Full Form, Syllabus, Colleges list offering ACCA Course. Clarify all your concerns like Scope, Career Prospects, Job Opportunities after pursuing the ACCA Course by goin deep into the article.
What is ACCA?
It is a 2 Year Course that specializes in the Chartered Accountants. It includes major topics like Chartered accounting, Financial accounting, Mergers and acquisitions, Risk management, chartered accounts, and Business Valuation.  After finishing the ACCA Course you can join in Government or Private Sectors.
ACCA Course Details
| | |
| --- | --- |
| Course  | ACCA |
| ACCA Full form | Association of Chartered Certified Accountants |
| Eligibility | Bachelors degree |
| Duration | 2-3 years of a full-time course |
| Fee Offered |  3 Lakhs |
| Course Type | Full Time |
| Starting salary offered | 4 to 10 Lakhs |
| Advance Courses |  Advanced Diploma in Accounting and Business |
| Employment opportunities | Accountant, Financial Auditor, Tax consultant,  Financial Planner |
ACCA Syllabus
We tried providing the Syllabus for ACCA and listed the topics that you need to cover as a part of the curriculum. In this course, major topics include Chartered accounting, Financial accounting, Maintaining chartered accounts, Risk management,  Mergers and acquisitions, Working capital management, and Business Valuation. Have a look at the ACCA Course Syllabus beforehand and get to know the concepts in advance. Go through the Yearwise Subjects for ACCA Course listed below.
Year I
Management Accounting
Taxation
Audit and Assurance
Financial Accounting
Accountant in Business
Performance Management
Corporate and Business Law
Financial Reporting
Financial Management
Year II
Governance, Risk, and Ethics
Corporate Reporting
Advanced Audit and Assurance
Advanced Financial Management
Business Analysis
Advanced Taxation
Advanced Performance Management
ACCA Course Fees
Fee Structure for the ACCA Course will vary from college to college based on several factors. On average Fee will be around 3 LPA and it can vary slightly from college to college.
ACCA Course Duration
Association of Chartered Certified Accountants Bachelors Degree is a 2 – 3 Year Full-time Course specializing in Chartered Accounts.
Association of Chartered Certified Accountants Eligibility
Candidates who have completed 10+2 or its equivalent from a recognized college or university are eligible for ACCA Course. However, some colleges will set minimum requirements to give admissions.
ACCA Admission Process
The admission Process for ACCA Course will be based on the merit list in the entrance exam. The majority of the colleges will give admission based on the merit list in 10+2 or its equivalent. However, some of them conduct their own entrance exams to give admission to candidates.
Entrance Exams for ACCA
Major entrance examinations held by reputed colleges or universities for the ACCA Course are as such. Aspirants will be selected based on the merit list in the entrance exam. They are along the lines
GGSIPU
AJEE
GATA
LPU NEST
JEE Main
Also, See:
Top Colleges Offering ACCA Course
Below is the list of colleges that provide ACCA Course and opt from the following colleges' list as they make your search easy for you. They are as under
Indian School of Commerce – ISC
Financial Training Institute – FTI
Indian School of Business Management and Administration – ISBM Jaipur
D.C. School of Management and Technology – DCMAT
Job Opportunities after ACCA
Insurance
Manufacturing
Graduates, placements, and internships
Marketing and advertising
Management consultancy
Healthcare / NHS
Global business services and outsourcing
Media and entertainment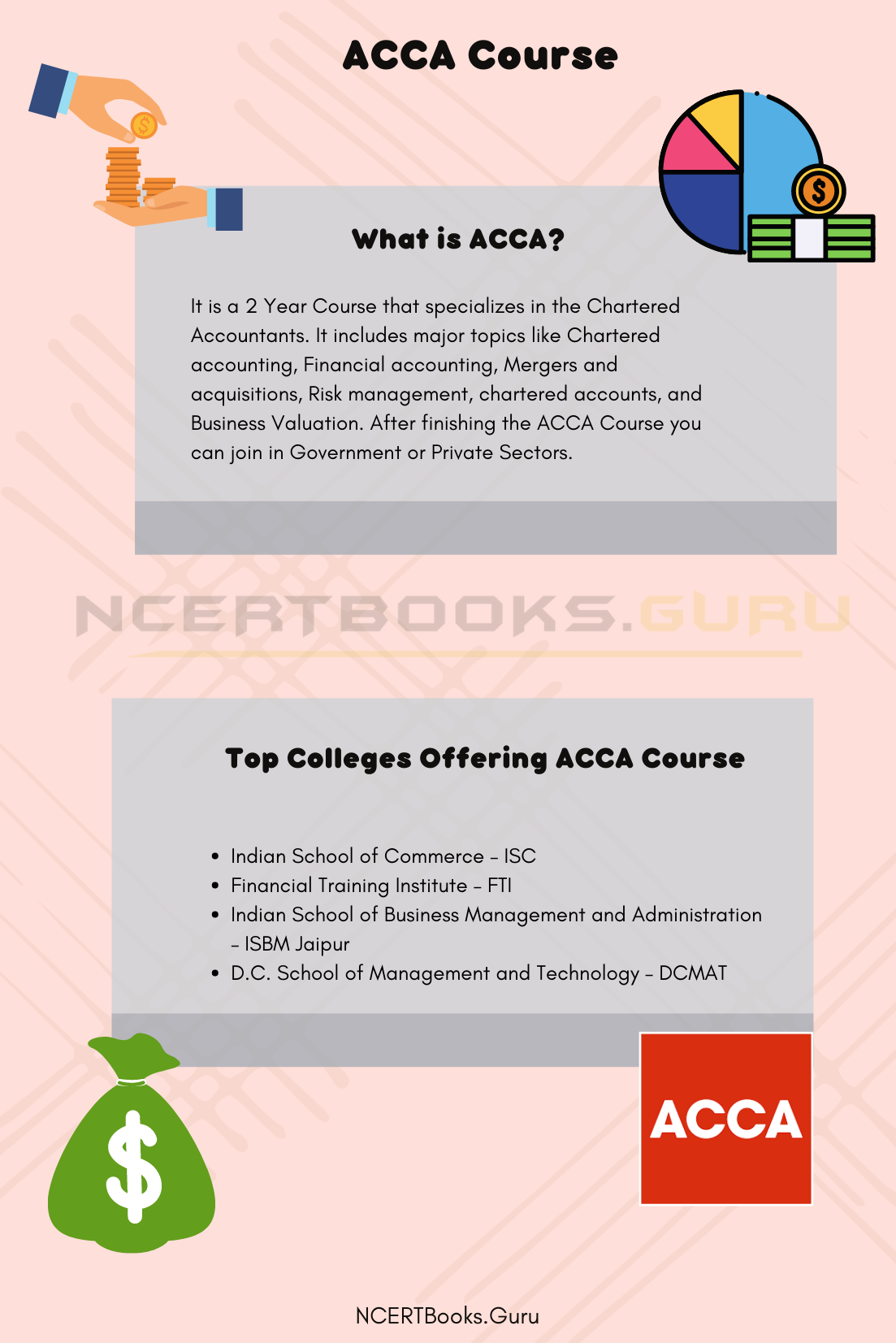 ACCA Career Options
There are plenty of opportunities in the Chartered Accountants field and this is one of the top career choices made by students. Candidates can join in the following job profiles after completing their ACCA Course. They are along the lines
Tax Consultant
Financial Accountant
Auditor
Management Consultant
Marketing Analyst
Business Analyst
Equity Research Analyst
Investment Banker
Corporate Analyst
Accounts Manager
Executive Assistant
Marketing Manager
Finance Manager
Cashier
Salary Offered to ACCA Candidates
Average Salary of ACCA Professionals will be between 1 – 10 Lakhs Per Annum based on the expertise gained in the field. Salary will not be the constraint once you gain enough knowledge you can demand more.
FAQs on ACCA Course
1.  What are the ACCA Subjects?
Subjects include law, taxation, auditing, and financial management, financial reporting and performance management.
2. How many Papers are there in ACCA?
ACCA Syllabus comprises a total of 14 papers divided into four groups and three levels.
No, ACCA is relatively easy when compared to CA. Usually, CA involves exams in groups and if you don't pass in one exam you need to take all of them again.
ACCA Qualification needs a minimum of 3 Years to Complete.
Conclusion
We believe the knowledge shared above regarding ACCA Course Details has been beneficial in clarifying your concerns to the fullest. For more info, feel free to drop us a comment and we will help you out at the earliest possible.