Also known as Professional Engineer, Chartered Engineer is an exclusive badge that one can add to their professional life that describes the knowledge, expertise, and competence. C.Eng. is the honorary accreditation in engineering like any other accreditations such as CA(Chartered Accountant), CS(Company Secretary), CMA(Cost and Management Accounting ), CFA(Chartered Financial Analyst) in different fields.
Many engineers have the ambition to reach the top by becoming Chartered Engineer in India. So let's dig deeper and find out how to become a Chartered Engineer in India. In this article, we have outlined the Chartered Engineer Eligibility Criteria, Admission Process, Career Prospects, Top Recruiting Companies, etc.
To know more about other courses of similar discipline or any other discipline you can always look up our Course Details page and know the eligibility criteria, admission process, course duration, etc.
About Chartered Engineer
Under the Chartered Engineer Act, 1948, one can complete the course of study to get the license of a chartered engineer. The Act provides support for the establishment of a Council that regulates engineering practices in India.
Chartered Engineer India is the highest professional engineering degree that you can get. Many people know it as Professional Engineer, and to get this chartered engineer certificate, You need to clear a series of examinations and practical tests successfully. Indian Institute of Engineers supervises the conduction of the training process. The course consists of many complex training sessions and practical sessions along with the theory part.
Professors and Industry experts closely supervise throughout the chartered engineer certificate course. The course develops specific skills that enable someone to deal with several technical and fundamental problems, and that's where the complexity of the course lies.
Chartered engineer in India is not so much popular despite being the most prestigious accreditation in its category. It may be due to less exposure or the level of difficulty involved. Indian Institute of Engineers (IIE) is the conducting body of this course. To get a chartered engineer certificate, you need to meet many criteria. Let's discuss all of them in detail.
Roles & Responsibilities of a Chartered Engineer
Characterized by their ability, Chartered Engineers offer appropriate solutions to complex engineering problems using existing or new technologies through creativity, innovation, technical, and fundamental analysis in multiple fields.
How to become a Chartered Engineer in India?
After completing your school education, you need to follow a few steps to be a Chartered Engineer in India.
Step 1: Enrollment in the Engineering Program

As discussed in the eligibility criteria, you need to enroll in engineering(any stream) as part of your undergraduate degree. You can choose courses like B.E/ B.Tech. or any equivalent course offered by the Indian Institution of Engineers (IIE). It is needless to say that you need to score well along with the strong fundamentals of your stream.
Step 2: Completion of Engineering and Joining a Professional Job
At the end of the 4th year, you will finish your engineering degree, provided no backlogs. Then you need to join any organization as professional experience is mandatory. You will get a job through placement drive of college or through off-campus. A minimum of 2-5 years of work experience under your belt is a must before moving to the next step.
Step 3: Enlist for the Eligibility under IIE
Once you've completed your undergraduate engineering program and gained a work experience of 2 years, you will become eligible to enlist yourself for the Chartered Engineer qualification awarded by IIE. Once you have been eligible for the qualification, the IIE will overview your position and guide you throughout with a series of academic knowledge and tests.
Step 4: Clear the Test and Become a Chartered Engineer
There are tests you need to qualify once you enlist for Charted Engineer course to attain a chartered Engineer badge.
Eligibility Criteria for Chartered Engineer Certificate
To be a chartered engineer in India, you must meet the eligibility criteria first. Candidates applying for the Chartered Engineer certificate must have a Bachelor degree in Engineering in any stream(Electrical, IT, Civil, Mechanical). Both BE and B.Tech students are eligible for it.
Before the degree, you must have a minimum of 5 years of professional work experience. Most importantly, you must hold corporate membership from any 3 grades – Member, Associate Member, a fellow of the Institute of Engineers. After becoming a corporate member of the Institute of Engineers, you will be a chartered engineer.
If you would like to explore more courses you can check out our course details and know every information like eligibility criteria, fees, admission process, etc.
Charted Engineer Educational Qualification
You must have a degree of BE/B.Tech from any recognized institutes in India. BE/B.Tech takes 3-4 years to complete without any back.M.Tech students and AMIE degree holders are also eligible for chartered engineer certification.
Chartered Engineer Books & Study Material
Chartered engineer in India needs intense preparation and hard work. You need to go through many books and journals throughout the course. Here you can get all the information. SAP SMART Chartered Engineer is the most popular one.
Role of Chartered Engineer in India
As a chartered engineer in India, there are different roles and responsibilities you need to accomplish. The roles are challenging and rewarding as the degree is itself an epitome of the professional accord. Let's explore some of the roles:
1. Provide issuance of a certificate
Several types of machinery, heavy instruments, industrial equipment are imported and exported between countries. Only chartered engineers are authorized to provide them as per the norms of the Indian government.
2. Inspection of Shipping of Industrial equipment
Chartered Engineers are only authorized to perform validation and inspection for any industrial equipment or machinery before shipping. Like issuance of the certificate, this task should be conducted under the needful eyes of chartered engineers.
3. Analyze problems and provide solutions
Organizations often require chartered engineers to help them grow by identifying and nullifying problems. As a certified chartered engineer, you need to scrutinize the situation and offer a feasible solution concerning the organization's interests.
4. Perform valuation of Plant and Machinery
Organizations prepare a balance sheet at the end of March, during the end of a financial year. The tally of assets and liabilities should be appropriately matched. That's where chartered engineer certificate holders have a role to play. Evaluating and recording the right value of plants and machinery is crucial.
5. Ascertain Market Value
Ascertaining the market value of any industrial equipment, plant, and machinery is vital as it has a lot to do with capital gain and other financial aspects. Chartered engineers are needed in ascertaining the market value of plants and machinery.
6. Perform validation and valuation during Mergers and Acquisitions
In companies, mergers and acquisitions are one of the important financial challenges. To create a value-oriented organization, many things like valuation, records, legal terms, government norms need to be taken care of. Chartered engineers help the M&A's expert panels to provide correct valuation and validation of the assets(equipment, plant, and machinery, spare parts)
7. Involvement in the Auction process
An auction process involves the right valuation and validation of assets so that its auction price can be desirable. Like in mergers and acquisitions, chartered engineers in India are required in the auction process done by banks.
See More:
Career Scope in Chartered Engineering
There are numerous options available after being certified with a chartered engineer in India. You can work as a Valuer, loss assessor in banks, insurance companies, and financial organizations. You can work as a chartered engineer in Central Excise and Customs, High Courts, and other govt. Bodies. You have options to work as a panel member of the M&A team of an organization. You can work as a chartered civil engineer on civil works of different govt. Projects. You can work independently as a consultant in India and foreign countries.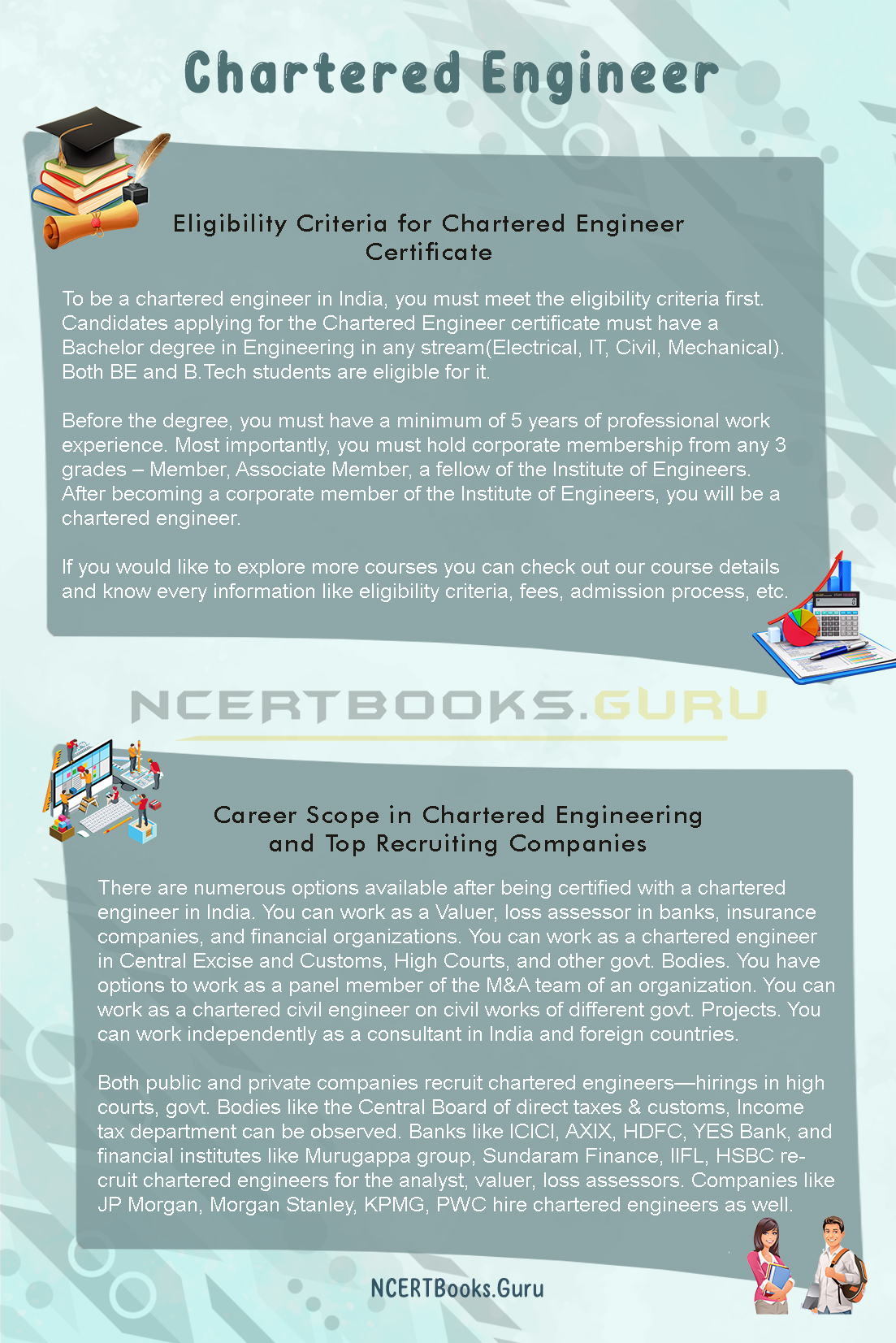 Top Recruiting Companies for Chartered Engineer
Both public and private companies recruit chartered engineers—hirings in high courts, govt. Bodies like the Central Board of direct taxes & customs, Income tax department can be observed. Banks like ICICI, AXIX, HDFC, YES Bank, and financial institutes like Murugappa group, Sundaram Finance, IIFL, HSBC recruit chartered engineers for the analyst, valuer, loss assessors. Companies like JP Morgan, Morgan Stanley, KPMG, PWC hire chartered engineers as well.
Salary of a Chartered Engineer
The average salary of a chartered engineer is ₹21.1lakhs in India. Employees' earnings vary with the years of experience and profiles they are in. A project consultant and chartered engineer can earn 25-30 lakhs.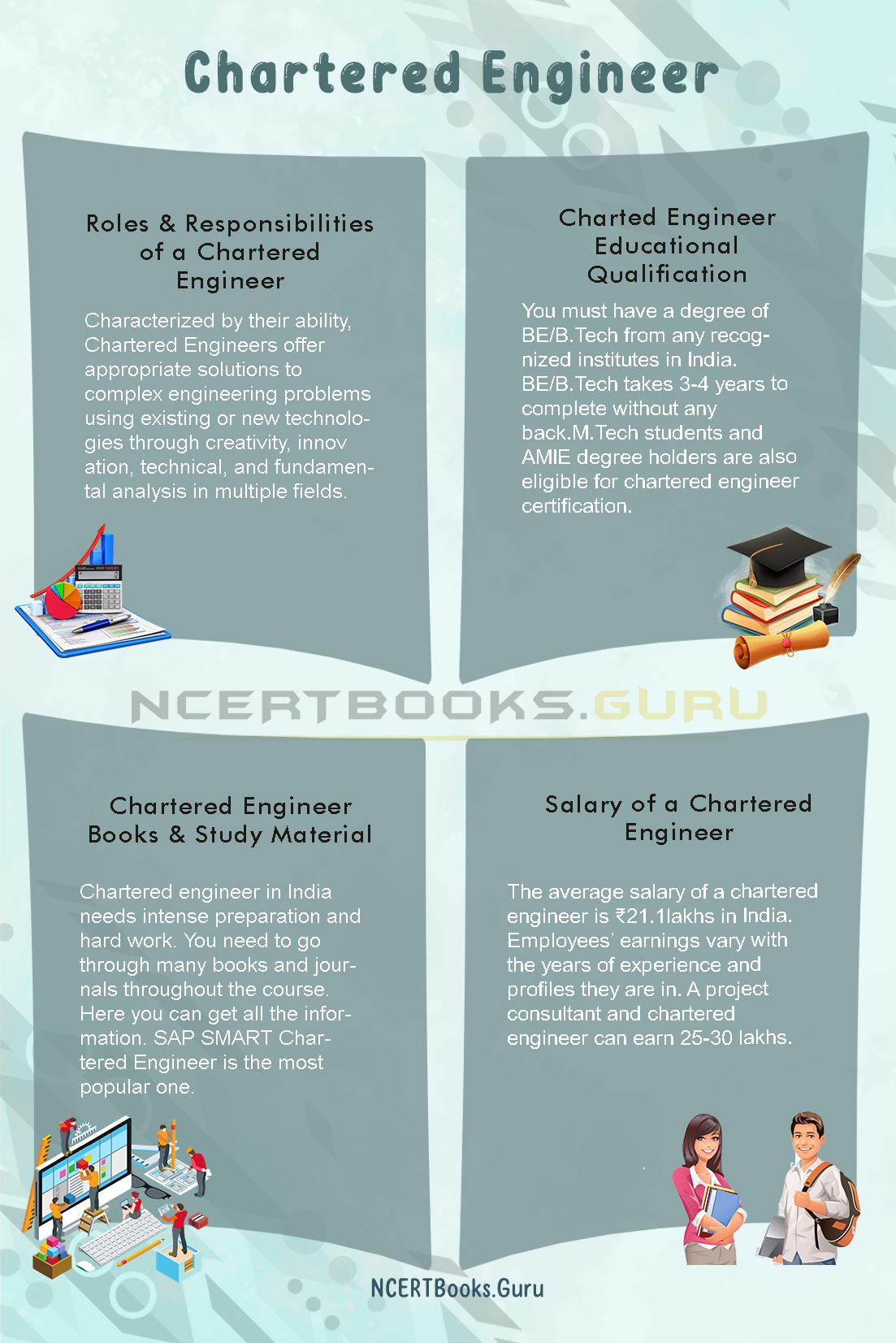 Conclusion
In India, Chartered Engineers are highly recognized by corporates, governments, and big industries. However, a few people know about it. In this article, we tried to cover the career of a chartered engineer in detail.