Programming Language Courses Online: Willing to learn how to code, debug, and program? Only a few programmers will have cutting-edge coding skills. These days, most IT Jobs need a solid understanding of Programming Languages. If you are looking to excel in your career and don't know which programming course to master don't fret we have compiled the Best Programming Language Courses to learn.
Check out Career Prospects and Job Opportunities each of the programming course provides and make the right choice. Below you will find the Popular Programming Languages that are in demand and learn completely.
List of Programming Language Courses
Develop new skills and learn the right programming language and develop programming knowledge. Below are the top programming languages to learn and you can access them by simply tapping on the quick links. Once you click on the respective programming course you will get the complete details regarding it making it easier for you to choose.
Eligibility for Programming Courses
Candidates who want to pursue programming courses need to finish their higher secondary education or +2 with a minimum aggregate from a recognized board.
Programming Language Courses Admission Process
Admission to Programming Courses is given on both merit basis and scores in entrance tests. Some institutes will give admission to students depending on the scores obtained in entrance exams.
Programming Courses Fee Structure
Fee Structure varies from institute to institute and from course to course. Each institute will have different fees depending on its reputation and the placement offers it provides. So, enquire about the fees from the institute's portal or directly and join the course you want.
Skills needed for a Programmer
In order to become a programmer, one needs to have an in-depth knowledge of coding languages. Along with these skills you need to have additional skills and they are as such
Analytical Skills
Problem Solving Skills
Detail Oriented
Focused
Scope & Career Prospects after Programming Langauge Courses
You will have bright career prospects after pursuing Programming Language Courses in the current scenario. Trained Professionals will have plenty of opportunities in a variety of sectors like academia, industry, research, business organizations, government, private, and so on.
Job Profiles after Programming Courses
Software Engineer
Lead Software Engineer
Associate Software Engineer
Senior Software Engineer
Java Developer
Team Leader, IT
.NET Software Developer/Programmer
Software Developer
Sr. Software Engineer/Developer/Programmer
Computer Programmer
Software Engineer/Developer/Programmer
Students have to pursue Software Engineering Courses to become a software egineer.
Popular Programming Specializations
We have provided the most popular programming specializations available. Access them and check for the colleges or institutes that provide these specializations. They are along the lines
Java
.NET
C / C++
J2EE
PHP
JavaScript
You can also find principles of programming languages on this site.
Also, Check:
Salary after pursuing Programming Language Courses
There has been tremendous growth in the software sector and a lot of opportunities exist for students. The salary of the candidates depends on the type of employment and firms. Working Experience, Qualification play a major role in deciding the salary. The Average Salary for candidates after pursuing programming language courses lie somewhere in between 8k – 25K. However, it can vary if you are passed out from reputed colleges/ universities.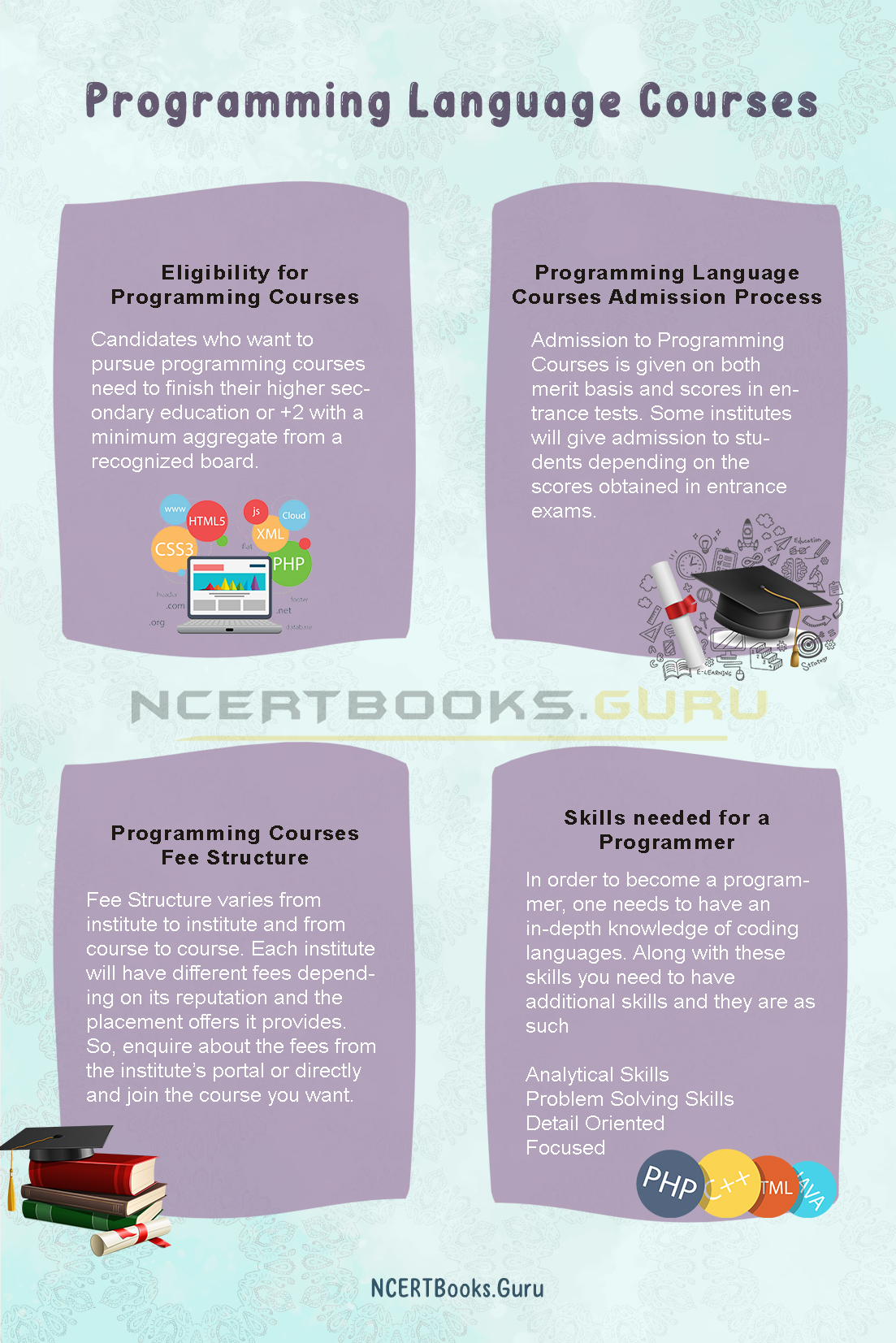 FAQs on Programming Language Courses
1. Is there any website that provides the Best Programming Courses to Learn?
NCERTBooks.Guru is a trusted portal that provides the best programming language courses to learn.
2. Where do I get the Programming Courses List?
You can get the Programming Courses List on our page through direct links.
3. Is it difficult to study Programming Courses?
It is not difficult to study Programming Courses but at the same time, it's not easy. With Proper Dedication and Hard Work, you can study the Programming Courses and learn to code.
Final Words
We wish the knowledge shed regarding the Programming language Courses has enlightened you. For more information regarding Course Details, you can always look up to us and clear your concerns. Bookmark our site to avail latest updates on various courses in no time.