Python Course Details: Certificate course in Python is a short-term course, which is generally of 4-6 months duration.  Though there is no specified eligibility criterion to seek admission to a Python course, individuals are still expected to have a basic knowledge of computer programming. The course aims to provide basic knowledge and skills of Python language to students. You will get to know about the Python course details, the fee charged, syllabus, job opportunities, and starting salary expected after completing the course.
About Python
Python is a versatile computer programming language that is highly suitable for tasks ranging from scripts to large systems. The programming course highlights best practices, including unit testing, version control, and optional idioms. Any student can pursue the Python programming language course. Whether a graduate, a postgraduate, or a 12th pass out students from any field can join the institutes offering Python courses. The course in Python is highly focused on providing the fundamental aspects of language to the students.
Python Language Course Details
| | |
| --- | --- |
| Course | Python |
| Eligibility | No |
| Duration | 3-6 months |
| Python Course Fee | INR 2000 to INR 6000 for the course |
| Course type | Certification |
| Starting salary expected | INR 20,000 to INR 50,000 |
| Employment opportunities | Software developer, web application developer, software programmer, and so on |
Subjects Concepts In Python Language
Check the vital course contents in the Python programming language by scrolling down. The interested students can acquire web applications, rapid application development, data science, and so on. The subject concepts are as follows:
Python Fundamentals and Programming:
Functions
Strings, Tuples, and Lists
Conditional Execution and Loops
Scopes and Namespaces
Dictionaries and Sets
Modules
Intermediate Python
Object-Oriented Programming
Lambda Expressions
File Handling
Iterator, Generator, and Decorators
Advanced Python
Building Framework
C code in Python
Writing Library
Closure, method chaining, and function factory
Python in C#
Metaclasses, Introspection
Python in Java
Colleges List Offering Python Language
Some of the leading colleges that offer Python programming language certificate courses are mentioned-below. The list, including the top colleges among the several colleges, makes it a hassle-free task to choose the best one.  You can select from the following list of colleges that better suits you and join the programming course:
NIELIT- National Institute of Electronics and Information Technology Delhi
Manipal ProLearn, Bangalore
IIHT Howrah
Centre for Development of Advanced Computing (C-DAC) Mohali
Dr. GY Pathrikar College of Computer Science and IT, Aurangabad
NIIT Limited
Boston Institute of Analytics, Mumbai
Appin Technology Lab
ISM- University of Skills
TGC Animation and Multimedia, Delhi
Techdata Solution, Pune
Also, Check
Python Certification and Eligibility
Python programming certification course help aspirants to learn the core concepts of programming and acknowledge how to write programs. The course does not require any complex prerequisites, but demands students to be patient, attentive, and have basic knowledge of programming concepts. Additionally, the students must possess the analytical ability to become a successful programmer.
Python Course Fee Structure
The institutes offering Python course follow their fee structure, and thus fees charged for completing the certification course vary from institute to institute. However, students can expect an average fee for the Python course from INR 2000 to INR 6000.
Python Admission Procedure
There is no certain exam or requirement for taking admission in Python. After completing class, 12th can take admission to the institutes offering Python language courses at any time of the year. Moreover, students have the opportunity to apply for a certification course either online or offline. To fill the admission form online, interested aspirants have to visit the official website of the college and fill all the required details accurately. After the successful registration, the institute authorities will directly contact the candidates and further guide them.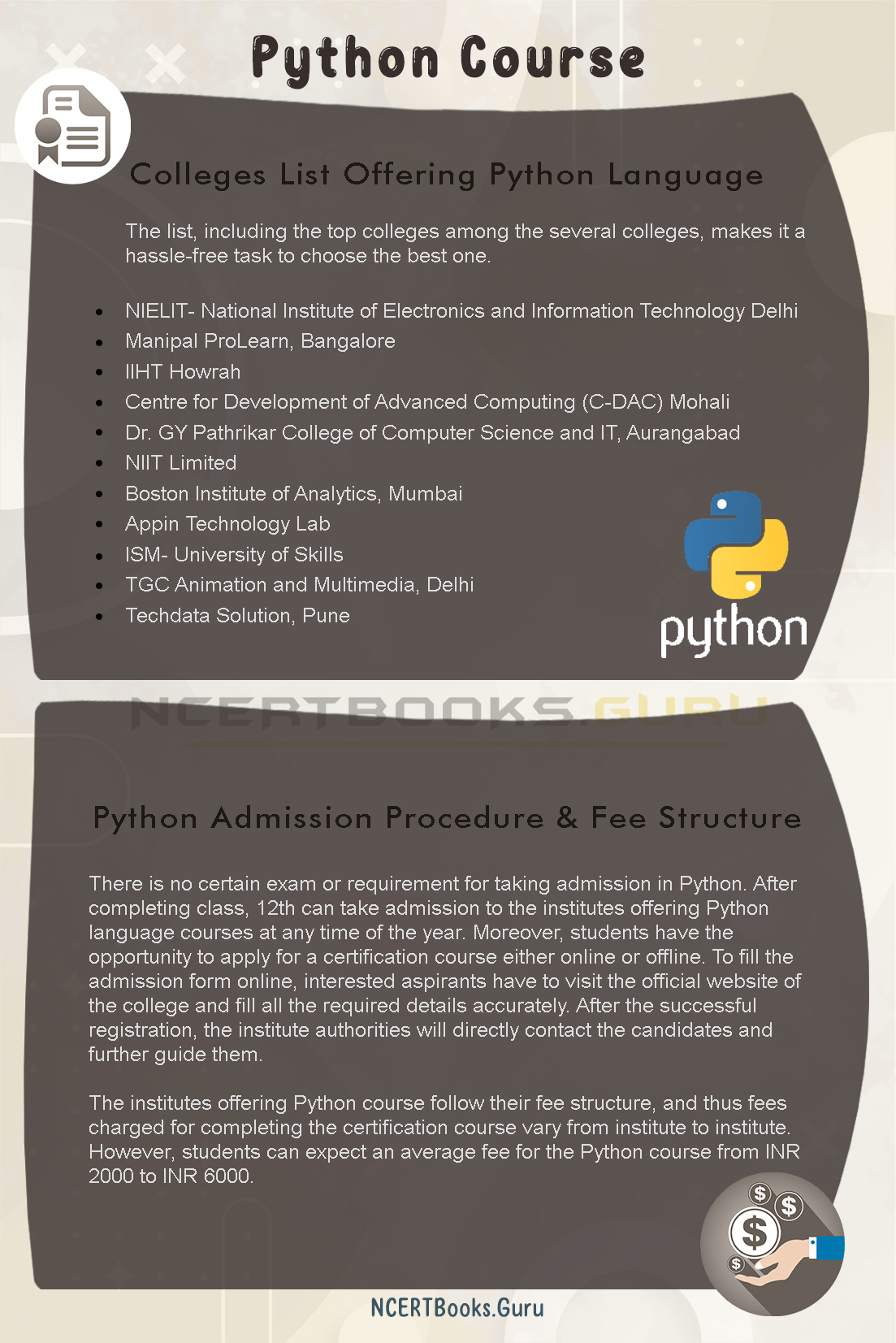 Python Course Duration
The students can expect the course duration for the Python programming language for 3-6 months. The best way is to check the consequent institute and get aware of the duration for completing the course.
Python Course Syllabus
Introduction to Python and computer programming
Data types, data variables, basic input-output operations, and operators
Data manipulation tools
Boolean values, loops, conditional execution
Lists and list processing
Logical and bitwise operations
Sorting- the bubble sort algorithm
Functions, dictionaries, Tuples, and data processing
Writing functions in Python
Modules, packages, and list methods
Exceptions
String methods
The object-oriented approach referring to classes, objects, methods
Students can take the help of Python Books to secure good marks in all the subjects of Python Course.
Python Job Profiles
After completing the Python programming certification course, the aspirants will get the foundational skills required by a software engineer to solve real-life problems. The students become capable of debugging the programs, designing various algorithms, and executing the code professionally. The career options in the Python certificate course include jobs like software enterprises, joining KPOs, BPOs, Government Organizations, and many more.  The candidates can opt for jobs in different profiles such as:
Software programmer
Python Application Engineer
Data Analyst
Python developer
Android software developer
Apart from the job mentioned above profiles, the students interested in large multinational companies can also apply for MNCs. Willing candidates can have a look at How to Become a Python Developer in India to get a job.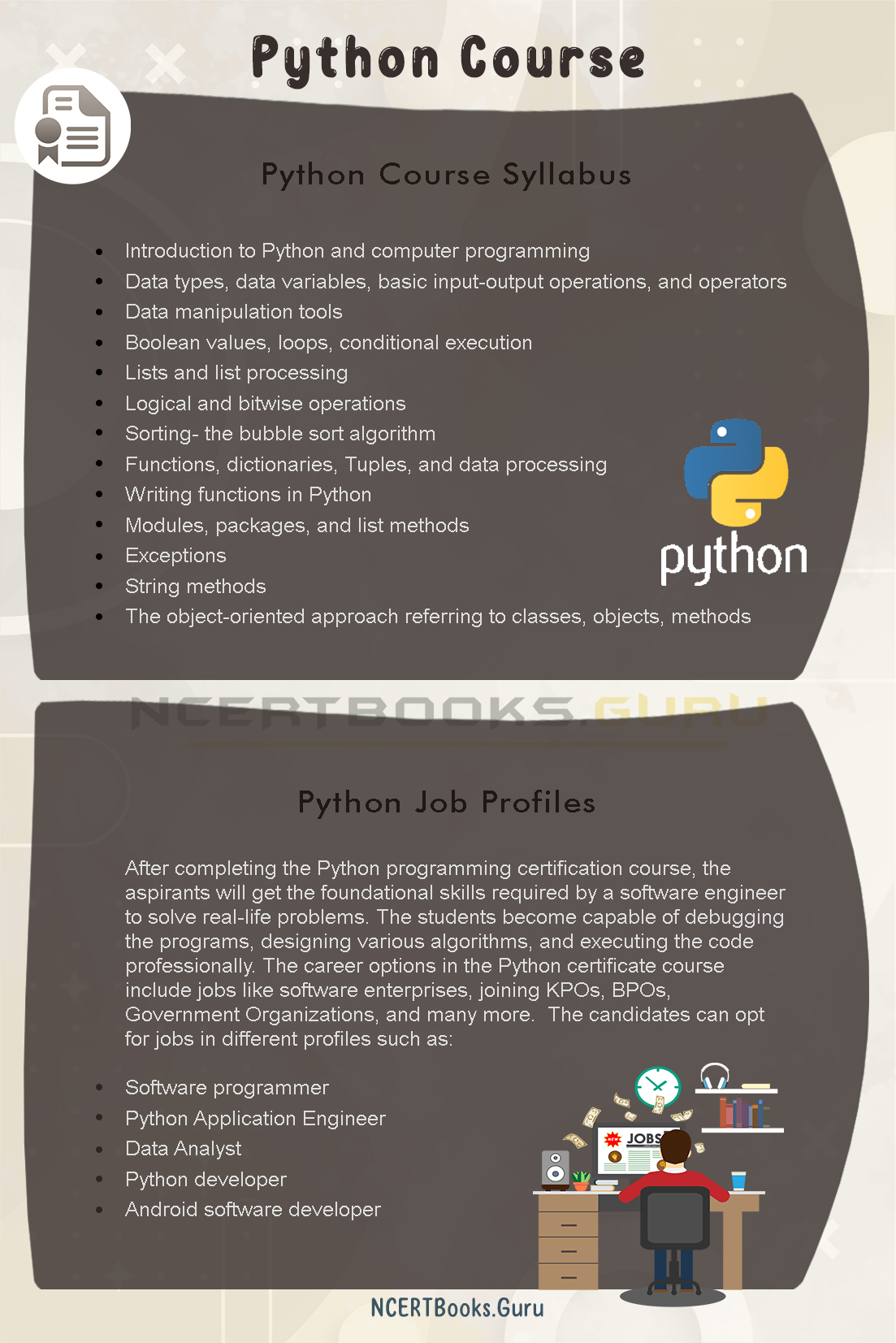 Salary Offered To Python Professional.
Certification courses in computer programming, especially Python, is one of the most renowned and valuable course. The aspirants can expect an excellent job with high salary prospects after qualifying with Python certification. The average salary offered to students having Python certification ranges from INR 20,000 to INR 50,000. Moreover, the salary depends on the knowledge as well as the experience of the candidate. To be precise, there are enormous job opportunities in the field of Python programming, and thus students can expect a diverse range of salaries.
FAQs On Python Course
Generally, Python programming is used as a scripting language. It means that this programming language can automate certain tasks series that makes it more efficient. Moreover, it is used in various software applications, operating systems, and many more.
2. Is Python trouble-free to learn?
By comparing with other computer programming languages, Python is quite much uncomplicated to learn. The learners will find clarity in the syntax of the lines of code that makes it easier to understand.
3. What salary can a Python programmer expect in the beginning?
The salary prospects vary with different job profiles. Generally, the salary of a Python programmer starts from INR 20,000.
Summary
Hope that the information shared about the Python programming course details is useful to you. If you have any queries or want assistance regarding the language course, you can reach us through the comment section. We will do our best to resolve all your doubts as early as possible.