Medical Field Courses: India is the world's pharmacy. Today, the country is in the middle of a Medtech revolution, with rising infrastructure and investments, due to an increasing need for medical treatment. The National Digital Health Mission will help pave the way toward providing the greatest healthcare possible to everybody; therefore, the scope and career opportunities in this sector are extensive on a large scale.
It is essential to understand that the medical field is a wide-spanning term that covers many areas under it. Physiotherapy, radiology, optometry, biomedical sciences, and medical laboratory technology, to name a few, come under medical field courses. The complete details about the medical education courses list are here right from what it covers to career prospects.
Check out our website for more course details.
About Medical Field Courses List
Medical courses often last between two and five years. It focuses on providing students who apply to these courses with practical and theoretical expertise. Medical field deals with specialist doctors to junior doctors along with other specialized stream professionals.
Studying medicine is not anyone's cup of tea. It includes so many hurdles to becoming a successful doctor. If you are dreaming to become a doctor and help people with your service then take a big step into this responsible career and choose your passionate courses in the medical field.
List of Best Courses in the Medical Field with Course Duration & Fees
You can get to see various streams and courses in the medical field that demand NEET scores at times. Also, some medical courses without NEET are available for students who pursued their 12th standard. The list of Medical Courses After the 12th is listed out here along with the course duration and fees.
Various colleges accept students without NEET. However, here is a list of the best medical degrees without neet that you may follow after completing your 12th grade.
| | | |
| --- | --- | --- |
| Course  | Duration | Fees  |
| BSc Clinical Research | 3 years | INR 25,000 – 1,50,000 |
| Bachelor of Science | 3 Years | INR 1,000 – 60,000 |
| Bachelor of Veterinary Science | 5.5 years | INR 10,000 – 4,00,000 |
| BSc Optometry | 3 years | INR 10,000 – 1,00,000 |
| BSc Psychology | 3 years | INR 20,000 – 2,50,000 |
| BSc Agriculture Subjects | 4 years | INR 6,000 – 1,50,000 |
| BTech Food Engineering | 4 years | INR 19,600 – 1,00,000 |
| B Pharmacy | 4 years | INR 15,000 – 3,00,000 |
| B.Sc in Biotechnology | 3 years | INR 50,000-INR 2,00,000 |
| BA in Psychology | 3 years | INR 25,000 to Rs 2,00,000 |
| B.Sc in Microbiology | 3 years | INR 30,000-INR 2,50,000 |
| B.Sc in Nutrition | 3 years | INR 50,000- INR 2,50,000 |
| B.Sc Nursing | 4 years | INR 20,000 – INR 2,50,000 |
| B.Sc Cardiovascular Technology | 4 years | Rs. 50,000 – Rs. 5,00,000 |
Students who want to join the medical field right after their 10th, can easily check the list of available Diploma Courses in Medicine below and choose their career path.
Diploma in Optometry
Diploma in Nursing
Diploma in Medical Record Science
Diploma in Medical Laboratory Technology
Short Term Medical Field Courses with Certificate
The following list of medical certification courses will make you study the course online and distance mode which help you complete your dream course in a flexible way.
Certificate Course in Ophthalmic Technology
Certificate Course in Blood Bank Technology
Certificate Course in Health Inspector
Certificate Course in Medical Office Management (CcMOM)
Also Refer:
Top Colleges for Medical Field Courses After 12th in India
Medical Field is a huge ongoing service in the world not only in India. So, every state provides the best medical colleges for pursuing your dream medical course. The list of top 10 medical field colleges is as follows:
All India Institute of Medical Sciences (AIIMS), New Delhi
Post Graduate Institute of Medical Education and Research (PGIMER), Chandigarh
Christian Medical College (CMC), Vellore
National Institute of Mental Health & Neuro Sciences (NIMHANS), Bangalore
Sanjay Gandhi Postgraduate Institute of Medical Sciences (SGPGI), Lucknow
Amrita Vishwa Vidyapeetham (AVV), Coimbatore
Banaras Hindu University (BHU), Varanasi
Jawaharlal Institute of Postgraduate Medical Education & Research (JIPMER), Puducherry
King George's Medical University (KGMC), Lucknow
Kasturba Medical College (KMC), Manipal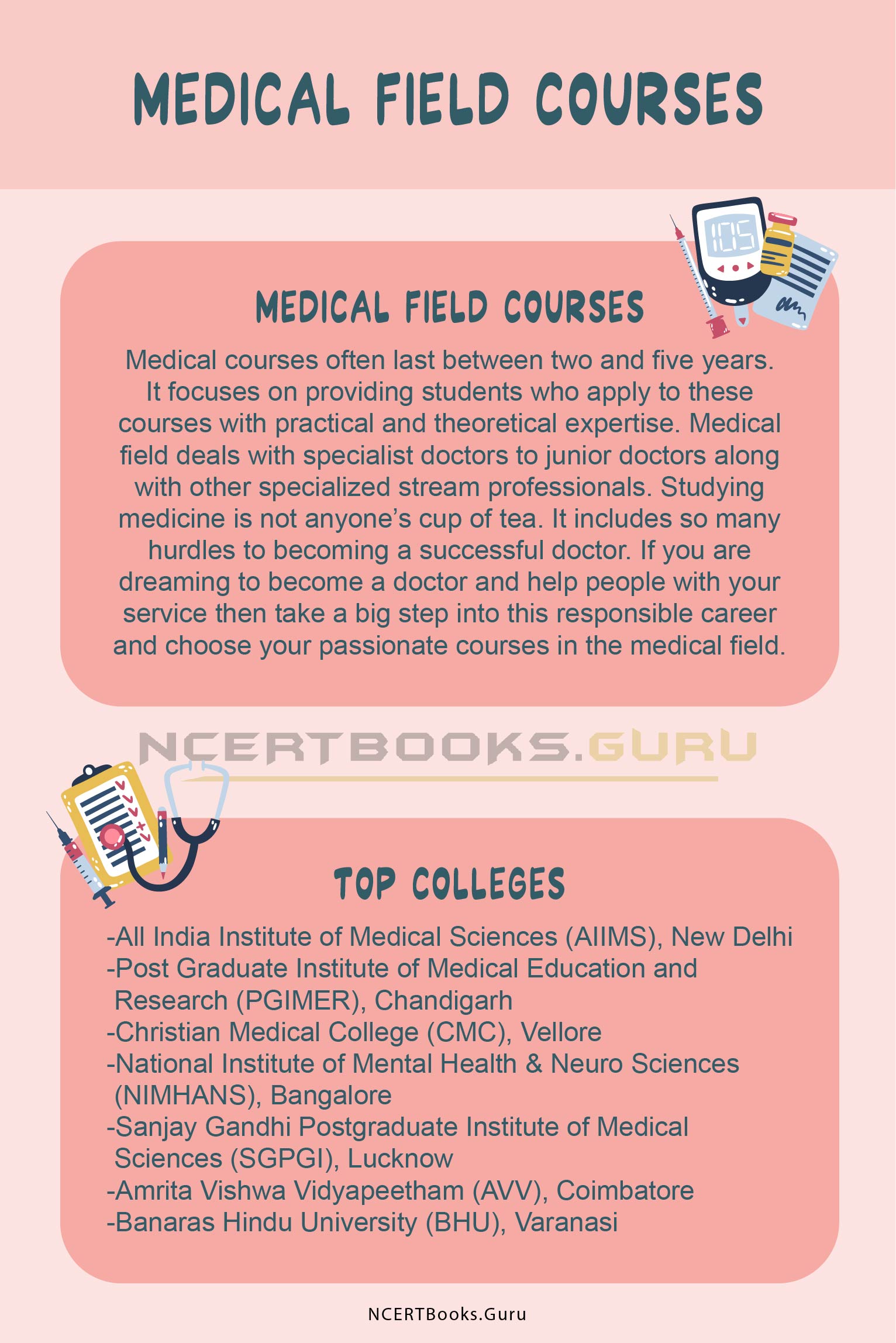 Career Scope For Medical Field Courses After Degree, 12th, 10th
With more experience, knowledge, and certifications, the area of work and pay in these professions expands.
Better Career Opportunities: These experts can work alongside doctors or as researchers, or they can practice independently as Biomedical Engineer, Cardiac Perfusionists, Cardiologists, Cardiologists, Drug Safety Associate, Microbiologist, Nutritionists, Physiotherapists, and so on.
Surplus Possibilities: There are no restrictions on the number of opportunities available in the medical sector, but students must ensure that they are the best and do the best in their particular medical disciplines.
Finally, aspirants might study some more popular and in-demand medical degrees. Strenuous effort and consistency in work provide more significant outcomes in any field selected by pupils.
Job Options for Certified Medical Field Courses Students
Here's a list of the various healthcare/ medical career options in India:
Audiology
Ayurveda
Dentist
Electropathy
Homeopathy
Medical Lab Technologist
Microbiology
Naturopathy
Nurse
Nutritionist/ Dietician
Ophthalmologist
Orthopedics
Optometry
Occupational Therapist
Pathology
Pharmacognosy
Pharmacovigilance
Pharmacist
Physiotherapist
Psychiatrist
Radiography
Speech Therapy
Sports Medicine
Veterinary Science
Yoga teacher
1. What are a few simple medical courses available in the medical field?
Medical Transcriptionist, Physiotherapy assistants, Medical Secretary, Nursing assistants, and other simple medical courses are available in the field of medicine.
2. Is it necessary to have a background in science to pursue medical studies?
Even though the Science stream with Biology as a core topic is essential for core Medical programs, Science may not be required for paramedical or allied Medical courses, but subject knowledge is required.
3. Is it possible for a BSc student to become a doctor?
You can become a doctor with a BSc if you take an MSc or master of science degree and then pursue a Ph.D. in the same specialty.
4. What is the number of medical field courses available after the 12th?
After completing Class 12th, a person can follow one of 38 Medical courses. They are eligible for admission to all affiliated universities in Delhi, Maharashtra, Tamil Nadu, Andhra Pradesh, Telangana, Punjab, Madhya Pradesh, Gujarat, and other states.
Wrapping Up
We hope the information provided above about Medical Field Courses has helped to clarify your questions. If you need more information, please leave a comment in the space below, and we will assist you. Bookmark our site NCERTBooks.Guru for the most recent information on course details, Books, Study Materials, and Exam Resources.