Luxury Brand Management Courses: The fashion industry is growing day by day and one of its amazing fields is luxury fashion brand management. With the improvements in the living standards of people, they are keen on these courses. However, if you are interested in studying luxury fashion brand management courses but could not find a piece of detailed information then you are at the right place.
Here, in the below article we will provide you with eligibility criteria, duration, top courses list in UG, PG, Diploma, MBA with fees, career scope, and also luxury brand management free online courses list. For more such management courses and fashion courses, just look at our ultimate guide on Course Details.
What are Luxury Brand Management Courses?
The courses will provide you with amazing scope in networking and branding. You will study various content related to luxury fashion management such as problem-solving, client relationships, perspectives on luxurious brands, upcoming trends, and retail operations. These courses will help students to build skills that will help them in the luxury fashion industry.
Outline of Best Luxury Brand Management Courses in India
You will get to know more about the luxury fashion management courses in the below-tabulated form.
Mode of education
Online and offline
Domain of Courses

PGDM
MBA
Certificate
Bachelors
PG Diploma

Average Fees
Rs 50,000 to Rs 18,00,000
Average Salary
Rs 6 to Rs 7 Lakhs
Job Profiles

Fashion PR specialist
Visual Merchandising Manager
Fashion Marketing Manager
Brand Manager
Fashion Retail Buyer, and More
Indian Brand Luxury Management Courses Duration
The duration of the luxury brand management courses varies according to their domains. You may complete the undergraduate courses in around 3 to 4 years. Whereas a PG degree can be completed in 2 years and the diploma courses have a duration of 1 year.
Do Check: 
List of Top Fashion and Luxury Brand Management Courses
There are various domains in which you can go for the luxury brand management programs. some of these top domains are
UG Program in Global Luxury Brand Management
You can pursue the undergraduate course in luxury brand management from the pearl academy at just Rs 20,00,000. The UGF course has a duration of 3 years. To be eligible for this program students need to clear class 12th from the recognized board and in any stream.
Masters in Luxury Brand Management
It is 2 years full-time degree that you can complete in around Rs 8 lakhs to Rs 13 lakhs. Throughout the master's (M.Sc), you will study Fashion and Culture, Luxury Marketing Strategy, Strategic Luxury Planning, Luxury Management, and more.
Diploma in Luxury Brand Management
The diploma course can be completed from Rs 50,000 to Rs 2 lakhs, To be eligible for these programs you need to be clear class 12th. Students can complete these diploma courses in less than 1 year. These are the more career-oriented courses and will help you to enhance your skills.
PG Diploma in Marketing and Brand Management
If you want to know about the market targets and the position of the luxury products then the PG diploma is the right course for you. Students can complete these courses in 12 months to 24 months. However, the fees for the courses vary between RS 70k to Rs 1 lakh.
MBA in Luxury Brand Management
MBA is the most demanded degree in the world. The course will help you to build up your entrepreneurial skills and management abilities. You will study a lot about Managerial Economics, Organizational Behaviour, corporate, Finance, Human Resource Management, Marketing Management, and more all related to luxury products. The average fees for MBA programs in luxury brand management are Rs 7 lakhs t Rs 13 lakhs.
Also Refer:
Luxury Brand Management Courses Online
Various institutes offer certificate courses at an online level for the luxury brand management domains. Some of these courses are available absolutely for free and for some you might require to pay a minimal amount.
The detailed list of the online luxury brand management courses is defined here.
| | | | |
| --- | --- | --- | --- |
| Courses  | Institutes  | Duration  | Fees  |
| Certificate in Luxury Brand Management (Online) | Luxury Connect Business School | 1 month | Rs 11,000 |
| Luxury Management | Edx | 8 weeks | Free (charges only for certificate) |
| Introduction to luxury brand management | Udemy | 2 hours 54 minutes | Rs 3500 |
| Management of Fashion and Luxury Companies | Coursera | 12 hours | Free |
| Luxury Marketing | Udemy | 1 hour 9 min | Rs 3500 |
| Understanding the Luxury Fashion in this Changing World | Future learn | 3 hours for 6 weeks | Rs 750 |
Also Know:
There is a wide career opportunity for the students to study luxury management courses abroad. You can find a few top colleges here below:
Country
College
Courses

Italy

 

Rome Business School

Postgraduate degree in Fashion Management

International University of Monaco

Masters of Science in Luxury Management

IUM Executive program

Masters of Science in the Marketing of Luxury services and products 

Bologna Business School

MBA-Design

Fashion

Luxury Goods

Belgium

Antwerp Management School

International Fashion Management

France

 

ESSEC Business School

Luxury Brand Management

ESMOD

International Development in Fashion & Luxury Industry

New York

University STERN, New York 

MBA in Fashion and Luxury
Top Indian Colleges Offering Courses in Management of Fashion and Luxury Brand
The scope is increasing, and thus the number of colleges offering luxury brand management courses is also increasing. Various prominent Indian institutes offer the best luxury brand courses. Some of these top institutes are defined here.
FAD International
SP Jain School of Global Management
Jain University
Mundra Institute of Communication and Advertising (MICA)
Athena School of Management
Lifestyle & Luxury Management Institute
Indian Institute of Management
Pearl Academy
Luxury Connect Business School
Luxury Fashion Brand Management Courses Scope in India
The career scope in luxury fashion is increasing at a faster rate. These days people are keen to wear and own luxury fashion brand goods. With this rise, luxury brand companies want people who can grow and upskill their business. Networking plays an integral role here in growth and development.
People think that they can only work in the fashion sector when it comes to luxury brands. But there are several such industries which are dealing in luxury goods. Students can be eligible to work in these industries:
Automobile
Jewelry
Wine and Spirits
Fashion
Travel
Technology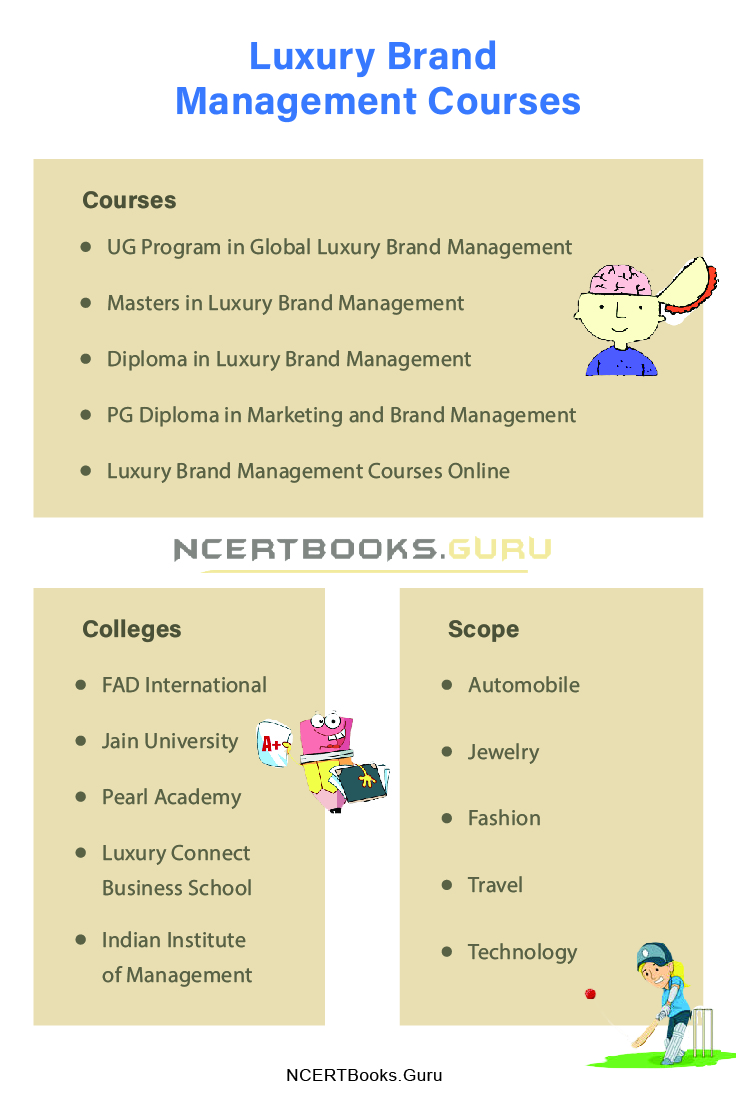 Job Profiles for Luxury Brand Managers in India & World
In India too the brands are building a great marketplace which gives rise to numerous jobs and various profiles. You will get an opportunity to work in unique specializations to work. The booming sector has a lot of new and innovative career opportunities for an individual. Few job profiles which you can avail of in the luxury brand are defined here.
Fashion Good product Manager
Brand Manager
Fashion PR specialist
Visual Merchandising Manager
Fashion Marketing Manager
Fashion Retail Buyer
Luxury Brand Manager
Product Marketing Manager
Salary After Management of Luxury Brand Courses in India
The average salary offered to the students who have completed their degree in luxury brand courses is around Rs 6 to Rs 7 Lakhs. But with the great skills of networking and knowledge, you can also see a huge increase in the salary structure such as Rs 25 to Rs 30 Lakhs. However, the salary offered according to the job profile is defined here.
| | |
| --- | --- |
| Profiles  | Salary  |
| Brand Manager | 7 Lakh |
| Fashion Good Product Manager | 8 Lakh |
| Visual Merchandiser | 9 Lakh |
| Fashion Retail Manager | 8 Lakh |
| Fashion Marketing Manager | 10 Lakh |
FAQs on Top Fashion & Luxury Brand Management Courses
1. What are some top companies offering luxury brand managers? 
The most subtle luxury brands which are worth working with after completion of luxury brand management courses are
H&M
L'Oreal
Armani
Chanel
Christian Dior SE
Calvin Klein
Levi Strauss & Co.
Adidas
Ralph Lauren Corp.
Nike
2. What are the skills required for the luxury brand industry?
The skills are an integral part of the high profile jobs and amazing salaries. To work in the luxury fashion industry you need to have Attention to detail, Leadership skills, Researching, Communication, Motivation for team building, Knowledge of the luxury market, Innovativeness, Passion for luxury items, sketching/ drawing, Presentation, Good Communication Skills, and Ability to perform under pressure.
3. What are the roles and responsibilities of luxury brand managers in India? 
The main work of the luxury brand manager is to work in such a manner that the brand image remains stable and it grows with time. They need to create a lot of networks for the hype of the products. They are also required to understand the needs and wants of the consumer and be ready to accept feedback. To the main continuation in the success is the key responsibility.
4. Is luxury brand management creating the right path to build a career in the industry? 
Ans. Luxury brands have always been an integral part of the fashion industry. Now, with the growth in the fashion luxury brands are also seeing a surge. If you are interested in luxury goods and have great knowledge about them then yes it is the right path for you. You can choose to upscale your lifestyle with the help of these luxury brand courses and choose the opportunity to work in the luxury fashion sector.
Summing Up
Experience is the key to becoming successful in any field. Thus with his skills and knowledge, you can be a successful brand manager in the luxury brands industry. Now, if you are planning to pursue your dream in the luxury brand management course and you require help then you can contact us.
Our team of experts will help you in the best possible manner. You may also visit our official website Ncertbooks.guru to know more about the brand management courses or fashion styling courses or other course details.