Fashion Management Courses: Fashion is one of the most interesting and dynamic fields in this world. We can observe that new experiments are occurring continuously at a faster pace. Thus, it has given rise to the courses in Fashion, and Fashion management is one such important domain.
Are you aspiring career in Fashion? Are you willing to know the detailed structure of Fashion Management Courses? The answer to all your questions is given here. Read the below article to know about the Fashion management degree courses, their fees, Top Colleges, NIFT, duration, and much more.
What are Fashion Management Courses in India?
The fashion Management courses mainly deal with the marketing process such as purchasing and way of selling products related to fashion. In the course, students will be taught the skills to accomplish these tasks. You can pursue all sorts of degrees in the Fashion management Courses such as diplomas, bachelors, master's, and more.
Know More:
Fashion Management UG PG Diploma Courses: Overview
You can get a brief about the Fashion Management Courses here.
Available Courses

Undergraduate
Diploma
Postgraduate

Mode of education
Online and Offline
Fees
Rs 45,000 to Rs 3,00,000
Salary offered
Rs 15,000 to Rs 35,000 per month
Job Profiles

Sales executive
Merchandiser
Fashion Buyer
Product Manager
Fashion Management Courses – Eligibility Criteria
The Eligibility Criteria for the courses vary. But the minimum criteria say that students must have completed a minimum class 10+2 from an accredited government or national board of education for the graduate and diploma courses. However, if you want to pursue a master's degree in fashion management then you need to clear a graduate degree from a recognized university.
Fees Structure of Fashion Management Degree & Masters' Courses
The fee structure is different for all the colleges. It has been dependent on the services they are offering such as infrastructure, practical training, and a lot of others. You can find the detailed fee structure here.
| | |
| --- | --- |
| Degree Offered | Fees (In Rs) |
| Undergraduate | 45,000 to 2 LPA |
| Postgraduate | 45,000 to 4.5 LPA |
| Diploma | 45,000 to 2 LPA |
Duration of Diploma, Bachelor, Master's Degree Fashion Management Courses
The diploma courses can be completed in around 1 to 2 years. But it takes around 3 years to get a bachelor's degree. Also, the candidates can complete the master's degree in just 2 years after completing the final exams.
Also Check:
Best Fashion Management Courses in the world
Fashion management is not just stuck with the single domains. Fashion is a stellar sector for the economical growth in the world. You can pursue various specialization degrees in the same field. The chances to pursue the specializations are around the globe. Here is the list of a few best courses which you can pursue in India as well as in the abroad countries.
fashion brand management
fashion business management
luxury fashion management
fashion marketing and management
Course in fashion design management
fashion event management
Fashion Management Courses Abroad
The countries like London and France are considered the fashion hub of the world. Nowadays with the growth of the fashion industry, you can pursue the best courses even from the universities abroad. Studying Fashion Management from abroad universities will create a lot of new opportunities around the globe. Here, you can find the list of a few fashion management Courses abroad.
Name of University
Location
Fashion Management Courses
Coventry University
Coventry, UK
MBA International Fashion

Management

London College of Fashion,

University of Arts, London

London, UK
Executive MBA [Fashion]
Mod'Art International
Paris
Bachelors in Fashion Management
Paris School of Business
Paris, France
MBA Luxury & Fashion Management
SDA Bocconi
Bocconi, Italy
Master in Fashion, Experience,

and Design Management

Stern School of Business,

New York University

New York, USA
MBA Fashion & Luxury
University of Huddersfield
Huddersfield, UK
MA International Fashion

Design Management

University of Leeds
Leeds, UK
MA Global Fashion Management
University of Southampton
Southampton, UK
MA Fashion Management
Free Online Fashion Management Courses
The top institutes like Coursera, Udemy, Edx, and more are offering online courses that too free. Even the students are eligible for the training and certificates after the completion of these courses. You can pursue Online certification or diploma courses at the online level. Some of the famous pursued Fashion Management Courses Online are;
| | |
| --- | --- |
| Fashion business | Master in Management and Direction of Fashion Companie |
| Fashion event planning | Master in Management and Marketing of Fashion and Luxury |
| Management and Creation of Fashion Brands Masters | Master in Fashion and Luxury Business Management |
| Fashion studio | Textile Technology Training |
| Master in Fashion Management (MPS) | Master Fashion and luxury management |
| MAM in Sustainable Fashion Management | Master in Fashion and Design Management |
| MBA Luxury Brand Management | Master in Fashion Management (Part-Time) |
Fashion Management Courses NIFT
National Institute of Fashion technology is one of the most preferred choices for students when it comes to pursuing courses in the fashion industry. Thus, the prestigious institution offers master's and bachelor's in fashion management. Here are a few essential points related to NIFT fashion management courses:
The bachelor's degree is for 3 years which includes 6 semesters.
You need to clear the entrance exam NIFT GAT Exam to be eligible for the master's program. It is a 2 years degree program comprised of 4 semesters.
Some students are also required to undergo a strict interview process.
You can get admission to the NIFT Delhi, Chennai, Bhopal, Shillong, Mumbai, Patna, and other Pan India locations.
Throughout the course you will get to know about Basics of Pattern Making & Sewing, Basics of Art and Design, Indian Constitution, Advanced Pattern Making & Sewing, Apparel Production Management, Computer Fundamentals, Entrepreneurial Development Program, and more.
Must See:
Masters in Fashion Management
The master's in fashion management is a fantastic opportunity for the students. Thus they can complete the degree in just 2 years. Throughout the master's degree, students will get to know about Fashion Merchandising, Marketing Management, Pattern Appreciation, Financial Management, Strategic Management, Global Marketing Sales and Distribution Management, and more.
You can get enrollment in some of the best colleges such as.
Sawai Madhopur College of Engineering and Technology
Amity School of Fashion Technology (ASFT)
SGT University
Pacific University
Avalon Business School, Visakhapatnam
Jaipur National University
National Institute of Technology
International Institute Fashion Technology (IIFT)
Indian Institute of Fashion Technology (IIFT)
Mahatma Jyoti Rao Phoole University
Pearl Academy – Chennai Campus, Chennai
The basic syllabus remains the same for all the colleges. It depends upon them how they take up the subjects in the semesters. However, the important topics which you will find in the course curriculum are:
| | | |
| --- | --- | --- |
| Brand & In-Store Communication | Human Resource | Export Merchandising |
| CRM & Industry Management | Operations Research | Information Technology |
| Fashion Forecasting & Product Development | Fashion Merchandising | Retail Merchandising & Financial Management |
| Fashion Marketing | Consumer Behaviour & Fashion Brand Management | Supply Chain Management |
| Fashion Retail Management | Professional Practices | Intellectual Property Rights |
| Legal Environment of Business | Strategic Management | Global Marketing |
| Marketing Research | Management Accounting | Economic Analysis |
| Retail Buying and Category | Statistics and Statistical Software | Overview of Global Fashion |
Fashion Management Colleges in India
The top colleges which you will find in India for the Courses in fashion management are defined here. However, the admission process is entirely different for all the colleges.
Mahatma Jyoti Rao Phoole University
Satyam Fashion Institute
Indian School of Design and Innovation
Sharda University
Subharti University
NIFT
Avalon Business School
Institute of Apparel Management
MIT Institute of Design
SDPS Women's College
Amity School Of Fashion Technology
Do Refer:
Career Scope in Fashion Management Courses
In the fashion management courses students have learned various practical and theoretical skills related to the fashion industry. Now, it's time to apply them in the real sense. With the rise in the fashion industry, the need for retailers, marketers, and social media experts has risen. You can find amazing job opportunities in the fashion management sector. Some of the best job profiles are.
Social Media Managers
Chief Merchandise officer
Commercial Director
Fashion Marketing Consultant
Fashion & Luxury Buyers
Public relation
Brand managers
Fashion & Luxury Merchandising
Entrepreneur
Retail and sales
Fashion Business Advisor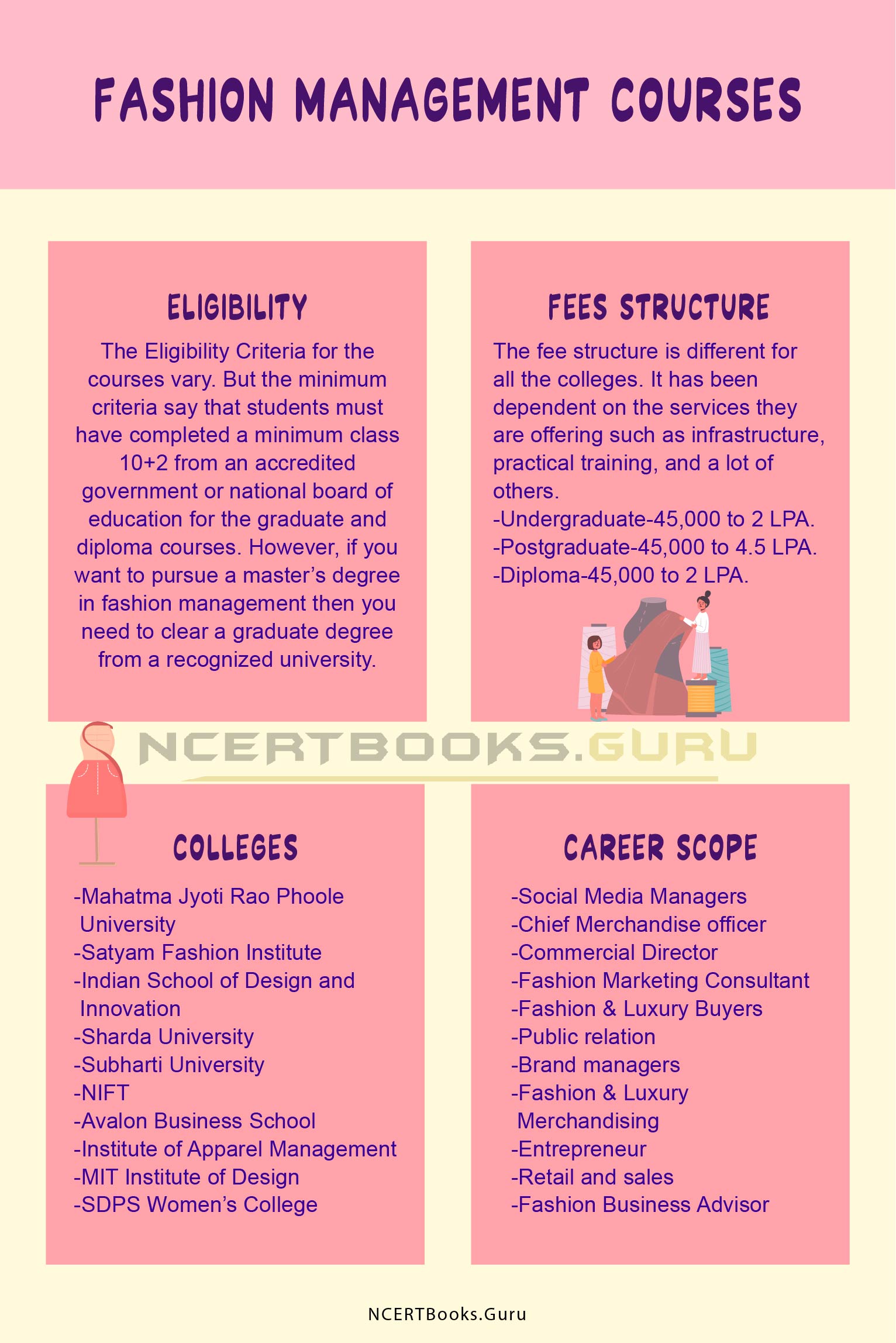 Salary After Certified Courses in Fashion Management
The average salary offered to the students is around Rs 2 – 5 lakhs. But the given salary to the employees is based on the brand, company, and location. Some of the best jobs which you can get after the completion of Fashion Management are
| | |
| --- | --- |
| Job profiles  | Salary  |
| Apparel Merchandiser | Rs 5.21 LPA |
| Brand Manager | Rs 10.36 LPA |
| Business Development Executive | Rs 3.2 LPA |
| Design Manager | Rs 11.43 LPA |
| Export Sales Manager | Rs 6.28 LPA |
| Marketing Manager | Rs 7.12 LPA |
| Visual Merchandiser | Rs 4.15 LPA |
See Related Articles:
FAQs on Fashion Management Online & Offline Courses
1. What are the best countries from where I can pursue fashion management courses?
Some of the best countries are Italy, Singapore, Germany, France, Australia, Dubai, the United Kingdom, and more.
2. What are the top companies offering jobs to Fashion Management graduates? 
Some of the top companies which are offering amazing jobs in Fashion Management are Li and Fung, Zara, Tiffany, Lacoste, NEXT, Levi's, Carbon, Godrej Interior, Tommy Hilfiger, Spencers, and more.
3. Do Fashion Management Graduates get jobs in the government sector?
Yes, the students can get a job in the government sector too. However, the pay scale is around Rs 2.8 and 9 LPA. You can work in the position of Seamstress, Fashion Historian, Journalist, Conservationist, and more. The job profiles and the salary structure depends on your skills and knowledge.
4. What is the required skillset for the Fashion management Courses?
Decision-making, Organization skills, Problem-solving, Analytical skills, Research skills, Project management skills, Leadership skills, Business awareness, and more are the key skills that every student should have while pursuing Fashion management courses. '
5. What is the role of the fashion Manager? 
Fashion Managers play a key role in the Fashion Industry. Their main role is to create a new marketing strategy for the product which will later help in improving the brand image and demand for the product in the market.
Summing UP
A degree online courses in fashion management helps youtube cope with the latest trends in the market. Hence you will be already industry-equipped and ready to face the challenges. To know more about Fashion Management Courses and other course details, visit our website Ncertbooks.guru. Else, feel free to reach out through the comments section for any academic & career queries!