Letter to Bank Manager: Banks are playing a leading role in our society. Almost, everyone in this world holding a bank account to get facilities such as ATM Services, net banking, loans, and many more. In order to get these kinds of services, you should visit the bank near you and open one bank account. To avail some facilities, you should write a hand-written letter or email to the manager of a bank.
A Letter to Bank Manager is a formal document where people request some bank-related services to be enjoyed from the bank like ATM, Bank Statements, Cheque Books, etc. Explore more about this letter to the bank manager and learn how to write an application letter to your bank manager and request the concerned facility.
Attain Other Formal and Informal Types of Letter Writing Formats and Samples from our website @ NcertBooks.guru and make your own letter even more effective & attractive.
Tips & Guidelines on How to Write Letter to Bank Manager?
The following are the tips & guidelines that you should remember while drafting a Letter to Bank Manager. They are as such,
Mention the name of the bank and the branch where your account is held.
Make sure that the subject line in your letter is included or not.
Also, ensure that the subject line is succinct and on point.
You may also need to provide your name as per the bank records.
Your bank account number must also be specified in the request letter.
Though this is a request letter, all other formal letter writing details to be included such as headings, salutations, complimentary close, and signature line.
Also, you should include enclosures or attachments if necessary (or as supporting evidence).
Also Check: 
Reasons to Write a Letter to the Bank Manager
People will have several reasons to write a letter to a bank manager because everything in the country is running on digital transactions. The bank plays a vital role in digital transactions. There are some scenarios mentioned below that will make you draft the Letter to Bank Manager. They are as follows:
Request to issue a new ATM card
Request to issue a bank statement
Asking to issue a bank passbook
Request to issue a Cheque book
Request to transfer bank account
Other formal communication (such as submission of documents/ supporting evidence)
Format/Template of Letter to Bank Manager
The below-given information will be included in the Letter to Bank Manager. So, refer to this Application to Bank Manager Letter Format and request any required documentation related to the bank from the Bank Manager: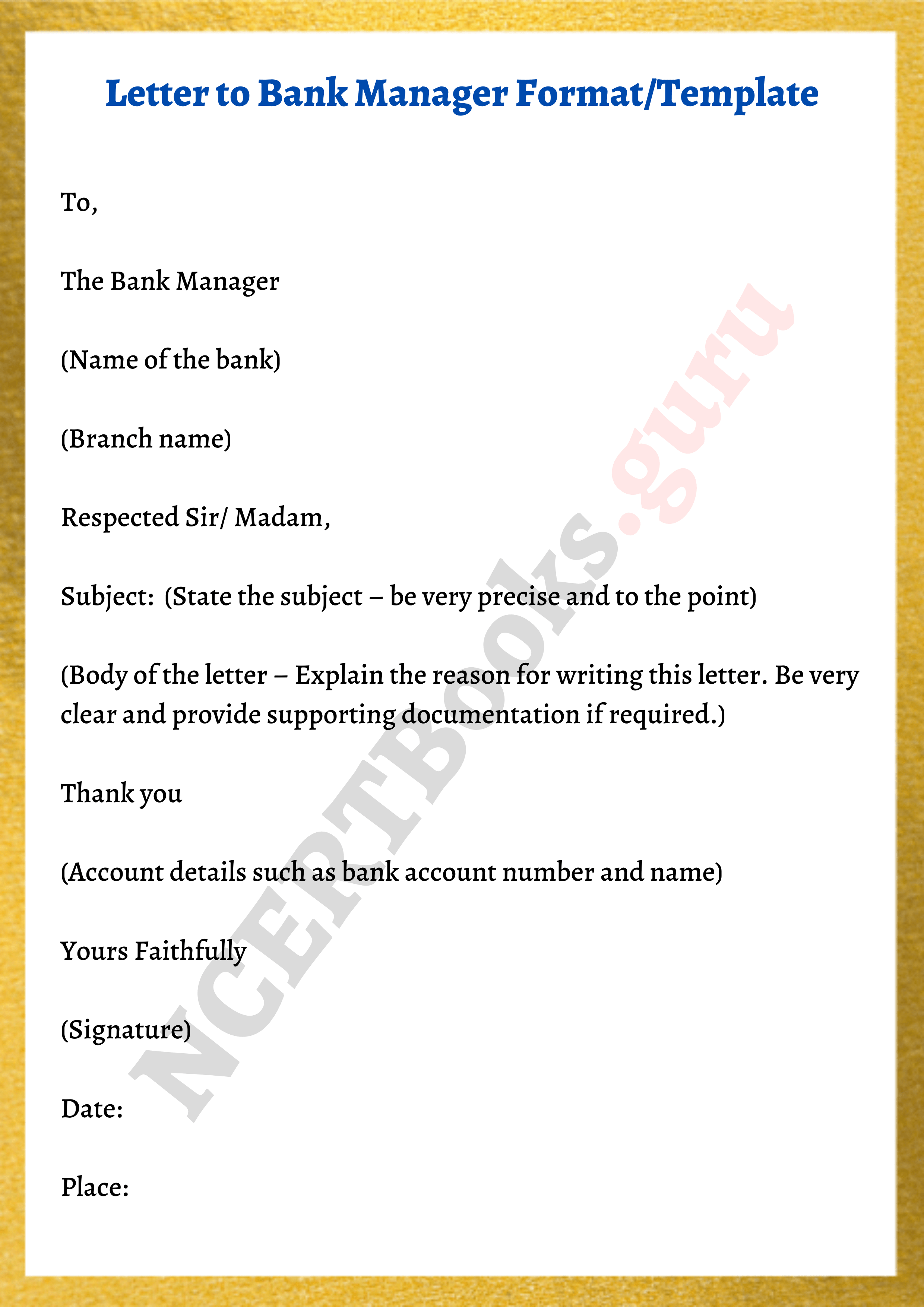 Free Download of Letter to Bank Manager Samples
Here are a few samples of Application to Bank Manager which follows all guidelines and formal structure. As per your requirement, you can edit or choose a particular letter to bank manager sample and draft a perfect letter while issuing any document in the bank.
Also Check: 
Application to Bank Manager for New ATM Card – Sample 1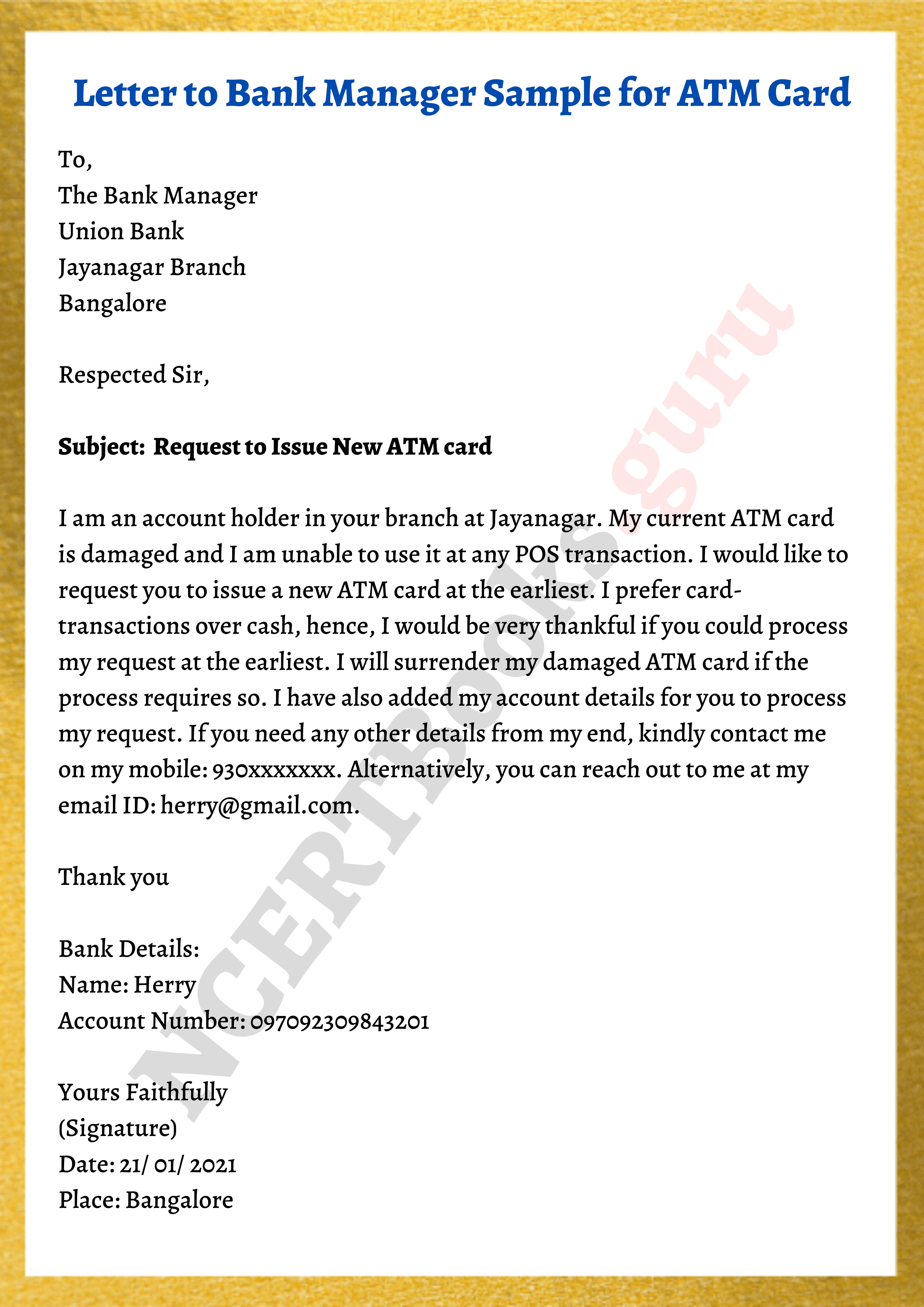 Sample 2 – Issuing Bank Passbook Letter to Bank Manager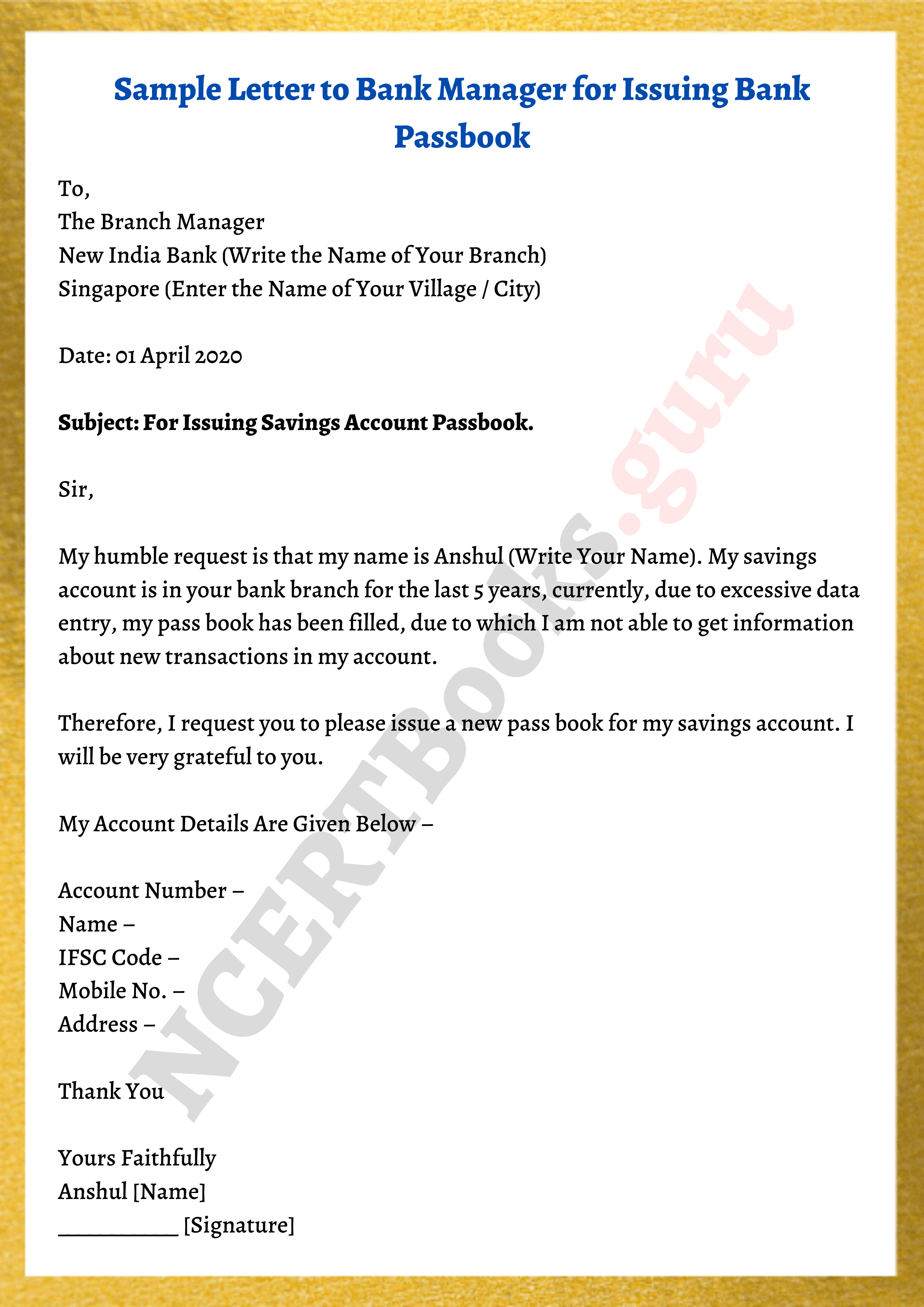 FAQs on Writing Letter to the Bank Manager
1. What should include in Requesting Letter to Bank Manager?
The bank's address.
The addressee, who is commonly the Branch Manager.
A subject stating the nature of the request.
Explanation of your request.
Account information: Account name and number.
Other Necessary Information.
Your address.
Your contact information.
2. How do you start & end a formal letter to a bank manager?
If you know your bank manager, you can write to him/her by name. (Dear Mr / Ms. XX and end Yours sincerely). If you don't know the name, write "Dear Sir / Madam" and end "Yours faithfully".
3. Which type is the Letter to Bank Manager?
Letter to Bank Manager is a formal letter type where people request or issue bank account related topics to a bank manager. Well, she/he accepts the letter if it is a valid one and matched all bank norms.