How To Write a Cover Letter: Formatting your cover letter is very crucial at the time of job trials because it is the first impact you'll make on an employer. Indeed, how you structure your cover letter is essential as what you address in it. Generally, a cover letter is a formal one-page document that should be written by the applicant when applying for a job. Basically, it should be formatted correctly and in an understanding way to attract the employer and pay attention to your profile.
In this article, we have compiled information on cover letter formatting guidelines and more tips on how to format cover letters for a job. Apart from this, you even find the sample cover letter for your reference. So, go ahead and check out all modules for a better understanding of how to write a cover letter. For more Letter Writing Topics of both formal and informal, please visit our site and get familiar with different styles of letter writing.
What is a Cover Letter? (and Why It's Important)
A cover letter is a single-page document that you should submit in the context of your job application (alongside your CV or Resume). Its objective is to introduce you and briefly summarize your professional background. A good cover letter can spark the HR manager's interest and get them to read your resume. Overall, your cover letter (attached with your resume) benefits managers and recruiters screen your job application.
Also Check: 
How to Write the Perfect Cover Letter?
Now, we're talking about the guide about the process of writing a cover letter step by step:
Pick the Right Cover Letter Template
Start the Cover Letter with a Header
Greet the Hiring Manager
Write an Attention-Grabbing Introduction
Explain why you're the perfect person for the job
Explain why you're a good fit for the company
Wrap up with a call to action
Use the right formal closing
Format for Writing a Perfect Cover Letter
You will see a well-structured format for every formal letter which are written in school, colleges, or in companies. For writing a resume or CV also you have to follow the format, in the same way, you have to learn what's the format for a cover letter and how to write the cover letter perfectly.
An individual who is trying to get a new job must hold the knowledge of what to include in a cover letter and its format. Here are the details that should be included in the cover letter and the format of a cover letter:
Applicant's Name and Contact Information
Recipient Name and Contact information
Job title you are applying for
A list of your skills as per the job title
A brief explaining why you are suitable for the job
Request them to contact you
Cover Letter Sample
A sample cover letter is presented here in the image format for the job application. Candidates who are looking to write a cover letter for a new job requirement can check out the below sample as an example cover letter and write it on your own by including your skills and other capabilities. Also, by updating the details like name, address, employer's name, and address, job title, etc.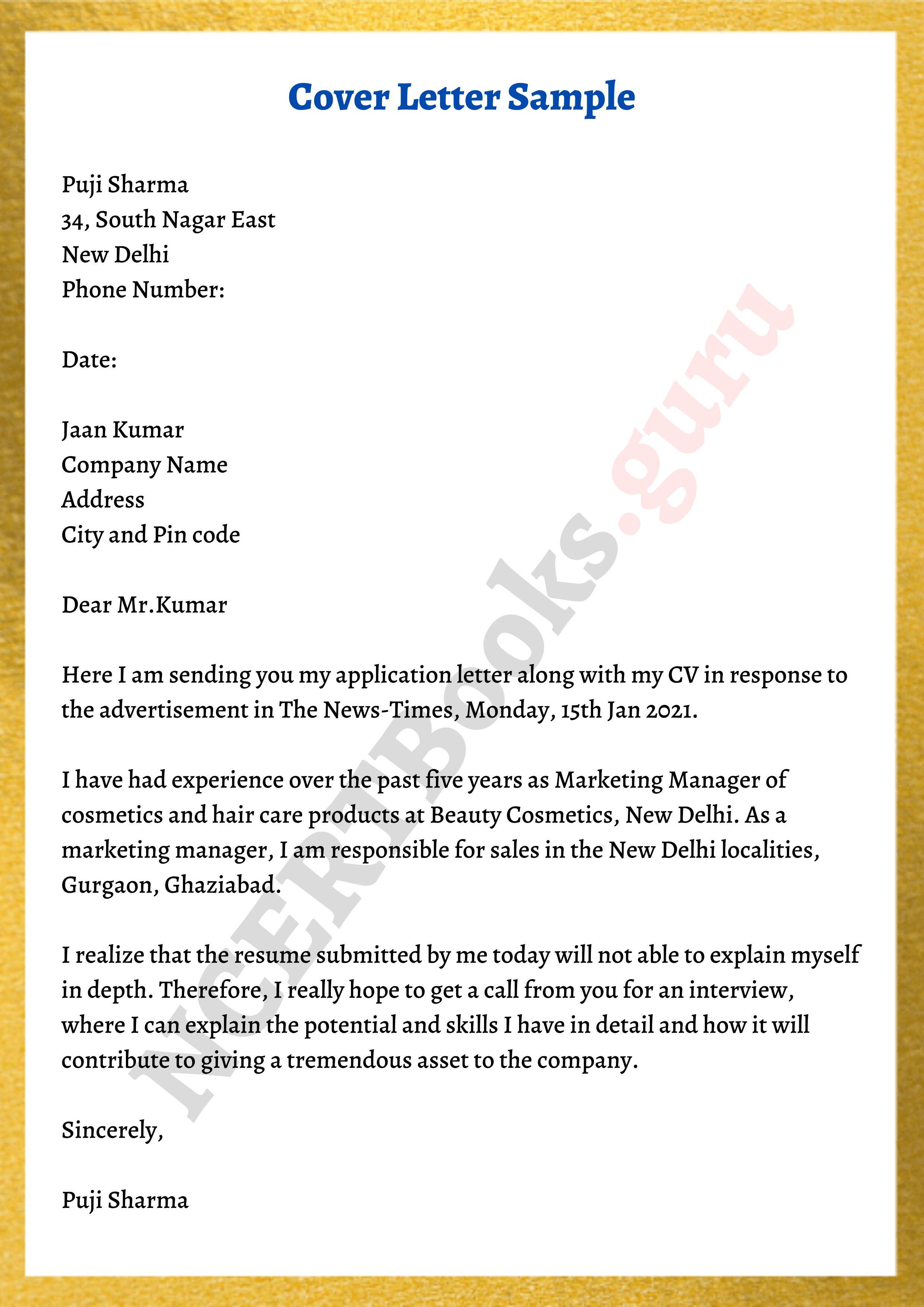 Essential Guidelines for Cover Letter Writing
Always sender should utilize a separate cover letter for each job.
It should also hold the job requirement and how you suit for it.
If you know the person to whom the letter is addressing then use Dear [name of the person] or else use the phrase "TO WHOMSOEVER IT MAY CONCERN".
Do some research about the requirement and ask few questions related to that job if necessary.
The cover letter should always customize by collecting the information of the company as per the job. Once, go check out the company's website before applying for it.
Do not encourage typos or any other mistakes in the letter.
Attach your CV or resume in the mail and do not include it in the cover letter.
Avoid using 'I' too much.
Apply for a single job with one letter despite the fact if there are several other openings.
FAQs on Writing a Cover Letter
1. What to include in your cover letter?
Below the list of things are needed to include in your cover letter:
Your name and contact details
Their name and contact details
The name of the job you're going for
A list of your relevant skills
A summary of why you're right for the job
Speak their language
Ask them to contact you
2. What not to include in your cover letter?
Here are some things that should never be in your cover letter:
Typos or mistakes
Including your whole resume in your cover letter
Using 'I' too much
Don't mention your other job applications
3. What are the different types of Cover Letters?
Various Kinds of Cover Letters are as follows:
A cover letter when you have no work experience
cover letter when you have some work experience
A cover letter when no resume is needed
cover letter when there's no job advertised.