A Job Offer Letter is a formal letter given to a candidate providing them important information such as Starting Date, Compensation, Working Hours, Job Title, etc. It is also known as Employment Offer Letter. It includes applicable job conditions, terms, and conditions of employment for employees to negotiate the offer. Check out the Free Offer Letter Format, Samples for your reference, and Learn Tips on How to Write a Job Offer Letter.
Make use of Letter Writing Topics and get acquainted with formal and informal letter writing styles as per your requirement all under one roof.
What is an Offer Letter?
An Offer Letter is a formal letter exchanged with a prospective employee on successful completion of the entire interview process. The offer letter includes the key terms and conditions, applicable job conditions of employment for the employee to negotiate about the offer.
If a candidate accepts your offer they will sign it and return the same to you. However, you need to understand that an offer letter is not always a legally binding employment document. In fact, it is a separate document that provides protection for both parties.
Offer Letter Structure and Format | What must be included in an Offer Letter?
A Job Offer Letter from Employer to Employee should include the following details. They are as follows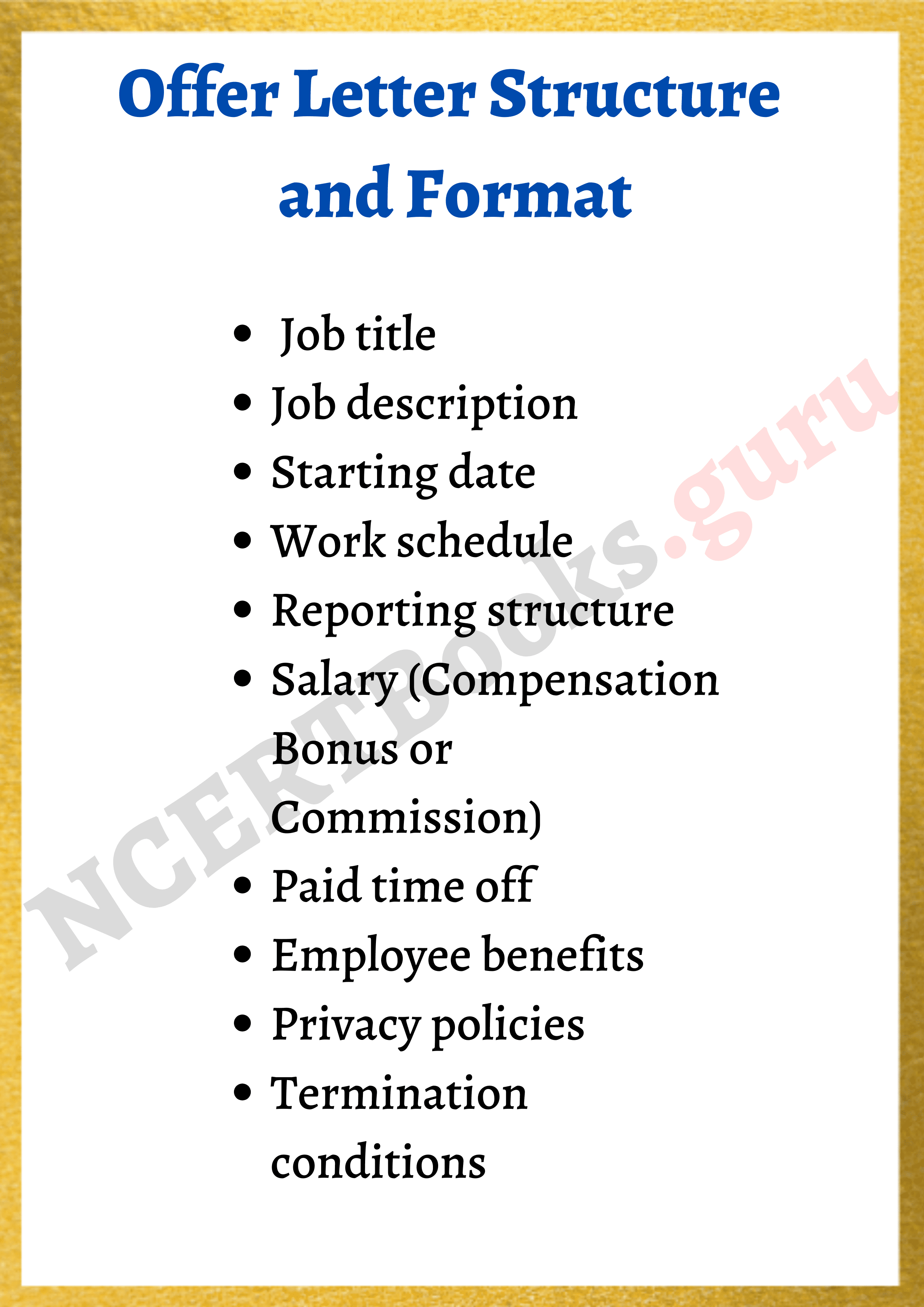 Importance of Offer Letter
An Offer speaks about an Organization and its Reputation. It is the first-hand document of an employer and company culture. You can learn about Job-Related Details such as designation, shift, salary, location, and other details being offered.
Job Offer Letter makes the decision-making process easy for the shortlisted candidates. Thus, creating a standard offer template is extremely helpful.
How to Write an Offer Letter?
Offer Letter is an overview of the company, job position, and brief details such as starting date, salary, work schedule, and benefits. There is no standard format for an offer letter and you can arrange the structure to fit the company and roles you are hiring. They are as follows
Company Logo: Use your Company's Letterhead to convey professionalism and authenticity. This is a potential way to encourage them to keep reading and consider your offer.
Date and Contact Information: In the upper left-hand corner, include the date, the candidate's first and last name, and their address.
Greeting: Start your Letter with Dear followed by the last name. Congratulate them and express enthusiasm about offering them the job.
Job Details: Be Specific about the Position like Starting Date, Office Location, Reporting Structure, Brief Description about the Roles and Responsibilities, etc.
Contingencies: If the Job Offer is Contigent do mention them such as Background Check, Signed Confidentiality Agreements, etc.
Compensation: Mention the Package you are offering. List out equity, bonuses, commission structures, etc.
Benefits: Encourage a Candidate to Accept your Offer and the Summarize the Key Benefits.
Expiration Date: While Wrapping Up your Letter Decide if you want to put an expiration date of your offer. If you include an expiration date do give them a week deadline if they choose to accept.
Closing: End your Offer Letter by expressing to them your Excitement to Welcome them to the Team. Provide them with Contact Information if they have any questions.
Disclaimer: Include a Brief Disclaimer that the letter is informational and not a legally binding document.
Job Offer Letter Template
Samples of Offer Letter
Sample Job Offer Email Template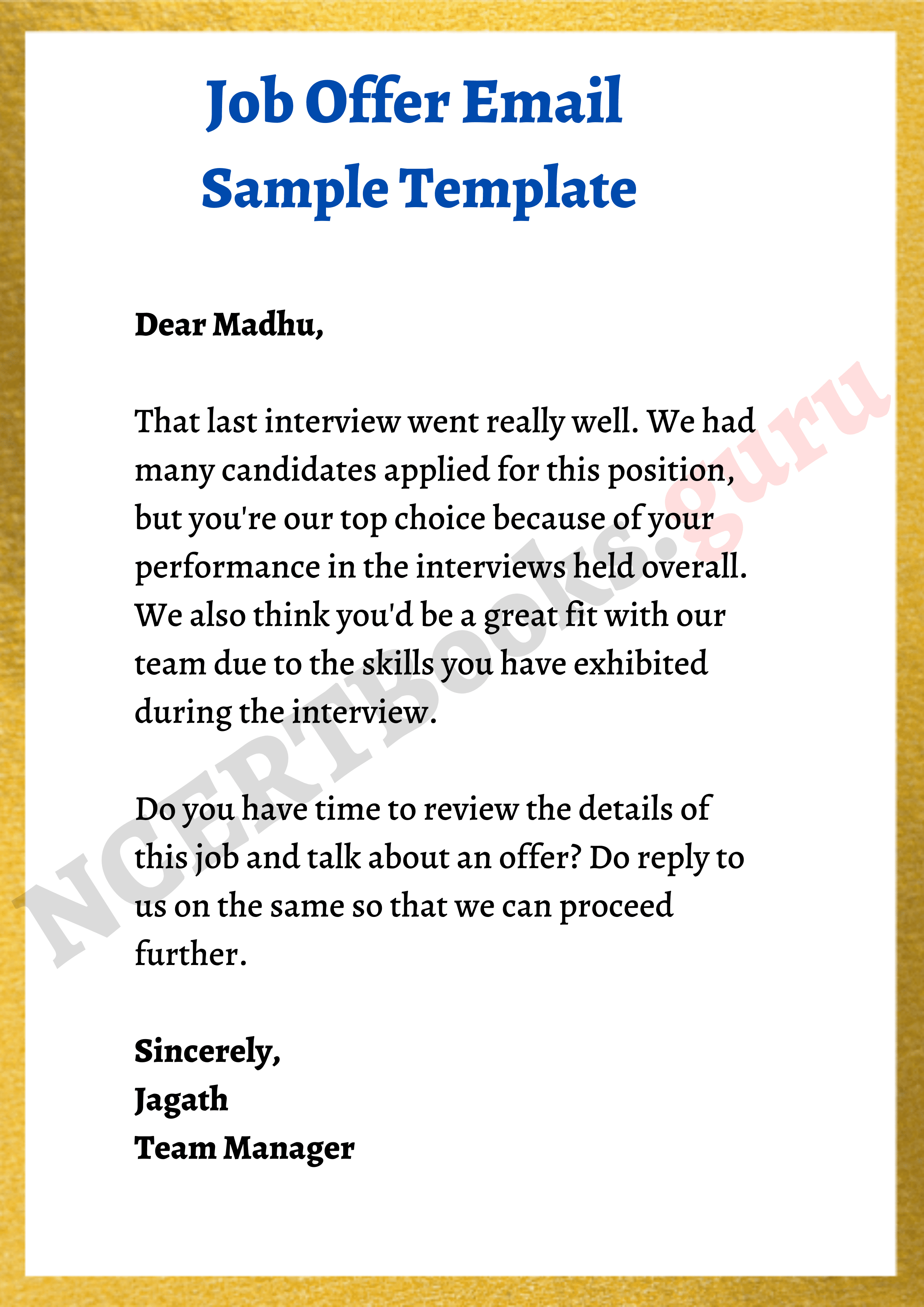 Offer Letter Example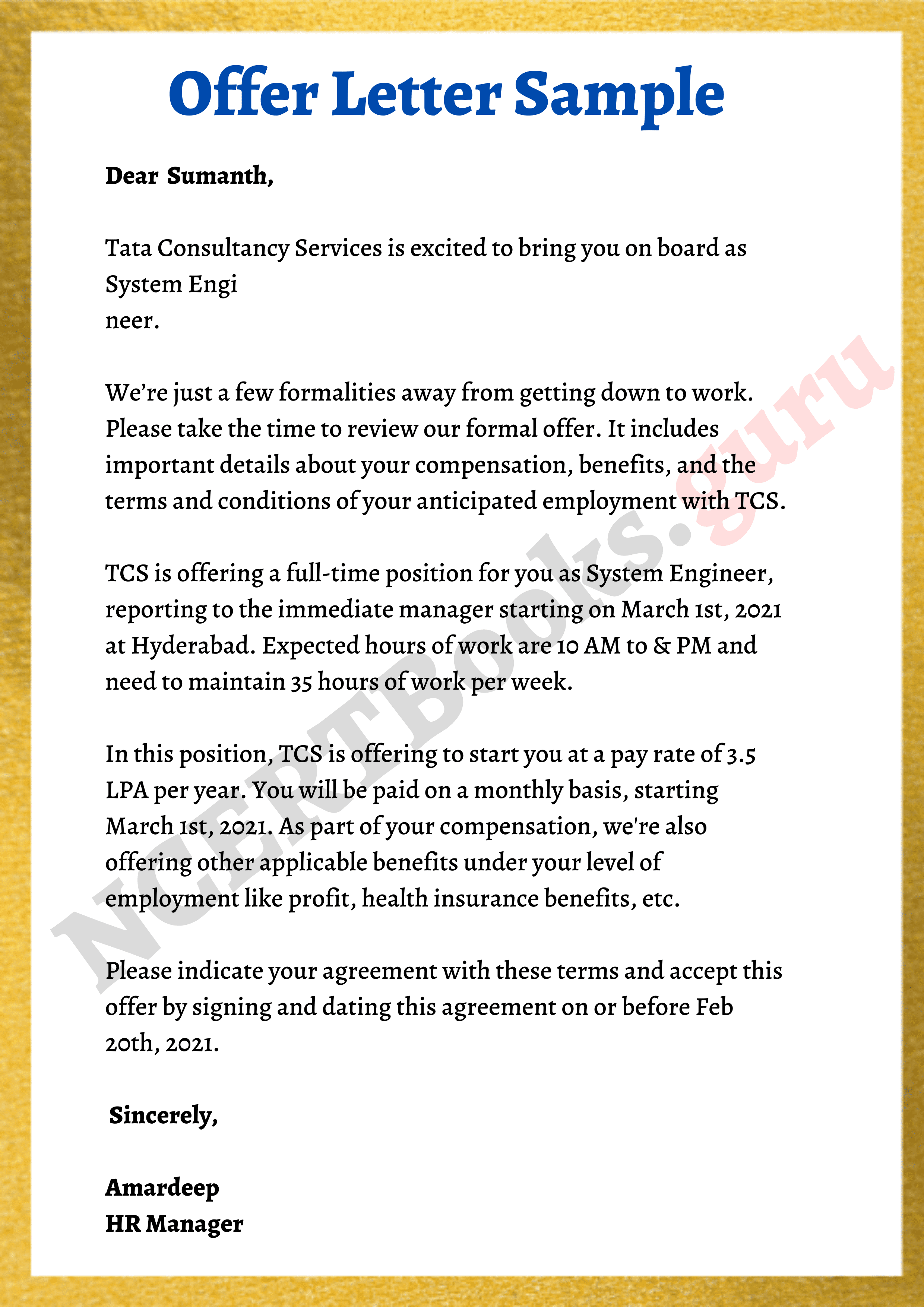 FAQs on Offer Letter
1. What is an Office Letter?
An offer letter is a notice in written form that informs a candidate that they have been selected for employment.
2. What an offer letter should include?
An Offer Letter Should include the following details. They are along the lines
Position/Title
Name/Position of Supervisor
Full-Time/Part-Time Schedule. State whether the position is full-time or part-time; specify the basic work schedule
Exempt/Nonexempt Classification
Duties
Equity
Bonus/Commissions
Base Salary
Benefits
Policies
At-Will Employment
Confidentiality/Invention Assignment Agreements
Prior Employer Confidential Information/Restrictions
Contingencies
3. Is salary mentioned in the offer letter?
The Amount Employee will be made as payment is included in an Offer Letter.