Job Application Letter: A well-structured job application aid to get the attention of an employer while evaluating an application. A Job Application Letter is a formal letter that provides detailed information on why you are a fitted candidate for the job. Effective Job application letters describe the purposes for your interest in the particular company and understand your most relevant skills. The best way to write a letter to apply for a job is by drafting an effective job application letter. A job application letter is a great chance to highlight your important qualifications and experiences. Also, it improves your chance to attend an interview. Students can also read Leave Application Examples.
Refer to the Free Cover Letter Samples for a Job, Job Application Letter Format for your reference, and Learn Tips & guidelines on How to Write a Letter of Job Application. Utilize both Formal and Informal Letter Writing Topics available on our site NcertBooks.Guru and get familiar with new letter writing styles as per your necessity all under one roof.
What to Include in Your Job Application Letter?
A Job application letter is divided into sections like any cover letter. Here are brief details on what to include in a job application letter writing:
The heading, which includes your name and contact information.
A greeting addressed to a specific person, if possible.
The introduction, which should cover why the candidate is addressing.
The body, which explains your appropriate qualifications.
The close, which gratitude the reader and gives contact information and follow-up details.
Your signature to end the letter.
Job Application Letter Format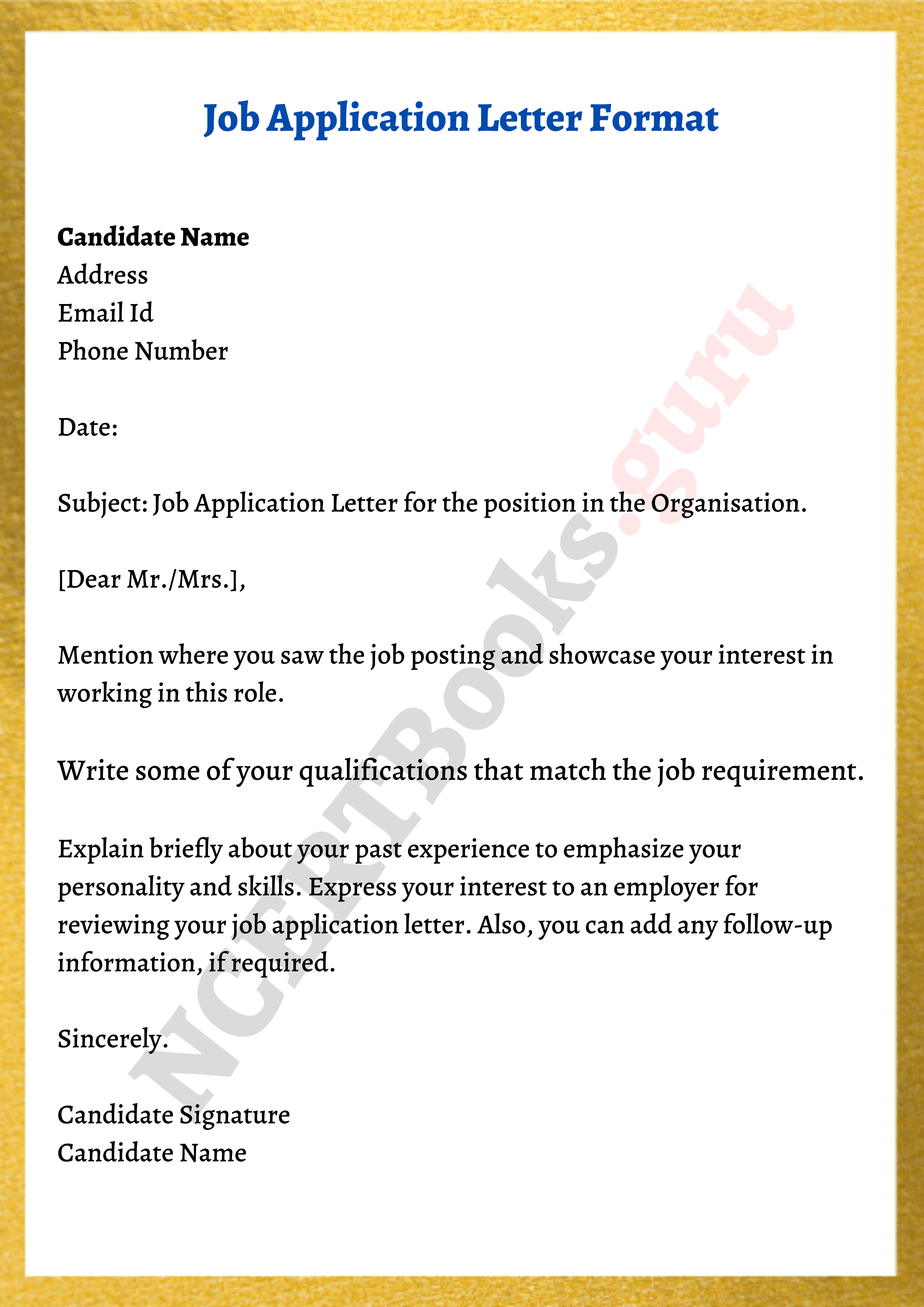 How to Write a Cover Letter for a Job?
Enter your contact information in the header.
Address the hiring manager by name.
Exhibit related achievements to introduce yourself in the first paragraph.
Target the employer's needs and show you can help in the second paragraph.
Describe why you want to join and stay in the third paragraph.
Repeat your offer and give a call to action in the final paragraph.
Sign off with a proper formal closing and your full name.
Insert one more achievement in the postscript to stand out.
Samples for Letter of Job Application
Here are few samples that help candidates to write a job application letter for the suitable requirement.
Job Application Letter Sample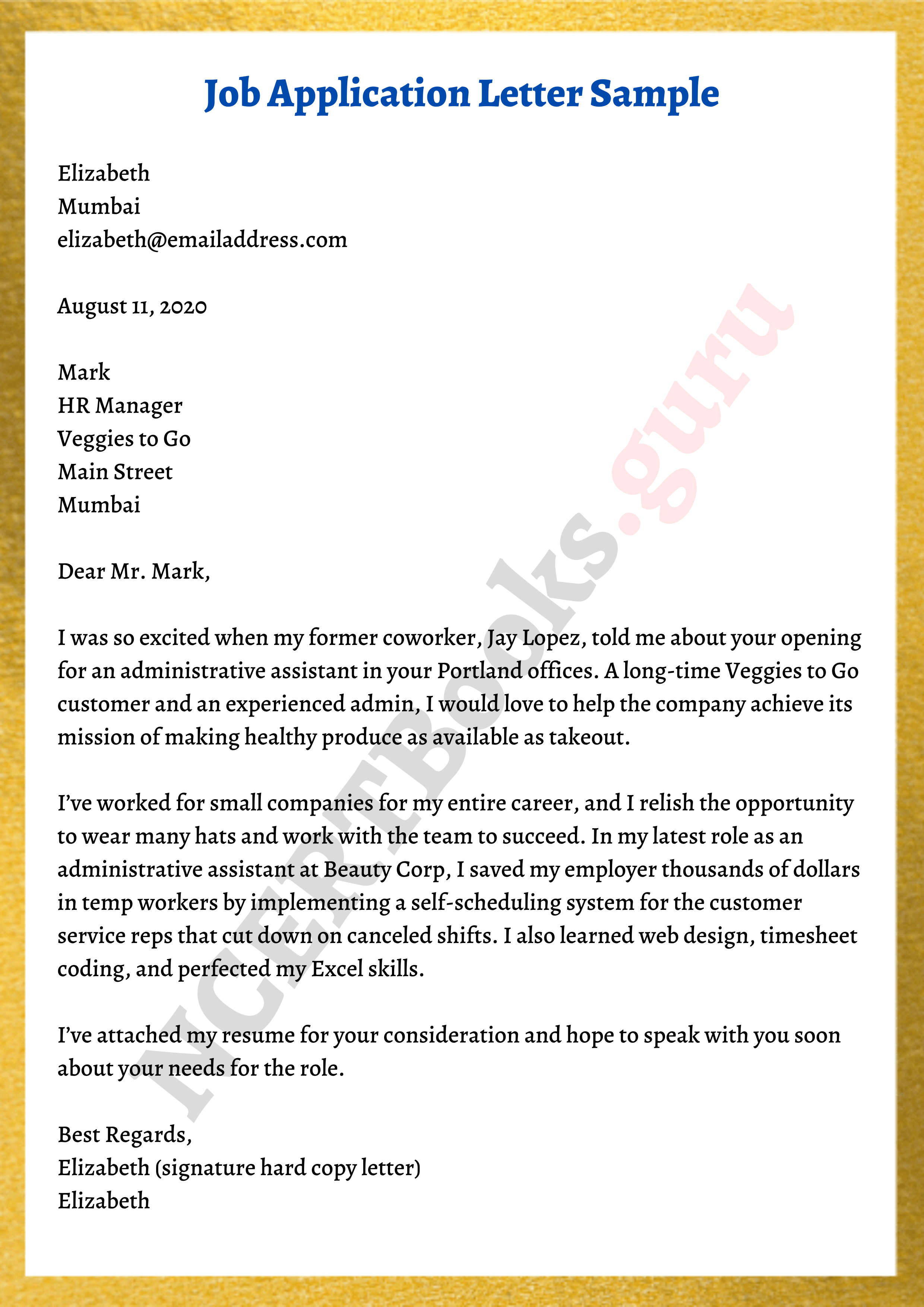 Email Formatted Job Application Letter for Sales Manager Sample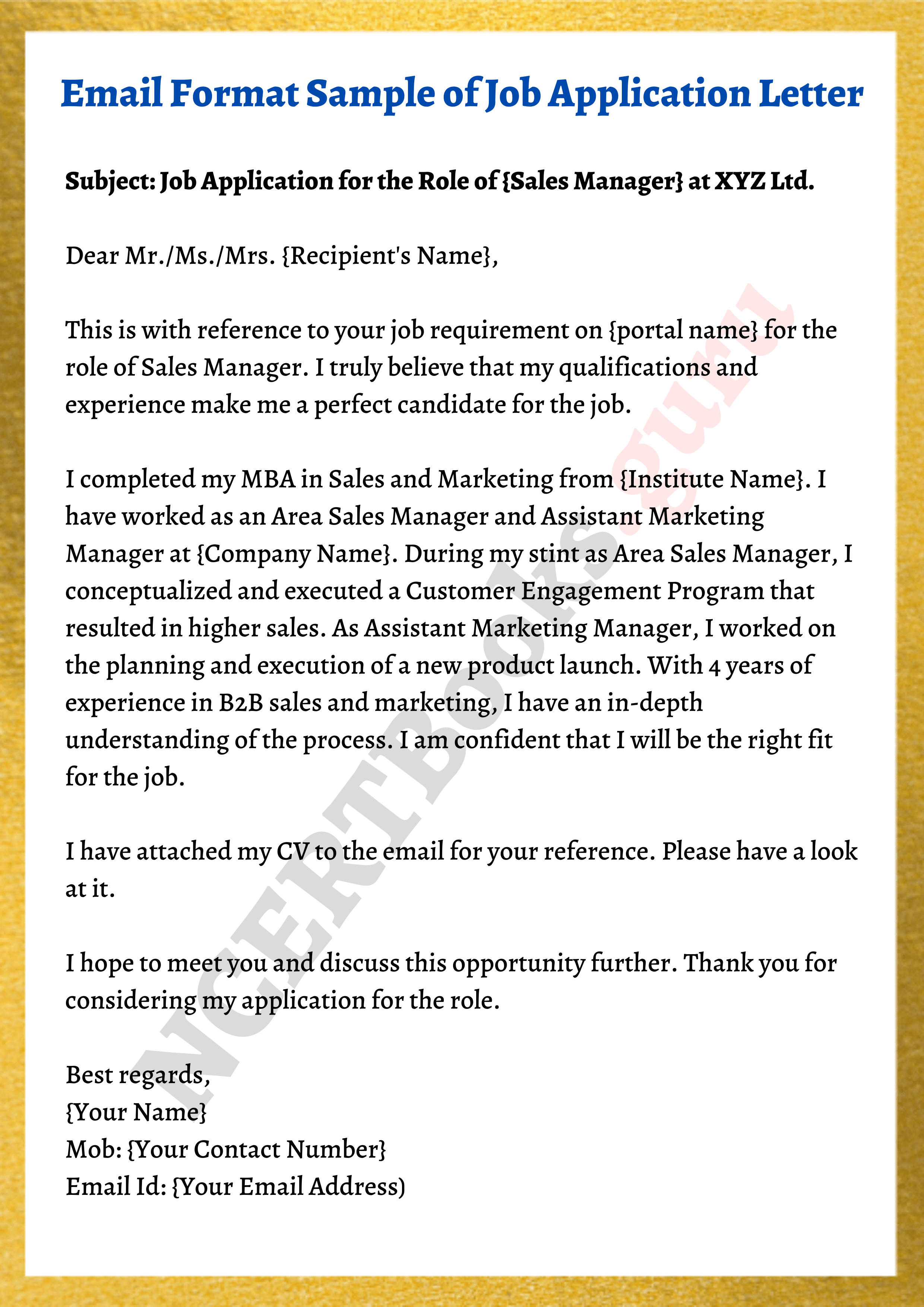 FAQs on Job Application Cover Letter Writing
1. What is a Job Application Letter?
A Job Application letter is a formal letter you send alongside your resume. Its intention is to elaborate on the data included in your CV/Resume.
2. Why use a cover letter for a job?
A good cover letter will make the recruiter know that you're serious about the job (particularly if it suits your resume design).
3.What is the Format of the Job Application Letter?
In the job application letter format, the details that should include are The first paragraph of your letter must speak on why you are writing. Name the job you are applying for and where you saw the job listing. Enter the name of a mutual contact, if you have one. You might end the letter by briefly and concisely stating why you think you are a perfect candidate for the job.