How to Join ISRO?: Do space and planets appear fascinating to you? Do you love learning new things about space, planets, stars, meteors, moon? If researching is your domain and you want to become a scientist, then it is impossible to not have ISRO on the wishlist. If you agree to this, then here are all the details on How to join ISRO.
The Indian Space Research Organisation or ISRO is a national space agency which is situated in Bengaluru. The formation of ISRo was in 1969. The Department of Space manages the ISRO. The Prime Minister of India holds command of ISRO and the executive director of ISRO is the Chairman of ISRO. The aim of ISRO is the development and use of space technology for national development along with the ensuing planetary examination and space science research.
Refer to Course Details to know more about related courses and find details like Admission Process, Eligibility Criteria, etc.
Eligibility Criteria to Join ISRO
If you want to get into ISRO, then you need to qualify for the eligibility criteria. After you successfully score a good score in the 12th standard, you should get into top institutes such as the Indian Institute of Space Science and Technology or the Indian Institute of Technology. But after you get admission into top institutes, you will still have to be consistent in your studies to make a successful entry in ISRO.
To become eligible for the ISRO exam, a candidate must have at least a minimum percentage of 65% or 6.8+ CGPA.
After 10+2 secondary grade level, to get into top-institutes, you can appear in these exams such as:

JEE Advanced
Kishore Vaigyanik Protsahan Yojana
State and Central Board based Aptitude Test taken by IISER
Do Refer: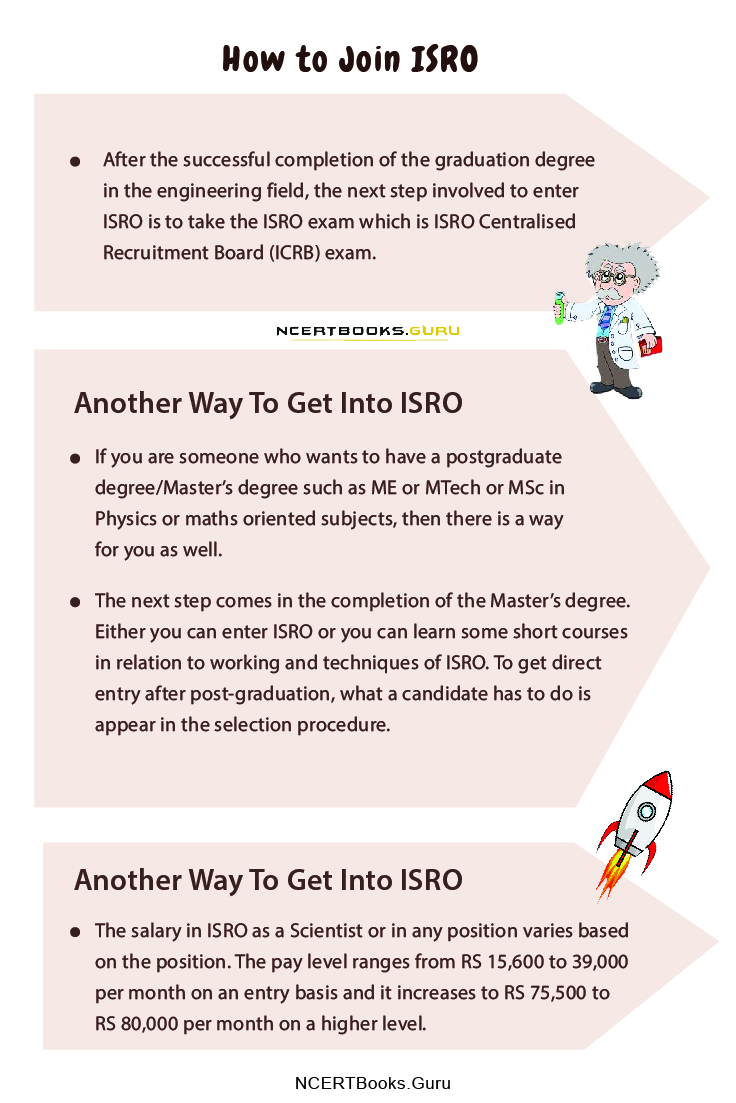 How to Join ISRO as a Scientist?
The initial necessary requirement to join ISRO for the candidates is to have MPC (Mathematics, Physics, and Chemistry) as compulsory subjects during the 10+2 level of secondary level education. A candidate should be great with aptitude knowledge. It is important for a candidate to have sound knowledge in Mathematics and Physics to understand the conceptual approach.
The next step involves clearing JEE Mains and JEE advanced to get into a good engineering college. A candidate can pursue Engineering in any of the BTech/BE courses such as Mechanical, Electronics, Electrical, Radio, Aerospace, Computer Science, and in various other engineering fields. To be eligible for the JEE entrance exam, a candidate should have more than 75% in the 10+2 grade. So, make sure to satisfy the eligibility criteria to get into a good college.
It is always a plus point to get into top ranking and highly reputational government and private institutions such as IITs, NITs, IIST, etc.
After the successful completion of the graduation degree in the engineering field, the next step involved to enter ISRO is to take the ISRO exam which is ISRO Centralised Recruitment Board (ICRB) exam. To appear for this exam, a candidate needs to satisfy some eligibility criteria such as:

A candidate should have a BTech/BE degree with Mathematics and Physics as a core subject. The minimum percentage to appear in the ISRO exam is more than 65% or 6.5 CGPA out of 10 scales.

After clearing the ISRO exam, the candidates who will be selected have to give the written test and the interview round will be conducted in order to join the agency. If you clear all the rounds, then you can join ISRO as a scientist.
Another Way To Get Into ISRO
If you are someone who wants to have a postgraduate degree/Master's degree such as ME or MTech or MSc in Physics or maths oriented subjects, then there is a way for you as well.
The next step comes in the completion of the Master's degree. Either you can enter ISRO or you can learn some short courses in relation to working and techniques of ISRO. To get direct entry after post-graduation, what a candidate has to do is appear in the selection procedure. The selection process involves a written test and the interview round. After you qualify for the rounds, you can get entry into ISRO as a scientist.
Salary After Joining ISRO
The salary in ISRO as a Scientist or in any position varies based on the position. The pay level ranges from RS 15,600 to 39,000 per month on an entry basis and it increases to RS 75,500 to RS 80,000 per month on a higher level. The basic salary level in ISRO is around RS 15,000 per month. The experience, position, and other factors are the points of determination for salary requirements.
ISRO is among the most reputed organisations in India. With proper planning and educational preparation, one can get into ISRO. All you need is hard work and dedication to enter the organisation. Young minds are all that is the current requirement to excel the challenges and to develop.