How to become an Astronaut in India: In childhood, almost all of us have dreamt of reaching the moon or touching the stars. Who had never thought that one day we humans will accomplish so much in this short period? Knowing about spacecraft landing planets and universe made us all excited when we used to be a kid. "Being an astronaut " was one of the topics being written in most notebooks on what is your dream job to travel in space and no more about the universe is not a handy job and is done by astronauts and know more about the universe is not a handy job and is done by astronauts and Astronaut is a well trained knowledgeable and well-equipped individual who flies in outer space.
Refer to Course Details to know more about related courses and find details like Admission Process, Eligibility Criteria, etc.
In early times, astronauts were just thought to observe and write about the events occurring in outer space. But is just observing things from outside enough?NO! There was a need to go among these celestial bodies and understand the events. Let us know some important points and facts on how to become an astronaut.
Eligibility And Qualification of an Astronaut
There are certain requirements in each of the field which is of atom most important if you want to achieve that here are some of the qualifications and requirements that is to be fulfilled to become an astronaut in India
He or she should be a citizen of India.
A pilot in the Indian Air Force is preferred for missions in space as their professionally experienced.
Individuals must have a bachelor's degree from a recognized Institute a degree must be in engineering physics Computer Science-Mathematics 4. Individuals must have a bachelor's degree from a recognized Institute that degree must be in engineering, physics, Computer Science, Mathematics, or biology.
An individual should have a school of 65% or a minimum of 6.84 GPA on a 10 scale.
A doctorate/Master's in Aeronautical Engineering aerospace engineering or science is required if you want to go for a higher position.
To Become An Astronaut In NASA
An individual should be an American citizen.
He/she must have a bachelor's degree in physical/computer science, engineering, mathematics, or biology.
He/she must have a score of 65%.
Professional experience of 3 years is necessary.
Nowadays, not only qualifying in these certain eligibility criteria are necessary but also there are some physical and medical fields in which you have to fall. These medical and physical fields are very crucial in employing an astronaut as it is a very tough and risky job and so a lot of precautions are to be taken.
For NASA: There will be a training program for candidates based on which they will be accessed which includes military water survival, scuba diving, swimming, and atmospheric pressure tests.
For ISRO: There should be no significant medical problems, normal blood pressure, normal visual equity, and most important to be physically fit.
He should not be a known case of any kind of substance abuse, mental capabilities, and other psychological aspects.
For SpaceX: There should be a satisfactory medical and physical history. There should be no history of substance abuse like alcohol, ganja, cigarettes, or drugs. Normal functioning of joints. Individuals should be physically fit. No psychological problems should be detected in the candidate. Visual acuity of 20/20 in both eyes must be present. Blood pressure should not be more than 140/90 in a sitting position.
The standard height of the individual should be 157-190cm.
It takes a lot of effort to become an astronaut.
Apart from these eligibility criteria, a person should possess some skills to become an astronaut.
He /she should be good at communication.
Good coordination skills.
Know the English language thoroughly and one more foreign language would be beneficial.
They should know to do multi-tasking in case of emergencies.
They should be calm and patient in emergencies.
He/she should be keen on observing things.
Should believe in teamwork
Good leading quality
Curiosity to know more about anything.
Trustworthy
Resourceful and knowledgeable
Education
If you aspire to become an astronaut, you should start preparing and focussing on it from your high school time only. You should have an interest in physics, not just the mugging up thing but the understanding of the different concepts and how it works.
For your 12th, you should choose physics, chemistry, and mathematics as the core subject as they will benefit you in many ways. Score a good percentage in 12th boards.
Then comes the bachelorette degree. You can choose any subject of your interest like mathematics, physics, biology, chemistry, or aerospace engineering from a renowned university. For a doctorate or post-graduation, you need to have a very good grip on the subjects of your undergraduate time as a doctorate is nothing but the specialization in that particular course.
Once you are done with the degrees, there are certain exams which you can give to get into the job you have always dreamt of. If you want to join NASA, you can apply for the entrance exam provided by them for different designations provided there. If you are interested in joining ISRO, you will have to clear the exam held by IIT known as the "Joint entrance exam".
If you want to go on a mission and be a specialist there you should have a minimum of 3 years of experience.
Do Refer:
About the Exams and Preparations
Once the individual is done with graduation in the subjects needed as mentioned above, he/she can appear for the entrance exam which is held by NASA for the hiring of scientists, astronauts, etc, and can get employed there. For joining ISRO, candidates need to qualify for the Joint entrance exam set by IITs.
The candidates should be at least 21 years of age at the time of joining.
There will be a screening test first which the candidate should pass. The application form will be submitted online. Then there will be a test for psychological and professional aptitude assessment including logical and behavioral skills. Once the candidate passes this test they will undergo a medical evaluation to find out whether they are physically fit or not and can cope up in emergencies or not. The last round is the interview where they are judged and assessed by a bunch of members before being selected.
The selection rate is very low. Few candidates reach the selection round and only 2 to 3 are selected for the dream job. So if you aspire to become an astronaut be prepared to face one of the toughest exams.
Universities In India
There are many universities in India which provide excellent education to students who dream of becoming astronauts.
IIST (Indian Institute of Space science and research)
IISc( Indian Institute of Science)
Indian institute of technology
BITS, Pilani( Birla institute of technology and science)
Amity university.
For the students who wish to study abroad and accomplish their dreams. Here are some of the best universities which you can refer to:
The University of California, Berkeley
University of Washington
University of Texas
Stanford university
Auburn university
United States Military academy
United states naval academy
University of Cambridge
Leiden university
University of Toronto
University of Oxford
Career Prospectus of an Astronauts
There are some organizations and centers that select and hire astronauts in India
ISRO (Indian space research organization)
DRDO (Defense research and development organization)
National aeronautical Laboratories (NAL)
Hindustan aeronautics limited (HAL)
Aerospace Industry
There are certain agencies that hire astronauts like Canadian, Russian federal, and European space agencies.
Also, NASA in the USA is one of the best institutes that hire 20 employees every 2 years.
Not only astronauts but there are also many other departments for which you are eligible after studying these subjects. You can also apply for Space research labs, Military operations, Government or national observatories Spacecraft manufacturing firms, software designing for spacecraft.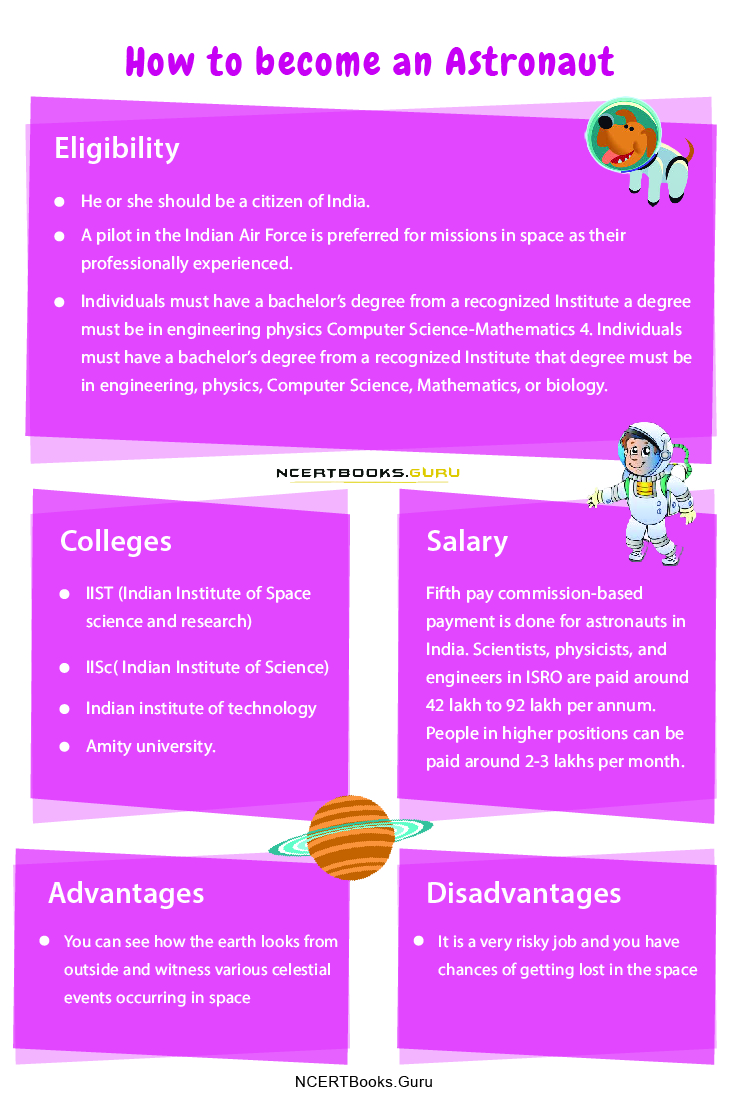 Salary of an Astronaut
There are many advantages of being an astronaut. Good lifestyle and salary are one of them. Once you get into the centers like NASA AND ISRO, there are several designations which are there and the pay is based on what designation you hold there.
Fifth pay commission-based payment is done for astronauts in India. Scientists, physicists, and engineers in ISRO are paid around 42 lakh to 92 lakh per annum.
People in higher positions can be paid around 2-3 lakhs per month. The salary is normally based on the skills, experience, and achievements of the person. There are other facilities provided to them for a healthy and comfortable lifestyle like medical facilities, travel allowance, insurance, housing facilities, etc.
Advantages of Becoming An Astronaut
You can see how the earth looks from outside and witness various celestial events occurring in space.
Know more about other planets and discover about them
You can work with the best scientists and talented people around the country.
You can travel space, use high technology gadgets, land spacecraft, and missiles.
Disadvantages Of Becoming An Astronaut
It is a very risky job and you have chances of getting lost in the space
Sometimes the duration of travel is too long for stress and isolation.
You can have muscle wasting and other health-related effects.
Have to stay far away for a long time from family and friends.