Hotel Management Courses after 10th: Hotel management is gaining popularity among youths these days. It is a branch of management that involves the management of hotels or resorts. Hotel management involves looking after the administration related tasks of hotels. It includes 360° works of hotel or resort like marketing, account keeping, food management, housekeeping, catering etc.
India, being the land of several cultures and cuisines with a lot of beautiful sceneries and natural beauty, is very popular among people around the world. With various initiatives by the government, the hospitality and tourism industry is at its growth stage. In the world of the internet, where anything can be done with a tap, be it searching for hotels or booking rooms in them, hotel management plays a vital role in providing desired services to the tourists. Due to this reason, Hotel Management courses have been very popular for the past decade.
If you are someone who has just passed 10th or want to start your career early in hotel management, then this article on hotel management courses after 10th is for you. We have covered the various courses available to you, what is the admission procedure for the course, eligibility criteria, best college and career prospects for you after completing the course. So let's get started.
Get to Know More about other types of Course Details Streamwise, and Category wise.
What is Hotel Management?
Hotel management is the branch of management that includes the management and administration of various activities of hotels or resorts. It includes all the activities of accounts, catering, housekeeping, grievance handling etc concerning hotels.

Hotel management contains a wide range of topics and skills concerning operative and administrative aspects of the hospitality industry. Hotel management courses make students familiar with various managerial aspects of hoteliers which will provide them an upper hand during working in a real hotel.
List of Hotel Management Courses after 10th in India
Hotel Management Courses after 10th can be categorised into Diploma courses and certification courses. Here you can check the courses list along with the course duration, fees structure, and eligibility conditions.
Diploma Courses in Hotel Management after 10th
Below provided are the list of Diploma in Hotel Management Courses after 10th standard.
Diploma in Hotel Management
Diploma in Hotel and Hospitality Management
Diploma in Bakery And Confectionery
Diploma in Food & Beverage Production
Diploma in Hotel Management and Catering Technology
Diploma in Front Office Operations
Diploma in Food and Catering Technology
Diploma in Food Services
1 year Diploma in Hotel Management
Diploma Course Duration
The duration of the diploma program that you can pursue after class 10th is 4 years.
Hotel Management Courses after 10th Fees:
The fee for diploma courses in Hotel management ranges from INR 10,000 to INR 30,000. However the average fee varies from course to course, for example, the average fee for a diploma in front office operation is ₹15,000 and that for a diploma in bakery and confectionery is ₹30,000.
Certification Courses in Hotel Management after 10th
These are the Hotel Management Certificate Courses after 10th class list.
Certificate in Food and Beverages Production
Certificate in Front Office Operation
Certificate in Housekeeping
Certificate Course in Hotel and Hospitality Management
Certificate in Hotel and Catering Management
Course Duration:
The duration of a certificate course in hotel management is generally 6-12 months.
Course Fee:
The fee for a certificate programme in hotel management ranges from ₹7,000 to ₹20,000 depending upon the course you've chosen and the institute from where you are pursuing it.
Also, Refer
Eligibility Hotel Management after 10th
Candidates who are willing to apply for various diploma or certificate Courses in Hotel Management After 10th Grade have to fulfil the eligibility conditions before going through the admission process.
The candidate must have passed class 10th from a recognised board with a minimum of 50% marks.
It should be noted that class 10th is the minimum educational qualification for such hotel management courses after 10th, however, students can pursue it after class 12th as well.
Hotel Management Courses Admission Process
The admission process for all the diploma and certificate courses after class 10th varies from college to college. The procedure depends upon the college to which candidates have applied for.
Generally, admission is based on marks scored by candidates in class 10th.
The candidates must have the degree of class 10th from any recognised board, that they need to submit during the admission process.
Those who are awaiting the results can still apply for admission and can submit the required documents later.
The college will decide a minimum cut-off based on merit or admission interview for the admission to the course.
Required Skillset for Hotel Management after 10th Courses
The candidates who want to pursue hotel management as their career option must possess a certain degree of leadership skills so that the administration of the hotel is maintained properly.
During interviews and placements, the recruiters look for the following skills in a candidate:
Good communication skills
Knowledge of finance and accounts
Spirit of teamwork
Multitasking skills
Strong command on the language
Good interpersonal skills
Quick response in critical situations
Ability to work under pressure
Operational knowledge
Knowledge of a foreign language is preferred in 5 star hotels.
Top Hotel Management Colleges
Below mentioned are the list of top colleges that are offering certificate, and diploma hotel management courses.
BFIT Institute of Science & Research, Dehradun
NIMS University, Jaipur
Vivekanand Institute of Management, Ahmedabad
Shri Rawatpura Sarkar University, Raipur
Maharishi Markandeshwar (Deemed to be University), Ambala
Institute of Hotel Management, Catering Technology & Applied Nutrition, Hyderabad
Parul University, Vadodara
International School of Hospitality Management (ISHM), Kolkata
Institute of Hotel Management Catering Technology & Applied Nutrition, Chennai
Institute of Hotel Management Catering Technology & Applied Nutrition, Lucknow
UEI Global, Pune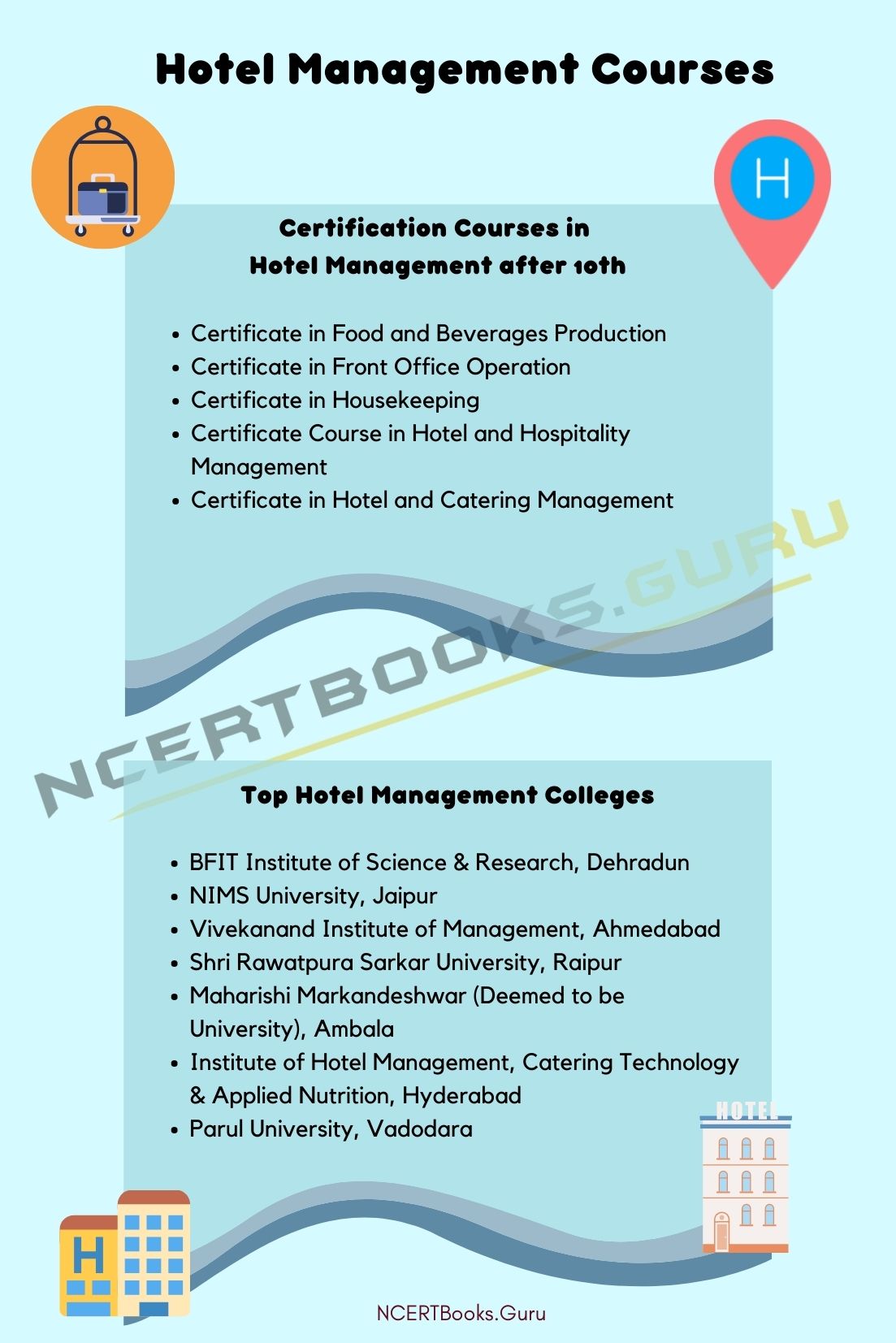 Career Prospects for Hotel Management Courses after 10th
Students can opt for the following job options after completing the hotel management courses in India.
Managers in Hotels/ Spas/Resorts
Managerial post in restaurants and bars
Chefs in airline kitchens
In-flight operators
Hotel Manager
Cruise liners
Front office managers
Catering managers
Room division manager
Food and Beverage manager
Chefs and Sous chefs in hotels/resorts/restaurants
Top Companies Hiring after Hotel Management
Below listed are the top companies that offer Hotel Management after 10th Jobs for the qualified candidates.
Oberoi Hotels
ITC
Taj Group
Hilton Group
OYO rooms
Sarovar Hotels and Resorts
Lemon Tree Hotels
Indian Hotels Company Limited
Marriott group
Novotel
Park Hyatt group of hotels
Westin Hotels and Resorts
Hotel Management after 10th Salary
The average salary after pursuing hotel management courses after 10th for an entry-level job varies from 2 lacs per annum to 4.5 lacs per annum.
However, once you have relevant experience of 3+years in the industry, you average salary can go up to ₹8 lacs.
FAQ's on Hotel Management Courses after 10th
1. What are the hotel management courses available after class 12th?
Yes. Apart from diploma and certification courses, Hotel management courses are also available in the category of Undergraduate and postgraduate courses which can be pursued after 12th.
2. Is hotel management jobs well paid in India?
The salary of candidates after pursuing a Hotel management course varies from hotel to hotel. The pay scale also depends on various factors such as experience, course you've pursued etc.
3. Which stream is best for pursuing Hotel Management?
As such, for pursuing hotel management no particular stream is required. Candidates from any stream, from any board, can pursue hotel management courses.
4. What is the future of Hotel management in India?
With various government initiatives toward the growth of the tourism industry, the growth of the hospitality industry will go hand in hand. There's no saturation in this industry because holidays and travelling of people may be held down for some time but cannot be stopped altogether. Therefore, the future of hotel management is quite bright and stable.
Final Words
We are hoping that the data shared here about Hotel Management Courses after 10th are useful for the contenders who are willing to apply for the course. You can stay in touch with our site NCERtBooks.Guru to know more information about the other courses.