Diploma in Forensic Science Course: Forensic science is one of the very few multidisciplinary niche subjects that involves subjects across the board such as physics, chemistry, mathematics, psychology, social sciences, and biology. Anyone who is interested in solving crimes and has a knack for civil laws and the legality of the law of the land, then a diploma in forensic science is going to put them in the right place in their career.
In this particular article on diplomas in forensic science, we are going to provide a holistic view of the various aspects of diplomas in forensic science both at the undergraduate level and the postgraduate level.
One has to remember that not everybody will be cut out to pursue a career in forensic science because it requires a unique set of aptitude and competency even before getting into the course because of its diverse nature of subjects and the kind of dedication it demands once you get into the job after graduation. Hence let us understand who should pursue a career in diploma in forensic science.
Get to Know More about other types of Course Details Streamwise, and Category wise.
Who should do a Diploma in Forensic Science?
A candidate who is interested in multidisciplinary subjects right from science to social studies to management and philosophy, including law, should give a thought to doing a course in forensic science.
People whose unique set of capabilities include solving crimes, right from tender age should pursue the course diploma forensic science.
Candidates who want to have their career set in the law of the land and the criminal justice system should pursue a diploma course in forensic science.
People who want to contribute to society at large but do not want to get into the civil services or directly into the government can pursue a course in forensic science and work as consultants to law enforcement organizations of the government.
Now that we have understood who are the people who should pursue a course in forensic science, let us now understand what is forensic science diploma is.
What is a Diploma in Forensic Science?
A diploma course in forensic science is an academic course for students from science, social science, and law backgrounds that teaches them the nuances involved in criminology, psychology, human behaviour, criminal mentality, crime prevention, the criminal justice system, and civil and criminal laws.
A Forensic Science Diploma Course is one one-year post-graduation course designed with the objective of training students in the field of criminology and the criminal justice system. In this particular article on a diploma in forensic science courses, we are going to provide a holistic overview of the system and the education course.
A UG diploma Forensic Science is also a popular course amongst students to pursue the course after their 12th standard examination.
Forensic Science Diploma can be pursue both in the Undergraduate level as well as Post Graduate level. In this particular article on Diploma in forensic science, we will provide an idea to students on both UG and PG diploma courses.
What are the advantages of pursuing a Forensic Science Diploma Course?
Below are some of the pros that we have come across for pursuing a postgraduate diploma in Forensic Science:
The diploma program in forensic science is more of practical base training and the soil help students to get into the industry at a very tender age
If a student is not interested to work in criminology and lion forcing agencies here she can work in academic institutions through research-based activities
The job after graduating with a diploma in forensic science in India is an extremely dynamic and diverse field and one can never expect boredom and monotony in his or her career
While the pay scale might be a little bit in the lower range in the initial days of graduation of postgraduate development in forensic science after a few years of good industry experience forensic experts are paid very handsomely by law and forcing agencies and academic institutions or private institutions doing research and development in the field of criminology psychology and forensic sciences
Since most of the job opportunities for opposed diploma in forensic science graduates are in the government sector the impact that one has over society is direct and fundamental which can be counted as one of the job satisfaction factors for the graduates
Diploma in Forensic Science Eligibility
Forensic Science Diploma Courses Eligibility Conditions are listed here:
A Post Graduate Diploma in forensic science requires a student to have a bachelor's degree in any field while an undergraduate diploma in forensic science only requires pass certificate from the 10th and 12th board examination from a recognised education board in India.
The minimum aggregate that one should have scored in his or her bachelor's degree is 50% for PG Diploma Forensic Science.
This course has a merit-based entrance. Students are required to clear the entrance examination and score the required cut off marks to get a seat in the university of his or their choice
The candidate should also have passed the certificate of 10th and 12th standard from recognised education board in India
Some universities also expect students to have a minimum of 50% aggregate in their 10th and 12th standard marks cards
The eligibility criteria are much more simple for the undergraduate level, where they only need to pass certificate and entrance exams scores to admit the candidates into their college
Forensic Science Diploma Course Fees
The fees structure for Diploma Forensic Science Courses is mentioned here.
The fee structure for a diploma in forensic science after 12th varies from college to college, mainly depending on the university affiliations, the brand of the college, placements records, faculty, and alumni relations.
On an average, the fee for a Post Graduate Diploma in Forensic science varies between Rs. 2 lakhs per annum to Rs. 4 lakh per annum in any of the private colleges
However, in government and government-aided universities, the total tuition fee will be less than Rs. 1lakh for the entire course.
In addition to the tuition fee mentioned above, there might be other miscellaneous expenses for curricular and extracurricular activities, which can come up to Rs. 50000 for the entire course. This includes club activities in the college, internship programs, industry visits, etc.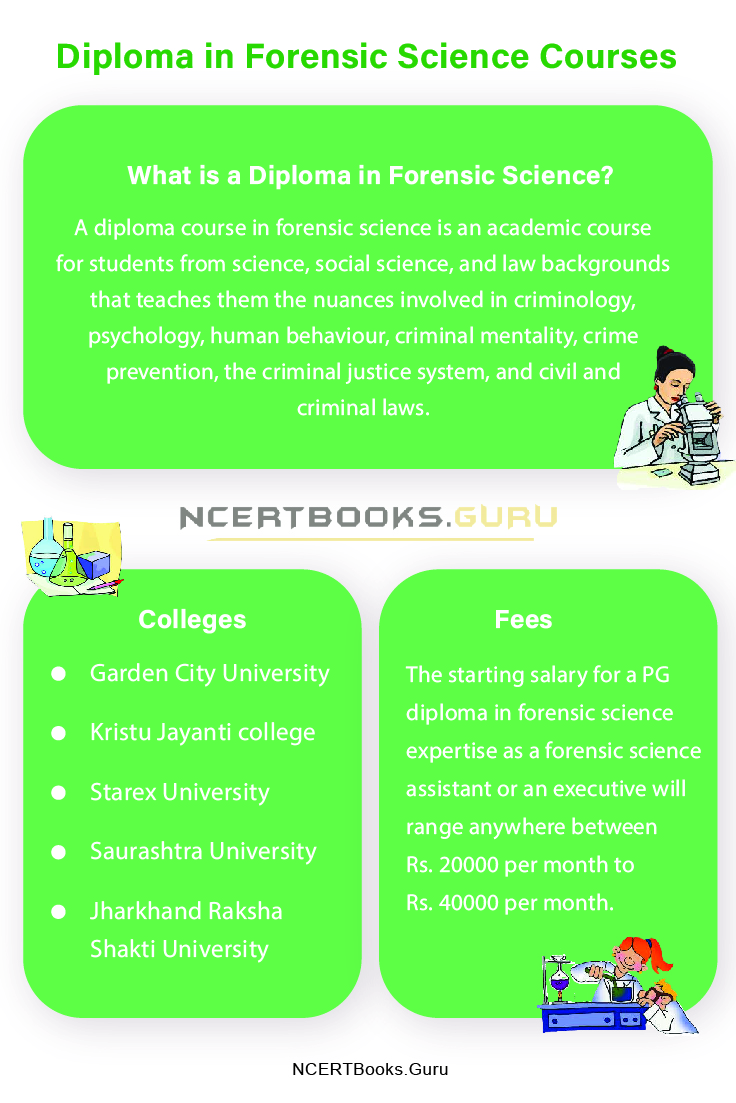 Diploma in Forensic Science Course Structure
A post-graduate diploma forensic science is divided into two semesters, each semester ranging for a duration of 6 months while an undergraduate diploma courses in forensic science is a six-month course or in certain universities, one year course
A candidate will have to clear two examinations at the end of each semester to get his or her postgraduate diploma in forensic science
While most the universities offer a 1-year program for a PG diploma course in forensic science, certain universities offer 2-year programs for postgraduate diploma courses and in such cases, the course structure might be divided into semester wise or trimester wise
For a student to get a seat in postgraduate diploma courses in forensic science, one has to clear an entrance examination or should have the required cutoff in his or her Bachelor's degree to get into the University of his or her choice
The course and pedagogy for this course also entail case study based discussions, live simulations, practicals and industry visits to get hands-on practical experience for the student which can be helpful once they get into the job market
A PG diploma forensic science also involves a final year project submission that a student should submit to a panel of neutral observers both from within the college and outside, who will evaluate the merits and demerits of the project and score the student based on various criteria set by education boards and the relevant affiliated universities.
The course is divided in such a way that the focus of student's study will mainly be on human biology and the investigation of crime using science and technology
Some of the subjects that are thought to students in diploma in forensic science are:
Introduction to forensic science
Fundamentals of forensic science
Basic principles of criminology and criminal psychology
Fundamentals of crimes in management
Principles of forensic analysis and documentation of biological evidence
Introduction to civil and criminal laws
Computer forensics and it's principals
Technology and communication
Basics of criminology
Basics of law, policing and administration
Forensic medicine and relevant laws
Toxicology and serology
Basics of anthropology
Industry visits
Compulsory internships
Practical training
Group project and field visits
Individual projects and discussions
Top Diploma in Forensic Science Colleges
The best colleges that offer Diploma in Forensic Science in India are along the lines:
National forensic science University, Gandhinagar Gujarat
Jharkhand Raksha Shakti University, Jharkhand
Garden City University, Bengaluru
Kristu Jayanti college, Bengaluru
Banaras Hindu University, Bihar
Starex University, Gurgaon
Saurashtra University, Rajkot
Aadarsh India technical and paramedical college, Muzaffarpur
Bharathidasan University, Tiruchirapalli
Diploma Courses in Forensic Science Career Options
The career progression for a forensic science graduate is mainly secluded in the government sector. Police forces, the army the Navy and intelligent bureaus in India all require the expertise and competency of forensic science experts to solve crimes and maintain law and order in the country.
The starting salary for a PG diploma in forensic science expertise as a forensic science assistant or an executive will range anywhere between Rs. 20000 per month to Rs. 40000 per month. However, the salary will increase exponentially 5 to 10 years down the lane once the candidate has had a good experience in the field and good exposure in the job market.
Also, Check
Frequently Asked Questions on Diploma in Forensic Science?
1. Is forensic science a difficult course to graduate from?
A diploma in forensic science, without an iota of doubt, is considered one of the hard courses to study because it involves a strong scientific temperament along with problem-solving, writing and thinking skills. Logical reasoning and analytical ability are two of the most important aspects that one should have to become a good forensic science expert.
2. How is the career of a forensic science expert?
Forensic science experts or forensic science scientists are in huge demand across the world because the crime rates are ever-increasing in developed and developing societies and government and non-government organizations are investing big amounts of money to improve the civilian protection system.
3. Are forensic scientists paid well?
Forensic science experts or forensic scientists are paid very handsomely ranging from Rs. 10 lakh per annum to Rs. 30 lakh per annum depending on the knowledge level of the candidate and the past Industries experience. Individual consultants also earn pretty handsomely in foreign countries.
4. Is it worth doing a postgraduate forensic science diploma?
To answer whether it is worth doing a postgraduate diploma in forensic science depends on various factors such as the passion and aptitude level of a student towards forensic science, the social, financial and economic condition of the student during or before his graduation the and kind of college that he or she desires to pass out from. Calling spade a spade, it goes without saying that not everyone is cut out to be a forensic science expert and a detailed analyses should be done before getting into the said course.