Forensic Science is a branch of science that deals with the investigation of Law and justice. The aspirant who has qualified 12th standard in Physics, Chemistry, Biology, Mathematics, and Psychology can go for the certification, diploma, bachelor, Master Degree in Forensic Science.
The aspirant who has an interest in solving mysteries, problem-solving skills, and analytical thinking can opt for forensic science courses like Forensic scientist, Private Investigator, Forensic Serologist, Forensic Architect, Engineer, Cyber Crime, Crime Laboratory Analyst, Forensic Consultant, and many more.
Check out all the other Course Details stream-wise and category-wise.
Forensic Science Courses Eligibility
The minimum criteria for admission in any forensic science course are 12th standard with science stream although there are some certifications available in India in which you can join even after 10th standard. There are also some diploma courses like Diploma in forensic science and diploma in criminology etc. which you can join with your graduation program or after 12th standard.
Forensic Science Courses Eligibility Criteria
You can pursue education in Forensic science through certification, diploma, degree and master's, Ph.D., and Research. Here is the list of Forensic Science Courses:
Name of Forensic Science Courses
Eligibility Criteria
Duration of Course
Undergraduate Program
Diploma Course in Forensic Science
12th in Science Stream
3 months to 1 year
Diploma in Cyber Crime and Law
12th Science
Up to 1 years
Bachelor in Forensic Science, Accident Forensics
12th in Science Stream
3 years
Bachelor in Criminal Justice, Criminology
12th Science Stream
3 years
Bachelor in Forensic Investigation
12th Science
3 years
B. Com in Forensic Accounting
12th
3 years
Forensic Biotechnology and DNA Fingerprinting certification and specialization
12th Science
Up to 1 years
Forensic Psychology and Criminal Profiling certification
12th any stream
Up to 1 years
B.Tech- M.Tech Integrated Computer Science and Engineering with specialization in Cyber Security
12th in Science Entrance Test
5 year
Post Graduate Program In Forensic Science
MSc in Forensic Science
Bachelor's degree in Science or equivalent qualification
2 years
Post-Graduation in Criminology and Forensic Science
Graduation in Science or Equivalent Qualification
2years
M.Sc in Forensic Psychology
Graduation and Entrance Test of General psychology
2years
M.Sc in Forensic Anthropology
Graduation
2 years
Master of in Forensic Science
Graduation
2 years
M.Sc in Digital Forensics and Information Security
Graduation in Science, Forensic Science, and Entrance Test
2 years
MA in Criminology with specialization in forensic Psychology
Graduation and Entrance Test
2 years
M.Sc in Forensic Biotechnology
Bachelor's degree in any science stream
2 years
M.Sc in Multimedia Forensics
Bachelor's degree in science, B.Tech in CS/IT, Electronic and communication
2 years
M.Sc in Forensic Dentistry
Bachelor of Dental Surgery
2 years
Ph.D. in Forensic Sciences
PG in Forensics and Entrance Test
–
When we want to join a forensic science course different colleges have different fee structures. Let us look into the fee structure for different courses. And also in this course, we have both government and private colleges.
Under Graduate:
Government College Fee: 5.64 K – 4.50 Lakhs
Private College Fee: 88.50 K – 6.81 Lakhs
Post Graduate:
Government College Fee: 4.40 K – 2.00 Lakhs
Private College Fee: 14.00 K – 4.00 Lakhs
Doctoral:
Private College Fee: 3.00 Lakhs – 7.20 Lakhs
Diploma:
Government College Fee: 7.83 K
Private College Fee: 1.35 Lakhs
Admission Procedure for Forensic Science Course
You have to qualify 12th standard in the science stream for admission to forensic science courses. There are some universities that conduct entrance tests for admission in UG as well as PG programs.
Entrance Exam for Forensic Science Courses
The candidate who wants to join Forensic Science Courses has to check the eligibility criteria of different institutions thoroughly. For undergraduate courses, candidates have to be qualified to their 12th standard in the science stream which is the basic criteria for most forensic science courses. The candidate has a good score in the English language and is proficient in some exams like IELTS and TOEFL. IN some of the intuitions the aspirant has to appear in the entrance exam. Here is a list of some entrance tests in which a candidate has to appear for admission in Forensic Science Courses.
CGPAT
GATE
OUAT
BHU UET
NEST
GSAT
Some universities give preference to candidates who qualify for these examinations. Most universities have their own entrance test for admission to the Forensic Science courses.
Forensic Science Course Colleges in India
In India, there are many colleges that offer Forensic Sciences Courses. Here is a list of colleges you can opt for your study.
LNJN National Forensic Sciences University Delhi Campus (GOI)
International Forensic Science Institute, Pune
Gujarat University
Banaras Hindu University (BHU)
Lovely Professional University
Amity University
SGT, Gurgaon
The North Cap University
MGU Kottayam
NICHE, Kanyakumari
SIMATS, Chennai
Mumbai University
KJC, Bangalore
KMC, Manipal
Forensic Science Courses Syllabus
Here we are going to discuss the syllabus that you will learn in the forensic science course. These subjects are taught across various colleges. Along with theoretical subjects, they are also familiarized with practical aspects.
Foreign Language
Benzedrine Test
Criminal Behaviour
Introduction to Criminology
Blood analysis
Introduction to Forensic Science
Psychological Factors
Blood analysis
Introduction to Chemistry
DNA Fingerprinting
Benzedrine Test
Introduction to Chemistry
Personal Identification
X-ray diffraction techniques
Typewriting and Handwriting
Blood Pattern Analysis
Crime scene investigation
Analysis of Biological fluids
Physical evidence in forensic evidence
Introduction to toxicology
Simple microscope
Compound microscope
Classification of poisons, effect on the human body
Recent advances
Arson and explosion investigation
Compound microscope
Forensic anthropology
Physical evidence in forensic evidence
Examination of documents
Biological instrumental methods
DNA isolation
Physical instrumental methods
Forensic serology
Dissertation
Recent advances
Forensic ballistics
Do Refer: List Of B.Sc Forensic Science Courses
Career in Forensic Science Courses
After pursuing forensic science courses you can join the government and private sector. Here is the list of departments you will join after completing the Forensic Science course.
Career in the Government Sector:
Police Department
Crime Branches
CBI/ CID/ IB
Forensic Science Laboratories
Banks
Control Bureau
Narcotics Department, Investigation Bureaus.
Universities
Hospitals
Career in Private Sector:
Forensic Laboratories
Detective Agencies
Bank and Insurance companies
Universities
Hospitals
Laws Firms etc
Must Refer: How to Become a Forensic Scientist in India
Forensic Science Course Scope
After graduation and a master's in Forensic Science, you can join the government as well as the private sector as a forensic Scientist, Forensic Engineering, Crime Reporter, Forensic Expert, Forensic Serologist, Crime Scene Investigator, Researcher, Legal Counselor, document and handwriting, forensic accounting, etc.
Posts/ Job Profile in Forensic Science:
Post Name
Forensic Expert & Scientist
Forensic Investigator
Document and Handwriting Exert
Forensic Accountant and Fraud Examiner
Forensic Analyst
Detective and Investigating officer
Professor and Faculty
Forensic Engineer and Crime Reporter
Forensic odontologist And Psychologist
Forensic Medical Examiner and Technician.
Subject to be studied during Forensic Science Courses
Forensic science courses include subjects like Forensic Biology, Forensic Physics, Forensic psychology, Forensic Toxicology, Analytical Chemistry, Instrumental Chemistry, DNA Isolation and Profiling, Cyber and Forensic Law, Crime and Investigation Techniques.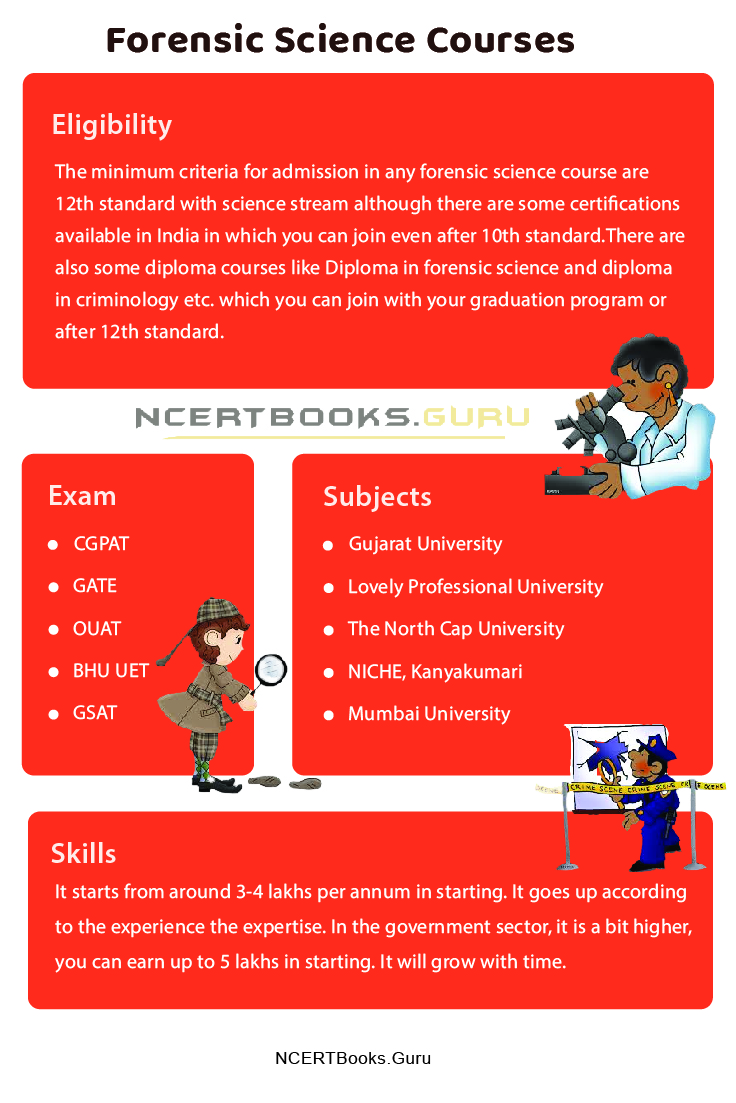 Salary Offered to Forensic Science Experts
The salary offered to forensic science experts is different for different posts. It starts from around 3-4 lakhs per annum in starting. It goes up according to the experience the expertise. In the government sector, it is a bit higher, you can earn up to 5 lakhs in starting. It will grow with time.
Frequently Ask Questions on Forensic Science Course Details
1. Is Forensic Science a good career opportunity In India?
Yes, Forensic science is a good career opportunity in India, according to the BPRD, the number of crimes is increasing in India by 5.9% every year. Many cases are pending in Courts due to a lack of forensic experts. So there is a huge opportunity in Forensic Science in India.
2. What is the role of a Forensic Scientist?
The role of a forensic scientist is to help solve criminal cases, frauds, and other types of cases through scientific methods so that the court can make the right decision in solving the case.
3. What is the Prerequisite for joining a Forensic Science Course?
You can join any forensic course after passing the 12th standard in Science Stream. You can also join any certification or diploma courses with your graduation. If you are a psychology student then you can also join a forensic psychology course.
4. What is the Duration of the Forensic Science Course?
There are 3 years of bachelor's as well as 1-2 year certification courses available in forensic science after the 12th. After graduation, you can also opt for MA and MSc in forensic science for 2 years. There are also some 5 years of integrated courses in Forensic Science.
5. Is there any Entrance Exam for admission to Forensic Science Course?
There are many universities that conduct Entrance exams for admission in a Forensic Science course. Some universities demand qualifying GSAT, OUAT, NEST, CGPAT, BHU UET, etc for admission in Forensic Science.