Forensic Science Courses After 12: Are you interested in the medical field and intrigued by how laboratory tests and forensic reports find out who committed the crimes in your favorite true crime documentaries? If you also want to do the same doing a forensic science course right after your class 12th will be great.
Keep reading the following article to know more about what are forensic science courses and how you can enroll in one. You will also gather all the other relevant information such as the colleges you might want to choose, entrance examinations, fees, higher study options, salary, and job opportunities after the course. So let's begin!
What is forensic science?
Forensic science is also known as criminalistics. It is the application of science in the field of crime where during the criminal investigations the evidence is tested in the laboratories using scientific methods. This is of course all done as governed by the legal standards of criminal procedures.
Forensic science is actually quite a broad field and it includes things like fingerprint analysis, bloodstain pattern analysis, DNA analysis, firearms examinations, tool marks analysis, serology, ballistics, hair & fiber analysis, toxicology, questioned documents, entomology, odontology, pathology, anthropology, epidemiologic footwear, drug chemistry, paint and glass analysis, digital audio, photo, and video analysis, etc.
What is the job of a forensic scientist?
The job of forensic scientists is to collect, analyze and preserve the evidence throughout the course of the investigation. Some forensic scientists have to go to the crime scene to collect the evidence by themselves and then come back to the lab to examine it whereas others are provided the evidence inside the lab and then test it.
Other scientists are involved in the analysis of other kinds of criminal evidence such as financial, and numerical data. Apart from being engrossed in the laboratory work, forensic scientists also testify as expert witnesses whether it is a civil case or a criminal case. They can choose to testify for the defense or the prosecution.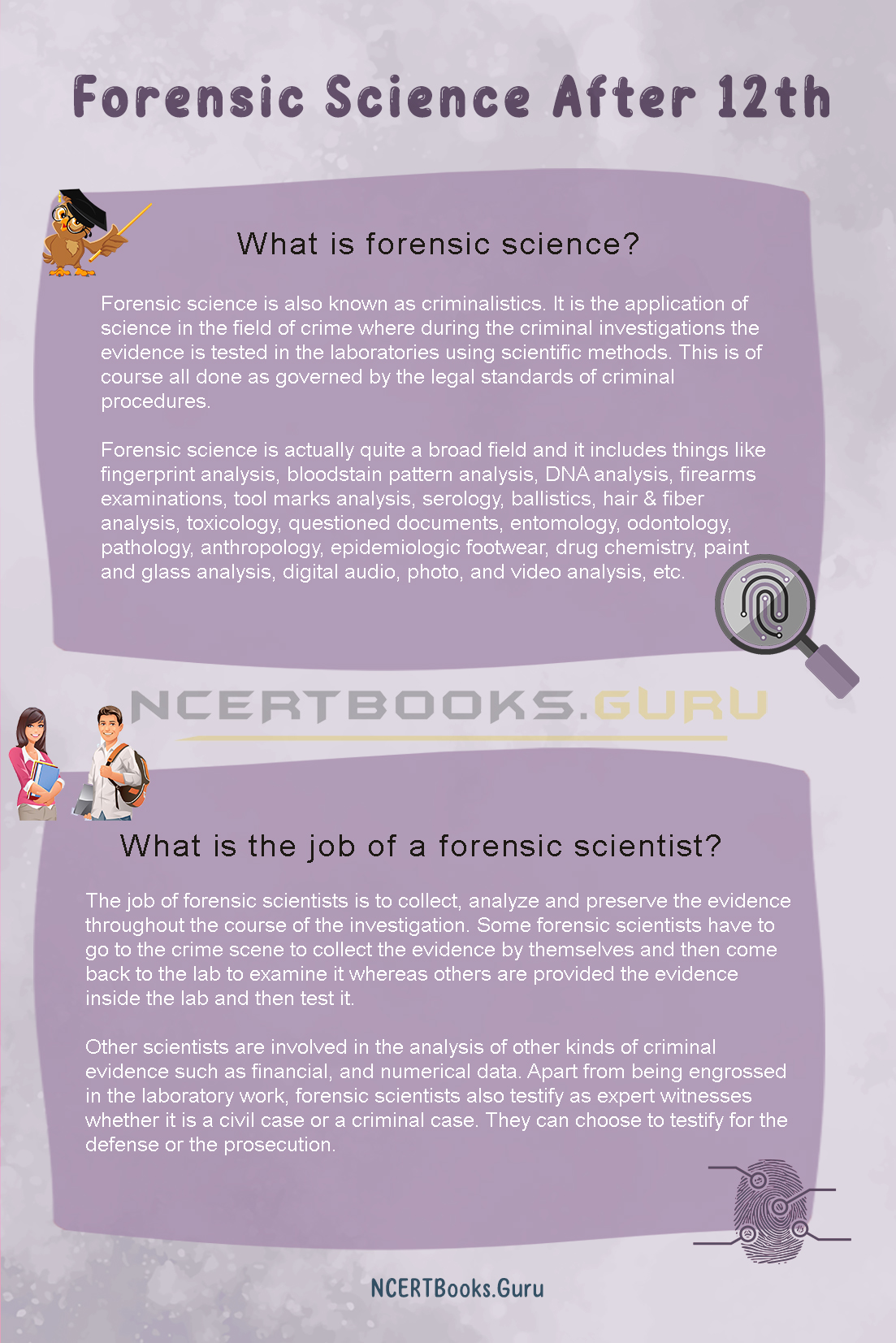 List of Available Forensic Science Courses in India after class 12th
There are many different courses available that fall under the umbrella of forensic science. With all the different methods and types of tests performed, the work of forensic scientists has led to the development of various different subjects and hence different courses. The duration of undergraduate forensic science programs that the students can enroll in right after they have completed their class 12th is of a duration of 3 years.
Following are some of the courses that are available for forensic science for the students who have completed class 12:
Bachelor in criminal justice – forensic science
Bachelor of accident forensics
Bachelor of forensic science
Bachelor of criminology
(Honors) Bachelor of laws
Bachelor in forensic investigation
Bachelor of applied science in forensic studies
Forensic science courses after 12th Eligibility
The minimum eligibility criteria to enroll in the forensic science undergraduate program after class 12th is that the candidate must have passed 10+2 with a minimum of 50% marks. Another eligibility criterion is that the student must have science as a compulsory stream in class 12.
The students who have cleared these two basic eligibility criteria can apply for any forensic science course under the sun that qualifies for an undergraduate program.
Must Check: How to become A Criminologist in India
Admission process for forensics science degree courses
Students can either opt for diploma degrees after class 12 which is a duration of 6 months or a bachelor's degree which is a duration of 3 years. There is also an option for lateral entry which is that direct entry is granted to bachelor course for those students who have a 3-year diploma.
The admission process in India is an entrance exam based on that in foreign countries is based on the academic profile of the student and the application form submitted by the student. For students who want to study political science in India, they have to take entrance examinations in order to get admission to these courses. Following are the procedure that they need to follow:
The students will have to go to the official website of the conducting body that conducts the entrance examination for admission to forensic science courses and fill out the application form.
The necessary details and documents will have to be submitted in an online mode in the scanned format at the time of the application.
After some time, the admit card is released which the student will have to download because without the admit card entrance is not allowed for taking the test.
Once the test is given, if the student will have cleared the qualifying marks, they will be called in for a counseling round. According to the marks of the candidate, they will be given a college.
After that, the student will have to visit the admissions of the college and pay a certain amount of fee so that their seat is reserved in that college.
After these procedures, the student will be considered as a registered candidate for that course in the particular college and they can begin their classes.
Entrance Exam for forensic science after 12th
Since admissions to forensic science courses in India are only done on the basis of entrance examinations, students will have to score very well in their entrance examinations if they want to get into good forensic science colleges. Following are the top entrance examinations that the students must aim for:
BHU UET
NEST
CG PAT
IISER IAT
OUAT
GSAT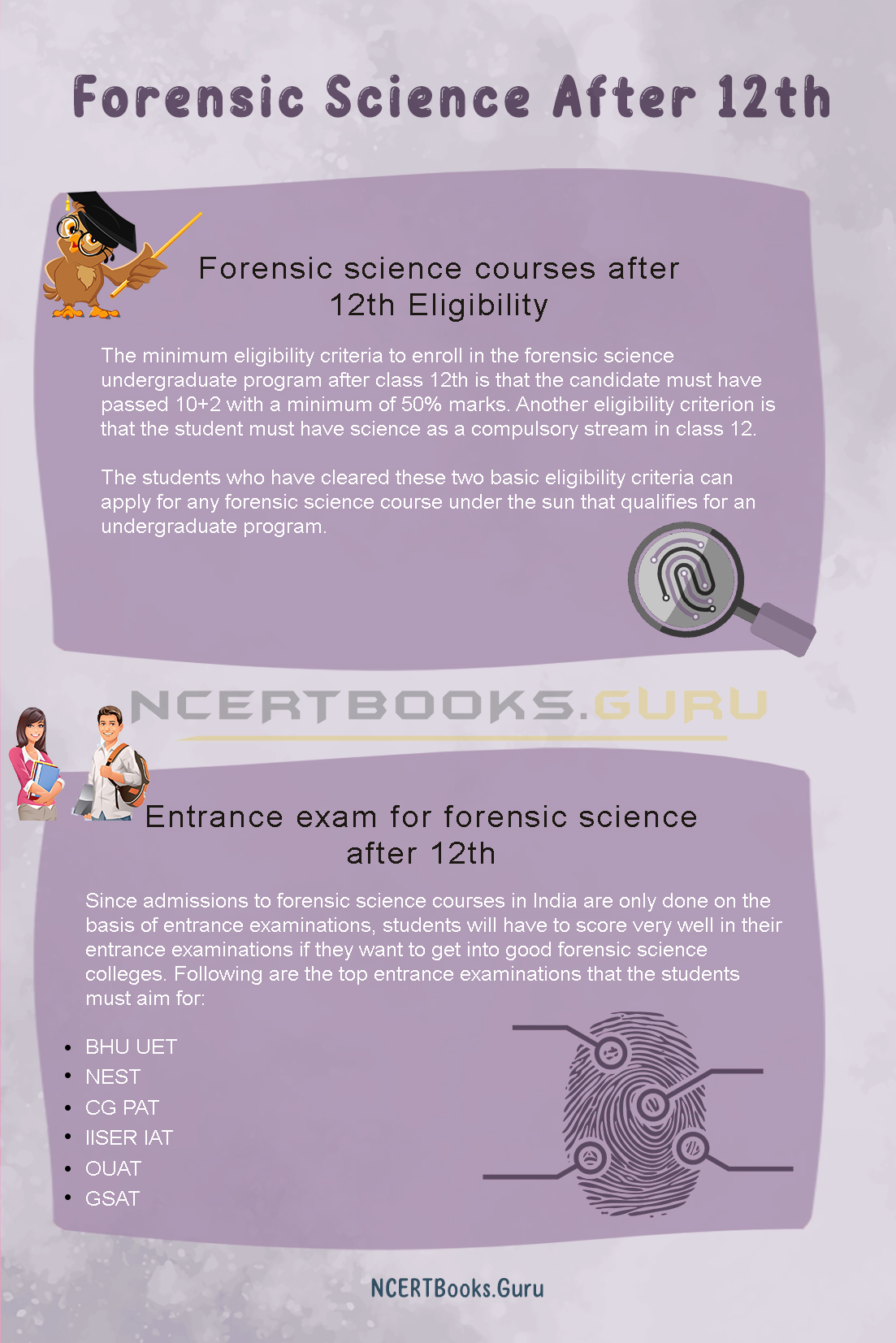 What are the main subjects of study in forensic science courses?
The exact syllabus of forensic science courses depends upon the particular course that the student has taken. However, there are certain fields of study that are men when it comes to forensic science courses.
Specialization courses take either one or more of these subjects of study and make the syllabus of their course revolve around that so that crisp and specialized information can be given to the students to make them well trained and skilled professionals by the end of the course.
Let's look at the general subjects of study in forensic science courses:
Crime scene investigation
Crime and sociocultural
Introduction to forensic science
Criminal behavior
Physical evidence in forensic science
Introduction to toxicology
X ray diffraction techniques
English
DNA and fingerprint
Behavioral science
Typewriting and handwriting science
Wound and its medicolegal aspects
Writing overriding and documentation analysis
Blood pattern analysis
Forensic anthropology
Communication skills
Fundamental introduction to biology
Fundamental introduction to chemistry
Hours and explosive investigation
Personal identification
Toxicology
Psychology
Forensic science courses after 12th colleges in India
There are multiple institutes all across the country that provide good quality education in different courses that fall under forensic sciences. It is a dream for many students to get admitted to these top colleges. In the medical field especially, the quality of education is of utmost importance because this field deals with people directly and is responsible for the health and well-being of people.
Hence, no chance can be taken when creating skilled professionals in the medical field. Following is a list of the top colleges that are popular among students who want to study forensic science subjects:
Banaras Hindu University
Gujarat University
Amity University
Pondicherry University
Lovely Professional University
The NorthCap University
Parul University
Apex University
SGT University, Gurgaon
Forensic science course fees after 12th
The average fee for forensic science courses in India is somewhere between INR 50,000 to INR 5,00,000 for the entire course duration. The exactly however depends upon the particular course the student has enrolled in and also the college in which the student has taken admitted.
Government colleges charge how much lesser fees when compared to private college fees. Especially for medical courses, there is a huge difference between government college fee structure and private colleges fee structure. However, abroad, the fee for forensic science courses is quite high. The fee for forensic science courses in foreign countries can be over INR 25,00,000 per annum.
Higher studies options after UG in forensic science
If the students do not wish to go directly for a job after completing their undergraduate programs, they can definitely go for higher studies in the field that they are interested in which falls under the umbrella of forensic science courses. Following are some of the most sought after degrees of the postgraduation level that are popular among students after completing undergraduate level programs in forensic science:
Master of philosophy in forensic science
Master in forensic anthropology
MSc forensic science
Master of forensic behavioral science
MSc in forensic psychology
Job options for forensic scientists in India
After completing forensic science courses the candidates can work in multiple job rules that are related to the field and gain experience and expertise in their preferred department. Following are some of the top job profiles that are available for students with a forensic science degree in India:
Forensic engineer
Drug analyst
Forensic toxicologist
Private investigator
Forensic serology is
Forensic architect
Crime laboratory analyst
Forensic consultant
Salary of forensic science professionals
After completing forensic education at the undergraduate level right after class 12th, the average starting salary that the candidate must expect is somewhere between INR 2,00,000 per annum to INR 6,00,000 per annum. After gaining quite some experience in the industry, the earning potential of the candidate increases significantly.
Do See:
FAQs on Forensic science courses after 12th in India
1. What are the basic eligibility criteria for forensic science courses after class 12?
For forensic science courses, the basic eligibility criteria for undergraduate courses are that the student will have to have completed class 12th with science as the stream and a minimum of 50% marks. If the student has cleared these eligibility criteria, they can enroll in any undergraduate program that comes under the forensic science umbrella.
2. Is forensic science a good career option in India?
For forensic science students in India, there is an immense career opportunity. Since the standard of criminal investigation is continuously improving in our country we need more skilled and good forensic scientists that can solve cases and help the criminal investigation reach new heights. Both the government and private sectors are open to recruiting forensic scientists.
3. Which course is best for forensic science?
There are multiple forensic science courses available for students both at the undergraduate and postgraduate levels. Following are some of the best and most showed after courses at undergraduate and postgraduate levels for forensic science:
BSc forensic science
MSc in forensic psychology
MSc in forensic science
Conclusion
We hope that all this information about forensic science courses after 12th was interesting for you and you get something out of it. The write-up contains information regarding different forensic science courses available and things starting right from the eligibility criteria of the course the future scope of this course and all the other information that you will ever need in order to make up your mind about whether to go for this course or not.
Do let us know what you're looking for and did you get it in the article. Also, let us know how can we improve and what you want to see from us in the future.