Architecture And Interior Design Courses: The architecture and Interior designing course focuses on both the designing, construction and the designing part of the infrastructure in one place. The course will also teach you about the aspects related to the changes in the interior of the buildings to meet the needs of the people.
The Interior Architecture and design courses include a lot to discover if you are interested in designing and infra development in your own unique manner. The courses related to interior designing and architecture are available in both master's and bachelor's domains.
To get the detailed information related to the eligibility, scope, top recruiters, and more about Architecture & Interior Design Courses after 12th, read the below-provided article in a detailed manner.
Get to Know More about other types of Course Details Streamwise, and Category wise.
About Architecture And Interior Design Courses in India
The course is an impressive way to study the skills required for interior designing and architecture construction. You will also learn the new and unique ideas required for the development of infrastructures such as malls, schools, houses, buildings, and other related aspects.
The key concept is to make students understand the organization, management, and planning of the interiors. The interior architecture and design courses in India is a unique blend of art and technique. Interior Architecture Course duration for bachelors are for 5 years.
Here are the list of various architecture and interior design courses.
Interior Architecture Design Courses Eligibility
The marks obtained in class 12th varies from college to college some may ask you for more than 50%. B.Arch in architecture in interior designing colleges require eligibility for the students is as follows:
The students must have cleared class 12th with at least 50% marks in any field with compulsory maths as an important subject and from relevant institutions.
They can also have a diploma in the relevant field.
Architecture & Interior Design Courses Admission Procedure
The criteria for providing admission to all the colleges are not so same. The colleges have their own terms and conditions in order to provide admission to courses. But there is a proper selection round that includes the counseling process.
Here are a few guidelines which you need to follow up on while taking admission to the colleges.
Some colleges may conduct interview rounds.
Some admit students on the basis of entrance exams and some on the basis of merit lists.
The preferred entrance exam for architecture courses is NATA, JEE Mains, JEE Advanced, IUCET, and BITSAT.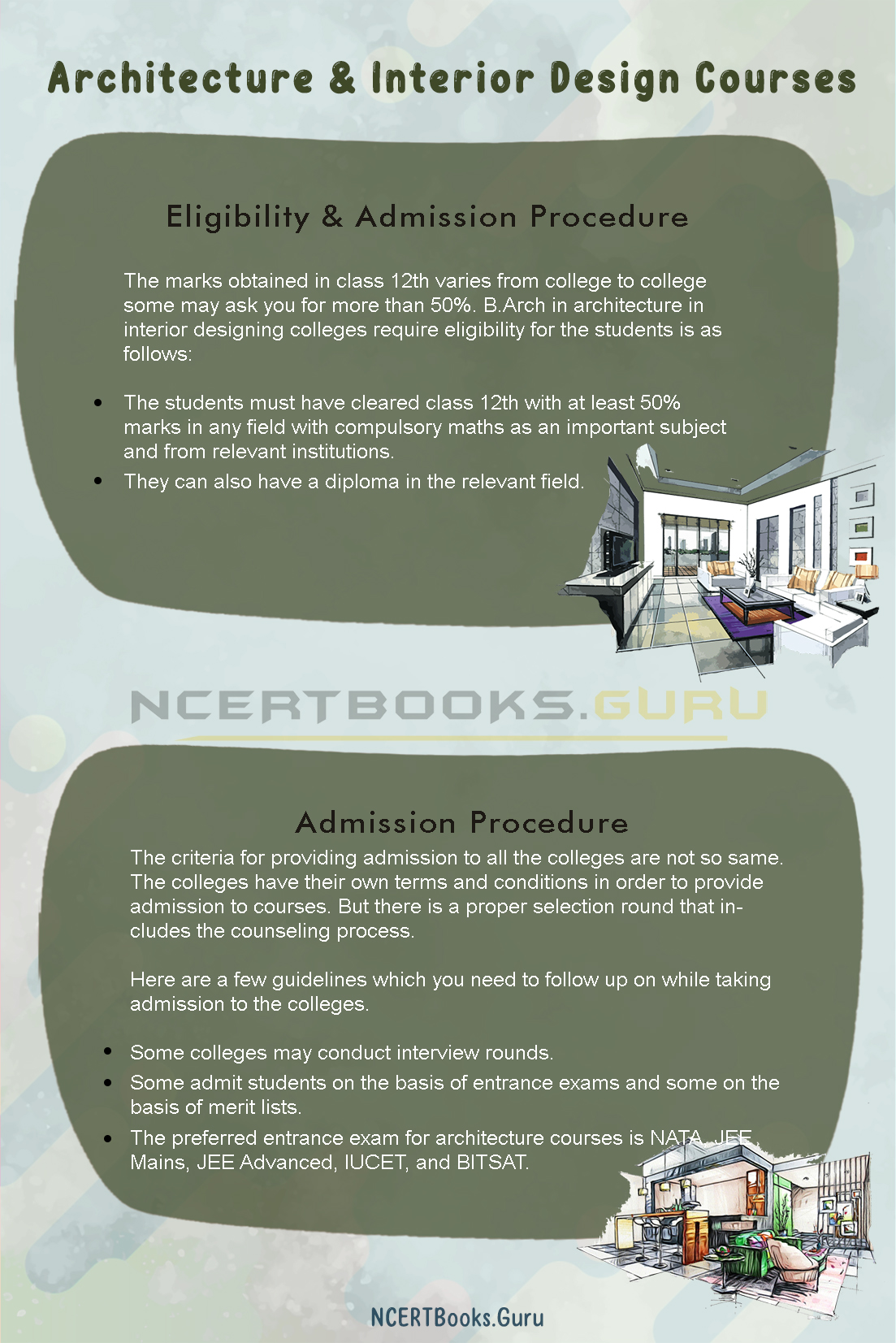 Top Architecture And Interior Design Colleges in India
The top institutes available all over India in Interior Architecture. You can choose the suitable colleges according to your comfort zone. Some of the top colleges list with fees you can find here:
| | |
| --- | --- |
| Name of the Institution | Architecture And Interior Design Courses Fee |
| Birla Institute of Technology | Rs 2,87,000 |
| CEPT University | Rs 1,60,000 |
| Indian Institute of Technology, Kharagpur | Rs 82,000 |
| Kings Cornerstone International College | Rs 2,25,000 |
| School of Planning and Architecture, New Delhi | Rs 1,20,000 |
| Sinhgad College of Architecture | Rs 1,25,000 |
| Sir JJ College of Architecture | Rs 18,000 |
Some other colleges for B.Arch Interior designing courses in india are listed below:
NIT, Tiruchirapalli
Manipal Institute of Technology
Jamia Millia Islamia University
Jadavpur University
IIT, Roorkee
IIT, Kharagpur
Chandigarh College of Architecture
BIT Mesra
Architecture and Interior Design Course Fees
The fee structure varies from colleges to colleges. It is completely dependent on the infrastructure, technology used, facilities, and a lot of other factors. But you can easily complete this degree in the range of Rs 10,000 to Rs 2,00,000 Lakh Per annum.
Architecture & Interiors Design Courses Syllabus
Every college has its own domain in arranging the syllabus. However, there are theoretical topics, practical, and more relevant topics included in the syllabus. Here are some of the important subject topics mentioned:
Building Technology & Materials
Specification Writing
Furniture Design
Quantity Surveying and Estimates
Architectural Drawing & Graphics
Building Sciences
Building Services
Construction, Services & Materials
Town Planning
Theory of Structures
Landscape Architecture
Workshop and Model Making
Environmental Studies
Estimation & Costing
Working Drawing
History of Architecture, Art, Culture & Interiors
Basic Design
Computer Applications
Design Fundamentals of Architecture
Environmental Sciences
Architectural Design
History and Thesis of Interior Architecture and Design I
Thesis History and of Interior Architecture and Design II
Design Studio I, II, III
Environmental Sciences
Seminars on Aesthetics and Science
Model Making
Professional Studies
Representation
CAD and Digital Imaging
Environmental Studies
Advanced Production
Skills Required for Architecture Interior Design Courses
Studying in a top college and gaining a degree in the course is one thing. But when it comes to practical life there are specific skills that the companies ask you to have. As if you are not able to apply your knowledge in a specific field then things started getting complicated for your career. Thus, for your reference here are the few skills that an interior designing architect must possess:
Creativity
Aesthetic sense
Basic hand drawing skill
Computer skills
Visualization
Communication skills
Flexibility
Management skills
Drawing & Colour sense
Visual sensitivity
Scientific aptitude
Team Spirit
Ability to deal with technical details
Analytical skills
Career Opportunities for Architecture & Interiors in India
In addition to the continuation towards the further studies such as MBA, M.Arch, PGDM, and more. you can also look for amazing job opportunities for a better future. If you are keenly into earning a good amount of money then there are various companies which are actually waiting for you. They will hire you for the post of:
Heritage space designer
Set Designer
Scenography Design
Lighting Designer
Exhibition Designer
Retail Designer
3D Visual designer
Interior Spatial Designer
Architect
Recreation Designer
Professor
Institutional Designer
Visual Merchandiser
Hospitality and Recreation Designer
Interior Accessories and Products Designer
Scenography Designer
Interior Styling and Experience Designer
Residential Designer
The top recruiters who hire interior architects are as follows:
Interia
Inch
Homelane
Tag Concepts
Acropolis
DLF
Jindals
Larsen and Turbo
Films Factory
More such companies deal with construction, interior designing, architectural firms event management, exhibition centers, residential areas, and more recruit the interior architects.
Interior Architecture and Design Salary
The companies offer a high salary for interior designing architects. The sectors in which you can look for opportunities are Airports, Construction Companies, Engineering Firms, Exhibition Organizing Firms, Government Agencies, Graphic Designing, Theatres, Town Planning Bureaus, and more.
However, the offered amount depends on your job roles, your experience, knowledge about the field, your ways of handling difficult situations, and the skills you hold. According to the data, the average salary provided is INR 3 to INR 7 LPA.
However, the salary varies for the government and private sector. In the government sector, it is Rs 3-6 Lakhs and in the private sector, it is around Rs 2-3 lakhs.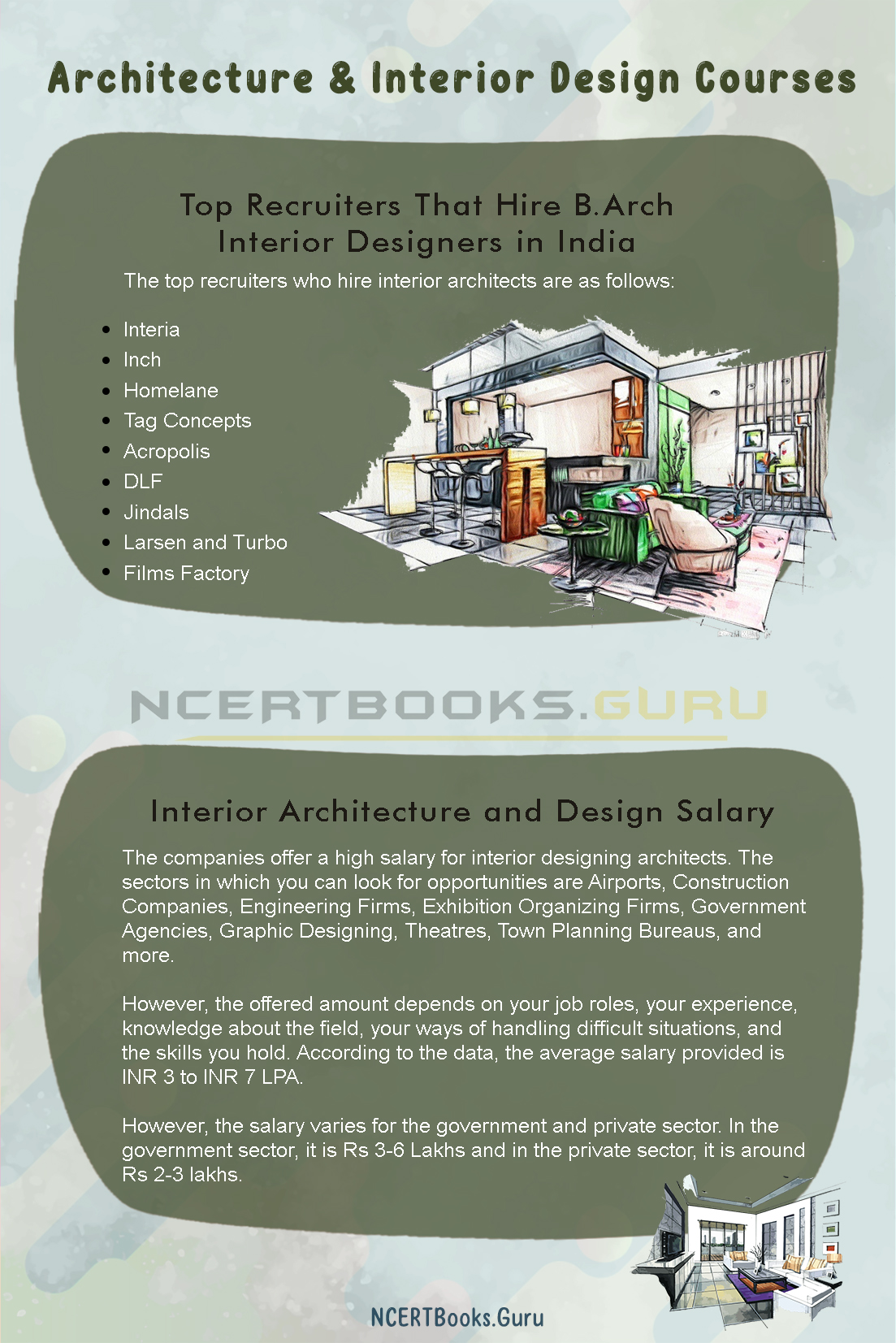 FAQs on Bachelor of Interior Architecture Courses Online
1. Can I study architecture and interior design together?
Yes, you can absolutely study architecture and interior design together with the help of B.Arch and M.Arch Interior Designing Courses. These courses will provide in-depth knowledge about interior design with a unique combination of architecture.
2. Does the Interior architecture course offers good profile jobs? 
Yes, interior designing is a unique combination of architecture and design. With the help of course you can easily place with Airports, Construction Companies, Engineering Firms, Exhibition Organizing Firms, and more. To know more you can read our above article.
3. What is the difference between an interior designing course and a B.Arch Interior designing? 
Normally interior designers work for the furnishing and decoration of an interior. But when you pursue B.arch then you will be working on both the designing, construction, and the designing part of the infrastructure in one place.
4. Is there any entrance exam required to clear to get admission in B.Arch Interior designing?
Yes, there are a few colleges that ask you to clear some entrance exams but some may admit you on the basis of a merit list. The preferred entrance exam for architecture courses is NATA, JEE Mains, JEE Advanced, IUCET, and BITSAT.
5. What is the salary given to interior architects in India? 
The average salary for interior architects is around Rs 4 Lakhs to 5 lakhs. The freshers can easily earn around Rs 50,000 and with experience and skills, the salary increases too.
Conclusion
With the relevant and authentic information, we hope now your various confusions about Architecture And Interior Design Courses has been resolved. So, now you can proceed with your career as an interior designing architect. Also, for more details on architecture courses, you can visit our official website Ncertbooks.guru, and ask your doubt in the comment section.