Professional Courses after 12th Commerce: Completed your class 12th from a commerce background? Are you confused about choosing the best course after 12th Commerce? Then you are at the right place. Professional courses are the key to a bright future for commerce students.
Right from financial analysis and tax filing, stock market trading, and managing personnel, commerce students have numerous courses available to them. But there are a few options that have become mainstream while others are less explored.
Here, in the below article you will get detailed information about the latest professional courses for 12th commerce such as eligibility criteria, duration, fee structure, top colleges, career scope, job profile, salary structure, and a lot more.
About Professional Courses for Commerce Students After 12th
Commerce is all about the trade between consumers and buyers. The commerce courses are available at all levels such as undergraduate, postgraduate, doctoral, certificate, and a lot more. Thus, professional courses are quite uncommon among the students or they are not able to find the best colleges for the same.
These professional courses after 12th commerce are available in various areas. These courses cover topics related to accounting, taxation, business law, and more. These courses offer lucrative career scope. You will also get a chance to work in the fields such as finance, Business Administration, and Accounting.
Outline on Commerce Professional Courses after 12th
Professional courses are in great demand these days. Thus, to have an overview of the topics you may have a look at the below table.
Courses

Bachelors
CMA
CA, and more

Eligibility
Must have cleared class 12th with at least 50% marks.
Admission Process
Merit or entrance-based
Average Fees
Rs 20,000 to Rs 2 lakhs
Average Salary
Rs 2 lakhs to Rs 8 Lakhs
Job profile

Actuary
Economist
Accountant
Audit
Analyst, and more
Professional Courses after 12th Commerce Eligibility
To get admission into the top colleges to attain a degree in commerce professional courses you need to clear a minimum class 12th with at least 50% marks. Few colleges admit students based on entrance exams such as
DU JAT
CA Common Proficiency Test(CPT)
Company Secretary Executive Entrance Exam (CSEET)
Institute of Company Secretaries in India (ICSI)
St Xavier, Mumbai
IPMAT
Let's check the List of Commerce Courses in India from the available link and learn more about it.
List of Professional Courses after 12th Commerce Stream
The commerce stream professional courses can be completed from 6 months to 3 years. There are a few certificate courses, and diploma degrees are also available in the professional courses. However, the bachelor's degree takes around 3 to 4 years to the completion.
Journalism and Mass Communication
Industry Oriented Integrated Courses
BBA
Company Secretary (CS)
Chartered Accountancy
Income tax
BBA: Computer Application
Cost and Management Accountant
Actuarial Science
Certified Financial Planner
Economics courses
Auditing
Business Finance
Bachelor of Business Administration: International Business
Courses in International Trade
Some students find maths the most difficult subject. So they choose to pursue commerce subjects in class 12th without maths. Thus, there are numerous professional courses which can be pursued without maths as the main subject.
Bachelor's In Foreign Trade
Hotel Management
B.Com (Bachelor of Commerce)
Chartered Accountancy
BBA (Bachelor of Business Administration)
B.Com. (H) (Bachelor of Commerce Honours)
Bachelor of Laws (LLB / Legum Baccalaureus)
Travel and Tourism
Company Secretary
Certified Management Accountancy
Best Professional Courses after 12th Commerce with Maths
Despite feeling maths is a difficult subject students choose to pursue it as the opportunities in pursuing various professional courses are high. If you have maths then you are eligible for both maths and without maths courses. You may find the detailed list of commerce without maths courses here below.
Bachelor of Arts in Statistics
BCom in Finance
Bachelor of Arts in Economics (Honours)
B.Com – Management Accounting and International Finance
BCom in Accounting and Taxation
B.Com Applied Economics
B.Com – Accounting
Data Scientist
Actuary
Certificate in Investment Banking (CIB)
Do Check:
Short Term Professional Courses after 12th Commerce in India
The short-term courses can be completed in 3 months to 12 months. These are generally certificate-designated courses. You may pursue these short-term professional courses from the top platforms like UDemy, Coursera, Edx, and a lot more. Also, various colleges are offering short-term professional courses.
Courses 
Top Colleges 
Certificate in Digital Marketing

SP Jain School of Global Management, Mumbai
XLRI Xavier School of Management
MICA, etc

Certificate in Entrepreneurship

Amity University
NMIMS Distance Education
SP Jain, etc

Certificate in MS-Excel

Manipal Prolearn Bangalore
NIIT Rohtak
Laqshya Institute of Skills Training, Mumbai; etc

Certificate in Stock Market

National Institute of Financial Market, Mumbai
BSE Mumbai
St Mary's College, Kerala, etc

Certificate in Tally

The Institute of Computer Accountants, Mumbai;
YMCA Institute of Office Management, New Delhi

Certificate/Diploma in Banking

Sophia College for Women, Mumbai;
Ranchi University
NMIMS, etc
Professional Degree Courses after 12th Commerce
The degree courses are the first choice for the students after the 12th. It takes 3 years to get a certified degree. Various colleges offer you a bachelor's degree in professional subjects.
Bachelor of Finance and Accounting (BFA)
Bachelors in Economics
BBA LLB
Bachelor of Commerce (B.Com)
Bachelor of Business Administration: Computer Application
BBA
Bachelor of Hotel Management (BHM)
B.com (Hons)
Bachelor of Management Studies (BMS)
Bachelor of Business Administration: International Business (IB)
Top Professional Computer Courses after 12th Commerce
The computer is necessary for all the fields. Thus, if you want to build your career in professional computer courses then you may look for the entire provided below list. These courses can be pursued at diploma or certificate level after class 12th commerce.
BCA
Graphic Designing
Tally ERP Course
3D Animation & VFX
Data Entry Operator Course
E-Commerce
B.Com in Computer Applications
Web Designing & Development
Hardware and Networking Courses
Digital Banking
Certificate in Computerized Accounting
Diploma courses are considered job-oriented courses after the 12th. Some students who are not able to continue their studies for more extended periods go to pursue diploma courses. These are also one of the best options for a professional degree after commerce.
Diploma in Retail Management
Accounting and Finance Diploma
Diploma in Advanced Accounting
Certified Management Accountant
Diploma in Business Management
Diploma in Financial Accounting
Management Diploma Course
Diploma in Banking and Finance
Top Colleges for Professional Degree After 12th Commerce
You may find the top list of colleges around India for commerce. Some of the best colleges in which you may get admission through an entrance exam or merit-based list are described below.
Loyola College, Chennai
Hindu College, New Delhi
Madras Christian College, Chennai
Shri Ram College of Commerce, Delhi University
Women University, Hyderabad
Lady Shree Ram College, Delhi University
Hansraj College, New Delhi
Chandigarh University
St. Zavier's College, Mumbai
Jain University, Bangalore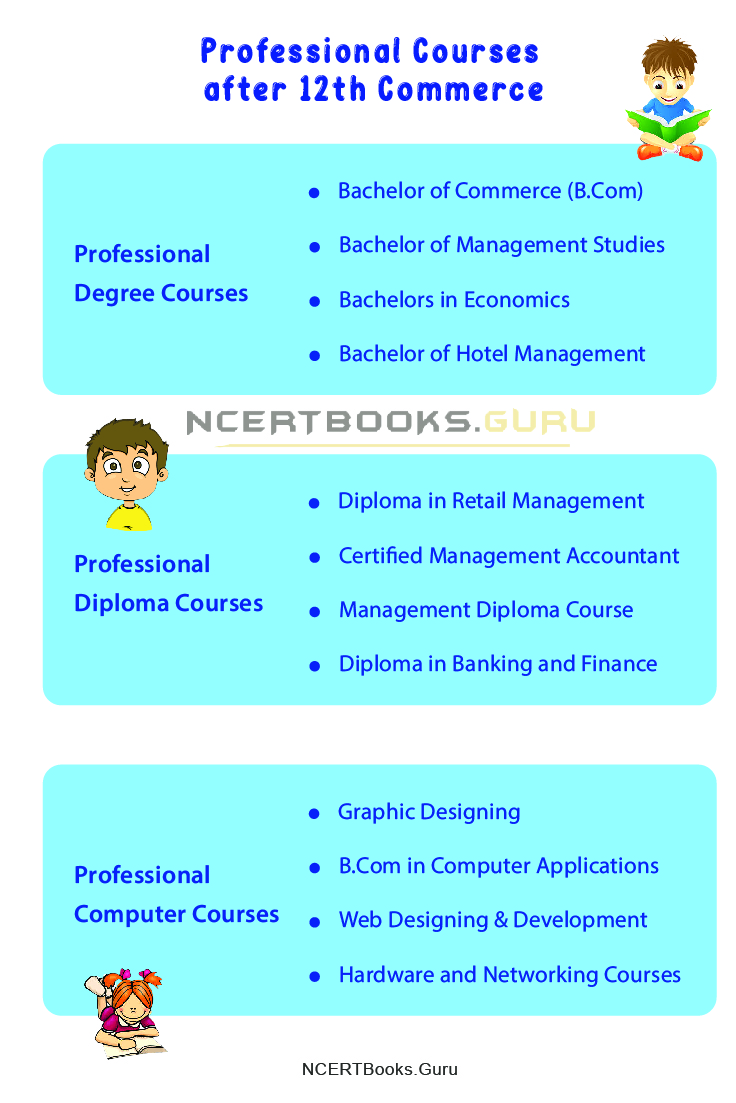 Career Scope & Job Opportunities in Professional Courses after Class 12 Commerce
Commerce is considered the backbone of any industry. Due to this the need and demand for commerce professionals are rising. The people who are becoming economists, statisticians, CA, CMAs, Actuary, investment bankers, etc are in huge demand.
The scope and the career opportunities are really impressive after the competition of professional courses in commerce. Some of the best job profiles for professional degree holders are
Cost and Management Accountant
Financial Advisor
Lawyer
Certified Public Accountant (CPA)
Company Secretary (CS)
Economist
Chartered Accountant (CA)
Banker
Tax Consultant
Stock Broker
Statistician
Professional Courses after 12th Commerce with Salary
The courses such as economics, chartered accountant, actuary, auditing, company secretary, and a lot more offer the highest salary in the commerce sector. These courses are in huge demand and offer lucrative career scope.
Besides this, the average salary which students may earn is Rs 2,00,000 to Rs 8,00,000 at the beginning of the professional commerce courses. But with time you will surely see a surge in the salary structure.
| | |
| --- | --- |
| Course | Average starting salary (Per annum)  |
| Actuarial Science | Rs 5 to 7 lakhs |
| Chartered Accountancy | Rs 6 to Rs 8 Lakhs |
| Company Secretary | Rs 5 to 8 lakhs |
| Cost Management Accountancy | Rs 6 to 9 lakhs |
| Economics | Rs 5 to 7 lakhs |
| Statistics | Rs 4 to 5 lakhs |
FAQs on Best Professional Courses after 12th Commerce for Girl
1. Are professional Courses in commerce worthful? 
Yes, you may look that the career opportunities in the commerce field are much more than in any other field. There are impressive job profiles in which you may pursue your career. From finance, accounts, statistics, and more you will get to know a lot many options in the commerce courses.
2. What are the best professional commerce courses after class 12th?
The best courses depend on your choice. Every course offers lucrative career opportunities. But some of the most demanded courses are Bachelor of Commerce, Bachelor of Business Management, Chartered Accountancy, Bachelor Of Economics, Company secretary, etc.
3. What are the benefits of studying commerce professional courses? 
To get a lucrative career opportunity it is not easy for you to hold an academic degree as skills are also necessary. So the professional courses provide you with practical skills and prepare you ready for the jobs after the completion of a degree.
4. Is it possible to get a government job after 12th with a professional course degree? 
Yes, commerce is required in both government and private sectors. Professional degree holders with CA, CMA, economics, statistics, B.com, BBA degree, etc are required in government sectors such as in PSUs, banks, and other institutions.
Conclusion
Choosing the best career for your bright future is in your hand. You must always think of various opportunities and your willingness toward lucrative career opportunities. The right career path is that which in turn builds up your interest and offers you a great salary.
Thus, commerce is one such field that offers amazing career scope. For more information on Professional Courses after 12th Commerce or other course details, you may contact our expert team at Ncertbooks.guru through the comment box defined below.