Petroleum engineering course is a 4-year course for a bachelor's degree in engineering and a 2 years master's degree program offered by many engineering colleges in India.
Petroleum engineering is a field of profession that mainly deals with exploration, operations and innovation involved in the process of oil and gas extraction. Petroleum engineering is a very niche field of engineering which mainly deals with the extraction of oil and gas but in comparison to petroleum engineering, mining engineering and geology as a subject deals with a wider array of earthen minerals.
In this particular article on petroleum engineering course details, we are going to discuss the following topics:
Introduction to Petroleum Engineering
Petroleum engineering is a small subset of the field of engineering, science, and technology that mainly deals with various activities related to the extraction of oil and gas and production of hydrocarbons from oil and shale through natural gas and crude oil. The technology behind the exploration and production of oil and gas is what is the main objective of the course of petroleum engineering.
The field of petroleum engineering is a very dynamic and diverse field where innovation and creativity are the backbones of petroleum engineers. If one aims to do a petroleum engineering course then one can be sure of not just a stable career, but a dynamic and exciting one because petroleum engineers will have to keep updating their knowledge in the field to be competitive in the market.
Petroleum engineering through the lens of career prospects and the job market is one of the most widely abundant fields which has been a stable industry for centuries in our society. We would have heard about the downfall of the Information Technology (IT) industry or automobile industry or construction industry but it is very difficult to see a downfall the of the oil and petroleum industry because petrol is the backbone of our civilization and without oil and gas, not a needle could be moved in our world. With such a scenario in place, petroleum engineers will be having a stable growth and a secure job.
Petroleum Engineering Course Details
The different courses that a student can pursue in petroleum engineering are:
Bachelor's in Engineering
Bachelor's in Technology
Master's in Engineering
Master's in Technology
Bachelor's in Science
Master's in Science
PhD
Let us now briefly understand each of the petroleum engineering courses mentioned above:
B.E or B.Tech in Petroleum Engineering
A B.E or a B.Tech  course in petroleum engineering is a four year Bachelor's level engineering program.
The course is divided into 8 semesters where each semester is ranging for a period of six months.
Students will have to write an examination at the end of each semester and clear all the subjects in that particular year to move to the next year.
If a student fails to clear all the subjects in a year, then he or she will have a year back, which means they will have to study those two semesters all over again.
Apart from the examination, there will be 3 internal tests every semester, which will be counted for the final evaluation.
Most universities in India have made industry internships compulsory for students of petroleum engineering. A petroleum engineering student needs to do a compulsory internship in the field of petroleum, oil and gas in any of the companies of the student's choice.
For final year students, there will be project submissions, assignments, submission, and external evaluations for the final awarding of the degree certificate.
M.E or M.Tech in Petroleum Engineering
A Master's in Engineering or a Master's in Technology is a 2-year course of master's or a postgraduate level.
The course of M.E and M.Tech is divided into 4 semesters with 2 semesters in each year.
Along with the examination, at the end of each semester and internal evaluation, students of postgraduate level are expected to submit the thesis papers and project papers which are counted for the final awarding of the master's degree.
One of the most important components of a master's in Engineering or Master's in Technology is hands-on industry training, industry visits and internships. Students are evaluated with the help of internal- and external and industry faculties for their performance during the internship program which can last from 2 months to 6 months depending on the company and the job profile.
At the end of 2 years, after completion of final year examination, project evaluations and internship evaluation, a student will be finally awarded a master's degree which is of high value in the job market and academic circles.
Ph.D. in Petroleum Engineering
Ph.D. in petroleum engineering or Philosophy is a very nuanced and niche course that not many students opt for. It requires an immense amount of dedication, discipline and perseverance for years, to get a Ph.D. degree in the field of Petroleum Engineering. But with the right attitude and determination, a student can surely achieve his or her dream of getting a doctorate. One should note that a Ph.D. in petroleum engineering will not be helpful to grow in corporate circles but if one is inclined toward working as an academic instructor, faculty or a professor, then a Ph.D. in petroleum engineering is the best option for them.
One should also not that there is no set criteria or duration to complete a Ph.D. in petroleum engineering and it can vary from 3 years to 6 years based on thesis paper. During a Ph.D. program, students will be paid a monthly stipend from Rs. 30000 to Rs. 60000 per month. During the Ph.D. program in any of the engineering fields, students can also work as junior faculty members and start teaching students during their Ph.D. program itself.
Petroleum Engineering Courses Admissions
For a bachelor's degree course, students will have to write an engineering entrance examination. The most popular and widely applicable engineering entrance test is the IIT JEE mains and Advanced exam. Other exams include AIEEE, K-CET, and other state-level entrance examinations.
For a Master's degree, one has to write a GATE examination.
Students will have to apply for the entrance examination by paying the relevant exam fee.
Upon declaration of the result of the exam, a student will be able to have an idea of which college he or she might get into depending on his or her rank in the relevant engineering entrance examination.
If a student has cleared his or her cut off that is set by the college, then he or she will be given direct admission solely based on the merit in the entrance examination.
Upon acceptance of the admission letter, a student will have to pay the appropriate college fee and start his or her petroleum engineering course in the particular college.
Petroleum Engineering Syllabus PDF
Below are some of the subjects thought to students in petroleum engineering courses after 12th:
Mathematics
Physics
Chemistry
Applied Sciences
Complex variables
Oil and Gas well testing
Enhanced Oil Recovery Technology
Linear Algebra
Calculus
Trigonometry
Reservoir engineering
Earthquake engineering
Basics of soil testing
Offshore drilling and production practices
Petroleum formation evaluation
Also, Refer
Petroleum Engineering Entrance Exams
The following are the different types of engineering entrance examinations in India:
IIT JEE Mains
IIT JEE Advanced
Comed K
KITEE
MET
KCET
MHT CET
JKCET
LPU NEST
BITSAT
TNEET
REAP
WEBJEE
SITE
IPU CET
SAAT
GNEE
IEEE
UPSEE
CECE
TS EAMCET
TEE
The above-mentioned entrance examinations are a mix of government and private institution's examinations.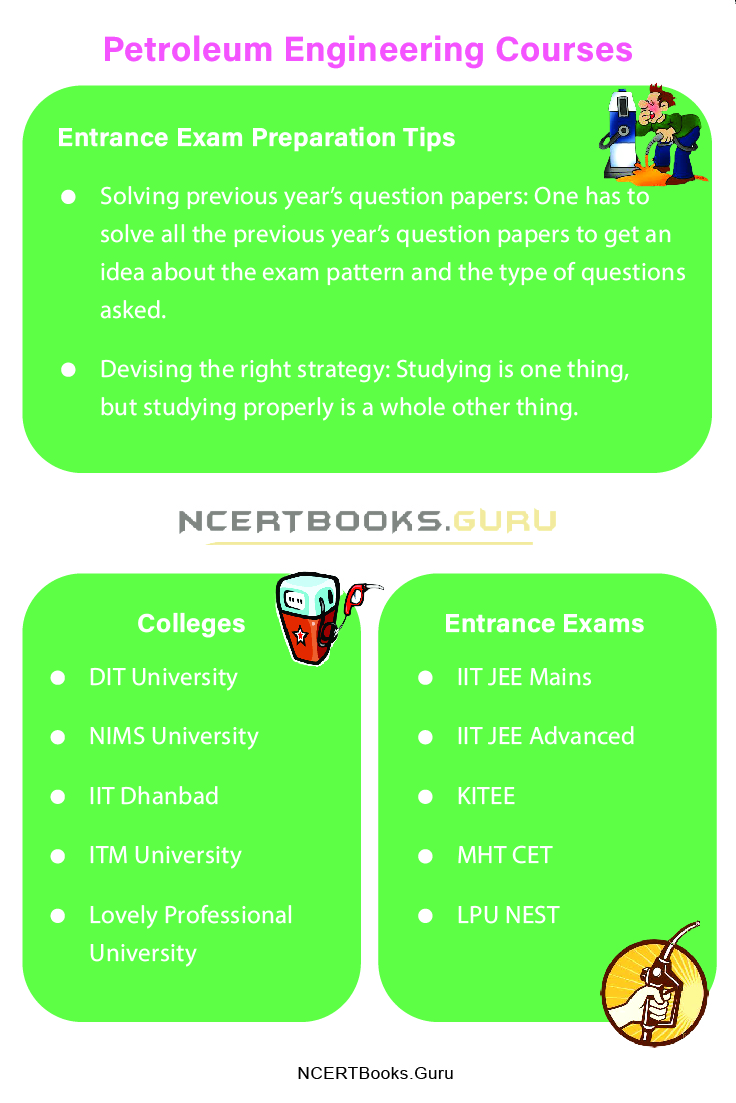 Petroleum Engineering Entrance Exam Preparation Tips
Solving previous year's question papers: One has to solve all the previous year's question papers to get an idea about the exam pattern and the type of questions asked. Solving the previous year's question papers will also help students familiarise themselves with the rigor of the exam
Finding the right study material: There are plenty of study materials available on the internet and it becomes imperative for students to stick to one proper study material and revise the same. Studying too many textbooks for one subject is not a good approach to clearing any entrance examination
Devising the right strategy: Studying is one thing, but studying properly is a whole other thing. One has to chalk out a proper plan of study and clear this examination
The following are the jobs that one might end up with after his or her graduation as a petroleum engineering graduate:
System Engineer: A system engineer will handle, maintain, operate and develop hardware and software that is required in the oil fields for research and exploration
Drilling Engineer: A drilling engineer has to find innovative ways to find and drill gas from oil and shale fields with proper efficiency and sustainability
Production engineer: A production engineer is a person who plans production, planning, and inventory control in an oil mine
Reservoir engineer: A reservoir engineer determines the characteristics of a reservoir and its profitability
Best Petroleum Engineering Colleges
Below are the top 10 colleges in India for petroleum engineering courses:
Indian Institute of Technology- Bombay
Indian Institute of Technology: Madras
School of Engineering- University of Petroleum and Energy Studies, Dehradun
Lovely Professional University, Jalandhar
MBM Engineering College, Jodhpur
Dr. MGR Educational and research institute, Chennai
DIT University, Dehradun
NIMS University: Jaipur
IIT Dhanbad, Jharkhand
ITM University, Gwalior
Petroleum Engineering Recruiting Companies
Below are the top 10 recruiting companies for petroleum engineering courses:
Indian Oil Corporation
Delhi Aviation Fuel Facility Pvt. Ltd.
Hindustan Petroleum Corporation
Chennai Petroleum Corporation
Reliance Petroleum
Bharat Oil and Waste Management Ltd.
Adani Group
Oil and Natural Gas Corporation (ONGC)
GE Oil and Gas Limited
Gas Authority of India Limited (GAIL)
1. What is the average petroleum engineering salary in India?
The average package for petroleum engineering graduates ranges from Rs. 600000 to Rs. 1600000per annum.
2. What is the average petroleum engineering courses fees?
The average fee for pursuing a bachelor's degree in petroleum engineering will cost a student between Rs. 100000 to Rs. 10 lakh depending on whether it's a private college or government college or a government-aided college.
3. Which is the top college in India for online petroleum engineering courses?
Indian Institute of Technology Bombay is considered the top college in India to pursue a course in petroleum engineering.
4. Is the petroleum engineering course difficult to pass?
Like every other engineering course, the petroleum engineering course is nuanced and is a difficult one to crack. But the benefits of graduating as a petroleum engineer are all worth it.
5. What is the petroleum engineering course duration?
B.E/B.Tech in petroleum engineering course duration is 4 years and M.Tech course duration is 2 years.