Human Resource Management Courses (HRM) contain a wide range of functionalities like hiring, training, measuring, and ensuring the development of employees. If you are interested in your career then this article will work for you as we have given all the information. A career field in this will give you a chance to meet organizational goals by hiring the right people who fit your company's culture, values, and vision.
In this article, we have given all the information like eligibility, fee structure, duration, and many more. And not only this course but also we provided many other course details on our website NCERTBooks.Com. Scroll down to check out the complete information.
What is Human Resource Management
A popular name for this Human resource management is HRM. This is the sub-branch of business &  management studies. HRM courses mainly focused on administrative services, staff administration, Performance management, and the hiring process. These HRM courses help the students to study and get the knowledge that is required to handle the human resources in the company. The main important goal of the HRM course is to provide adequate resources to the company. We should have communication skills and some other skills to become HRM.
Eligibility Criteria for Human Resource Management Courses in India
Eligibility criteria differ from one institute to another. In some institutes, we will have entrance examinations and some provide direct admission. Look into the below eligibility for UG and PG.
If you want to aspire bachelor's degree, you need to pass your 12th examination in any stream from a recognized college.
If you want to aspire postgraduate degree, you need to complete a bachelor's degree with a good percentage.
You need to write entrance examinations and qualify if there are any.
Human Resource Management Course Fees
Here are some of the HRM course fee structures for both government and private sectors. Below are the fee details for all UG, PG, Doctoral, and for diplomas.
Under Graduate Courses
Private: 11.42 K to 18.70 Lakhs
Government: 4.00 K to 33.24 K
Post Graduate  Courses
Private: 6.34 K to 25.80 Lakhs
Government: 1.56 K to 17.58 Lakhs

Doctoral Courses
Private:1.40 Lakhs
Government: 4.50 Lakhs
Diploma Courses

Private: 2.00 K to 1.20 Lakhs

Government: 12.84 K to 1.16 Lakhs

Do Refer:
Human Resource Management Course Subjects
Subjects help us to know about the aspects of the course and make us thorough with this HRM course. It will be helpful when we start working in any organization. Below is the subject list.
Research Methods
HRM Project
Management Problem-Solving
Quantitative Skills
Managing Customer Value
International HRM
Strategic Management
Related articles:
Top Human Resource Management Courses Colleges in India
We will look into these top best colleges that provide the study for human resource management courses. Look into the below list.
JBIMS Mumbai
XLRI Jamshedpur
DYPUSM Mumbai
School of Business Management SVKM's Narsee Monjee Institute of Management Studies, Mumbai
School of Business, University of Petroleum and Energy Studies, Dehradun
MSU Baroda
Also Check: 
Skills Required for HRM
To work as human resource management well in the organization, we should have different communication skills. We will look into them below.
Communication Skills
Teamwork
HRM Knowledge and expertise
Employee Relations
Analytically driven and Expertise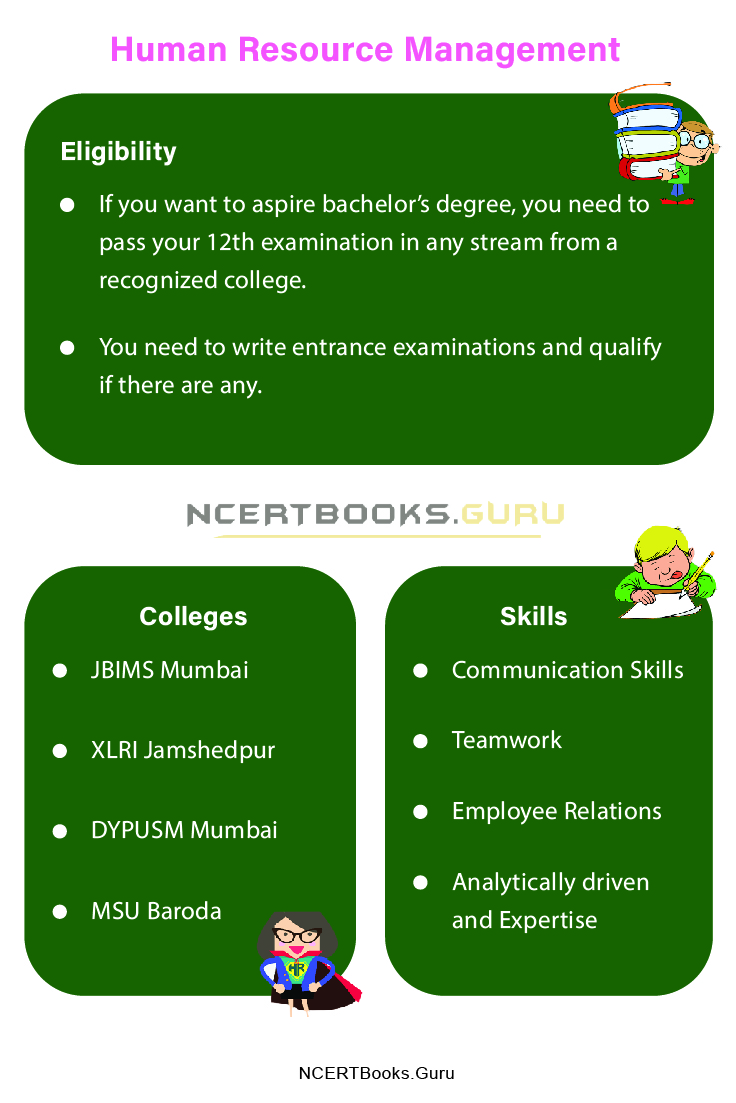 Human Resource Management Courses Online Free
For these Human Resource Management courses, we are also having online courses within a short period of time you can learn these courses and they will also give you a certificate. Some of the courses are listed below.
| | | | |
| --- | --- | --- | --- |
| Name of the course |     Duration |       Certificate |     Cost |
| Diploma in HR | 8-10 hours | No |  Free |
| Free HR Course | 20 hours | Yes | Free |
| People and Organizations | Varies | No | Free |
| Human Resources – Recruitment  and Selection | 12 hours | Yes | Free |
| Preparing to Manage HR | 14 hours | Yes, If you pay the Fee | Free |
| Urban Labor Markets and Employment Policy | 11 weeks | No | Free |
| Managing Human Capital | 7 hours | Yes with an upgrade fee | Free |
| Strategic Human Management | Varies | No | Free |
| International and strategic Human Resource Management | 2-3 hours | yes, with a small fee | Free |
| Creating Meaning for Employees | 1-2 hours | Yes, with a small fee | Free |
Top Recruiters & Job Profiles for Human Resource Management
After pursuing HRM courses we will have many job opportunities. Listed below are some of the top best recruiters and job Profiles.
Job Profiles
Talent Acquisition Manager
HR Manager
HR Coordinator
Employee Benefits Manager
Top Recruiters
Pine Labs
Capgemini
Wipro Limited
KPMG
Computer Systems Design Companies
Deloitte
TCS
Certifications for HRM
Go through the courses that provide you with certification. If you have a certification for the course you learn you can update it in your resume and it adds an extra look to your resume. Take a look at these certification courses below.
Human Capital Strategist Certification
Human Resource Information Professional
SAP HR
Strategic HR Business Partner Certification
Global Professional in Human Resources
HRM jobs are considered one of the best and highest fields in the industry. Salary will be good for these courses. We will look into the salary for every job profile as we have different HRM job profiles.
| | |
| --- | --- |
| Job Profile | Average Salary |
| HR Manager | Rs. 7 to 10 Lakhs p.a. (Approx.) |
| HR Coordinator | Rs. 3 to 6 Lakhs p.a. (Approx.) |
| Talent Acquisition Manager | Rs. 6 to 9 Lakhs p.a. (Approx.) |
| Employee Welfare Manager | Rs. 3 to 6 Lakhs p.a. (Approx.) |
FAQs on Human Resource Management Courses after 10th
1. Can we do the HR course after the 12th?
No, you are not eligible for HR courses after the 12th. To get an HR job you need to do the minimum graduation required.
2. What is the qualification of HRM?
Human Resource Managers typically possess a bachelor's degree and human resource management experience. But it is better to have an MBA degree.
Yes. after HR management courses we have many job opportunities these days.
4. What are the job profiles in Human Resource Management?
Here we will see some of the best job profiles for human resource management are given below.
HR coordinator
Talent Acquisition Manager
Welfare Manager
HR Manager
Final Words
We hope that the information which is given above about Human Resource Management Courses is useful for you to build your future. If you need any other course details you can check our website NCERTBooks.Guru. If you do not find any courses that you need you can comment to us in the comment section. Log on to our website for more latest updates.