A Human Resource Manager is in charge of all aspects of employee recruitment, training, and management. It is critical to hire the right professionals for any given job. It is not only a time-consuming process, but it also necessitates considerable effort. You will have to spend a lot of money on recruiting and training them. In addition, as your company grows, it requires more new talent. It will be difficult for anyone to select the best talent from such a large talent pool and hire the best ones. This is where the Human Resource Manager comes into the picture.
It is the Human Resource Manager's responsibility to ensure that new employees understand the company's agenda, motto, and strategy. That is when the company will be able to profit from the employees it hires and trains. Apart from these, they should handle the company's administrative duties. On this page let us discuss everything about how to become an HR manager in India, the required qualifications, salary, and many other aspects involved in becoming a Human Resources Manager. Read further to find more.
Types of HR Managers in India
Below are some of the human resource manager job profiles,
Manager of Training and Development
They assist employees in improving their skillsets and careers. The groom and assist the corporation's employees in developing their overall temperament. They are in charge of increasing the productivity of the organization's employees and workers. They plan, coordinate, and direct programs to improve the skills and knowledge of an organization's employees.
International Human Resource Expert
The profile of an international human resource professional requires one to travel the world and perform HR tasks on a global scale. They play an important role in the overall operation of the organization, not just the HR department. They are in charge of creating and implementing a unique orientation program for each employee based on where they are being relocated.
Their job is to interpret and administer labor contracts relating to organizational issues such as wages and salaries, healthcare, pensions, and union and management practices. He or she assists in the administration and facilitation of work contracts between unions, employees, and managers in an organization. Drafting proposals, communicating with union leaders and company managers, and dealing with compensation and work environment complaints are some of the common tasks of Labor Relations Specialists.
HR Manager of Administrative Services
Their job is to establish, direct, and coordinate auxiliary services for a company, as well as to maintain facilities and supervise activities such as record keeping, mail distribution, and office maintenance. Their primary responsibilities include mail distribution, record keeping, and office upkeep. They also supervise employee work and ensure the organization runs smoothly.
Skills Required to Become an HR Manager
Below are the skills required to become an HR Manager,
Administration
Problem-solving skills
Decision-making skills
Team management
Vendor and employee management
Professionalism
Emotional intelligence
Attention to detail
Leadership skills
Organizational development
How to Become an HR Manager in India?
The steps to becoming a Human Resource Manager in India are explained below:
After Class 10, students can choose Commerce (with or without math) to begin preparing for undergraduate courses that will help them become HR Managers in India. The section that follows discusses the step-by-step process of becoming an HR Manager after graduating from high school.
After completing Class 10+2, one must pass an entrance examination and complete a three-year undergraduate course. In India, the graduation course lasts three years, after which you must complete an internship.
After completing the UG degree, the candidate can do an internship for a year before continuing his or her education. A PG course will assist students in mastering the skills needed to become successful HR Managers.
Also, Read:
Courses to choose for Human Resource (H.R) Manager in India
After completing the 12th grade, a candidate can pursue a variety of courses at various levels in order to become an HR Manager.
Diploma in Human Resource Management
A Diploma in Human Resource Management is a certificate-level course in human resource management. It is a one-year program that focuses on managerial skills as they relate to the effective management of humans as a resource.
Admission Procedure for the Diploma in Human Resource Management:
Admissions to a diploma in human resource management programs are typically based on a merit-based criterion. Students who have passed their 10+2 or equivalent examinations with a minimum of 50% can apply to various institutes and colleges/institutes.
BBA Human Resource Management
BBA Human Resource Management is a three-year undergraduate program that prepares students to manage the human resources of a company or institution.
Admission Procedure for BBA Human Resource Management:
Top colleges for the BBA human resource management course issue application forms and selection is based strictly on merit.
Shortlisting and merit list preparation is done on a merit-based basis, after which the candidate is called for a personal interview.
For some of the top universities, such as Delhi University, the cut-off for admission to top colleges can be as high as 99 percent.
Some colleges also hold entrance exams to admit students to the BBA program.
Entrance Exam for BBA Human Resource Management:
Below are the entrance exams for BBA Human Resource Management,
DU JAT (Delhi University Joint Admission Test)
IPU CAT (Indraprastha University Common Entrance Test)
NPAT (National Test for Programs After Twelfth)
SET (Symbiosis Entrance Exam)
How to Register for the Exam?
Fill out the application form: When visiting websites, carefully read the instructions to ensure that the form is filled out correctly.
Documents needed: The completed registration form is required. Documents such as Aadhaar cards, Pan cards, photographs, identity cards, 10+2 mark sheets, and so on.
Submission of final work: After that, double-check all of the information you've entered and submit the form.
Make your payment: The final step is to pay using a debit/credit card or net banking, if available.
Create a confirmation slip: Print the final confirmation page for your records.
Learn about various Course Details of different streams and join a course of your dream.
MBA Human Resource Management
MBA in Human Resource Management is a two-year postgraduate program that focuses on recruitment, management, and providing direction and guidance in organizations. This course provides training and knowledge in managing an organization's workforce.
Admission Procedure for MBA Human Resource Management:
Candidates interested in pursuing an MBA in human resource management must apply to their preferred B-School.
It usually consists of entrance exams, group discussions, and personal interviews.
They must pass the entrance exam and meet the College/eligibility University's requirements.
Entrance Exam for MBA Human Resource Management:
Below are the entrance exams for MBA Human Resource Management,
CAT (Common Admission Test)
XAT (Xavier Aptitude Test)
CMAT (Common Management Admission Test)
ATMA (AIMS Test for Management Admissions)
How to Register for the Exam?
Login to the CAT website.
Create a user ID and password after entering important information such as your name, date of birth, email address, and phone number.
Log in again with the User ID and password you created earlier to finish the application form.
Fill out all of the required information correctly, including personal information, academic information, work experience, photographs, and signatures.
Pay the CAT application fees using a debit/credit card or net banking, whichever is more convenient for you.
Print the confirmation page for future use.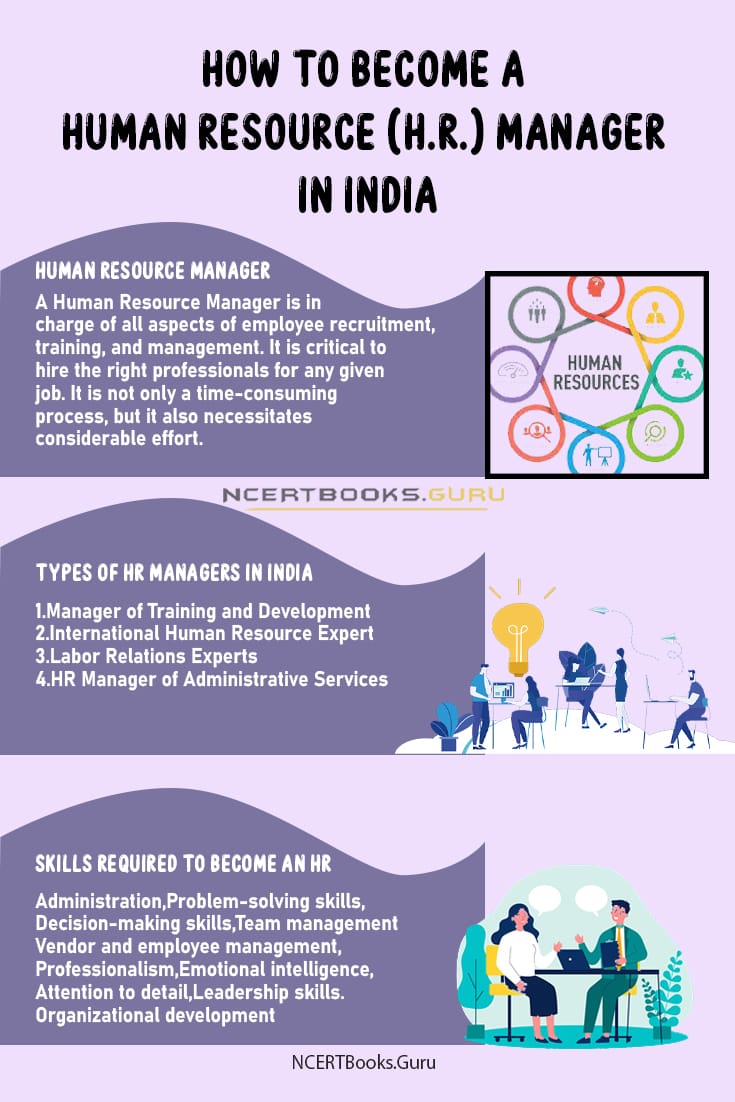 Career as an HR Manager
A Human Resources Manager is one of the most prestigious jobs in the world. If you are interested in management, this profession is ideal for you because it provides numerous career benefits and opportunities to work in the field of management.
A human resource manager's annual salary ranges between 9 and 10 lakh rupees. HR managers' salaries vary greatly in comparison to other professions all over the world.
In your role as an HR Manager, you will have numerous opportunities to assist others. People will come to you with personal and professional issues, and you will need to act as a mentor, career director, and psychologist to help them solve these issues.
The HR Manager's Continual Learning Profession allows candidates to learn at all times. Every day, you are given new and unusual tasks from customers that require a wide range of knowledge.
Progression in Your Career
An HR Manager's career has no endpoint; finishing an undergraduate degree is only the beginning. After becoming an HR Manager, they can pursue post-graduate studies to increase their pay packages.
Salary for an HR in India
There is a high demand for qualified and skilled candidates for the position of the human resource manager. Salary in the profession is entirely determined by one's skills, knowledge, experience, and level of talent. The following are some average salary figures for various aspects of human resource manager job profiles,
Profile
Joining Salary
per annum (in INR)
Experience Salary –
Mid-Level per annum
(in INR)
Experienced Salary –
Senior-Level per annum
(in INR)
Training and Development Manager
300000 – 340000
340000 – 540000
900000 – Above
Administrative Services Manager
200000 – 250000
250000 – 350000
500000 – Above
Compensation and Benefits Manager
400000 – 500000
500000 – 700000
NA
FAQs on How to become an HR Manager in India?
1. What are the areas where an HR Manager works?
HR manager works in different platforms –
Management of companies and enterprises: 14%
Professional, scientific and technical services: 14%
Manufacturing: 12%
Government: 9%
Health care and social assistance: 9%
2. What are the skills required to become an HR Manager?
Some of the basic skills required are Decision-making, Interpersonal, Leadership, Organizational, Speaking, etc.
3. How many years does it take to become an HR Manager?
Becoming a certified human resources manager can take a minimum of five years of education and professional experience.
4. Is an HR Manager a good job?
HR is a rewarding career field for growth. HR specialist even ranked among the Best Business Jobs in America for 2019 by U.S. News & World Report.
5. Why are HR Managers high in demand?
Human resources managers' employment is projected to grow 6 percent from 2019 to 2029, faster than the average for all occupations. Need for human resource managers increases as new companies form and organizations expand their operations.
6. What is the career growth rate of an HR manager?
The career scope for human resources managers is better than average. According to BLS, the number of employed HR managers will grow 7 percent from 2018 to 2028—faster than the 5% average for all occupations.