How to Become an Eye Doctor in India?:An ophthalmologist's employment entails discovering and treating eye-related disorders or diseases using surgery or vision glasses prescriptions. Ophthalmology is a branch of medicine that focuses on eye abnormalities and diseases. It covers both medicinal and surgical therapies for diseases that impact the physiology and architecture of the human eye. It is recognized as one of the most challenging branches to study and practice, requiring complete dedication as well as extensive knowledge and skills. This branch of medicine is distinguished by several unique characteristics. Some of the sub-specialties that set it apart
Optometry is a medical specialty that focuses on eye health, vision, and the visual system. A doctor that specializes in prescribing and dispensing vision correction lenses and spectacles, as well as diagnosing and treating eye problems, is known as an optometrist (to an extent).
Refer to Course Details to know more about related courses and find details like Admission Process, Eligibility Criteria, etc.
This post will teach you about the greatest optometry courses available in India once you complete your 12th grade. To earn a Bachelor's or Diploma in Optometry, one must complete the courses indicated in this article.
Information about Ophthalmologist
An ophthalmologist is a professional who assesses vision, diagnoses eye disease, and prevents it using ophthalmologic equipment. These specialists have undergone extensive training to provide specialized exams to patients with visual difficulties. They can perform tasks such as maintaining patient records and comparing them to previous medical records, performing laser surgeries, caring for chronic diseases, testing patients' vision, improving ophthalmologic services, implementing new tools and procedures, prescribing accurate lenses, reshaping ocular tissue, and so on, in addition to surgical and medical treatment.
Optometry as a Profession
Optometrists are technicians who examine the eyes. Medical specialists that specialize in vision diseases are known as optometrists. The most significant distinction to keep in mind is that an optometrist is not a doctor. They're in charge of diagnosing vision issues like nearsightedness, farsightedness, and other visual impairments. An optometrist should always work in a systematic, exact, and accurate manner, and they should be comfortable using advanced instruments to diagnose vision abnormalities.
When a person has a vision problem, such as blurred vision, he goes to an optometrist, who will examine his eyesight using a variety of advanced technologies and provide a report that can be given to a doctor for treatment.
List Of Optometry Courses
Bachelor Of Optometry
The course contents, eligibility criteria, admission process, eligibility criteria, and career options are all covered in this article. The most popular and recognized optometry course in India is known as Bachelor of Optometry, Bachelor of Optometry, or B.Optom.
It is a four-year undergraduate degree program. The academic program lasts three years. Students must complete a one-year internship program after completing their academic program. Only after finishing the internship program can an optometrist be deemed qualified!
Eligibility requirements: Candidates must be at least 17 years old when the course begins. The candidate must have completed 10+2 Science with Physics, Chemistry, Biology, and English. The required minimum aggregate score is 45 percent (may vary from one institute to another)
B.Sc. In Optometry
At the undergraduate level, it is a four-year Bachelor of Science degree program. Three years is the length of the academic program. The academic degree is followed by a one-year internship program. After finishing the academic program, a student must complete the internship program. Only then can one obtain a degree and use the title of an optometrist.
Candidates must have finished 10+2 Science with Physics, Chemistry, Biology, and English to be eligible. A minimum aggregate score of 45 percent is required (may vary from one institute to another). Candidates are accepted based on their performance on the board exam and the state entrance exam/relevant entrance exam. A few institutes also practice direct admission. To select applicants, certainly respected institutes are known to have their own private admissions exams.
Students who have completed a two-year Diploma in Optometry may be accepted directly into the B.Sc. Optometry program's second year. This style of entrance is referred to as a lateral entry.
Diploma In Optometry
It's a two-year certificate program with a diploma (three years in some institutes). D Opt holders can enroll in the second year of a B.Optom. or B.Sc. Optometry program using lateral entry. Even though the D Opt course is job-oriented, the above-mentioned Bachelor's Degree courses will help you climb the career ladder more quickly! This program is also known as an Ophthalmic Technology program.
To be eligible, the candidate must have completed the 10+2 standard. Only a few colleges will admit pupils who have finished the 10th grade (3 years long course). A minimum aggregate score of 45 percent is required (may vary from one institute to another).
Certificate Courses
Though certificate programs aren't extremely useful, they can assist you in obtaining technical and assistant positions in the eye care business. The average certificate program lasts one year. The minimum educational requirement is a 10+2 diploma. For pupils who have finished the tenth grade, many institutes also offer certificate programs.
Obtaining a Bachelor's Degree in Medicine is an excellent way to begin your medical career.
You'll spend the next 5-6 years at medical school after passing the admissions exam, studying the various aspects of the profession. MBBS is a must for every job, whether it be that of a Cardiologist or an Optometrist. Students are taught all of the major disciplines, including Human Anatomy, Modern Medicine, Diseases, and Emergency Care, as well as a basic review of the subject, during the MBBS curriculum, which is divided into 9-10 semesters. An internship is required in the final year of the degree, during which a student works as an apprentice to a senior doctor and acquires skills.
See More:
Taking the Entrance Exam and Passing
To pursue a career as an eye specialist, you must first enroll in medical school. Students are admitted to medical schools after passing entrance exams and following a strict protocol. The National Eligibility Examination for Medical School Admissions (NEET) is India's official entrance exam for medical school admissions.
To be eligible for the exam, you must have completed your 12th grade with Physics, Chemistry, and Biology as your majors. Thousands of students fight for a restricted number of spots each year, making it one of India's toughest exams. MBBS is the cornerstone of your career as an Eye Specialist, and you must have one of the highest NEET scores to qualify. If you want to get your medical degree from a distance, there are a few things you should know.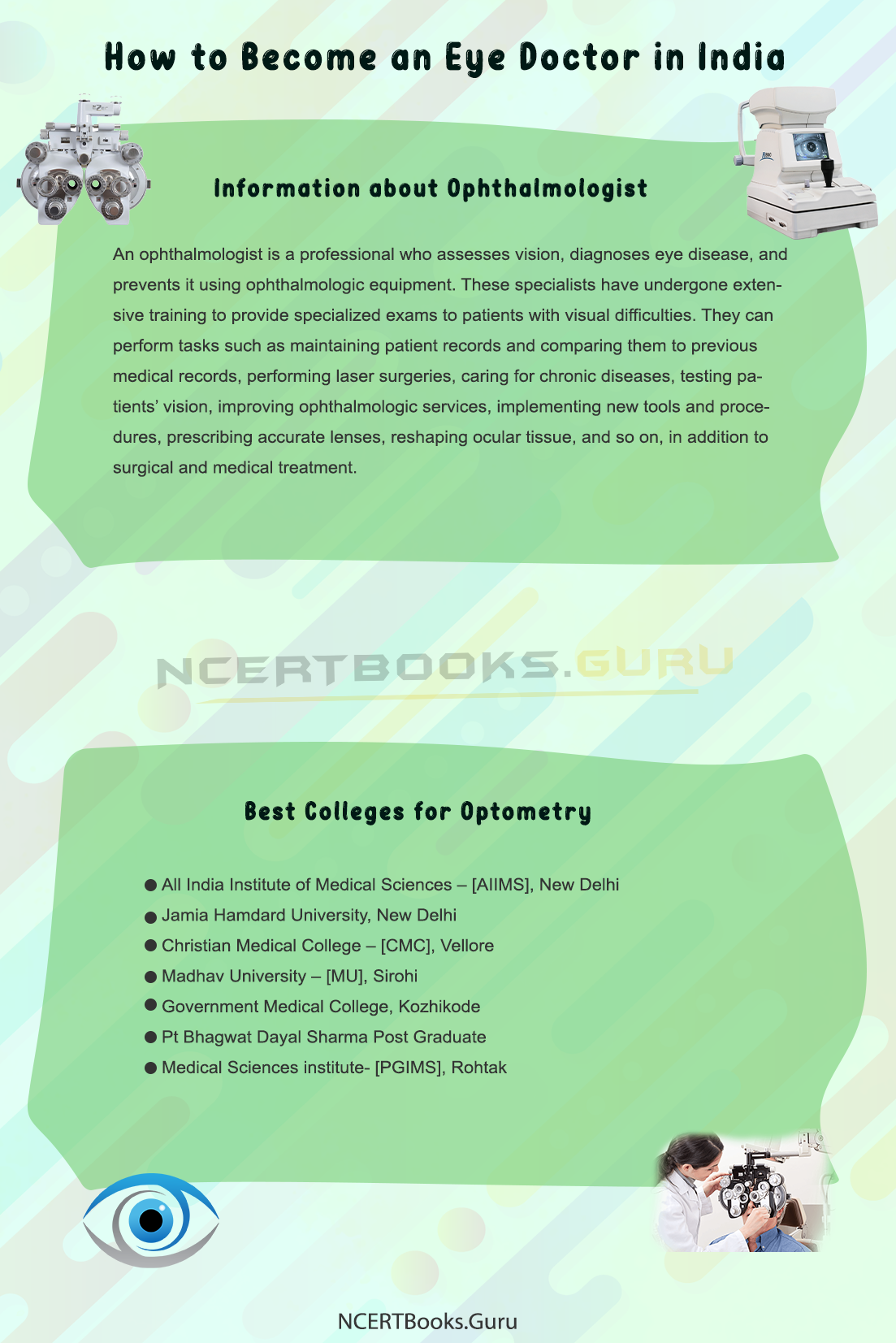 What are the career options for optometrists?
Eye Clinic Manager
Optometry Service
President/Practice Owner
Doctor of Optometry
Eligibility Requirements for Opthalmologist
An MBBS degree is required to become a trained ophthalmologist, followed by a postgraduate degree in Ophthalmology. The degrees available include Doctor of Medicine (M.D. ), Master of Surgery (M.S.), and Diploma in Ophthalmic Medicine and Surgery (DOMS). A Junior Residency at a Medical College is utilized for concurrent training and work experience, which is known as an internship, under the supervision of experienced academics. Further professional experience, such as fellowships, registrar ships, and senior resident ships, sharpens the skills of these eye surgeons.
Salary and Demand in Optometrist?
Optometry has a medium demand.
For optometry, the pay scale is medium. The average income for new graduates is between 3 and 4 lacs.
The course has a low fee structure. Students must pay less than two lakhs to take this course.
Optometry requires a medium level of preparation. Students spend a year studying for the Optometry entrance exam.
Best Colleges for Optometry?
All India Institute of Medical Sciences – [AIIMS], New Delhi
Jamia Hamdard University, New Delhi
Christian Medical College – [CMC], Vellore
Madhav University – [MU], Sirohi
Government Medical College, Kozhikode
Pt Bhagwat Dayal Sharma Post Graduate
Medical Sciences institute- [PGIMS], Rohtak
Prospects for a Career in Opthalmology
Ophthalmology is a specialized field of medicine with a wide range of career options. Hospitals, health centers, health departments, and non-governmental organizations (NGOs) are all hiring. You can apply for the U.P.S.C's Combined Medical Services entrance examination to become an ophthalmologist or senior specialist of Ophthalmology as an ophthalmologist or senior specialist of Ophthalmology as an ophthalmologist. Entrance exams for state health services are also held by the several state provincial services commissions. As an ophthalmologist, you have the option of joining the army, air force, or navy.
Conclusion
We hope you will find the information provided above to be useful. Make sure you have good technical talents and a high degree of understanding in the science stream before pursuing this field as a career. During the training session, candidates are very focused and have a strong knowledge of the research portion. As a result, anyone interested in becoming an optical surgeon will find it to be an excellent career choice. This field must be an added benefit for those having a medical background. Candidates should pay greater attention in class 12 and read basic ideas in this field.