How To Become An Ambassador IFS Officer In India?: IFS or Indian Foreign Service is a central service whose members bear the responsibility of India's commercial, diplomatic and consular representation in foreign countries.
This service is marked under the executive branch of central civil services for India's ministry of external affairs. It is a grade A and grade B job under the government of India. An ambassador IFS officer is a highly attractive position as the monetary benefits are really good and for the lifestyle it offers. Becoming an IFS officer is a prestigious position to have and is a dream for many. However, not all the candidates know how to become an ambassador IFS officer in India and how to prepare for the exams.
Refer to Course Details to know more about related courses and find details like Admission Process, Eligibility Criteria, etc.
How To Become An Ambassador IFS Officer In India?
The Indian Foreign Service or IFS is a service under the central government and the main diplomatic service of India. The main purpose of an IFS officer is to represent India in foreign countries and handle all external affairs of the country. They are responsible for trade, diplomacy, and cultural relations with foreign nations.
The UPSC or Union Public Service Commission, an agency responsible for recruiting candidates for central government officers, conducts the civil services exam. Any candidate who wishes to become an IFS officer has to undertake this exam and qualify for it.
The level of difficulty of this exam is very high and even clearing the civil services exam is not enough for you to join IFS. Every year, only 30 – 35 candidates are taken into the IFS, and given the smaller number of positions, the competition is tough.
Being good won't work. You will need to be the best at everything if you wish to work as an ambassador IFS officer of India.
Work Of An Ambassador IFS Officer
An IFS officer has the responsibility to represent India on foreign grounds. They are responsible for Indian missions on foreign will be in authority for the administration and activities of Indian missions abroad, and the forming and execution of the government's foreign policy. Indian Foreign Service (IFS) offers vast exposure to different cultures, ethnic, social, and political and social settings worldwide. An IFS Officer can be posted in 160 odd Indian Embassies and Missions abroad. They can also be allocated to institutions like the United Nations, UNESCO, World Bank, SAARC, etc. In India, they could be allocated as Passport and Visa Officers at various locations.
UPSC Civil Services Exam
Union public service commission of India conducts a yearly civil services examination to recruit candidates as grade A and grade B officers into the civil services under the government of India in various officer positions like IAS, IPS, IFS, and others. Any candidate aspiring to serve the government of India as a grade A or grade B officer needs to clear this exam. There are three phases in a UPSC exam, and for a candidate to be selected as an officer, they need to clear all three phases. The three stages in which a UPSC exam is conducted are:
UPSC Preliminary Exam
UPSC Mains Exam
UPSC Interview or Personality Test
UPSC Preliminary Examination
This is the first phase of the UPSC exam and is qualifying in nature. All the candidate needs to do is get a score above the cut-off marks. The marks obtained in prelims are not included in the final result. There are two papers in the UPSC prelims exam, namely GS Paper – I and GS Paper-II. Both the papers are Objective type with MCQs. The marks obtained in GS Paper-I are important for clearing the cut-off of the prelims exam, and GS Paper – II is qualifying in nature.
UPSC Mains Examination
Candidates qualifying in the prelims exams are allowed to appear in the mains examination. This is the second phase of the UPSC exam, and it consists of nine papers.
Paper A is of compulsory Indian language, which is qualifying in nature. Paper B of English is also qualifying in nature. The rest seven papers comprise Essay writing as Paper-I, General Studies I, II, III, and IV, and optional I and II, marks obtained in this are calculated for preparing the merit list.
UPSC Personality Test Or Interview
This is the last and probably the toughest phase of a UPSC exam. Candidates clearing the mains exams will have to sit in an interview before an unbiased board. The board will assess the candidate for their interests and social traits.
The interview board will ask a variety of candidates and, based on their response, analyze them for their suitability in a public service job.
After clearing all three phases, a candidate will have to go through document verification. This process is very thorough as the selected candidates will be working as the topmost officer of the country and will be responsible for various purposes, including maintaining law and order in the country. The marks allotted to candidates in the mains and the interview exam would be considered for their selection as an IFS officer.
Do Read:
Eligibility Criteria for The UPSC Exam
Before starting your preparation for the UPSC exam, it is important to verify whether you are eligible to sit in the exam or not. Below are some of the eligibility criteria that you must fulfill for giving a UPSC exam.
Age Limit
The minimum age for giving a UPSC exam is 21 years, and the upper age limit varies depending upon the different categories a candidate belongs to.
For the general category, the upper age limit of a candidate is 32 years, and the maximum number of attempts that a candidate can give the exam is six.
For EWS or economically weaker sections, the age limit is 32 years, and the maximum number of attempts is six.
For OBC or other backward caste categories, PWD, and defense personnel, the upper age limit is 35 years, and the maximum number of attempts is nine.
The upper age limit for SC and ST categories is 37 years, and there is no maximum number of attempts. A candidate can give an exam every year till they reach their age limit.
Educational Qualification
There are no minimum or aggregate marks for being eligible to sit in a UPSC exam. However, the candidate must hold a graduation degree from a government-recognized university or college. Candidates in their final year of graduation who have given the exams and are awaiting the results can also apply for the UPSC exam.
Nationality
There are different nationality criteria for different civil services positions. For a candidate to be selected as Ambassador IFS officer, they need to be of Indian nationality. Any candidate of foreign nationality is not eligible.
Indian Foreign Service (IFS) Training
Once a candidate has been selected as an IFS officer, they will need to undergo three months of training at the LBSNAA, Lal Bahadur Shastri National Academy of Administration in Mussoorie. After completing the training, the candidate will be assigned the job profile of Foreign Service Probationer or Officer Trainee. Indian Foreign Service (IFS) is unlike any other Civil Services, such as Indian Administrative Service (IAS) or the Indian Police Service (IPS). Two-third of the career of an Indian Foreign Service (IFS) officer is spent abroad, and only one-third of their career is spent at the headquarters of the Ministry of External Affairs (MEA) in New Delhi.
After completing their training that comprises several activities like horse riding and trekking in the Himalayas regions, learning foreign languages, the candidates move to New Delhi. In New Delhi, they undergo additional training at the Foreign Service Institute near the JNU campus. Here the candidates are trained in Foreign trade, Indian Foreign Service Pay, Leave and Compensatory Allowances (IFS-PLCA) Rules, and International Relations.
Within their training period, candidates also get to visit the United Nations or any south Asian country to understand the working of an IFS officer on an Indian mission. During this training, one also gets to travel to the nearby South Asian Countries or the United Nations to comprehend the operation of an Indian mission.
After completing this one-year training, the candidate will be placed for six months at any division of the Indian Ministry Of External Affairs for on-the-job training.
After completing on-the-job training, the IFS probationary officer will be assigned a CFL that is Compulsory Foreign Language like Chinese, Arabic, German, French, or any language allocated to them by the ministry that they will have to learn. The IFS probationer will be allocated an Indian Mission as Third Secretary.
After completing CFL and working as a third secretary, the Indian Ministry of Defence and the School of Foreign Languages takes a test to assess the ability of the Third secretary or the foreign service probationer. Once the probationer qualifies for the test in the foreign language, they will be given the position of Indian Foreign Service Officer.
After clearing the UPSC exam, it takes about three years for a candidate to get promoted to an IFS officer.
IFS Officer Job
After a candidate has cleared all the exams and has undergone all the training, and passed the foreign language test, they will be confirmed in the IFS as an IFS officer. They will now be posted as a second secretary in any of the divisions of the embassy like the political, cultural, consular, commerce, administration, or economic divisions. They can also hold the position of a Consul at any Indian Consulate for three years.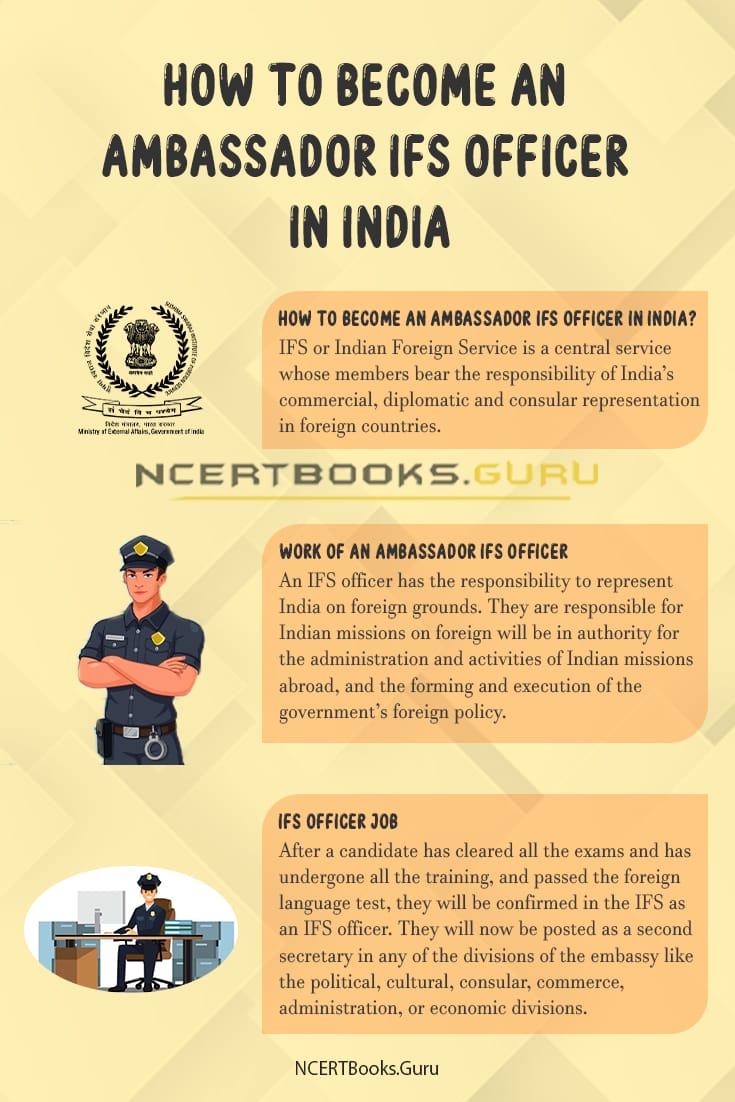 Ranking System At An Indian Mission In IFS
Language Trainee or Third Secretary
Second Secretary
First Secretary
Counselor (After 13 years of service)
Minister (After 17 years of service)
Ambassador
Ranking System At MEA Headquarters In IFS
Under Secretary
Deputy Secretary (9 years of Service)
Director (13 years of Service)
Joint Secretary (17 years of Service)
Additional Secretary
Secretary
Conclusion on How To Become An Ambassador IFS Officer In India?
The job of an IFS officer is very reputed and has a lot of perks, and that attracts a lot of candidates. However, becoming an IFS officer is not very easy, and not many candidates know how to become an ambassador IFS officer in India. We have discussed the main steps that a candidate would need to go through before getting confirmed as an IFS officer.