How To Become A DCP Deputy Commissioner of Police in India?: Do you want to become a Deputy Commissioner of Police in India? Are you wondering what the rules and regulations that are required for being DCP are? Do you want to know the qualities and criteria for becoming a DCP?
However, being a police commissioner isn't an easy task, but if you are capable enough of doing this job, you need to be more dedicated to your work and be honest. Being an officer means that you are a guardian of our society, and you have been given responsibility for various tasks.
Refer to Course Details to know more about related courses and find details like Admission Process, Eligibility Criteria, etc.
You will be a part of the government sector where you will be facing and performing your duty under the following challenges given to you for the wide fame and other lucrative packages. Therefore, if you want to become a DCP, you need to perform significant responsibilities given to you, such as investigating crimes, enforcing public law, maintaining a peaceful environment, doing justice to the victim, etc.
How to Become a Deputy Commissioner of Police?
To become a DCP, you will be considered a government servant who will assign a significant task. DCP means you are a senior category of IPS that is Indian police service officers. To become a DCP, you have to qualify for the IPS exam. However, IPS are the only ones who get promoted to the senior post hi as SP or DCP. Moreover, you need to crack the IPS exam at your initial stage to become a deputy commissioner.
Later, you will be considered a high-level government Aspirant. You will be cracking one of the most high-level government exams conducted by UPSC, the Union Public Service Commission. The state conducts the civil exam every year, and if you have a qualified IP S exam and become an IPS officer, you will be working under their Jurisdiction. Rover, after completing your previous jobs, IPS officer then later gets promoted to the post of DCP based upon the experiences. Being an IPS officer, your contribution and work will be counted while promoting you to a senior stage.
Rules and Responsibilities for DCP
To be a good deputy Commissioner of Police, you need to follow some of the rules and responsibilities with your dedication and honesty. These rules and responsibilities will be a good practice for you to practice the distinct activities. If you are a DCP officer, you will be known as the executive head of the district department.
Down listed are the primary rules and responsibilities for being a DCP-
It would be best if you were responsible for all your enforcement of laws and orders in the district.
Responsible for implementing policies and other activities that the state government and center government have introduced.
It would be best if you were well versed in the legal representation of the government.
You will have the power to control all the government branches like Zilla Parishad, panchayats amity, MLA, MP, other bodies like rulers and urban.
It would help if you were responsive and dedicated to Maintaining a peaceful environment across the district.
In case of any natural disaster, you must be eligible enough to power the enforcement of sudden laws that are needed to be implemented in their district and provide relief to the citizens.
You will be providing the power to maintain the coordination between the other stages of several government officers while you will be a leader.
You will have the power to work upon the authority in case of revenues.
You should monitor eyes your power well and appoint the power of Patwaris.
It would be best to inspect and investigate all the crime and other task activities of other officers.
Read Similar:
Eligibility Criteria for Becoming a DCP
If you want to pursue your career in becoming a DCP officer, we have mentioned the essential eligibility criteria for you that will help you become a DCP officer.
Academy qualification
you should have passed your 12 standards from any stream from a recognized educational board.
You should have scored at least 50% of marks in your 10 + 2 exams.
You should possess good communication skills and learning skills.
You must graduate with a bachelor's degree in any field from a recognized university or institution.
You must have passed the eligibility criteria for the UPSC exam.
If you have done your master's, then you are eligible for the UPSC exam.
You should have taken a qualified IPS exam.
Nationality or citizenship
To pursue your career or to become a DCP officer, then you need to follow the citizen or nationality guidelines –
You must have Indian citizenship.
If you don't have Indian citizenship and want to become a DCP officer, you have the citizenship for Nepal citizenship or Bhutan citizenship.
If you belong to a community and have escaped from India before the date of first January 1962 under the permanent settlement scheme
If you have come from other countries to India under the permanent settlement scheme, countries like Sri Lanka, Pakistan, Tanzania, Uganda, East African countries like Kenya, Vietnam, Ethiopia, Malawi.
You are eligible for the Union Public Service Commission exam that is the UPSC exam.
Age Criteria
If you want to become a DCP officer, then you should fulfill all the age limit criteria-
for becoming a DCP officer, the maximum age limit required is 32 [as per the date of an August 1 in the year of examination]
For becoming a DCP officer, the minimum age limit required is 21 years.
Category relaxation offers –
Based upon your category, such as general, ST/SC, or OBC, you are provided with some category relaxation offers. These offers are listed below-
ST/SC candidate- extended up to a maximum of five years.
OBC candidate – extended up to a maximum of three years.
A citizen of Jammu and Kashmir state- extended up to a maximum of five years.
Aspirate from defense service panel- up to five years.
Ex-servicemen aspirants or officers of Commission later turned into military service within five years have an extension of up to five years.
Disabled candidates such as blind, deaf, or handicapped will be getting an extension up to 10 years.
Number of attempts according to different categories-
general category candidate- six attempts, up to 32 years.
Schedule caste or scheduled tribe- no age limit, up to 37 years
Other backward classes- 9 attempts, up to 35 years.
Physically challenged candidate – 9 attempts.
Physically challenged Schedule caste or schedule types are provided with unlimited attendance.
Fitness criteria
If you want to become a DCP or IPS officer, then you need to follow the fitness criteria as listed below-
For men
Maximum height- 160 cm (for schedule cost or schedule tribe) – 165 centimeters.
Chest Breadth- 84 centimeters.
Eyesight- 6/6 or 6/9.
For woman-
Maximum height- 145 [scheduled caste or scheduled tribes or other nationalities such as Nagaland tribes, Assamese, kumaonis, and Garhwalis) – 150cm.
Chest breadth- 79 cm.
Eyesight-6/6 or 6/9.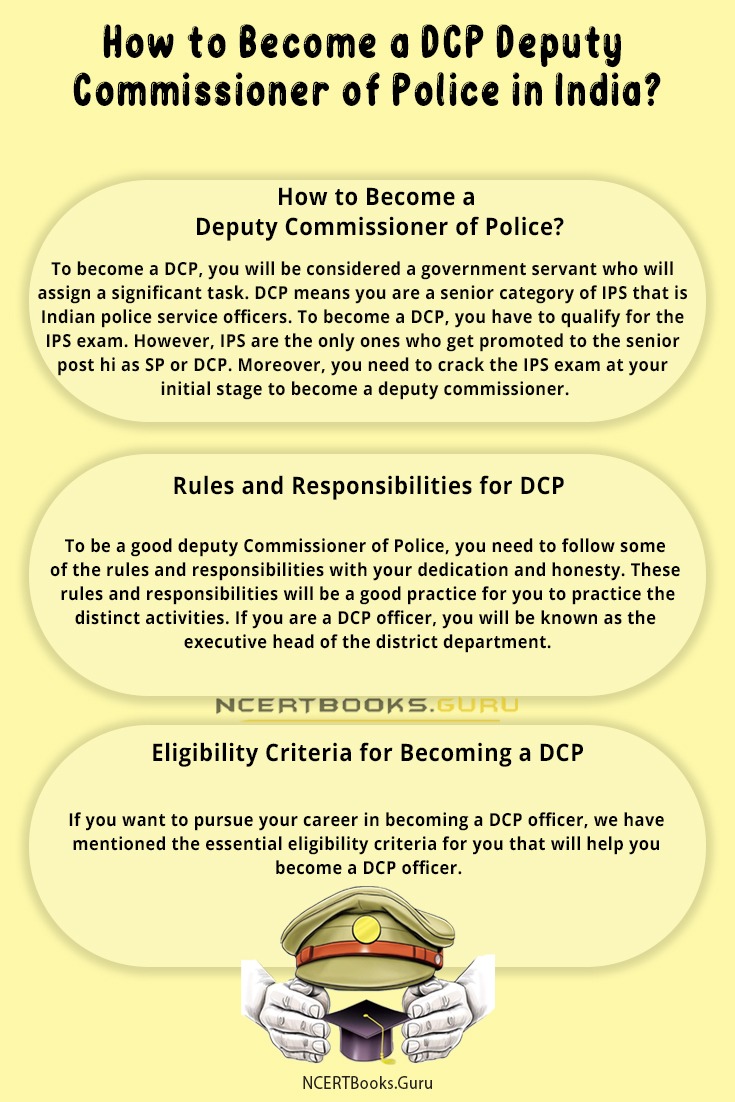 Benefits and Power of a DCP Officer
We have mentioned some of the lists of allowance power and benefits received by the DCP officer-
Training allowance.
Ration money
Uniform allowance.
Commando alliance.
Gratuity
Pension. Next and transport allowance.
Metropolitan alliance.
Medical facilities.
Provident fund.
Kit maintenance allowance.
Exam- UPSC-
Preliminary exam
Mains exam
Interview process.
Preliminary Exam details
| | | | | | |
| --- | --- | --- | --- | --- | --- |
| PAPER | TYPE | NO. OF QUESTIONS | MARKS | NEGATIVE MARKING | DURATION |
| PAPER 1 | OBJECTIVE | 100 | 200 | . 33 | 120 minutes |
| PAPER 2 | OBJECTIVE | 80 | 200 | . 33 | 120 minutes |
Main exam details-
PAPER
SYLLABUS
MARKS
DURATION
ESSAY
Essay on any topic
250
3 HR
3HRGENERAL STUDIES 1
Indian Heritage, Culture,
Geography
250
3HR
GENERAL STUDIES 2
Constitution, Governance,
Social Justice
250
3HR
GENERAL STUDIES 3
Technology, Environment,
Disaster Management
250
3 HR
GENERAL STUDIES 4
Ethics, Integrity,
and Aptitude
250
3 HR
OPTIONAL SUBJECT 1

OPTIONAL SUBJECT 2

Any

Any

250

250

3 HR
Interview Process
Syllabus details-
This is a question and answers session
This exam is of 275 marks.
The interview is nothing but a Personality Test.
Even current affairs and General knowledge questions can be asked for an interview.
Salary of a DCP Officer
Your salary depends upon the experiences and the work profile you have maintained of being a DCP officer. However, your salary may differ from rupees 160000/- per annum to rupees- 40,00,000/- per annum.
Note- you need to prepare yourself well for all your exams that you will appear for DCP or IPS. You should have good journal knowledge and other field knowledge at your point. Moreover, do not lightly take the exam as it is always said that hard work always pays off.
Conclusion on How To Become A DCP Deputy Commissioner of Police in India?
Therefore, being a DCP will be considered a government service post that has always been in most demand. If you want to protect our society or our nation, then it is a perfect choice for you to pursue your career. To conclude, all the details we have mentioned above are required for you and will be considered the most helpful information that will help you become DCP. The information mentioned above will help you find your ways for pursuing and applying for the exams and other required fields.