If you are looking for a guide How to become DSP in India? Then you are at the right place. A Career as a police officer is one of the most prestigious positions in society. One of the positions is DSP [Deputy Superintendent of Police]. DSP is a police officer grade at the Indian police force. Now, below you will know all the details about eligibility criteria, qualifications, selection process, etc.
Who is DSP [ Deputy Superintendent of Police]?
Deputy Superintendent of Police or DSP is the highest-ranked officer in a police department controlled by the state government. He is the officer who works under SP or superintendent of police. And he works towards enforcement of the law to maintain the civic rights of people, and to keep law and order under control.
How to become a DSP in India after 12th?
As you are thinking about how to become a DSP in india. You might also be thinking about what are the educational qualifications you need, eligibility criteria, and the selection process. To know that, read the article till the end and know everything about how you need to become a DSP.
Now we will check out step by step.
Educational Qualification
The person who likes to become the DSP has to complete his 12th from any of the stream either maths, science, or commerce background with min 55% of marks.
After completion of 12th they should graduate with a degree from any stream like BA/BS.c/B tech/B Com/BBA/BE/BA LLB from a recognized UGC university or UGC approved college.
Eligibility Criteria
To become DSP in India you need to have some requirements. The eligibility criteria are – nationality, age limit. Let us know about these requirements in detail.
Nationality: Candidates to become DSP should be a citizen of India.
Age Limit: Age limit should be between 21 to 30 years old.
In this, we also have age relaxations. Look At the table below.
| Categories | Age Relaxation |
| --- | --- |
| For SC/ST/OBC | 5 years |
| For Ex- servicemen | 3 years |
| For NCC cadet corps instructor | 5 years |
Physical requirements for DSP
Height
| Categories | Height |
| --- | --- |
| For Men | 168 cm |
| For Women | 155 cm |
Weight: The weight of the candidate depends on the candidate's age and weight.
Chest: The minimum chest should be 84cms and with an expansion of 5cms.
Eyesight: 6/9 or 6/6 is the eyesight for a good vision of a person.
Physical Efficiency Test
The physical efficiency test includes the following
100 meters run in 15 sec
800 metres run 170 seconds
Shot put (7.2kgs) 5.60mtrs
Long Jump 3.80mtrs
High Jump 1.20mtrs
You can also check for course details to know more about eligibility, test process, the skillset needed, job profiles, salary, scope, etc.
What are the exams you need to take to become DSP?
If you want to be a DSP, then you have to clear the civil service examination which is conducted by the UPSC (union public service commission). This exam will be conducted in three different phases that include the following:
Preliminary exam (2 objective type papers)
General Studies – Paper1
General Studies – Paper 2
Mains(9 papers)
In this, you need to qualify for two papers, and marks of 7 papers are considered.
DSP Exam Syllabus for both Prelims & Mains Exam
Preliminary Exam Syllabus
Paper 1
Indian History
General Science
Indian Politics
Current Events
General Issues
Indian Geography
World Geography
Social Development
Economic Development
Paper 2
Communicational Skills
Interpersonal Skills
English Skills
English Comprehension
Language skill that is chosen by the candidate
Decision-making skills
Problem-solving ability
Mental Ability
Basic Numeracy
Mains Exam Syllabus
Paper
Syllabus
Essay
Essay on any topic
General Studies 1
Indian Heritage, Culture,
Geography
General Studies 2
Constitution, Governance,
Social Justice
General Studies 3
Technology, Environment,
Disaster Management
General Studies 4
Ethics, Integrity,
and Aptitude
Optional Subject 1
Any
Optional Subject 2
Any
Paper 1
Indian Language
(Anyone of the language)
Paper 2
English language
Books & Study Material for DSP Exam Preparation
If you want to crack the above exams you need to have good general knowledge and current affairs. For that you need to read the newspaper more.
Some of the newspapers I suggest for you is Hindu Newspaper, Jagran josh, Economic Times and Indian Express
And some of the books I suggest
Indian Polity For Civil Service Examination -Indian Polity by Laxmikanth
Indian Year Book
Indian Economy by Ramesh Singh
Oxford Geography Atlas
A Brief History of Modern India
Indian Art And Culture
Fundamentals of Geography (NCERT)
Concise History of Modern India by Sujata Menon
Facets of Indian Culture
The Constitution of India by P.M Bakshi
Indian Economy by Mishra & Puri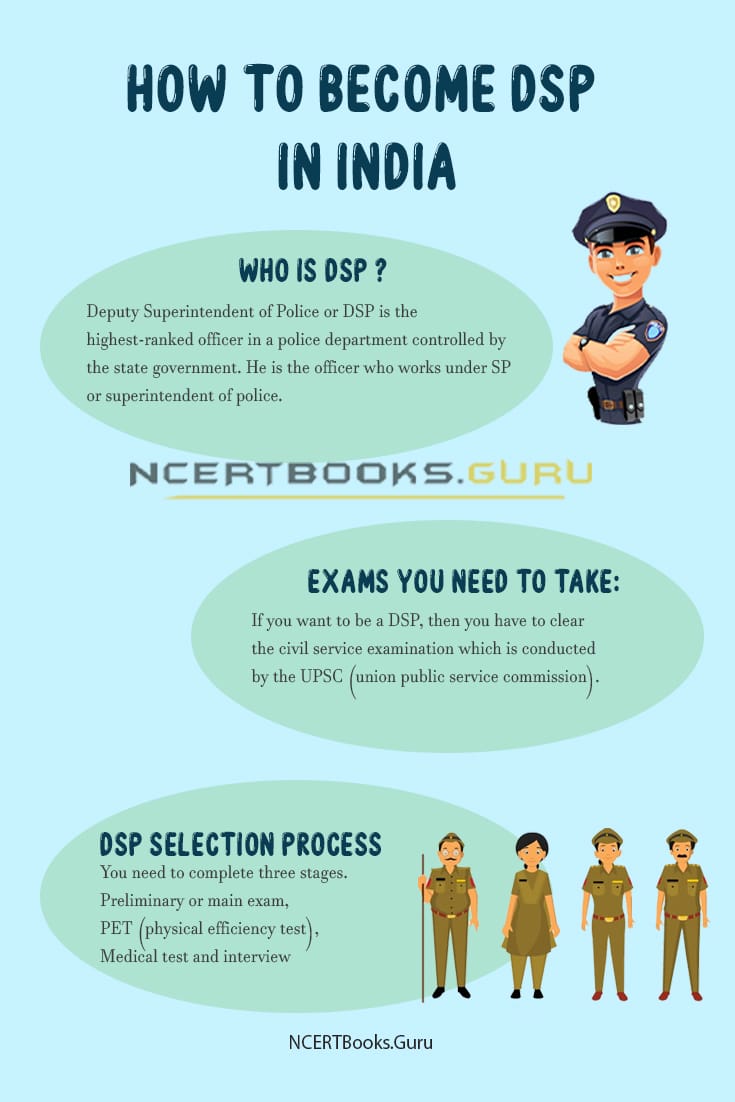 DSP Selection Process
If you want to become a DSP successfully. You need to complete three stages.
Preliminary or main exam
PET (physical efficiency test)
Medical test and interview
Also, Refer: How to become Sub Inspector in India
Facilities and Salary offered to Deputy Superintendent of Police [DSP] in India
With much responsibility and maintenance of state law and order, this DSP job comes with a good amount of salary and benefits.
A DSP can get pay around Rs.15,600 – Rs. 39,300. The DSP also gets several benefits along with this salary which includes,
Residence for staff and self quarter for free or at a minimal rent
Domestic helpers like gardeners, cooks, and security guards
An official vehicle with a driver and a beacon
Telephone connection paid by the government
Electricity is paid for by the government
7-star accommodation during official tours
The facility of study leaves, the costs are borne by the government
Pension paid to the spouse in future
FAQs on How to become DSP in India
1. Can I become a DSP directly?
Examinations are performed annually to appoint police forces to the DSP level directly. Inspectors are often promoted to DSP after the mentioned years of service.
2. What is the salary of a DSP in India?
The salary of DSP will be Rs. 15,600 – Rs. 39,300.
3. Is DSP a good post?
Yes, the highest rank given in the Police department through State PCS is DSP. The post of the DSP is associated with a handsome salary, many other perks, and due respect in society. The job also offers a great chance of promotion during the service.
Conclusion
To Conclude, this was all about How to become DSP in India. Hope this article guides you How to become DSP after the 12th in a proper way by guiding you with all necessary details. Still, if you have any doubts about this simple guiding article you can comment below in the comment section.