How to become S.P. Superintendent of Police in India: An S.P or Superintendent of Police is the top officer of a district police force. It is important to understand the various positions in order to know how to become a police officer. Superintendents have three ranks in the police force: Assistant Superintendent of Police (ASP), Deputy Superintendent of Police (DSP), and Superintendent of Police (SP).
It is the responsibility of an S.P. to monitor and maintain law and order and prevent crimes from occurring. In the event of large gatherings, such as rallies or festivals, he must ensure that arrangements are made to ensure safety and security. Keeping a district safe is an important part of an S.P's duties, as is preventing any negative events such as corruption, terrorism, and other acts of negligence.
Refer to Course Details to know more about related courses and find details like Admission Process, Eligibility Criteria, etc.
Eligibility Criteria To Become S.P. Superintendent Of Police In India?
Students must pass the UPSC civil service exam to be eligible to apply for the post of SP. In addition, each student must meet several other requirements. Applying for the program is only possible if you meet all the key requirements.
Qualifications
Students interested in applying must have completed their 10+2 from an accredited institution. A minimum of 50% aggregate marks are required. Students may receive relief in some cases. In addition to the completion of high school, the candidate must also be a college graduate. You do not need to pursue a specific course to become a Superintendent of Police, but you will need a college degree.
Physical Requirements
Having a good physique and being healthy are required for the position of SP. Students must pass many requirements during both the entrance test and physical examination. All states have similar requirements for the physical examination. The applicant must, however, meet the following criteria.
For Male Candidates
The number of male applicants for the post of Superintendent of Police is higher. The requirements include:
The applicant must be at least 165 cm tall. This requirement is primarily for students from general categories. However, candidates from other categories, such as SC or ST, can receive an exemption of 5 cm.
The chest size of the candidate must be 84 cm in width along with a 5 cm expansion. Various parameters are taken into account when measuring the chest requirement.
Perfect eyesight is required of all applicants. The standard for good eyesight is 6/6 or 6/9.
For Female Candidates
The physical structure of males and females differs. Thus, female applicants would be required to meet the following requirements.
For the general category, candidates for this position must measure at least 150 cm tall. There is a 5cm height relief allowance for the SC or ST categories as well as all other classes.
Women applicants must have a chest measurement of 79 cm. A chest expansion of 5 cm is also required. This means that the applicant's chest must expand by 5 cm while inhaling.
Applicants would have to comply with these requirements. There is a possibility that you will not be able to proceed if you do not meet the minimum physical requirements. Furthermore, to gain admission to the SP program, students must have good physical health. Students with any type of disability will not be accepted. A number of physical fitness tests are considered in the exam to evaluate an individual's health.
Nationality
In order to qualify for Superintendent of Police, all applicants must be Indian nationals. Every government job requires an Indian resident nationality and there are no exceptions.
Age Requirement 
A minimum age requirement would apply to students applying for the SP post. Your age must be within the given range.
The minimum age requirement for the position of SP is 21 years.
The maximum age requirement for the position of SP is 35 years.
Category OBC/SC/ST receives relief according to state regulations.
Read More:
Salary of an S.P
Salary for Police officers is influenced by their post and years of experience. Despite the pressures and long hours students face, they receive all the benefits of being prominent members of society, as well as gaining dignity and respect. In addition to their salary, Indian government employees enjoy numerous other perks.
Starting salaries for entry-level Additional Superintendents of Police (A.S.P.) range between Rs. 68,000 and Rs. 70,000. Those in higher positions, such as an S.P officer, earn around Rs. 80,000/- a month. Senior Superintendents of Police earn an average pay of Rs.1 lac per month.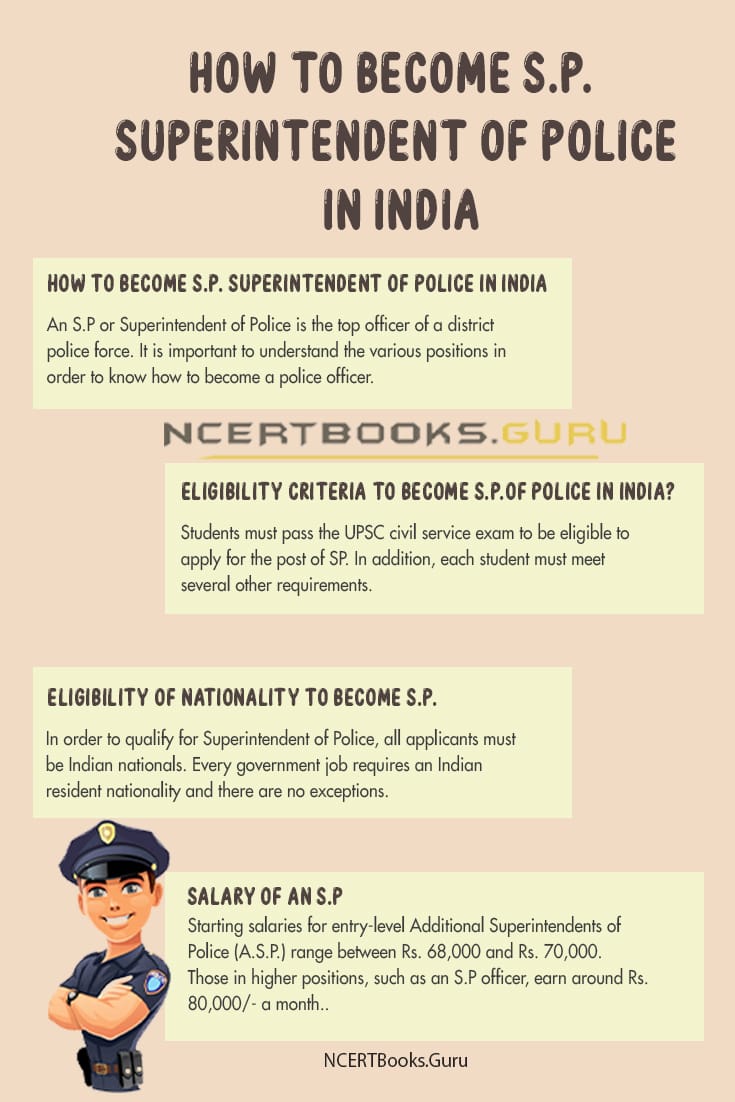 Conclusion on How To Become S.P. Superintendent Of Police In India?
You can become a Superintendent of Police by following all the steps and preparing well for the exam. You must be eligible and responsive in order to obtain a high government position. You must follow a schedule as an SP to ensure consistency.
Applicants initially seem passionate, but eventually, give up after reading countless topics and refusing to work hard. The most important thing is to keep a positive attitude and follow the schedule every day. Additionally, you must learn about the role of an SP and exhibit enthusiasm for the position.