Home Science Courses After 12th: Home science is a unique degree where home and science work simultaneously. The course is entirely linked with the household tasks such as cooking, managing household activities, the family environment, and other functions related to the home and family.
After the completion of this degree, you can have the job of your dreams. Either you can work under any firm or can be your own boss. The monetary benefits are also high in addition to other allowances. Generally, it has been misinterpreted that home science is specific for girls but it is not a gender-specific course, boys can also pursue it.
About Home Science Course Details after Class 12th
Home Science course offers you B.Sc, B.A., diploma, and certificate degree after the completion of class 12th. It deals with the science involving food, nutrition, health, human development, etc. Through the knowledge of this course, you will get to know the real meaning of better living.
The course also provides a handful of skills and knowledge of resource management, food, and nutrition, child education, etc. You will get to know a lot about the family ecosystem, healthy diet, ways for body detoxification, and a lot more.
List of Home Science Degree Courses
The list can be as follows:
B.Sc. in Home Science and Management
BA in Home Science
Diploma in Home Science after 12th
BA in Home Management
Certificate in Home Science
B.Sc. in Home Science and Nutrition
B.Sc. in Home Science
Courses of B.A and B.Sc in Home Science After 12th
The Duration of Home Science courses after 12th can be completed in a time span of 3 years.
The eligibility for the Home science degree says:
You must have cleared class 10+2 with a minimum score of 50%.
You must have studied either home science, math, biology, physics, or chemistry as an important subject in class 12th.
The Diploma Course After 12th in Home Science can be pursued after class 12th. The course follows the semester-wise pattern. You can complete these courses in 1 to 3 years of time span. To be eligible for the program you need to score at least 50% marks in class 12th.
Certificate Courses in Home Science After 12th
The certificate course can be completed in just 3 to 6 months. These are also known as short-time courses for home science which teach you the exact topics related to home science. You need to score at least 45% to 50% marks in class 12th to be eligible for this program.
Home Science Course Fees
The course fee structure varies according to the college. However, you can find the approx fees details here:
| | |
| --- | --- |
| Name of Courses | Fees  |
| Bachelor of Science | Rs. 55,000 – 80,000 |
| Diploma in Home Science | Rs. 20,000 – 35,000 |
| Bachelor of Arts in Home Science | Rs. 40,000 – 65,000 |
| Certificate Course in Home Science | Rs 10,000-50,000 |
List of Home Science College In India
The colleges are available throughout India due to the demand for home science degrees. You can find the home science course list:
Faculty of Life Sciences, Kurukshetra University
Amity University, Noida
Nalanda Open University – N O U
Lady Irwin College, Delhi University
Calicut University
Indian Institute of Professional Studies
BFIT Group of Institutions
Lucknow University
GD Goenka University, Gurgaon
CCSU – Chaudhary Charan Singh University
Institute of Home Economics
Thiruvalluvar University
Shivaji University Kolhapur
NIMS University
B H U – Banaras Hindu University
AMU – Aligarh Muslim University
Must Refer: List of Diploma Courses After 10th in Medical Field
Home Science Syllabus
The subjects in all the 3 years vary according to the colleges. But you can find the relevant topic details here:
Child Rights and Social Action
Fundamental of Textiles
Food Science and processing
Fabric and Apparel Science
Lifespan Development
Fundamentals of Food Nutrition & Food Science
Exercise physiology
Food and nutrition
Sociology
Advanced study of counseling and physiological testing
Chemical analysis of food
Communication skills
Physiology and Promoting Health
Ethics
Communication and Extension
Human development
Fashion Studies
English Communication
Psychology
Sustainable Development
Relevant branches of Science
Resource management
Clothing and textile
Environmental Science
Career Scope of Home Science After 12th
There are various career options available after the completion of a home science degree. But you can also go for the master's and then a doctoral degree in home science and do the relevant domains if you don't want to work. You can choose any of the following work domains for your future:
Teaching and Research
Clothing and Textile
Home Management
Healthcare Industry
Production Industry
Development Studies
Nutrition and Dietetics
Fashion
Social Work
Food Industry
Service and Tourism Industry
Do See:
Self Employed Career Options in Home Science
You can also run your business in various fields after the completion of a home science degree. These few domains will help you to choose the right business option for you:
Catering Business
Fashion Designer Boutique
Confectionery and Bakery
Health Care Centres
Coaching Centres
Interior Designing trainers
Child Care Centres
Grooming Centres
Hobby Centres
The companies are offering careers in home science in these job profiles:
Healthcare Counsellor
Executive chef
Assistant Dietician
Medical coder
Product Executive
Health Educator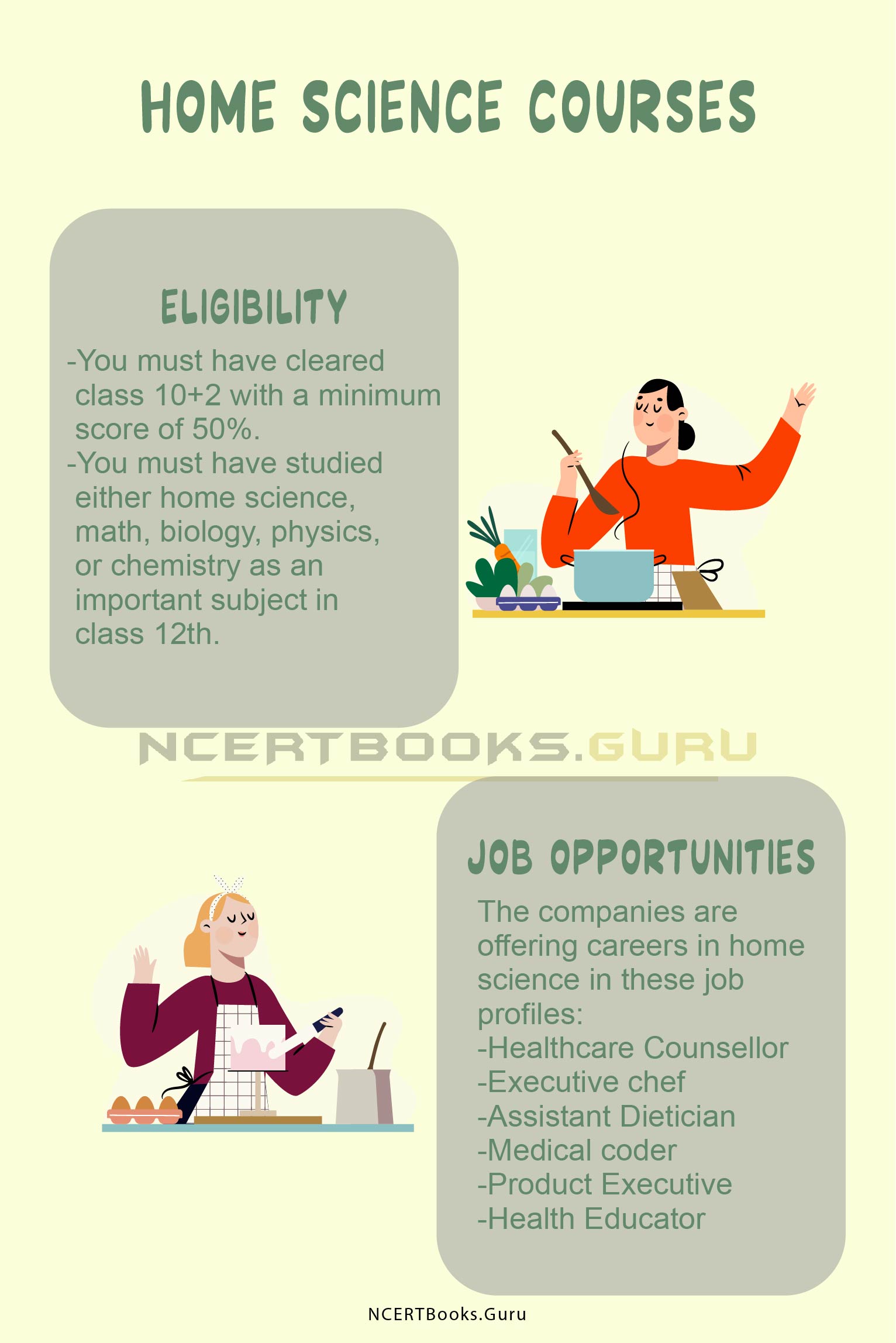 Top Recruiters that Hire After 12th Home Science Course Holders
The top recruiters for home science degree holders are:
Indegene Lifesystems
Max Hospital
Medanta
The Leela
ITC Limited
Aon Hewitt
ZYLA health
Taj Hotel and Chains.
In Silico Biology
Accenture
Jg Group
Home Science Salary in India
The salary is quite good. Even if you are a fresher you can earn around Rs 30,000 per month. After gaining experience you can see a rise in your salary structure which can be around Rs 80,000 to Rs 1,00,000. However, you may find the detailed job profile wise salary here:
| | |
| --- | --- |
| Assistant Dietician | 2. 2 to 2. 5 Lac |
| Executive Chef | 3. 5 Lac |
| Health care Counsellor | 2 to 2. 8 Lac |
| Health Educator | 1. 5 to 1. 8 Lac |
| Medical Coder | 3 Lac |
| Product Executive | 2. 5 to 3 Lac |
FAQs on Best Courses After 12th Home Science
1. What are the subjects taught in Home Science? 
The important topics which are taught in the Home Science degree are fashion practical, sustainable development, Nutrition, interior designing, Textiles Extension, Education, Human resources, entrepreneurship management, childcare, Human Development
2. Does Delhi University offer a Home Science degree?
Yes, Delhi University offers a Home Science degree. The colleges in DU which offer Home Science Courses after 12th are:
Lady Irwin College
Institute of Home Economics
3. Can I open my own business after the completion of my home science degree? 
Yes, you can absolutely open your own business after the completion of a home science degree. You can open Confectionery and Bakery, start Catering businesses, Hobby Centres, Child Care Centres, and more.
4. In what areas can I work after the completion of a home science degree? 
Ans. There are a number of job opportunities available for home science degree students. You can work in these domains such as fashion, teaching, social work, development studies, dietetics, food industry, home management, etc.
Final Words
After reading this article we hope you have a detailed description of the Home Science courses after the 12th. Now you can build your career in the same. However, home science just not only tells you about the family ecosystem, but it is a best broder course which teaches a lot to you. If you find any queries regarding course details, you can ask them in the comment section as NcertBooks.Guru is always there to help you.