Earth Science Courses: If you are interested in Earth science and its related courses then you are at the right place. In India, there are several graduate and undergraduate courses available in the field of earth sciences and its related aspects. Thus, the course is very helpful for the geologist, miner, mineralogist, marine geologist, seismologist, oceanographer, environmentalist, paleontology, and a lecturer.
Earth Sciences course will teach you the important major and minor concepts of the earth in detail. This article will provide you with the latest information on the list of Earth sciences courses, your eligibility to apply for the best & top colleges, job opportunities for earth science graduates, career scope, and more.
Earth Science deals with geography, geology, paleontology, seismology, and many other subjects. The course curriculum will not only teach you about the related facts of earth, but it will consider its nearby creation also. You will get to know about the various combinations of geography, environmental science, chemistry, and geology.
The course creates scope for the students at various levels of job profiles. Students can easily complete the UG, PG, and Doctoral courses in 3-2 years respectively. As with the changes in the environment related to natural disasters, pollution, excess mining, deforestation, and more the need for earth sciences courses is important.
B.Sc Earth Science Courses Overview
You will get the basic details about the earth science courses here in the tabulated form.
| | |
| --- | --- |
| Program Level | Degree |
| Duration of the Program | 3 Years |
| Examination Type | Year |
| Eligibility | 10+2 |
| Admission Process | Entrance Exam and Merit-Based |
| Average Program Fee | up to Rs. 1 Lakh |
| Available Programs | UG and PG level |
| Job Options | Seismologist, Mining Engineer, Survey Geologist, Hydrogeologist, Geo-Science Engineer |
| Average Salary | Rs 2,00,000 to Rs 8,50,000 |
Earth Science Eligibility for UG and PG Courses
As the students, few entrance exams need to be eligible for the program. But it is also important to know the other eligibility-related aspects. Thus, You can find the detailed list for the UG and PG courses.
B.Sc Earth Science Courses Eligibility 
Students who want to apply for the B.Tech or B.Sc courses must have completed their class 12th in the science stream.
They must have secured a minimum grade of 50% or more than this.
They can also attempt the entrance exams such as JEE Mains, and JEE Advanced
M.Sc Earth Science Courses Eligibility 
Students must have secured at least 55% marks in their bachelor's if they want to apply for the M.Tech or M.Sc degree.
They can also appear for the GATE entrance exams.
Also Check: Environmental Engineering Courses 
Earth Science Courses Entrance Examination
In addition to JEE for bachelor's and GATE for master's students can also look for these exams:
Indian Institute of Remote Sensing (IIRS)
Indian Institute of Science Education & Research (IISER), Bhopal
Manipal Entrance Test
Specializations in Earth Science Degree in India
There are 4 main branches of earth science Geology, oceanography, meteorology, and astronomy. But these courses are further classified into the B.Sc, B.Tech, M.Sc, M.Tech, and P.hD degree. Even there are various certifications courses available too.
The other branches in which you can pursue are Astrophysics, Cosmology, Spectroscopy, Photometry, Heliophysics, Helioseismology, Astroseismology, Exogeology, Pedology, and more.
Geology: It is the study related to the  Earth materials, Earth structures, and Earth processes.
Meteorology: It will teach you the modules related to the atmosphere and the ways the atmosphere determines Earth's weather and climate
Oceanography: You will study the ocean and its related aspects such as composition, movement, organisms, and processes for the oceans.
Astronomy: You will study the universe, planets, and their related domains. 
Free Earth Science Courses Online
There are various institutes which are offering undergraduate degree programs in Earth Sciences. As these courses are offered online so even sitting at your home you can study from the abroad institutes. Here, are the few listed free online earth science courses:
Massachusetts Institute of Technology offers an Environmental Earth Science course and GPS: Civilian Tool or Military Weapons course
from Open University you can pursue the Practicing Science: Reading the Rocks & Ecology course
Strange Bedfellows: Science and Environmental Policy course from Massachusetts Institute of Technology
You can pursue The Environment of the Earth's Surface course at the Massachusetts Institute of Technology
Certificate Online Earth Science Courses for Teachers
Are you working as a teacher? Are you looking for online earth science courses? Then you are at the right place. Here we are offering you several courses in Earth science and its related aspects which you can easily pursue while working and at your convenient hours.
There are various online certification courses available in India by the top-ranking institutes. You can complete these courses in just 8 to 16 weeks. Some institutes may charge you fees for the certificate but some will provide you for free.
| | |
| --- | --- |
| Available Courses | Colleges  |
| EUCalc-Pathway Finder to a low-carbon EU-society | Delft University of Technology- Edx |
| Geomorphic Processes Landforms and Landscapes | Offered by IIT Kanpur- Swayam |
| Natural Hazards | IIT Kanpur- Swayam |
| Sustainable Energy | Offered by MIT- Edx |
Do Refer: 10 Lines on Earth Day for Students and Children in English
Earth Science Syllabus PDF
The subjects which are Earth Science specifically involved are related to the field which students are pursuing. As there are more than 100 fields related to earth sciences in which you can hold your degree. Some of the important subjects which are involved in the earth science course syllabus are
Drilling Engineering
Indian Stratigraphy
Economic Geology
Paleontology
Geography
Sedimentology
Structural Geology
Geochemistry
Geomorphology
Mineral Science
Statistical Methods of Geosciences
Seismology
Marine Geology
Remote Sensing and GIS
Geochemistry
Metamorphic Petrology
Geotechnical Engineering
Stratigraphic Principles
Igneous Petrology
Geology
Geo-Mechanics
Paleontology
Engineering Geology
Environmental Studies
Ore Geology
Hydrogeology
Sedimentary Petrology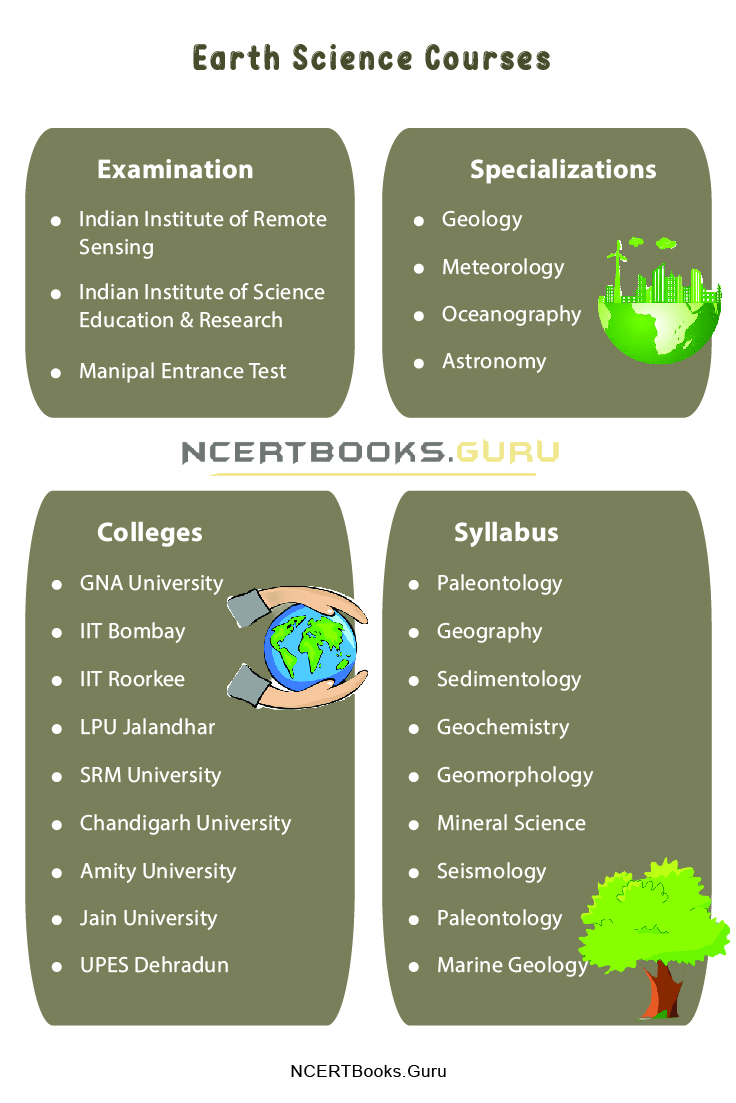 Top Colleges for Earth Science Degree in India
As the earth science degree offered in both bachelors in engineering and science domains. Thus, you can pursue the top colleges' list for the course.
GNA University, Phagwara
IIT Bombay
UPES Dehradun
IIT Roorkee
NIIT University, Neemrana
LPU Jalandhar
NIT
Jain University, Bangalore
SRM University Chennai
Chandigarh University
GD Goenka University, Gurgaon
BML Munjal University, Gurgaon
KL University Guntur
Amity University
Must See: 
Salary for Earth Science Courses
Earth Science degree holders are offered a spontaneous salary. The minimum salary after graduation can be around Rs 15,000 and it goes around Rs 2,00,000 for a fresher. But with the experience, you will surely see a few increments in your salary structure. Here, are the salaries with job titles shown:
| | |
| --- | --- |
| Job Profile | Salary Per Annum |
| Geo-Science Engineer | Rs. 2,50,000 – Rs. 8,60,000 |
| Lecturer | Rs. 3,00,000 – Rs. 7,20,000 |
| Mining Engineer | Rs. 2,64,000 – Rs. 8,50,000 |
| Petroleum Geologist | Rs. 2,40,000 – Rs. 8,50,000 |
| Seismologist | Rs. 2,00,000 – Rs. 8,00,000 |
FAQs on Career in Earth Science Courses
1. What is the scope after earth Science Courses? 
Ans. The companies such as meteorological departments, disaster management departments, mining companies, oil, and natural gas companies, etc. are working to preserve the environment and our planet earth from the increasing pollution and other causes affecting the earth and making it even worse. Thus, to protect nature earth science specialists are needed these days and the scope is still increasing day by day.
2. What are the career options for the Earth Science Students? 
When you have completed the degree in Earth sciences you have ample career options to pursue your career. The options which are available for you are Environmental scientist, Petroleum Engineer, Geologist, Oceanographer, Research Associate, Environmental lawyer, and Environmental Engineer
3. Who are the top recruiters for the earth science degree holders? 
Various companies hire students from the earth Science domains. The top recruiting firms are Minerals and Metals Trading Corporation (MMTC), Geological Survey of India (GSI), Environmental protection agencies, Oil and Natural Gas Commission (ONGC), Hindustan Zinc Ltd., Central Ground Water Board (CGWB), Mineral Exploration Ltd., ISRO, GIS, and Remote sensing
4. What is the fee structure for Earth Science Course?
Ans. At the UG level, the minimum fees are Rs 8,000 to Rs 1,70,000. For PG courses the minimum fees are Rs 20,000 to Rs 2,20,000. The fees also vary according to the private and government colleges, infrastructures, and other related aspects.
5. Is Earth Science a difficult course? 
Ans. No, an earth science course will teach you about the things which are generally way more important to be known by every person on this planet. The course is not so difficult if you are keenly interested in knowing about the Earth and its related domains.
Summing Up
It is important for everyone to understand our Earth and how its system works. Only then it is possible to create awareness among the people that protecting our earth from damage is necessary. While studying earth science courses, students will be able to get our planet, protect its surface, care for its atmosphere, safeguard its water and sustain life. Thus, the course is a great step towards the protection and working of our environment.
If you are planning to hold a degree in earth sciences then you should go further to investing in new techniques to save our planet earth for a better future. In your journey Ncertbooks.guru is therewith and you can always ask your doubts in our comment section. For more course details in any kind of field, check this available page link.