Pure Science Courses: Pure sciences are concerned with the investigation of natural phenomena in order to comprehend them and construct scientific theories to explain them without regard for their practical application. It involves an experimental approach of examining nature in an effort to accomplish the need to know. Pure sciences include physics, chemistry, biology, and astronomy.
Science has just touched the surface of the world's fundamental principles. Unlike students of applied sciences, who tackle specific existing challenges, all effective scientists are motivated by the pleasure of discovery.
This article is specially designed for students who want to pursue professional courses in pure and applied science in the future. The benefits, salary, fees structure, duration, eligibility, top universities, and career choices of Pure Science Courses after 12th class are discussed in the below section.
Get to Know More about other types of Course Details Streamwise, and Category wise.
Pure Science Courses List
Pure Science courses have high popularity among students. Here we are giving the list of diploma, UG, PG, and Doctorate courses in the Science stream.
UG Courses
Bachelor of Medicine and Bachelor of Surgery (MBBS)
Bachelor of Dental Surgery (BDS)
Bachelor of Pharmacy
Bachelor of Medical Lab Technology
Veterinary Science & Animal Husbandry (BVSc. AH)
Physiotherapy (BPT) or Occupational Therapy (BOT)
B. Tech/BE in Biotechnology
B.Sc Biotechnology
B.Sc. IT
BSc Microbiology
B.Sc. Bioinformatics
B.Sc Horticulture
B.SC Forensic Science
BSc Forestry
BSc Clinical Research & Healthcare Management
B.Sc. Chemistry
B.Sc. Physiotherapy
BSc Zoology
B.Sc. Botany
BSc Agriculture
BSc Nursing
B.Sc. Radiology
B.Sc Cardiac Care Technology
B.Sc. Physics
B.Sc Respiratory Therapist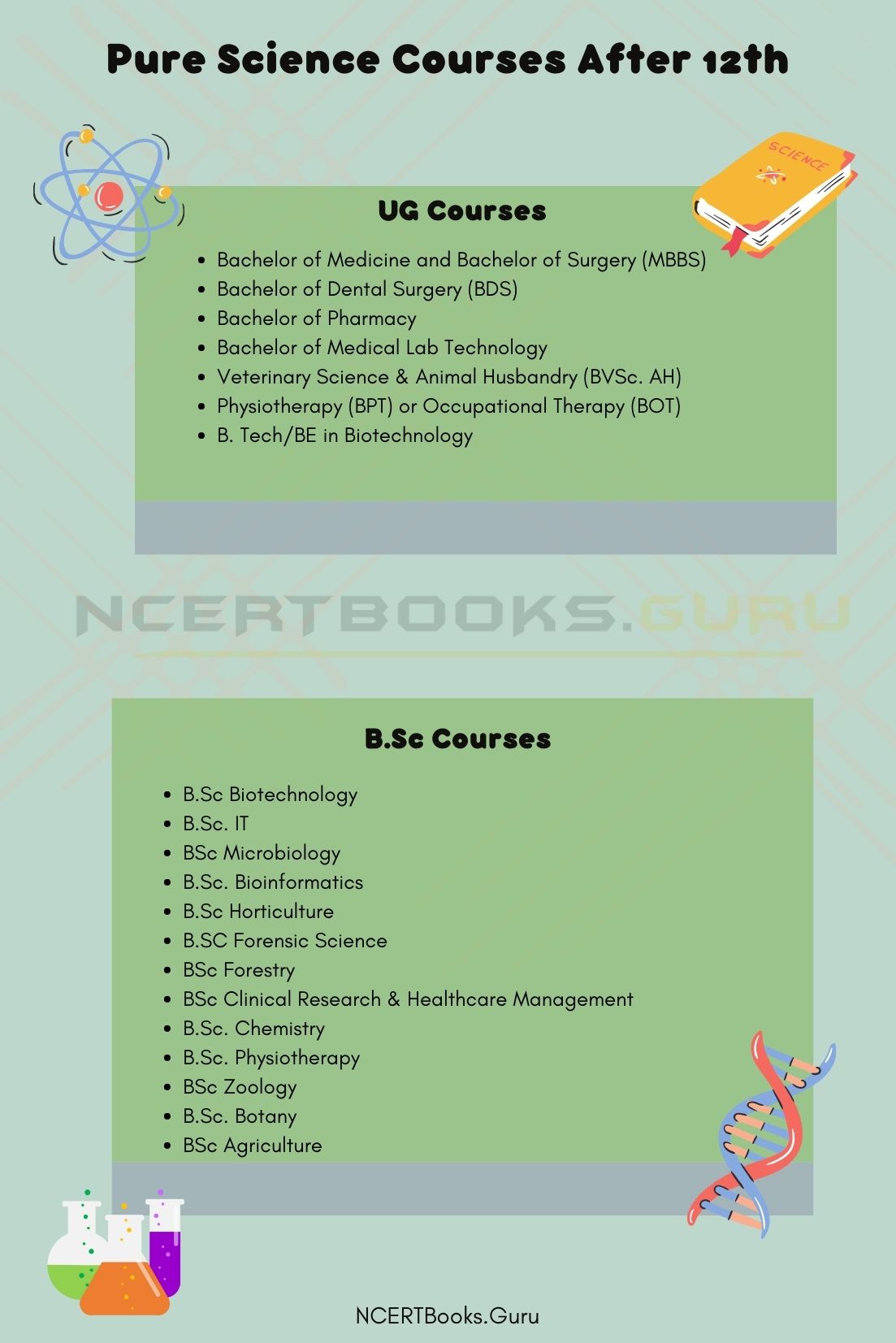 Benefits of Pure Science Courses
Pure sciences are concerned with the creation of ideas, rules, and principles that explain natural events in the world and the cosmos around us. Applied science on the other hand, seems to be concerned with resolving specific issues or developing a product. Pure science develops more effective instruments for applied science to employ in problem-solving. When difficulty in applied science cannot be solved with current scientific tools, it becomes a new area for pure scientists to investigate.
There are various programs in India that serve higher education in science, however, most state/central Indian institutions categorize them into two major categories: "physical sciences" and "natural sciences." This age-old categorization separates pure scientific courses into a combination of either life sciences (primarily biology and chemistry) or physical sciences (mostly physics and math) depending on the syllabus.
Despite frequent persuasion from relatives, some science enthusiasts think that occupations such as engineering or medicine are not a suitable match. For such people, supporting science's mission and experiencing secret development is more important than solving technical challenges.
If you agree with this, pursuing a degree in pure sciences might be a rewarding experience for you. As someone who has been in this situation, I hope to use this article to gain insight on the various aspects of why, how, and what one should know before deciding to study pure sciences beyond class 12th.
Pure Science Courses Eligibility Criteria | Duration of Science Courses
A 12th grade of education including majors such as Physics, Chemistry, Biology is the basic qualifying criteria for pursuing Pure Science education.
The candidate must have completed a three-year bachelor's degree before enrolling in a postgraduate program.
The student must have completed a postgraduate degree in a related field with a minimum grade for Ph.D.
| | | |
| --- | --- | --- |
| Course Name | Duration | Eligibility Criteria |
| MBBS | 5.5 Years | Minimum aggregate of 50% marks in 12 grade with PCB subjects. |
| BDS | 5 Years | 10+2 with English, Physics, Chemistry, and Biology as compulsory subjects and a minimum of 50% marks |
| BAMS | 5.5 Years | 10+2 with English, Physics, Chemistry, and Biology as compulsory subjects and a minimum of 50% mark |
| BHMS | 5.5 Years | Minimum aggregate of 50% marks in 12 grade with PCB subjects. |
| BUMS | 5.5 Years | Minimum aggregate of 50% marks in 12 grade with PCB subjects. |
| Nursing | 4 Years | Minimum aggregate of 50% marks in 12 grade with PCB subjects. |
Top Pure Science Colleges in India
As the number of Indian students interested in studying pure sciences has grown, a number of institutions and colleges have begun to offer undergraduate and postgraduate pure science degrees.
In addition, the Government of India has established the following universities and colleges:
The Indian Institutes of Science Education and Research (IISERs) in Bhopal, Kolkata, Mohali, Pune, and Thiruvananthapuram,
The National Institute of Science Education and Research (NISER) in Bhubaneshwar, to promote high-quality education and research in pure sciences.
Pure scientific programmes are also available at the IITs (BITS) in Pilani, Goa, and Hyderabad.
Indian Institute of Science (IISc) in Bangalore.
St. Stephen's College, Delhi
St. Xavier's College, Mumbai
Loyola College, Chennai
St. Xavier's College, Kolkata
Presidency College, Kolkata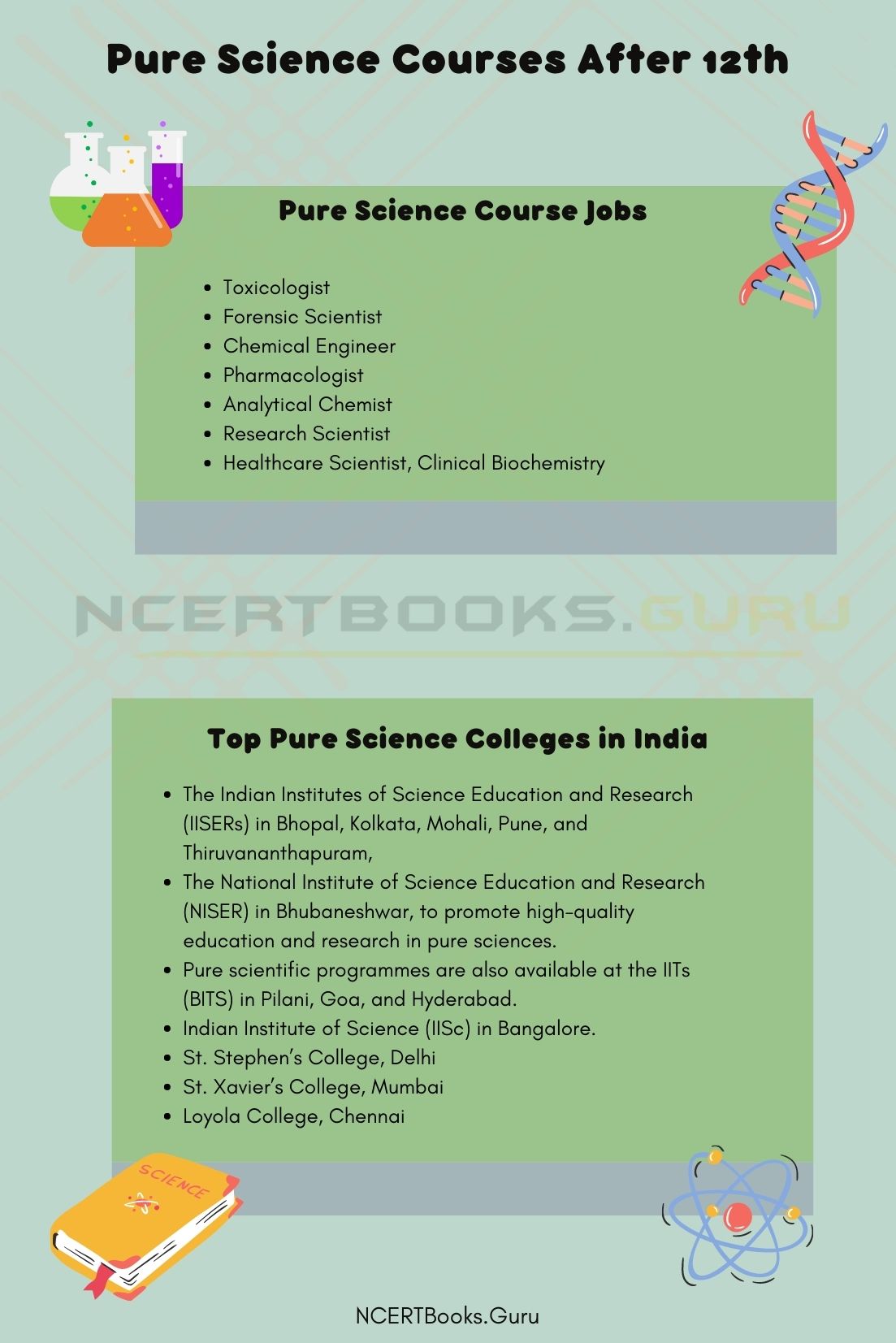 Admission Process for Pure Science Courses
In most colleges throughout the country, admission to pure science courses is dependent on class XII scores. However, several established universities, such as IITs, BITS, IISc, and NISERs, to mention a few, either use the results of entrance tests such as JEE Mains and JEE Advanced or have their own entrance exams to provide admission in such institutes such as BITSAT and NEST.
The simple steps to apply for Pure Science Courses in India are here:
Firstly, go to the official website of the university/college.
Check the application dates.
Fill your details in the application form.
Pay the application fee and submit the form.
Download the admit card and attend the entrance exam.
Qualified students have to go through document verification to confirm their admission.
Career Opportunity of the Pure Science Courses
Because of globalization, which has resulted in many MNCs moving to India and utilizing the potential for research here, there are numerous career chances for a pure science graduate nowadays if he or she is equipped with suitable sort of training relevant to his field. Furthermore, the expansion of the education sector has resulted in an increase in the need for skilled instructors.
However, in addition to the basic pharmaceutical, fine chemical, and automotive sectors, which were major employers of science graduates, there is now a larger interest in a variety of industries, ranging from machine tools and cement to electronics and healthcare.We hope that this article has answered all of your questions about the science stream courses.
Pure Science Courses Salary
A scientist's salary is mostly determined by their academic qualifications, the institute or university from where they achieved their degree, and their level of job experience. To begin with, the aspiring scientists from top universities such as IITs, IISc, and others might earn anywhere between Rs.2,00,000 and Rs.3,00,000 per year in the private sector.
But, this amount increases multiple times with experience. Salaries in government jobs are often lower.
Pure Science Course Jobs
Toxicologist
Forensic Scientist
Chemical Engineer
Pharmacologist
Analytical Chemist
Research Scientist
Healthcare Scientist, Clinical Biochemistry
FAQs on Pure Science Courses
1. Is pure science a good career option?
In the domains of state and central research organizations, pure science offers a number of opportunities. They can also work with government agencies which have seen a huge demand in recent years. It is also possible to work in both the public and private sectors.
2. What role does pure science play?
Pure sciences provide a wide range of career opportunities for people who study them. Graduates can work with state and federal research organizations, corporate and public sector R&D departments, or pursue a career in university.
3. What are pure science's three branches?
Three important fields of science are physical science, biological science, and earth science.
4. Is it possible for a pure science student to pursue engineering?
In your higher secondary schooling, engineering courses will be needed for Physics, Chemistry, and Mathematics. However, you can pursue a career in biotechnology engineering. But, You have no chance to pursue Computer science engineering, architecture, and civil engineering, on.
5. Is it possible for Pure Science graduates to apply for MBBS later on? 
No, students who passed their 12th grade with Physics, Chemistry, and Mathematics as their main subjects are not eligible to take the NEET exam. It is necessary to qualify in the NEET examination to get admission to the MBBS course.
Conclusion
We hope this article will help you to get the information about pure science courses that are helpful for the students who have completed their schooling with the science majors.