A diploma in Dialysis Technology is a certification course that is offered to students for two full years across various medical universities in India. Students are thought and trained on the various medical nuances involved in dialysis technology including purifying and filtering blood, and removal of excessive waste materials from kidneys and bloodstreams.
A graduate with a diploma in dialysis technology will also be trained, along with MBBS students, to perform rudimentary surgeries and critical dialysis on patients, with the coordination and cooperation of full-time doctors, nurses, paramedics, etc. Before jumping into the nuances involved in the diploma course of Dialysis Technology, let us understand:
Get to Know More about other types of Course Details Streamwise, and Category wise.
What is Dialysis Technology?
Dialysis technology is a part of nephrology (study and care of kidneys) and is an extremely specialized field of medicine that requires a unique set of capabilities and knowledge for the medical professionals to perform the intricate operations involved in dialysis. Dialysis, being one of the most dangerous and life-threatening conditions that are increasingly becoming common in our society, is also a field of medicine that requires much more research and development to understand and deal with the patients.
A dialysis technician is responsible for cleaning, maintaining, and sterilization of dialysis equipment promptly. Along with the medical assistance that dialysis technicians give to their patients, they also provide emotional support to their patients along with social support.
Patients with different levels of kidney failure will have to be dealt with by dialysis technicians and the need for competent medical personnel is at an all-time high. We have been seeing an increase in the cases of kidney failures in our society due to various social and lifestyle problems such as unhealthy eating habits, incorrect sleeping patterns, and lack of exercise along with various other issues such as environmental pollution, and food adulteration, etc.
Now that we have a rudimentary understanding of what dialysis technology is, let us now learn about the details of the course diploma in dialysis technology.
What is Diploma in Dialysis Technology?
A diploma dialysis technology is a 2-year course that certifies a student to perform dialysis on patients and other minor operations concerning kidney ailments
Students will have to pursue a diploma course in dialysis technology after their higher secondary education from a recognised education board in India
This course is divided in such a way that a student will have a mix of practical and theory-based teaching and pedagogy
Diploma in Dialysis Technology Eligibility Conditions
A student should have a pass certificate from his or her 10th and 12th standard
Students should have scored a minimum of 60% aggregate in their higher secondary examination
Students should have studied Science (physics, chemistry, biology) and Mathematics subjects in their 10th and 12th standard
The admission for this course is based both on merit (i.e., scores in 10th and 12th standard) and entrance based examination (scores in entrance tests conducted by central education boards or by particular universities)
The minimum age to pursue a diploma in dialysis technology is 17 years and the maximum age that a student should be at the time of admission to the course is 25 years
If the candidate is opting for entrance-based admission into the course, then he or she has to score the cut-off score set by the particular university that the student is aiming to get admitted into.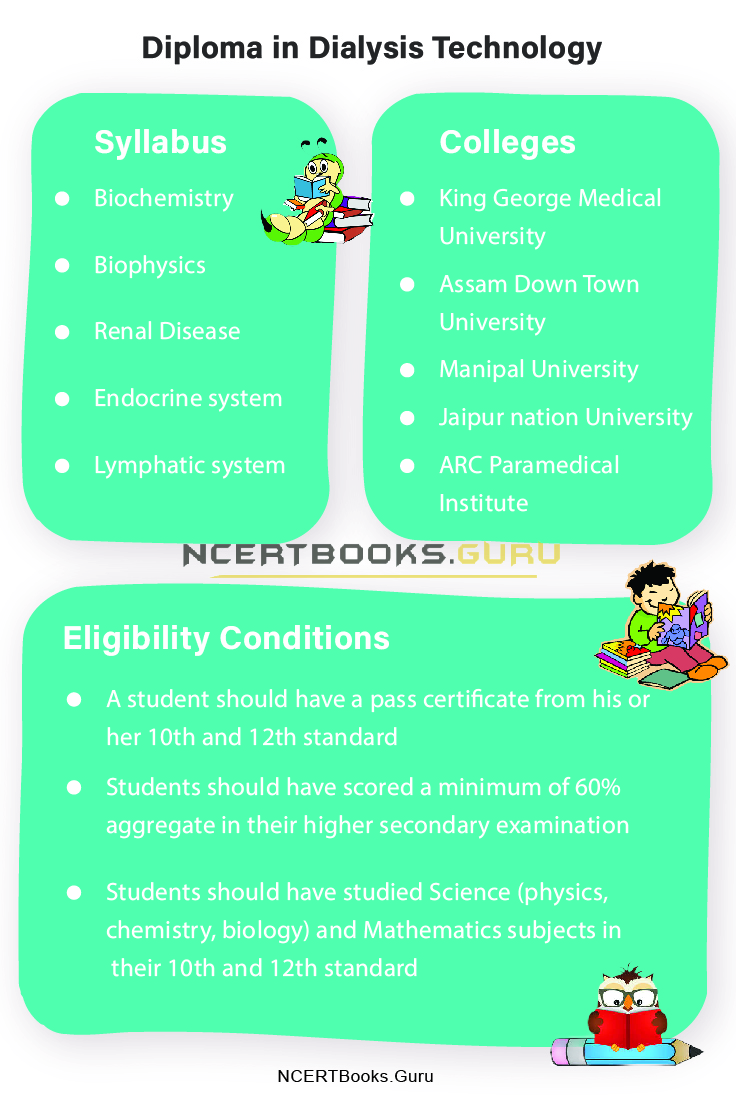 Diploma Course in Dialysis Technology Admission
The step-by-step admission procedure for a diploma in dialysis technology is given below. This admission procedure is more or less similar in all the universities in India
The admission procedure for a diploma in dialysis technology will start in May and end in August every year
Students will have to file an application form at individual universities/colleges to get admission to those particular institutes. These forms are available both in the online mode as well as in offline mode at the particular college campuses. Online application forms will be available on the official website of the institute
Colleges opting for merit-based admissions will conduct their entrance tests from Feb-March-April of the same year. They will also release the cut off scores in the same year
Colleges that admit students based on merit scores in their 10th and 12th standard board exams will start the screening procedure in June. They will shortlist the students and offer them a letter of admission on the student's acceptance
Students will also be admitted directly without screening, in certain universities through a management quota
Diploma in Dialysis Technology Syllabus
The following are the subjects thought to students in the course of diploma in dialysis technology:
Human Anatomy and physiology
Biochemistry
Biophysics
Blood and its system
Central nervous system
Reproductive system
Renal Disease
Basics of computer
Endocrine system
Lymphatic system
Digestive system
Structure of a cell
Fundamentals of a kidney
Pharmacology
Liver and its functions
Diseases
Dialysis: Before and after
Anticoagulation
Kidney diseases and it's cure
Malfunctions of dialysis and it's cure
Nephrology
Top Diploma in Dialysis Technology Colleges in India
The list of best dialysis Technology Diploma Courses Colleges all over India are mentioned here:
King George Medical University, Lucknow
Jamia Hamdard University, Lucknow
Assam Down Town University
Aligarh Muslim University, Asian Institute of Medical Sciences
Maharashtra University of Health Sciences, Nashik
The East Point Group of Institutes, Bengaluru
NIMS College of Paramedical Technology, Nashik
Manipal University, Manipal
Jaipur nation University, Jaipur
Maharishi Markhandeshwar University, Ambala
ARC Paramedical Institute
Chirayu Medical College and Hospital
Om Sai Paramedical College
Also, Refer
Fees Structure of Diploma in Dialysis Technology Course
The fee structure for a diploma in dialysis technology varies depending on the college and it's affiliated university
On average, one should be able to complete the course of diploma in dialysis technology within Rs.1 lakh or Rs. 1.5 lakh
Certain colleges which are private or deemed will have a higher fee structure, which could go above Rs. 2 lakh for the entire course.
Diploma in Dialysis Technology Scope | Dialysis Technician Diploma Jobs
A certification course for a diploma in dialysis technology might not be the first option that a medical aspirant will have for his or her career. Given the unique distinction and qualification that graduates of diploma in dialysis technology possess, the demand for dialysis technicians and consultants has been increasing not just in India but across the world due to an increase in kidney-related problems owing to various factors such as societal, social, and lifestyle issues.
After completion of a diploma in dialysis technology, a student might be placed with an average package of Rs. 1 to Rs. 4 lacs per annum depending on the brand of the college that he or she is passing out from and the competency of the individual candidate.
There are different areas of specialization that a diploma in dialysis technology graduate can work in, such as academic institutions, research and development institutions, private hospitals, government and public aided hospitals, emergency centers, private laboratories etc. If one has entrepreneur ambitions then one can work as a freelancing consultant or medical consultant in the field of dialysis technology for various institutions and hospitals.
One of the most common jobs that one will be placed at after graduation with a diploma in dialysis technology is dialysis in charge. Dialysis in charge is responsible for all the dialysis activity of the patients including maintenance and sterilization of equipment, proper conducting of dialysis procedures, taking care of the patients and dialysis theatre in a hospital.
Diploma in Dialysis Technology Recruiters
Since dialysis technology is a very isolated field of medicine, the areas or industries where graduates with diplomas in dialysis technology can work are very limited and these are:
Private hospitals such as Kiran Mazumdar Shah hospital, jayadeva hospital, Manipal hospital, etc.
Students will also be able to work in medical institutions such as All India Institute of Medical Sciences (AIIMS), New Delhi, Bangalore Medical College (BMC), Bengaluru, and Research Institute, KIMS, etc
There are plenty of pharmaceutical companies as well as biosimilar companies that are working on developing efficient and effective drugs to cure dialysis and other kidney-related elements. These Industries required the technical competency of a dialysis technician or a supervisor and a graduate with a diploma in dialysis technology who can start working in pharmaceutical companies that specialized in this field of drug development.
FAQ's on Diploma in Dialysis Technology Course
1. Which is the top college in India to pursue a diploma in Dialysis Technology?
Most of the colleges in India offer state of the art education system in the field of medicine and particularly in the field of diploma in dialysis technology but Manipal University in Udupi district of Karnataka is considered as the top college in India for a diploma in dialysis technology.
2. What is the average Diploma in Dialysis Technology Salary in India?
In any of the top private hospitals in India, dialysis technicians after 5 to 7 years of work experience will earn anywhere between rupees 10 lakh per annum to rupees 15 lakhs per annum depending on their competency and work experience.
3. Is it worth doing dialysis technology?
A diploma in dialysis technology alone will not be able to help a student have a progressive career path but as an additional course, it will add to the knowledge and competency level of a candidate and help them boost their career progression.
4. Is a diploma in dialysis Technology course difficult to do?
Dialysis Technology being one of the few fields in medicine that requires more research and development is surely a difficult course to do but in comparison with a full-time MBBS course, a diploma in dialysis technology should be doable by any candidate with the right studies strategy and preparation