Data Analytics Courses in India: Data is one of the biggest assets for the company. Thus, to get consumer insight the need for data analytics occurs. As the data is always obtained in raw format to make it useful for the company it is necessary to analyze it for useful information.
Are you the one who is planning to pursue a career in data analytics courses, then you are at the right place? Here, in this article, we are providing you the detailed information regarding the best data analytics courses, eligibility, online courses, fee structure, duration, career scope, salary structure, and a lot more.
Know About Data Analytics Courses in India
Data Analytics involves various methods and techniques for the consumption of raw data into informative information for humans. There are algorithms involved in this mechanical process. Throughout the courses in data analytics, students will learn about all the methods, techniques, mechanical processes, usage of software, and a lot more.
The course is available in undergraduate, postgraduate, diploma, certificate, and doctoral programs. The degree courses offer you in-depth knowledge about the topic as compared to the short-term courses. The need for data analysts is arising in both global and national markets which makes it a better career option for students.
Outline of Best Data Analytics Courses
The brief information regarding the data analytics courses is listed below in tabulated form for a better understanding.
Courses Offered

UG
PG
Certificate
Diploma
Doctoral

Mode of Education
Online and Offline
Admission Process
Entrance exam or merit-based
Eligibility Criteria
Pass class 12th
Average Fee
Rs 5,000 to Rs 20,00,000
Average Salary
Rs

3 to Rs 4 lakhs

Top Job Profile

IT Systems Analyst
Data Scientist
Quantitative Analyst
Data Engineer
Marketing Analyst
Operations Analyst
Data Analyst Course Fee in India
The structure of the data analyst course fees varies according to the colleges and the course which you have chosen. The degree programs are higher in price as compared to the short-term courses. Also, the fee structure depends on the college from where you are pursuing your course.
| | |
| --- | --- |
| Course Level | Average Fees |
| Certificate | Rs 5,000 to Rs 10,000 |
| Diploma | Rs 9,000 to Rs 20,00,000 |
| Postgraduate | Rs 20,000 to Rs 23,00,000 |
| Undergraduate | Rs 90,000 to Rs 21,00,000 |
Data Analytics Course Eligibility & Entrance Exams in India
The eligibility criteria are entirely dependent on the course you are pursuing. However, it is suggested that most colleges prefer students who have completed class 12th with a minimum of 50% marks.
You may get admission to the top colleges through the entrance exams. Some colleges also admit students based on merit-based lists. You can get admission to the data analytics courses through
JEE Mains (Joint Entrance Examination – Main)
JEE Advanced (Joint Entrance Examination – Advanced)
SRMJEEE (SRM Joint Engineering Entrance Exam)
BITSAT (Birla Institute of Technology and Science Admission Test)
Best Data Analytics Courses in India Online Certifications
The online courses offer the opportunity to study at the top universities around the globe. The courses can be pursued under the minimum amount paid. You are eligible for the certificate at the end. Have a look at the detailed online data analytics paid certification courses.
| | | | |
| --- | --- | --- | --- |
| Course | Offered by | Duration | Fees |
| Accounting Data Analytics with the Python | University of Illinois via Coursera | 8 weeks | Rs. 10,107 |
| Advanced Certification in Data Analytics for Business | Intellipaat | 7 months | Rs. 85,044 |
| Data Analyst | Udacity | 4 months | Rs. 77,676 |
| Data Analytics Course | Digital Vidya | 16 weeks | Rs. 19,990 |
| IIM Kozhikode Executive Post Graduate Certificate in Data Analytics for Decision-Making | IIM Kozhikode via TSW (Times Professional Learning) | 12 months | Rs. 3,12,000 |
| Post-Graduate Program in Data Analytics | Purdue University, West Lafayette via Simplilearn | 8 months | Rs. 1,70,000 |
Do Read:
Free Online Data Analytics Courses in India
The free courses are the cherry on the cake for resume and skills building. These courses are offered by the top institutes along with the certification at the end. You may get the list detailed list of free courses here below.
| | | |
| --- | --- | --- |
| Courses  | Institute  | Duration  |
| Intro to Data Analysis | Udacity | 6 weeks |
| Data Science Courses (Alison) | Alison | Variable |
| Introduction to Data Analysis for Government | Udemy | 1 hour 12 minutes |
| Introduction to Data Analysis using Excel | edX | 4 weeks |
| Analytics Storytelling for Impact | edX | 6 weeks |
| Ethics and Law in Data and Analytics | edX | 6 weeks |
| Analyzing and Visualizing Data with Excel | edX | 6 weeks |
| Data Science Research Methods: R Edition | edX | 6 weeks |
Also Refer:
Big Data Analytics Courses in India
Big Data analysts are in great demand. The role of big data analysts is to work with data scientists and architects for the implementation and execution of various big data solutions. Some of the top degree courses in Big Data Analysis are.
Degree 
Colleges
Fees 
BTech CSE (Specialization in Big Data Analytics)
LPU Jalandhar
Rs 2,40,000
BTech CSE (Specialized degree in Big Data Analytics with IBM)
PDM University, Haryana
Rs 1,35,000
BTech in Big Data Analytics

DIT University
NIIT University
PEC University of Technology

Rs 1,00,000 to Rs 13,00,000
PGDM (Big Data Analytics)
Goa Institute of Management
Rs 11,22,000
Diploma in Big Data Analytics
ISBM (Indian School of Business Management and Administration)
Rs 40,900
Master of Science in Big Data Analytics

Christ University
St Joseph's College, Bangalore
St Xaviers College, Mumbai

Rs 90,000 -to Rs1.8 LPA
PGDP in Big Data Analytics

DY Patil College of Engineering,
SunBeam Institute of Information Technology,
Thakur Institute of Career Advancement

Rs 10,000 to Rs 1,50,000
Must See:
Financial Data Analytics Courses in India
The financial data analysts work for the financial data of the company and forecast future financial activities. For the unforeseen financial activities in the business, the need for financial data analysts is arising day by day.
Do Check: Financial Analyst Course Details
Some of the top financial data analyst courses are listed below.
| | | | |
| --- | --- | --- | --- |
| Course Name | Offered by | Duration | Fees |
| Financial Analysis and Decision Making course with Xero and Tableau | Futurelearn | 12 Weeks | $744 |
| Financial Market Analysis | International Monetary Fund via Edx | 7 Weeks | Free |
| Investment Analysis and Portfolio Management for Core Finance Course | Udemy | 7.5 Hours | INR 4,480 |
| Learn to be a Financial Analyst | Udemy | 2 Hours | INR 1,600 |
| Professional Certificate Course in Financial Analysis, Valuation, and Modelling | IIM Kozhikode via Eruditus | 5 Months | INR 100,000 |
HR Data Analytics Courses in India
Human resource is the best asset for the company. Thus, to analyze the people for the increase in productivity and retention the need for HR Data Analytics is arising. The human data is then collected and used this information to make informed decisions. Thus, some of the best HR data analytics courses are defined in the below table.
People Analytics by Josh Bersin
An Introduction to People Analytics by myHRfuture
Graduate Certificate course in HR Analytics and Management by American University
Udemy Offers HR Analytics in Talent Management
People analytics by Google re: Work
People Analytics and Evidence-Based Management by openSAP
HR Analytics Certificate Program by Cornell
Data Science and Analytics Courses in India
Data Science and Data Analytics go hand in hand. Both the courses have some differences which say that data science courses teach you to predict future risks and opportunities based on previous data whereas the data analytics courses teach you to find the conclusion based on data provided.
Courses 
Top Institutes 
Fees 
PG Diploma in Data Science & Analytics
NIELIT Chennai
Rs 21,000
JC Bose University of Science & Technology, Faridabad (UGC Approved)
Rs 97,500
BSc (Hons) Data Science & Analytics
Sharda University, Greater Noida
Rs 92,700
BTech Data Science & Data Analytics
JECRC University, Jaipur
Rs 1,85,000
MSc Data Science and Analytics
AMET Tamil Nadu
Rs 3,20,000
Cardiff University, UK
Rs 19,82,352
University of Leeds, UK
Rs 22,01,590
UCC Ireland
Rs 15,66,015
University of Hertfordshire, UK
Rs 13,38,210
Brunel University, London
Rs 17,15,015
Royal Holloway, University of London
INR 22,10,560
MBA Data Science and Analytics
SCIT Pune
Rs 6,20,000
K J Somaiya Institute of Management
RS 7,82,000
Data Analytics Courses in India with Placements
The placement facilities for the students are offered by the various institutes. But the IITs and IIMs are considered best in providing the placement by top companies. Some of the best placement colleges for data analytics are.
| | | |
| --- | --- | --- |
| Course Name | Institute | Placements |
| MBA -BA | IIM Amritsar | Rs 12,00,000 |
| MBA (Analytics) | IIM Kashipur | Rs 19,88,000 |
| MBA-BA | Symbiosis Center for IT | Rs 14,06,000 |
| Post Graduate Diploma in Business Analytics | IIM Calcutta, IIT Kharagpur, and ISI (jointly) | Rs 23,23,000 |
| MBA in Business Analytics (MBA-BA) | IIM Bangalore | Rs 25,00,000 |
Career Scope after Data Analytics Courses in Indian Universities
Data Analytics is one of the top leading careers in the world. After the completion of courses you have to find High average salaries, Growing opportunities for skilled workers, Plenty of room for career advancement, and lot more advantages in your career.
Also, you can work remote jobs, flexible schedules, and even look for self-employment opportunities. The top job profiles which you can choose to be a data analyst are.
Project Manager
Data Analytics Consultant
IT Systems Analyst
Data Scientist
Quantitative Analyst
Data Engineer
Marketing Analyst
Operations Analyst
Data Analyst
Business Intelligence Analyst
Also See: Data Scientist Course Details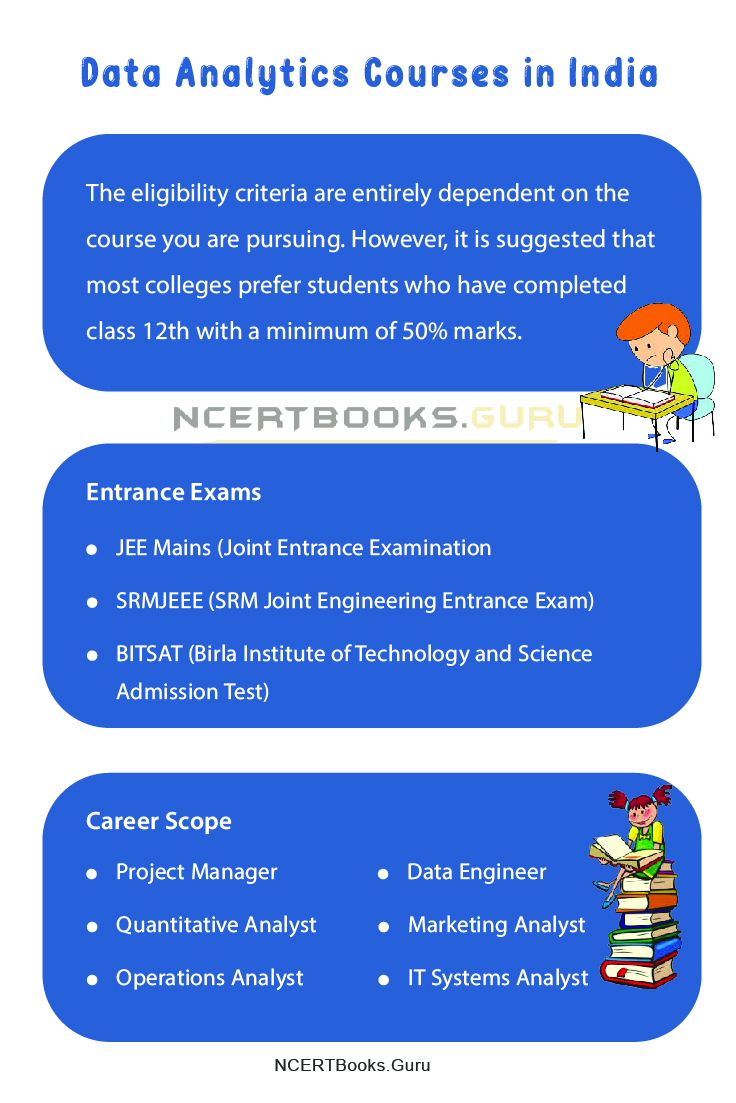 Data Analytics Courses Salary Structure
Data Analysts earn quote high salaries. You may earn Rs 3 to 4 lakhs per annum in the beginning and see a surge after a few years of experience. The salary can even reach up to 10 lakhs per annum. Some of the highest-paid job profiles with their salary structure are listed below.
| | |
| --- | --- |
| Job Profile | Salary |
| Data Analyst | Rs 6.35 lakhs |
| Data Architect | Rs 19 lakhs |
| Data Engineer | Rs 8.56 lakhs |
| Data Scientist | Rs 6.9 lakhs |
| Database Administrator | Rs 4.97 lakhs |
| Statistician | Rs 5.34 lakhs |
FAQs on Top Data Analytics Institute in India
1. Is data analytics a worthy course? 
Yes, pursuing data analytics is a worthy career option. As companies need strategies for growth and development which is based on data and information. Getting useful information, which is only possible if the complex data is analyzed adequately.
2. What are the key skills required for the data analyst? 
The top skills that one needs to hold for the data analyst career are Critical Thinking, Microsoft Excel, Data Visualization, R or Python-Statistical Programming, Machine Learning, Presentation Skills, Structured Query Language (SQL), and more.
3. What are the top companies hiring data analysts? 
The top companies which are offering data analytics students are Wipro, IBM, Deloitte, Reliance, Flipkart, Microsoft, Accenture, Walmart, Infosys, Genpact, Amazon, Cognizant, and more.
4. What are the tools used by data analysts? 
The best tools which are used by the data analysts are R and Python, Splunk, Tableau, Apache Spark, QlikView, Microsoft Excel, Power Bl, Talend, RapidMiner, KNIME, etc.
To Sum Up
Data Analytics is a growing career, if you are planning to build your career in the same then you must go for it. In the above article, we have included detailed information about data analytics courses in India. Still, if you find any difficulty, you may contact our team Ncertbooks.guru through the comment section or else visit our course details main page which covers all fields courses & its career details explicitly.