Customer Relationship Management Notes & Study Materials Pdf Download: The fundamental factor behind any successful company is not just the CEO, the business innovation, or the technology, but it's the loyalty of its customer base. The success stories of H&M or Maybelline or Apple all circles back to one main factor, customer loyalty. As the saying goes "Customer is the king", has never been relevant to this extent in a competitive world that we happen to live in the 21st century. Hence, CRM plays a major role to give success for every company. It is very essential for MBA students to study & gain more knowledge on Customer Relationship Management subject. To help you all, today we have come up with the MBA 4th semester CRM subject Lecture Notes in pdf format.
In this article, you can refer to the attached download links of CRM MBA Study Materials & Books pdf. Students who are pursuing MBA Business Course should follow the lecture notes of CRM to crack the final 4th sem exam. With the help of the Customer Relationship Management Study Materials pdf, you can get more knowledge on the fundamentals and processes of CRM. From the below-given MBA Customer Relationship Management Notes Pdf download links, you can get the complete Study Material at your fingertips to prepare.
Contents Hidden in this Article:
Customer Relationship Management Notes & Study Materials Pdf Download
One thing that should be kept in mind, when we say customer relationship management, is it's not confined to just the customer. Various other stakeholders are taken into consideration, as further briefed in this article.
But it's not a simple task to gain customer loyalty. It takes efforts, authenticity, value addition, carefully crafted brand building and time to develop that trust between a customer and a company. Companies put in millions of dollars in order to gain a loyal customer base, without understanding the fundamentals of customer relationship management.
But its a different ball game now. The market is noisy, industry competition is at the peak of its cutthroat, consumer behaviour has changed drastically, and more importantly, customers are open to trying lots of things, and loyalty is becoming scarce by the day.
So what is this magic wand called customer relationship management, that everyone from Harward to IIMs and from Coca Cola to Apple, are talking about?
Before we going into talking about what is CMR, let us understand why CRM?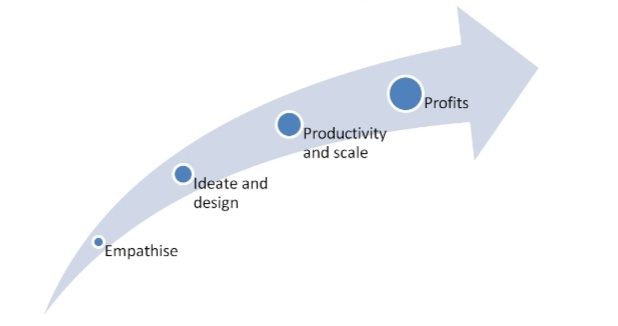 Empathize- While this might not be thought in your regular MBA textbooks, this is one of the most important reasons why CRM is important. Empathizing with your customer, whether its B2C or B2B company, helps you gain deep insights into the customer mindset while helping build that trust and reliability feeling amongst your customer base. Your existing customer base will act as a promotional tool to gain new customer, either through influencing or word-of-mouth
Ideate and design- Once you have gained access to your consumer mindset- their needs and wants and synchronizing it with your pains and gains, you can start ideating, brainstorming and designing the product or service that adds value to the market. At the end of the day, its the value addition that you provide to your customers, that matters the most.
Productivity and scale- This is a fundamental aspect of CRM. The difference between an engineer/designer and an MBA is that an engineer designs products as per his creativity and imagination while MBA designs products as per the market and financial liabilities. Because any product you design should be scalable and should have the required production capacity. The first two steps help analyze the viability of the third step
Profits- Who doesn't need profits in this world? The whole business institutions run because of this one word, PROFITS! CRM provides you with a large customer base that increases your revenue and provides Economies of Scale (EOQ). Once EOQ is achieved, there you go, no one can stop you from reaping profits.
Components of CRM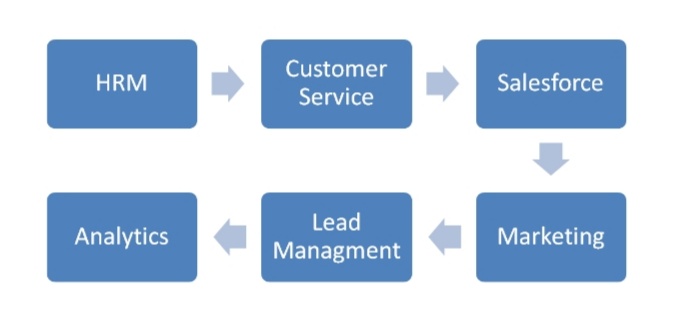 Lets briefly understand what the above terms mean:
HRM- Human resource management.-An effective people strategy and reducing attrition rate goes a long way in increasing the efficiency of the workforce. Proper policies in place and effective implementation are the key factors here.
Customer service- This not only develops a healthy relationship with the customers, but a good servitization strategy also adds to different revenue models for the business. Along with that, the data obtained gives us an idea of customer purchase patterns, helps in inventory modeling, and eliminating supply chain bottlenecks.
Salesforce- Sales forecasting, processing, and tracking potential interactions help in business development and lead generation. It gives revenue generation opportunities and helps analyze the performance of the workforce.
Marketing- Promotional strategies, campaign management, and integrated media communications, including digital and offline campaigns, can all be improved and implemented well through effective usage of CRM.
Lead management- This helps in keeping a track of sales leads and distribution. This provides enough forecast data for production and inventory managers along with helping distributors scale-up in eliminating logistic bottlenecks.
Analytics- Corporate level decisions are made based on the data submitted by functional level and business level heads. Graphs, plots, and trends are collected that helps make predictions for business growth and prosperity.
Also, Check Related Articles:
There is plenty of CRM textbook and online tutorials that explain the fundamentals of customer relationship management to business students. Expertise yourself with the fundamentals of CRM and be ahead of the competition by using the available MBA 4th Sem CRM Books & Notes PDF.
MBA 4th Sem Customer Relationship Management Lecture Notes Pdf Download
| | |
| --- | --- |
| Customer Relationship Management pdf Ebook free download | Download |
| Customer Relationship Management pdf file | Download |
| CRM lecture notes | Download |
| CRM Question Paper pdf | Download |
| Customer Relationship Management Text Book | Download |
| Customer Relationship Management Ppt |  Download |
Suggested Books for MBA Customer Relationship Management
 Alok Kumar Rai, CRM CONCEPT & CASES, Prentice Hall of India Private Limited, New Delhi. 2011
S. Shanmugasundaram, CRM, Prentice Hall of India Private Limited, New Delhi, 2008
Kaushik Mukherjee, CRM, Prentice Hall of India Private Limited, New Delhi, 2008
Jagdish Seth, et al, CRM
V. Kumar & Werner J., CRM, Willey India, 2008
Brand H Schmitt: CUSTOMER EXPERIENCE MANAGEMENT: A Revolutionary Approach To Connecting With Your Customers.
Gordon S. Linoff, Michael J. A. Berry, MINING THE WEB: TRANSFORMING CUSTOMER DATA, Wiley Computer Publishing, Singapore.
Jagdish Seth, et al: CRM
Jill Dyche: THE CRM HANDBOOK: A BUSINESS GUIDE TO CRM, Addison Wesley Information technology Series.
Kristin L. Anderson & Carol J Kerr: CRM
Lita van Wel and Lamb's Royakkers, ETHICAL ISSUES IN WEB DATA MINING, ETHICS AND INFORMATION TECHNOLOGY 6: 129–140, 2004., Kluwer Academic Publishers, Netherlands
Mark Sweiger, Mark R. Madsen, Jimmy Langston, Howard Lombard, CLICKSTREAM DATA WAREHOUSING, Wiley Computer Publishing, Singapore.
Michael J. A. Berry, Gordon S. Linoff, DATA MINING TECHNIQUES: FOR MARKETING, SALES, AND CRM, Wiley Computer Publishing, Singapore.
Michael J. A. Berry, Gordon S. Linoff, MASTERING DATA MINING: THE ART AND SCIENCE OF CRM, Wiley Computer Publishing, Singapore.
Patrica 13. Ramaswamy, et al: HARVARD BUSINESS REVIEW ON CRM
Paul Greenberg: CRM AT THE SPEED OF LIGHT: CAPTURING AND KEEPING CUSTOMERS IN INTERNET REAL TIME
Ralph Kimball, Margy Ross, THE DATA WAREHOUSE TOOL KIT, Wiley Computer Publishing, Singapore.
Stanley A.Brown: CRM, John Wiley & Sons, Canada, Ltd.
MBA Customer Relationship Management Syllabus- 4th  Semester
Unit – I
CRM concepts – Acquiring customers, – Customer loyalty and optimizing customer relationships – CRM defined – success factors, the three levels of Service/ Sales Profiling – Service Level Agreements (SLAs), creating and managing effective SLAs.
Unit – II
CRM in Marketing – One-to-one Relationship Marketing – Cross-Selling & Up-Selling – Customer Retention, Behaviour Prediction – Customer Profitability & Value Modeling, – Channel Optimization – Event-based marketing. – CRM and Customer Service – The Call Centre, Call Scripting – Customer Satisfaction Measurement.
Unit – III
SalesForce Automation – Sales Process, Activity, Contact- Lead, and Knowledge Management – Field Force Automation. – CRM links in e-Business – E-Commerce and Customer Relationships on the Internet – Enterprise Resource Planning (ERP), – Supply Chain Management (SCM), – Supplier Relationship Management (SRM), – Partner Relationship Management (PRM).
Unit – IV
Analytical CRM – Managing and sharing customer data – Customer information databases – Ethics and legalities of data use – Data Warehousing and Data Mining concepts – Data analysis – Market Basket Analysis (MBA), Clickstream Analysis, Personalization, and Collaborative Filtering.
Unit – V
CRM Implementation – Defining success factors – Preparing business plan requirements, justification, and processes. – Choosing CRM tools – Defining functionalities – Homegrown versus out-sourced approaches – Managing customer relationships – conflict, complacency, Resetting the CRM strategy. Selling CRM internally – CRM development Team – Scoping and prioritizing -Development and delivery – Measurement.
Important Review Question on Customer Relationship Management MBA
 Briefly, explain prioritizing in CRM.
 Who should scope a CRM Project?
 Elaborate in detail the CRM Development success metrics.
Explain in detail planning, construction, and deployment in a CRM project.
Briefly, explain the CRM delivery system.
Elaborate in detail the CRM program timeline.
How do you plan for CRM success?
"Garbage in, garbage out", Explain.
 Explain in detail the CRM team.
Elaborate in detail the job roles that participate in CRM development.
 What is the purpose of measuring Customer Relationship Management?
 Explain in detail the CRM Measurement frameworks.
 Write short notes on Customer Value Analysis.
Briefly, highlight the relation of Balanced Scorecards in CRM.
 What are the attributes of a different CRM Measurement Framework?
Explain in detail the complexity of CRM Measurement
FAQs on CRM Books & Notes Pdf Download
1. What are the top 5 CRM systems?
Here we have mentioned the top 5 Customer Relationship Management solutions for the businesses to start with and gain more profits. They are as follows:
Zoho CRM
Monday.com
Salesforce Desk
Freshdesk
Zendesk
Customer relationship management (CRM) includes all processes to attract customers and sustain a relationship with them. Additional processes involve the management of customer data, information analysis, and generating reports to get penetrations.
3. What are the best books for Customer Relationship Management?
Top 5 Best Books for CRM MBA 4th Sem Subject are listed below:
CRM Fundamentals By Scott Kostojohn, Matthew Johnson, and Brian Paulen
Customer Relationship Management: Concepts and Technologies 3rd Edition
CRM: The Foundation of Contemporary Marketing Strategy
Customer Relationship Management: Concept, Strategy, and Tools 2nd (second) 2012 Edition by Kumar
The CRM Handbook: A Business Guide to Customer Relationship Management
Final Words
Provided MBA 4th Sem Customer Relationship Management Notes & Books Pdf will help you so much while exam preparation. Any university MBA students can download CRM MBA Books & Study materials Pdf for free of cost from here. Also, you can refer to the reference books and important questions of MBA Customer Relationship Management from this page. Guys share this article with your friends and support them during the exams to score better marks. However, you can also get more updated books & study materials from our site NCERTBOOKS.Guru, so bookmark it or visit our page regularly.