MBA Accounting for Managers: Have you ever wondered how multinational companies with thousands of crore of revenue every quarter flowing in, manage and analyze their companies? Large countries, big corporations with various SBUs, subsidiaries and verticals are always complicated to manage and analyze. It requires financial expertise and engineering to deduce big corporations for analysis. This is the reason that accounting management is a popular stream for MBA aspirants.
MBA Accounting for Managers – Let us discuss
What is MBA accounting management?
Accounting is the language of business that helps develop, analyze and communicate crucial financial information. It also helps in deducing an organization's financial position, results of business operation and cash flow.
An MBA in Accounting is a professional graduate degree program that provides students with the opportunity to earn good pay packages in accounting firms so that they can become knowledgeable and well-rounded business professionals. Unlike regular  MBA programs with a concentration in accounting are not entirely focused on the discipline. Instead, students will take advanced business courses to learn a variety of different skills and concentration courses that is confined and concentrated specifically on principles that apply to the field.
Graduates of this program may also attain the necessary credit hours to earn a CPA certification while also becoming more desirable to employers thanks to the skills developed and knowledge gained.
If you aspire to do this program, then you have come to the right place. This article provides all the basic information one needs before making an informed decision.
Importance of Accounting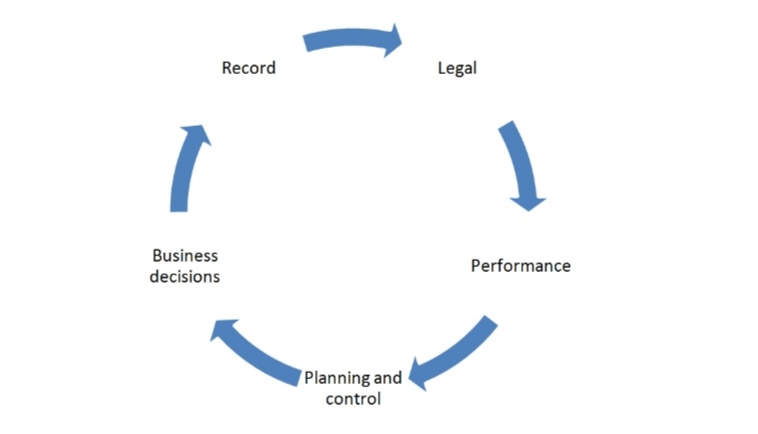 Let us now discuss each of the attributes mentioned above
Recording and documentation
Companies need to have a robust, trustworthy and structured way of recording financial information within the firm. Accounting is necessary to ensure that those running the business have a reliable record of financial transactions.
Legalities of businesses and financial aspects
Accounting helps companies to find out the financial rights and obligations that they possess. Without proper accounting knowledge within the company, it would be impossible for large businesses to calculate, for example, the exact amount a supplier needs to be paid taking into account cost of purchase, discounts, sales tax, withholding tax, duties, refunds, etc.. From supply chain to inventory modelling, sales reports, marketing and operational cycle, every ambit of the business needs to be communicated through the language of accounting and financial modelling. Accounting is, therefore, necessary for a business to fulfil its legal obligations and asserting its own legal rights and running the business without any confusion and glitches.
Maintaining accounting records and preparing financial statements is also often a legal responsibility for businesses above a certain size.
Performance analysis
Financial statements provide an all-round of the financial activities of a business during a period (quarter or financial year). Different information such cash flows, revenue, ratios et., as well as information about its financial position on a specific date (e.g. amount of cash and inventory at the end of the year) can be analyzed using the company's financial statements.
Financial Statements help owners in assessing the performance and position of their business which can guide their investment decisions (e.g. whether they should invest more in the business, diversify or dispose of their investment).
Design, plan and control mechanisms
Accounting helps organizations to plan their finances by developing budgets and forecasts. The various analysis provides a mechanism for the monitoring of expenses incurred by organizations by comparison with the budgeted expenditure. This process helps organizations in planning their finances ahead and controlling any deviations from the budget.
Let us discuss some aspect from the academic point of view for an MBA in accounting
MBA Accounting for Managers | What are the various subjects in the course?
Financial Accounting- specialized branch of accounting that keeps track of a company's financial Using standardized guidelines, the transactions are recorded, summarized, and presented in a financial report or financial statements such as an income statement or a balance sheet.
Cost Accounting- Cost accounting is a form of managerial accounting that aims to capture a company's total cost of production by assessing the variable costs of each step of production as well as fixed costs, such as a lease expense.
Fundamentals in Managerial Accounting- The fundamental objective of managerial accounting is to better or enhance the performance, strength, and efficacy of management planning and control functions. Also, Managerial accounting aims to supply information that is needed when making internal decisions.
Cost Management- Cost management is the process of planning and controlling the budget of a business. Cost management is a form of management accounting that allows a business to predict impending expenditures to help reduce the chance of going over budget.
Tax planning- Tax planning is the analysis of a financial situation or plan from a tax The purpose of tax planning is to ensure tax efficiency. Through tax planning, all elements of the financial plan work together in the most tax-efficient manner possible
Auditing- An audit is an independent examination of financial information of any entity, whether profit-oriented or not, irrespective of its size or legal form
Accounting in Acquisitions and Mergers- Accountants often in association with third party business valuation firms determine the value of the assets gained when their companies acquire other businesses
Problems in financial reporting- Financial statements are formal records of the financial activities and position of a business, person, or other entity. Relevant financial information is presented in a structured manner and in a form which is easy to understand
Business strategy- A business strategy is a set of competitive moves and actions that a business uses to attract customers, compete successfully, strengthening performance, and achieve organizational goals. It outlines how business should be carried out to reach the desired ends.
There are plenty of textbooks and reference articles in the market which the students can refer to. Some of them are:
Jelsy Joseph Kuppapally, ACCOUNTING FOR MANAGERS, PHI, Delhi, 2010.
Paresh Shah, BASIC ACCOUNTING FOR MANAGERS, Oxford, Delhi, 2007.
Ambrish Gupta, FINANCIAL ACCOUNTING FOR MANAGEMENT, Pearson, Delhi, 2004.
Narayanaswamy R, FINANCIAL ACCOUNTING, PHI, Delhi, 2011.
 Jain And Narang: Advanced Cost Accounting, Kalyani
Publishers
 Maheswari S.N: Management Accounting, Sultan Chand And Sons.
P.Das Gupta: Studies In Cost Accounting, Sultan Chand & Sons, New Delhi.
Jain & Narang: Advanced Cost Accounting, Kalyani Publishers.
Jawaharlal: Advanced Management Accounting, S.Chand & Co.
S.N.Maheswari: Management Accounting And Financial Control, Sultan Chand & Sons.
V.K.Saxena And C.D.Vashist: Advanced Cost And Management Accounting, Sultan Chand & Sons, New Delhi.
 James Jimbalvo: Management Accounting, John Wiley & Sons.
Khan & Jain: Management Accounting, Tata Mcgraw Hill Publishing Co., New Delhi.
J.Made Gowda: Management Accounting, Himalaya Publishing House, Delhi.
S.N.Maheswari: Management Accounting, Sultan Chand & Sons, New Delhi.
N.P.Srinivasan & M.Sakthivel Murugan: Accounting For Management, S.Chand & Co., New Delhi
Do Check: MBA Subjects Semester wise
Top colleges in India for MBA in accounting management and finance:
MDI- Management Development Institute Gurgaon
IIM-C Indian Institute of Management- Calcutta
SP-JAIN Mumbai
Symbiosis Institute of Business Management- SIBM Pune
Christ University- Bengaluru
IIM-B Indian Institute of Management Bangalore
Delhi University
Faculty of Management Studies
MBA Accounting for Managers | Entrance examinations to be given for an MBA in accounting management
Common Admission Test- CET
Management Aptitude Test- MPT
Xavier Aptitude Test- XAT
Common Management Admission Test- CMAT
Symbiosis National Aptitude Test- SNAP Test
AIMS Test for Management Admissions- AIMSTMA
Maharashtra Common Entrance Test- MHCET
RMAT Rajasthan Management Aptitude Test
Tamil Nadu Common Entrance Test- TANCET
Uttar Pradesh State Entrance Exam- UTSEE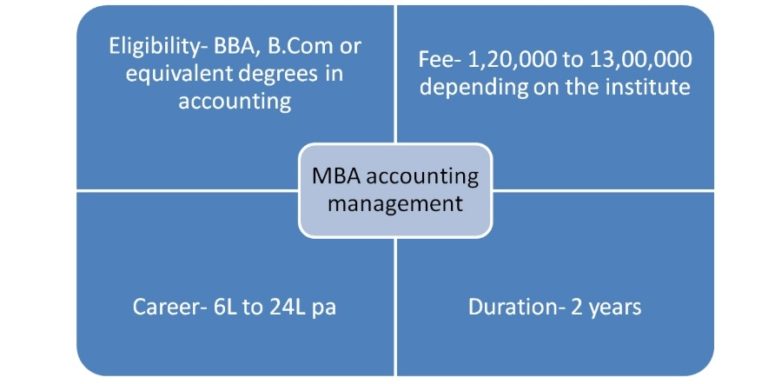 MBA Accounting for Managers | What does the future hold for you in MBA accounting management?
Once you have graduated, the job market is abundant and following are some of the job roles you will
Accounting educators
Chief complaint officers
IT asset managers
Management accountants
Fraud investigators
Controllers
Environmental accountants
Financial Analyst
Forensic accountants
International accounting specialists
Internal auditors
Contract auditors
Chief financial officers
Top recruiters for you in the job market are:
KPMG
PWC
Genpact
Wipro
Infosys
Reliance
Tata Consultancy Services
Goldman Sachs
Wells Fargo
HDFC Bank
If you are someone who would like o give back to society, you can clear certain entrance examinations and get into governmental organizations and public sector units, such as:
Reserve Bank of India
Securities and Exchange Board of India
Planning commission
State Bank of India
BSNL
Indian Oil
Life Insurance Corporation
Related Articles:
FAQs on MBA Accounting for Managers
1. What is the most important role of management accounting?
The most important job of the management accountant is to conduct a relevant cost analysis to determine the existing expenses and give suggestions for future activities.
2. What are the Suggested Books for MBA Accounting for Managers?
Here are some of the books for MBA Accounting and recommended authors along with Publications.
1. Jelsy Joseph Kuppapally, ACCOUNTING FOR MANAGERS, PHI, Delhi, 2010.
2. Paresh Shah, BASIC ACCOUNTING FOR MANAGERS, Oxford, Delhi, 2007.
3. Ambrish Gupta, FINANCIAL ACCOUNTING FOR MANAGEMENT, Pearson, Delhi, 2004, and many more.
3. Does MBA Accounting have Scope?
Yes, it has the scope and you can go for any of the career options available like Accounting Educators, Chief Compliance Officers, Chief Financial Officers, Controllers, Environmental Accountants, Financial Analysts, Financial Managers, etc. after completion of course.
4. What are the Topics covered in MBA Accounting for Managers?
You will concepts from Financial Accounting, Cost Accounting, Cost Management, Fundamentals in Managerial Accounting, etc.