Criminology Courses in India: While crime rates are increasing internationally, there is a greater demand for people who can solve such cases. As a result, there is an increased demand for criminology courses. Criminology students are expected to work on analyzing crime rates, the number of crimes, and criminals in order to come up with ideas for preventing future crimes in society.
So, if you're looking for criminology courses through which you can improve the world's future, then you should consider taking them. And to help you here is a detailed article containing a comprehensive list of criminology courses, with eligibility details, course duration, job prospects, colleges, entrance examinations, and much more. Read on to learn more.
What Does a Criminology Course Mean in India?
Criminology is one of the challenging fields. Criminology is the branch of Science that deals with crime and the prevention of crime. The scope of criminology courses is increasing around the world. You may pursue undergraduate, master's, diploma, and other domain degrees in criminology.
During the courses, you will get to learn about the causes of crime, crime statistics, prevention of crime, criminal behavior, etc. These courses are really interesting, and they will also help you gain practical training in criminal cases.
The overview of criminology course in India are described below. Refer to the comprehensive table to know everything about Criminology courses.
Courses Offered

Certificate
Diploma
Undergraduate
Postgraduate

Admission Process
Merit or entrance-based
Eligibility Criteria
A student must have cleared Class 12 or equivalent exam with 50% in Arts or Science stream.
Average Course Fees
Rs 25000 Rs 10,00,000
Average Salary
Rs 3,00,000 to Rs 4,00,000
Top Job Profiles
Prison Manager, Law Enforcement Officer, Private Detective, Forensic Specialist, Counsellor, Social Worker, Crime Investigator, etc.
Criminology Course Duration in India
The criminology course duration varies from one degree to another. Read the below list to know everything about Criminology course length in India.
The duration of the criminology certificate courses is around 6 to 12 months.
Whereas in India, some universities also offer criminology diploma degrees that can be completed in one year.
An undergraduate degree such as B.A or B.Sc in criminology can be completed in 3 to 4 years.
Criminology master's degree in subjects like forensic science or criminology will have 2 years of course duration.
What Is the Eligibility of the Criminology Course?
The eligibility criteria for criminology courses in India vary from one college to another. The most common qualifications for criminology courses in India are as follows:
Most colleges prefer students who have cleared Class 12th with a minimum of 50% marks and have studied Science subjects.
But some colleges also offer criminology course degrees to art Students.
Entrances Exams for Criminology Courses in India
A few colleges will also select students for criminology courses based on the entrance exams. To know the entrance exams through which candidates are selected for criminology courses are given below:
The entrance exams in which students can appear to get admission to criminology courses can be IPU CET.
However, some colleges may also accept the law entrance exams such as AILET, LSAT, AP LAWCET, and TS LAWCET. Some colleges also conduct their own specific entrance exams.
Criminology Courses after 12th
There are two specializations in the undergraduate criminology degree: B. A and B.Sc domains. Those who want to pursue their degree in full-time and special domains must choose UG courses in criminology after the 12th. Some of the top courses are tabulated below.
| | |
| --- | --- |
| Criminology Courses  | Criminology Courses Fees |
| B.Sc. (Hons.) (Forensic Science) | Rs 20,000 to Rs 50,000 |
| BSc in Criminology | Rs 9,000 to Rs 1.2 lakh |
| BA Criminology | Rs 10,000 to Rs 10 lakh |
Diploma Criminology Courses in India
When compared to PG Diploma programs, which must be completed after earning a bachelor's or diploma in criminology, diploma programs in criminology can be finished in as little as one year following Class 12th completion. The benefit of employment offers enables these diploma programs to assist students in saving time and money. There are prestigious institutions in India that provide the best criminology diploma degrees. Some of the top courses in criminology are given below.
Forensic Science and Criminology Diploma Course
P.G. Diploma In Forensic Science And Related Law
Diploma in Criminology and Penology
P.G. Diploma in Criminology and Forensic Science
Diploma in Criminal Law (D.Crin)
A PG Diploma in Forensic Science
Diploma Course (Cyber Crime)
A Diploma in Criminology
A Diploma in Forensic Science
Do Refer: How to become a Criminologist in India 
Criminology Courses in India Online
The online criminology courses in India can be pursued with or without fees. In just a short period, you may complete these trendy certification courses from the top portals such as Udemy, Coursera, etc. These courses are not time-limited, and you can take them whenever you want. Students who choose to pursue these courses will be provided with certification after successful completion.
You may also choose the course according to your best interest in other programs such as Forensic Psychology, Criminal Justice, Cybersecurity Tools & Cyber Attacks, etc. Some of the top portals that offer criminology courses in India, with course duration and fees are given below:
| | | | |
| --- | --- | --- | --- |
| Course | Top Portals | Duration | Average Fees |
| The Psychology of Criminal Justice | EdX | 8 weeks | Free |
| Criminology, Victimology, and Penology | Udemy | 5 weeks | Rs 1,280 |
| Introduction to International Criminal Law | Coursera | 13 hours | Free |
| Forensic Accounting and Fraud Examination | Coursera | 7 hours | Free |
| IT Fundamentals for Cybersecurity Specialization | Coursera | 4 months | Free |
| Introduction to Criminology: Explaining Crime | Udemy | 5 weeks | Rs 6,080 |
PG Criminology Courses in India
MA and MSc are the two special domains in which you may pursue criminology courses. In addition to this, there are a few law courses included in it. You may pursue a master's degree in various specializations such as Criminology, Forensic Science and Criminology, Criminology & Criminal Justice, Anti-Terrorism Law, Criminal Law & Criminology, Crimes & Torts, etc.
On average, admission is based on entrance exams, but a few colleges also provide admission through merit lists. You may complete the master's degree starting from Rs 9,000 to Rs 10,00,000. Some of the top PG courses in Criminology are given below:
Criminal Law Master of Legislative Law degree
a Master of Arts in Criminology and Criminal Justice
Master of Arts (MA) in Anti-Terrorism Law
LLM in Crimes and Torts, Master of Legislative Law
M.Sc (Forensic Science and Criminology).
Criminal Law & Criminology Master of Legislative Law (LLM)
Master of Science in Criminology (M.Sc.)
M.Sc (Forensic Science and Criminology Research)
MA in Criminology & Police Administration
Also Read: B.Sc Forensic Science Courses 
Criminology Ph.D. Courses in India
After the completion of a master's degree, if you want to pursue a doctoral degree, then the criminology domain offers you various courses. There are various specializations in which you may pursue the Ph.D. course. The best college from which you may pursue a Ph.D. in criminology are Madras University, Tata Institute of Social Science Deonar, Mumbai, National Institute of Criminology and Forensic Science, etc.
| | |
| --- | --- |
| Courses  | Average Fees |
| Ph.D. in Criminology and Criminal Justice | Rs 25,000 to Rs 2,00,000 |
Colleges Offering Criminology Courses in India
Numerous colleges are offering undergraduate, graduate, and postgraduate degrees in criminology courses. You may get admission to these top universities through an entrance exam or a merit-based list. Here is a list of top criminology colleges is listed below.
Shivaji University, Kolhapur
The University of Madras
Annamalai University
Gurugram University, Gurugram
Bangalore University, Bangalore
The University of Pune
The University of Delhi
IGNOU Delhi-Indira Gandhi National Open University
Guru Gobind Singh Indraprastha University.
Bundelkhand University
Gujarat University
Karunya Institute of Technology and Sciences
Must See:
Criminology and Psychology Courses in India
Due to the increasing crime rates, there is a need to understand the operational application of criminology and the behavioral patterns of criminals. Thus, the need for criminology and psychology courses in India is arising. There are numerous courses available from the top institutes in the criminology and psychology domains. Some of the top criminology and psychology courses are listed below:
Master of Arts in Criminology with a Specialization degree in Forensic Psychology by the School of Forensic Psychology
Master's in Criminal Psychology
Ph.D. in Forensic Psychology
Master of Arts in Criminal Psychology
Diploma in Forensic Psychology- University of Pune
Bachelor's Degree in Criminal Psychology
Master's of Science in Criminology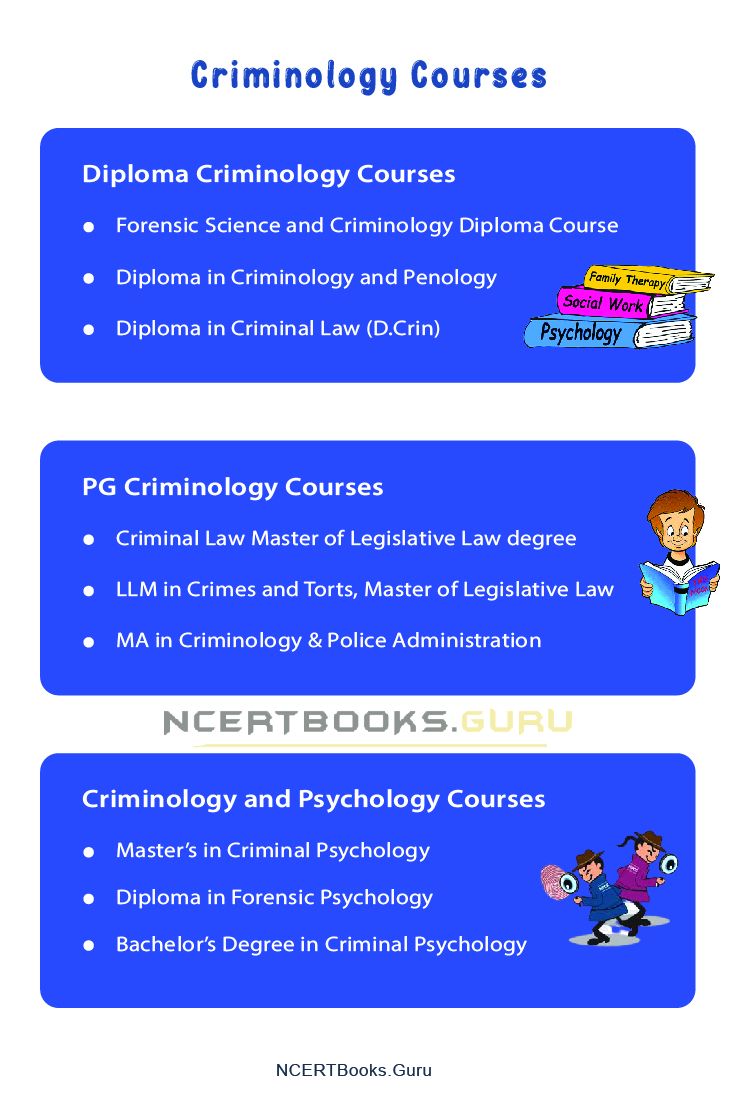 Career Scope After Criminology Courses in India
Criminology is one of the most promising careers in India. You can apply for both government as well as private jobs after the completion of the degree. The companies are eagerly looking for candidates who have a specialized degree in criminology in India. Some of the top job profiles after Criminology courses in India are:
F.B.I. agents
A drug policy advisor
Analyst in a crime laboratory
Private detectives
A crime scene analyst
"Community corrections coordinator
The regional crime prevention coordinator
Crime investigators
researcher on legal reform
Analyst for criminal intelligence
Consumer advocate
Police officers
Also Check: Diploma in Forensic Science
Salary Structure After Criminology Courses in India
You can earn a respectable salary with a criminology degree. An average criminologist can earn Rs 3 to Rs 4 lakh easily. But with proper skills and knowledge, you are entitled to get a good salary structure. The job profile-wise salary is listed below after criminology courses.
| | |
| --- | --- |
| Job Profile | Average Salary (INR) |
| Crime Intelligence Analyst | 4 – 10 LPA |
| Criminal Justice Professor | 4 – 8 LPA |
| Criminal Lawyer | 3.5 – 6 LPA |
| Drug Policy Advisor | 3 – 6 LPA |
| Forensic Psychologist | 3 -5 LPA |
FAQs on Criminology Courses in India
The frequently asked questions regarding Criminology Courses in India are given below:
1. Can I pursue Criminology Courses in India through Distance Education?
Ans: Yes, you can easily pursue criminology courses through distance education. There are top institutes that are offering criminology courses in distance education. They are listed below.
IGNOU, Delhi
Raksha Shakti University, Ahmedabad.
Madurai Kamaraj University, Madurai
Global Open University, Nagaland
Tirunelveli's Manonmaniam Sundaranar University
2. What are the skills required for criminology courses in India?
Ans: To hold a good command in criminology, you need to have proficiency in statistics, calculus, and data analytics; legal proficiency; communication skills; attention to detail; integrity and ethics; logical reasoning; active visualization; a sense of character, etc.
3. What are the top sectors hiring criminologists in India?
Ans: Where there is a crime, the need for criminologists arises. Some of the top sectors in which you can get recruitment after the completion of a criminology degree are
IB
government agencies against crime.
State police
Human rights agencies
CBI
A private detective agency
FBI
Central police
NGOs
4. Is a criminology course in India easy?
Ans: Criminology is one of the more challenging career options, but with good perks and salary. You need to have various skills and knowledge to be a good criminologist. Ome must hold strong command during the time of training to have a successful career in Criminology.
Conclusion
As criminology is an emerging sector, you may get a plethora of career opportunities after completing your degree. We have tried to cover all the details related to the criminology courses in India. If you still have any doubts on any other course details, you may leave them in the comments section and our expert team will reach out to you asap. Stay tuned to ncertbooks.guru for more updates.