Biotechnology Courses: Biotechnology is continuously making steady development, which determines the demand of professionals from this interdisciplinary field. The students doing research work in Biotechnology get a chance to explore several opportunities in foreign countries. Even they get good employment opportunities under this course.
What's more? Well, this branch of science is in itself not bound or restricted as a single discipline. Now, you may be wondering what Biotechnology courses are perfect for your higher studies. Here, you will get all the essential information related to Biotechnology courses, eligibility criteria, and scope.
What is Biotechnology?
Biotechnology is an emerging field of science, which is a combined education of biology and technology. It refers to science-based concepts on biology for research and development.
In the logical words, Biotechnology comprises of two words, namely; Biology and Technology. The aspirants of this branch are mind-bending. The ideas resulting from this branch can be easily functional to biological matter such as living cells for emerging new biological and industrial products.
On the one hand, it furnishes to the industrial sector, namely, textiles industry, food, and beverage industry, pharmaceuticals, medicines. On the other hand, this field equips to the necessities of nutrition, agriculture, animal husbandry, and environmental conservation.
The area where this field has grown in India includes:
Animal Husbandry
Agricultural Biotechnology
Dairy Development
Bioinformatics
Biofertilizers
Plant Biology
Genetic research
Marine Biotechnology
Bio-resource Development
Microbiology
List of Biotechnology Courses in India
In today's time, the number of students is showing great interest in the field of Biotechnology. The major reasons can the technical as well as the practical application of Biotechnology that touches a wide array of disciplines. The students can pursue the following courses in Biotechnology:
B.E. or B.Tech degree in Biotechnology (4 years): It comprises both in the Engineering aspect and Biological Sciences of Biotechnology. The curriculum generally covers Life Science subjects, namely; Cell Biology, Microbiology, Molecular Biology, Genetics, and many more. It covers Engineering subjects such as BioChemical Engineering, BioProcess Engineering, Mass Transfer, Thermodynamics, and many more.
B.Sc degree in Biotechnology (3 years): It centers on the Biological aspect of the Biotechnology portion. Though there are few subjects related to Industrial Processes, still the main focus is on the Research and Development of Biotechnology fields. It includes Plant Biotechnology, Biochemistry, Microbiology, Animal Biotechnology, and many more.
Other courses in Biotechnology include
Diploma in Biotechnology- It is for 3 years.
M.Tech in Biotechnology- It is for 2 years.
M.Tech in Bioinformatics- It is for 2 years.
M.Tech in Biotechnology Engineering- It is for 2 years.
M.Sc. in Biotechnology- It is for 2 years.
PG Diploma in Biotechnology- It is for 1-2 years.
Ph.D. in Biotechnology
Do Refer:
Biotechnology Courses Eligibility Criteria
The candidates who want to pursue Biotechnology should meet the minimum eligibility criteria given as:
A minimum score of 50% at both Higher Secondary and Senior Secondary levels. For the SC/ST candidates, the minimum score is 45%.
The minimum combined score of 60% in Physics, Chemistry, and Biology as main subjects at the 12th level.
For studying post-graduate programs in Biotechnology like M.Sc. Or M. Tech, the students must have passed the relevant Graduation program.
For pursuing a Ph.D. in Biotechnology, the students must hold a relevant degree of Masters or PG program.
To get admission to some reputed institutes of India, you need to appear for the engineering entrance exams:
JEE- The Joint Entrance Examination for taking admission in IITs.
AIEEE, which stands for all India engineering entrance exam. It is essential to take admission to various National Institutes of Technology or other engineering colleges.
Other than these entrance exams, many engineering institutions conduct their entrance examinations. The students need to pass those entrance examinations to get admission in the Biotechnology course.
Biotechnology Career Prospects
Hospitals
Fertilizer manufacturers
Clinical research firms
Teacher/ Instructor
Consultation agencies
Pharmaceutical firms
Educational Institutes
Chemical manufacturers
Food production firms
Laboratories
Lab technician
Biotechnology engineer
Project manager
Complete Biotechnology PG Courses
Industrial Biotechnology
Virology
Bio-Statistics
Microbiology
Plant and Forest Biotechnology
Genetics
Biochemistry
Molecular and Cellular Biology
Fisheries science
Agricultural Technology
Dairy Technology
Biotechnology Labs/Institutions
List of labs and institutions for further studies in Biotechnology
TIFR
IISERs
IISc
DU
JNU
IITs
Biotechnology Research Institutions
NCL
NEERI
JNCASR
CCMB
NCCS
CSIR
Learn about more types of course details organized streamwise and category wise.
What is the Scope of Biotechnology?
Undoubtedly, this field is vast and research-oriented. B. Tech students pursuing Biotechnology need to be aware in India, the field is still developing. That is why; pay packages and job opportunities are yet to flourish in comparison to other sectors.
After completing the B.Tech degree, the students can find jobs in research labs, pharmaceutical companies, and Academic Institutions.
The engineering background helps some students to enter the work of the marketing, business, and finance sector.
Some of the students seeking career opportunities after their Biotechnology course can shift to Software Development companies.
Almost every B.Sc student prefers to pursue M.Sc after completing their graduation in Biotechnology. The career path is highly research-oriented, allowing the students to move on to the specified areas in the Biotech field.
An M.Sc degree holder in Biotechnology can find jobs in research labs.
After completing the Biotech courses from the reputed institute, the students can effortlessly get good campus placements.
Many students move to pursue a Ph.D. in the field of Biotechnology. The higher studies open up more opportunities, both in-country and abroad as well. The Ph.D. Degree holder has the chance to start their research lab, become a leader or professor in terms of scientists. Thus, they earn a good position in this course.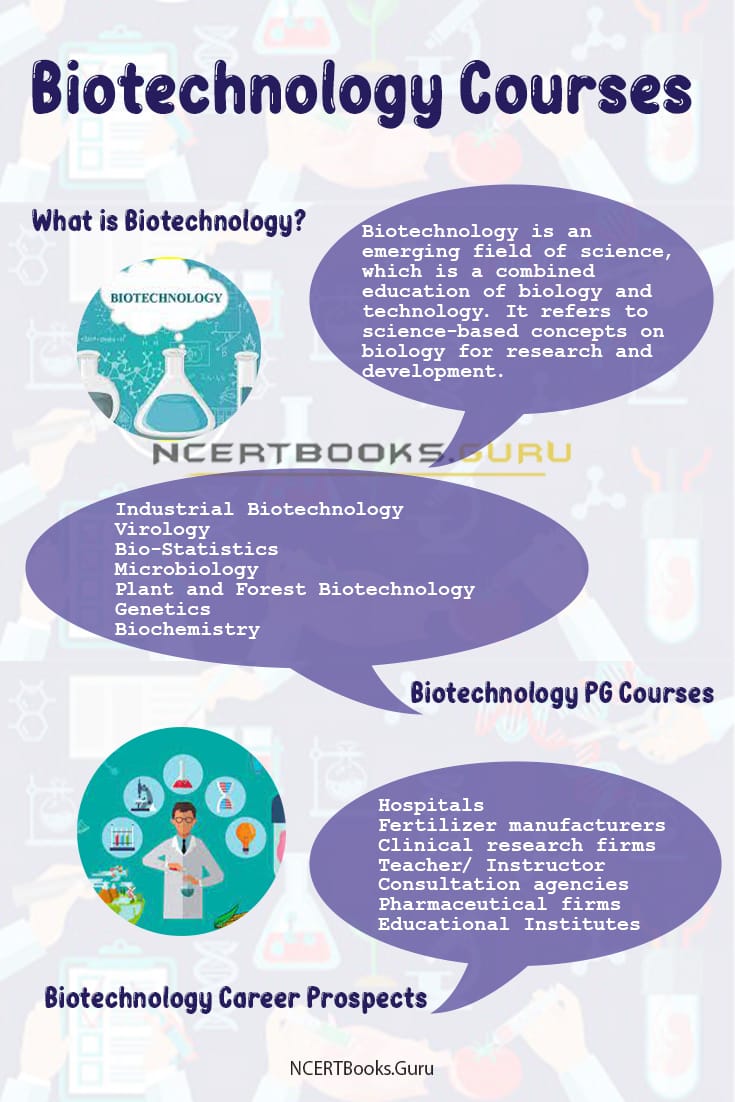 Biotechnology Salary Packages
The pay-scale generally depends on your qualification and the area of specialization. Additionally, it varies according to the institution from where the aspirants have earned their degrees. Fresh graduates in the Biotechnology field can get a starting package in the range of Rs. 10,000 to Rs. 25,000 per month.
However, students with a Master's degree can get a better package as compared to undergraduate aspirants. Luckily, if you get a Government job, then you will earn better. However, for a government job, your salary will be on the basis of your pay scale or grading.
In India, the Biotechnology field is still developing and providing tremendous opportunities for the students. However, in foreign countries, students can get excellent job opportunities. The developed countries such as UK, USA, Australia, and many more provide outstanding salary prospects for Biotechnology professionals. The growing demand is especially for environmental activities and the disposal of harmful material.
The major recruiters to hire Biotechnology professionals are for agricultural and biological products industries to produce excellent health care items. Thus a degree in biotechnology course can bring you great employment opportunities. Follow appropriate tips to get hired for a job in this sector.
FAQ's On Biotechnology Courses
Question 1.
How is Agricultural Biotechnology useful?
Answer:
Farmers can work with cheap tools and work in a proper manageable manner using Agricultural Biotechnology. Crops grown can tolerate herbicides, which have turned weed control to be efficient and simple. Pest control has turned out to be very reliable and effective to not cause plant disease.
Question 2.
How Biotechnology benefits you?
Answer:
According to the records, biotechnology works to contribute to environmental and economic sustainability. For farmers, biotech crops have risen to greater production and lower the cost of production.
Question 3.
What are the present uses of Biotechnology?
Answer:
Biotechnology has highly benefited industrial areas of health care, agriculture, and crop production.
Question 4.
What is the role of Biotechnology in Medicine?
Answer:
The applicational role of biotechnology in medicine is to produce the best medicines for the diagnosis and treatment of disease. These medicines have greatly benefited from production through DNA technology.