Best Engineering courses after 12th: Engineering is one of the most sought-after courses in the world, and rightly so, given its huge demand in the job market, is also one of those technical courses which is a tough nut to crack. While everyone aspires to be an engineer, and most of them do in India due to a large number of engineering colleges, very few become qualified and competent engineers who bring impacting changes to the field.
Engineering as a subject in itself is vast and diverse and has many branches of science to it. In this particular article we are giving the complete details on different Engineering courses after 12th class.
Get to Know More about other types of Course Details Streamwise, and Category wise.
Best Engineering Courses after 12th Grade
Most students pursue engineering for plenty of reasons, some of which is mentioned above. The top 5 best engineering courses that we believe can fulfill your needs mentioned above are:
Mechanical Engineering
Computer Science Engineering
Civil Engineering
Aeronautical Engineering
Electronics and electrical communication engineering
Mechanical Engineering Course
Given the increasing need for machines over men in industries across the spectrum, a diploma or a bachelor's in a mechanical engineering course is going to prove to be one of the best choices for an engineering course. Mechanical engineering is truly a great amalgamation of science and technology with various aspects of engineering sciences neatly blended into the course. Be it being good with numbers or physics, mechanical engineering can offer food for thought for all kind of students with all kinds of one's aptitude.
A mechanical engineering course in India can have plenty of benefits for a graduate because India is one of the fastest-growing economies in the world and government and industry players alike are investing and betting on the ever-expanding economy heavily. Given such a lucrative scenario, the job opportunities and career stability for a mechanical engineering course are, in one word, at it's peak.
Although there are plenty of recruiters, both domestic and international, the quality and lucrative opportunities that a student might get after his or her graduation mainly depends on their competency, knowledge level and the brand of the college that they are passing out from.
Mechanical Engineering Course Structure
Mechanical engineering course is for a duration of 4 years and is design semester wise in most of top engineering colleges in India.
Certain colleges opt for trimester wise design of the course.
There will 8 semesters in all, with 2 semesters in each year that a student will have to pass successively to get the degree certificate
The course contains theoretical subject, practical subjects, internships, project works, assignments, internal evaluations, external evaluations etc.
Computer Science Engineering Courses
One of the most sought-after engineering courses in India is the computer science engineering course. Lakhs of students pass out as graduates of computer science engineering in India every year and the most surprising part of it is the fact that almost all of them land a job in any of the good Information Technology Companies in India.
People who are fascinated by computers and their functions, the software and the hardware part of it, will have a great career if they pursue a course in computer science engineering. The vast and enormous job market and a fantastic career growth apart, the field of computer applications and computer science engineering is an extremely dynamic and diverse field where the learning curve is long and kinetic, to say the least. It's no wonder that India is the IT hub of the world not just because of the good IT infrastructure that the country has, but mainly because of the competency and talent of the IT workers in India.
Although computer science engineering as a course is a highly sought-after one in India and abroad, the quality of education in this field in India has been arguably degrading because of rampant misuse of the education system and turning it into a business model.
Course structure: Computer Science Engineering
Duration of 4 years
8 semesters
16 examinations
Course includes internal evaluations, external evaluation, projects works and assignment submissions
Course contains both practical and theory subjects
Civil Engineering Courses
In a developing country like India, the building of infrastructures such as bridges, dams, roads, and skyscrapers is directly linked to the development index of the country. Given the massive incentives and investments done by the government of India and different state governments in the country for the development of infrastructure projects, the need for quality civil engineers to fulfill that growing demand of the economy is at its peak and this would be an apt time for aspirants to pursue a course in civil engineering.
Civil engineering is one search course that is a mixture of science, mathematics, and physics. One should have a balanced aptitude for numbers, designs and creativity to succeed in the field of civil engineering. Whether you do a diploma in civil engineering or a bachelor's in civil engineering or a master's in any of the civil engineering courses, the competency level and the brand of the college that he or she is passing out from would affect their job in the initial days.
That are plenty of civil engineering and construction companies in India, some of which are given below. Most of the top construction companies in India visit the Indian Institute of Technology and the National Institute of Technology to hire candidates directly from campuses and train them in their respective fields.
The different fields in civil engineering are structural engineering, geotechnical engineering, hydraulics engineering, Highway Engineering, road engineering, surveying, engineering drawing, costing and estimation etc. Irrespective of which field one chooses to do a civil engineering, a graduate is expected to be a generalist in his or her field and should have a relatively decent knowledge of all the fields in civil engineering. Candidates can avail details on how to become a civil engineer?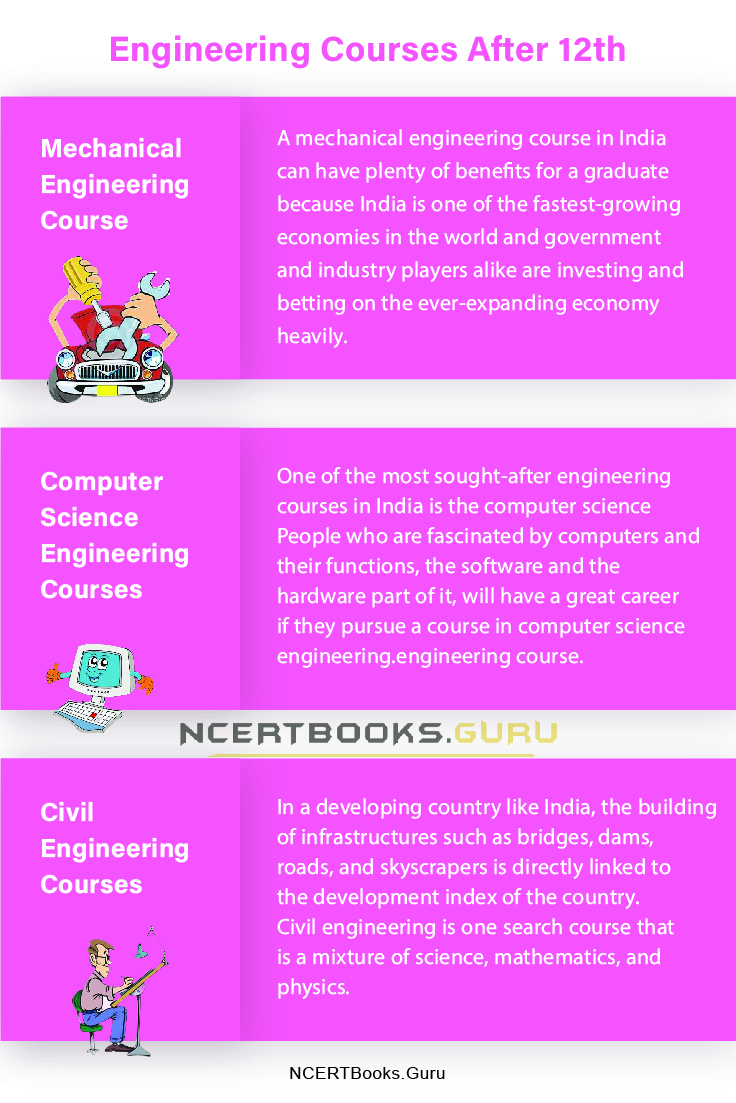 Course structure: Civil Engineering
Course is thought for 4 years in all universities in India
Course is divided into 8 semesters
Includes both practical and theory subjects
Final year group project submission and internships
Industry visits and lab training
Aeronautical engineering as a bachelor's or a master's degree course may not be the top priority or the course at first sight for many the aspirants in India, as of now. However, the field and the industry of aeronautics are increasing in such a way that aeronautical engineering graduates will have one of the highest demands in the world in terms of job market write after data analytics and data science.
The reason aeronautical engineering might not be that popular in India is that it is still under the research and development phase. However, aeronautical engineering course is already at its peak in popularity in developed countries such as the United States of America, Australia or the United Kingdom.
Aeronautical engineers in comparison with their counterparts in Computer Science, electrical and electronics engineering, mechanical engineering or civil engineering are one of the highest-paid in the engineering field and rightly so because their expertise and technical knowledge in design, development and maintenance of aircraft, spacecraft and air defence weapons systems stands out from the expertise of engineers from other fields. Check the steps on how to become an aeronautical engineer?
Aeronautical Engineering Course Structure
4 years with 2 semesters in each
Theory subjects with practicals and labs
Mandatory industry visits and internship programs
Should pass all subjects in all semesters to get the degree certificate
Placement assistance from the college for final year students
Electrical and Electronic Engineering Course
Electrical and electronic components have become as much part of our lives as oxygen and water. If you look at any and every piece of equipment around you including your handheld mobile devices, computers, laptops, television sets, fans, switch boards, tube lights or speakers, every digital revolution has an electrical and electronic component behind it and the market for the same is ever-expanding and is one of the biggest markets in the world.
A bachelor's degree, a diploma degree or a master's degree in the field of electrical and electronics engineering courses is available in India across both public and private universities such as the one's given below. Some of the top recruiters for electrical and electronics engineering graduates are given below.
Course structure: Electrical and Electronics Engineering
Duration: 4 years
Fees: INR 2 to INR 3 lakh for the entire course
Number of exams: 16 exams divided across 8 semesters
Theory and practical subjects
Internships and industry training
Assignments and projects work submissions
Engineering Courses Eligibility Conditions
Students must fulfil the below-mentioned eligibility conditions to apply for top engineering courses.
They must have completed class 12th from a  recognised board.
They should attend entrance exams conducted by state or nation.
Top Engineering Colleges in India
BITS Pilani
Mumbai University, Mumbai
NITs
Osmania University, Hyderabad
BMS College of Engineering
Indian Institute of Technology and the National Institute of Technology
IIT Bombay
Dayanand Sagar College of Engineering
Anna University, Chennai
Anna University, Madras
Jawaharlal Nehru University, New Delhi
Osmania University
NIT Suratkal
Alliance University
Jamia Millia Islamia University, New Delhi
Amity University
Bangalore University, Bangalore
IIT Madras
Also, Refer
Engineering Courses Career Scope
Candidates after finishing best engineering courses after 12th can apply for jobs or pursue higher studies such as M.Tech, etc. There is a huge demand for the Engineering graduates in the IT industry. Nowadys each and every individual who have finished their bachelor's degree in engineering are getting placed at the campus placements.
Engineering Courses Jobs & Salary
The Best Engineering Jobs are listed here:
Environmental Engineer
Biomedical Engineer
Systems Engineer
Electrical Engineer
Big Data Engineer
Chemical Engineer
Nuclear Engineer
Computer Hardware Engineer
Petroleum Engineer
Software Engineer
Aerospace Engineer
The salary offered to engineering graduates ranges from 1.8 lakhs to 18 lakhs per annum.
FAQ's on the Best Engineering Courses after 12th
1. Which is the best engineering course in India?
Since India is considered the IT hub of the world today, computer science engineering courses or information technology courses are considered one of the best engineering courses to do in terms of job market, career stability and growth.
2. Which is the top engineering college in India?
All the top Indian Institute of Technology such as IIT Delhi, IIT Bombay, IIT Kanpur, IIT Kharagpur, IIT Madras, considered top engineering colleges in India and their ranking keeps fluctuating amongst themselves every year.
3. Is a course in engineering worth doing outside India?
A master's or a bachelor's course from a country such as the United States of America, Australia, the United Kingdom, France or Japan or Germany will be useful for students in terms of the knowledge of the field that they gain and in terms of the job market exposure they get.
4. What is the average fee to do a course in Engineering in India?
To complete a bachelor's in engineering student will have to spend at least Rs. 3 to 5 lacs depending on whether it's a public or private University and a master's degree in engineering would cost a student up to Rs. 5 lakhs for 2 years.